We've all picked up our own little ~hobbies~ in quarantine; some of you have been baking bread or making fresh pasta; some of you have apparently been getting really into rug tufting (??). I have not been doing anything impressive or productive; most of my days are spent listening to the soft fizz, like a Coke being opened slowly, of my brain disintegrating; I've started several craft-based hobbies that have not progressed since May of 2020 and my inbox is like a war zone. The one thing I have managed to focus on and find any fulfillment in is perfecting the breakfast sandwich. I have so much admiration for y'all who really discovered the meditative joy of making risottos and three-day sourdough breads, but that is not my ministry. I, like many people, have found eating regularly to be very challenging of late; I have accepted that the best way to get myself to eat meals is to make sure they're something I really like and also something easy and fast to put together.
I am here to share the fruits of my labor, and many months of trying lots of different breakfast sandwich iterations before landing on this one. Maybe you will feel differently than me! I welcome your insight as well. Perhaps you can tell me about it over a breakfast sandwich.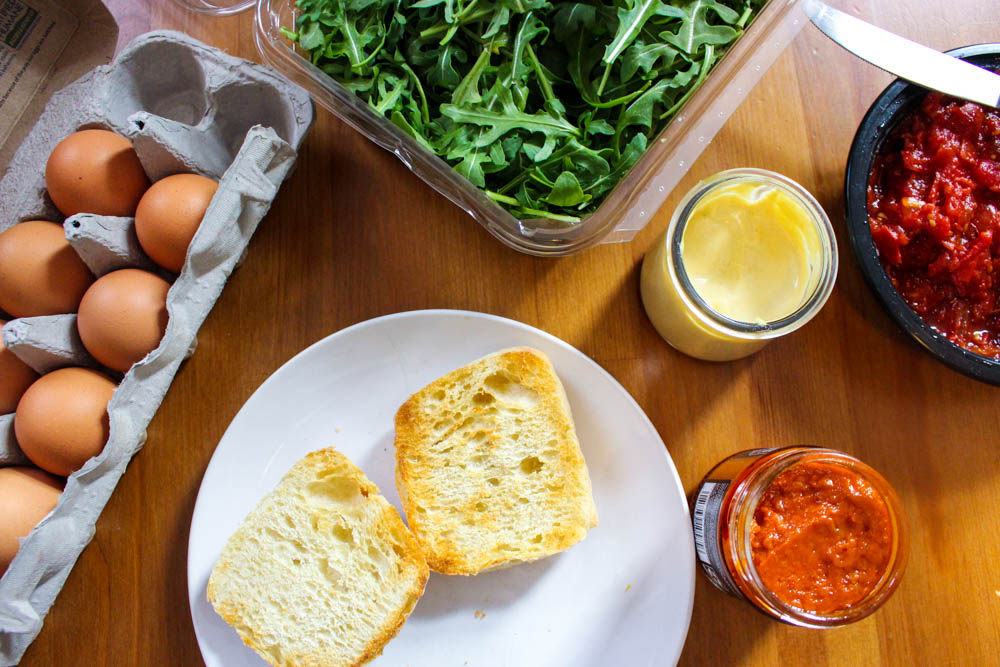 First, the ingredients we will need for this journey:
Bread
This is a key element to nail down – you have a lot of options and some of them are definitely incorrect. An incomplete survey of our options:
+ Crusty sliced loaf bread
+ Bagel
+ English muffin
+ Croissant
+ Bun or roll of some sort
Bagels have a bread-to-filling ratio that's too high, at least if you use both halves of it for a closed sandwich, although an open-faced bagel breakfast sando might be okay (still very dense, though!). English muffins are too thin, making for a low bread-to-filling ratio and they get soggy very quickly. Same problem with croissants; no structural integrity. What about tortillas? you may ask, which is a great point but one that takes us out of breakfast sandwich territory and into breakfast taco/burrito or huevos rancheros territory. A story for another day, my friend.
To me, the objective best choice is a ciabatta or focaccia roll; they're airy enough on the inside that they're light and easy to eat, small enough that you can pick up the sandwich easily in one hand, and yet sturdy enough that you get plenty of crusty bread along with your sandwich ingredients and they won't get soggy even with condiments. I like to buy a big bag of them, slice them all in half right away, and then put the pre-sliced halves in the freezer so they don't go bad and I can put them in the toaster right from the freezer.
Although I feel extremely confident this is the best, time-tested choice, I'm open to other interpretations, and especially interested in more avant-garde carbohydrate choices. Perhaps two hash brown slabs (gluten-free!)? A glazed doughnut? (The bakery at my airport has an egg and cheese on a glazed doughnut and tbh it's great.)
Egg
Okay, the approach I'm going to suggest here is dependent on whether you tend to like your eggs fried or scrambled (or which of those things sounds better to you in a sandwich setting, I suppose).
For fried: I do the Smitten Kitchen bodega-style egg, which involves beating an egg with a little water to thin it out and cooking it on a flat nonstick surface like a crepe, throwing a slice of cheese on there, and folding it up with the cheese inside to form a gooey little pocket. As you can see, I cook mine for longer than hers, so it's less delicate and omelet-y and more crisp on the outside, so you get some crispy cooked egg and melted cheese. You could also, if you're really into runny yolk, just fry an egg and flip it over to cook the other side and throw a slice of cheese on top of it in the pan.
For scrambled/fluffy: This is based off the Flour Bakery egg sando, which uses as its premise the fact that reheated egg is gross but egg that's been cooked with some high-fat dairy (ex. quiche or frittata) reheats beautifully to make sandwich egg in volume for a restaurant menu. This exact recipe is a little fussy, it asks you to steam the egg custard mixture in a tray of water, etc etc, but also isn't actually hard — and the real draw here is that you can cook a lot of egg at once and then portion it and put it in the fridge (or freezer even!) and have your breakfast sandwich most of the way done already every morning. You can use the quiche inspiration premise to use plenty of other recipes for this, doesn't have to be this one – if you have a quiche or frittata recipe you like, or for instance this Moosewood moment I grew up eating, that could all work also. If you want to add greens or veg or other seasoning to the egg mixture, I don't see why you shouldn't.
I personally like the bodega-style egg better, and also find the process of making it very satisfying, but also am not always up for a meditative multi-step cooking process that makes more than one dish dirty in the mornings, especially as my brain cells continue to degrade into asbestos over the course of quarantine. So I've been finding it expedient to make the baked fluffy eggs and keep them in the fridge too for days when I really need to have breakfast mostly already made or else I'm realistically not gonna end up eating it.
Vegans! Probably by now you've already developed some egg workarounds in your life but I would either use some baked marinated tofu here or perhaps some chickpea flour/tofu situation. EDIT: House vegan Stef has informed me that JustEgg would be ideal for this application.
Cheese
I am a purist and think that thick-cut sharp cheddar is the vibe here, but if you want to use like gouda or some shit, I'm not going to stop you. I also think there's a strong argument to be made for the plastic-wrapped Kraft American cheese singles, tbh, to give things an authentic McD's breakfast feel. Vegans, gotta be honest, you're on your own here.
Protein
Optional! I've been using the Beyond Breakfast Sausages because I am vegetarienne and I like them better than the Morningstar ones, but you could of course also use bacon, ham, Canadian bacon, actual sausage, leftover chicken tinga, whatever you've got. If you have more patience than me, marinated pan-seared tempeh is great here.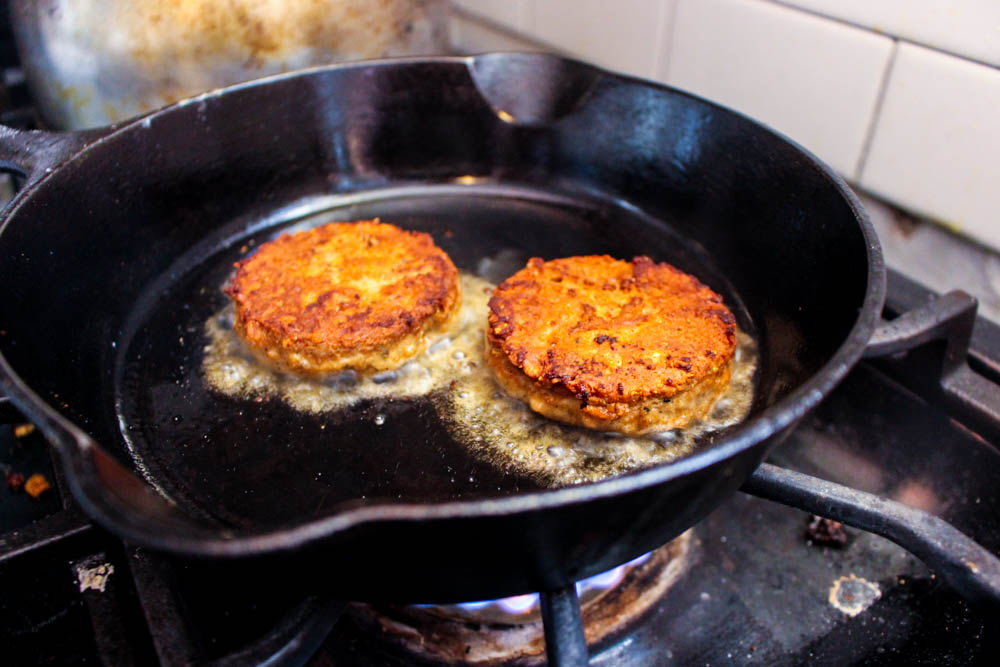 Condiments
This is really what takes things from mediocre to memorable. I like to have one sort of creamy condiment and one spicy/tangy/savory one. For the former I've been doing a half-and-half mix of Dijon mustard and mayonnaise, which is drawn from the Flour recipe above; it kind of brings in a hollandaise feeling, which is nice with the egg. For the latter I've been doing either homemade tomato jam (a gamechanger of a condiment in general) or this tomato chile spread from Target. I also do some arugula and usually whatever hot sauce I have on hand. If you live in someplace where you can regularly access good avocados (jealous!) that's probably gonna be good as well. Fresh tomatoes in season would probably be great. Lightly pickled onion? Radishes? Sure, go wild.
Assembly
Okay, go time! Ideally this is like, a 15 minute process at most, and you're satiated and ready to live your life.
Get your egg situation going – if you need to reheat baked egg soufflé, take it out and microwave it for like 25 seconds so it doesn't stay cold in the center, and put any cheese you want on top. Stick it under the broiler in your oven or toaster oven. If you're doing a bodega egg, crack your egg into a bowl, add a spoonful of water and salt and pepper and beat; heat a flat nonstick pan and pour in, throwing your slice of cheese in the center. Let the egg cook through and fold it over onto itself into a little square to fit the size of your bread, and flip over to let cook on the other side for 30 seconds.
If you're using a protein that needs to be cooked, go ahead and put that in the pan.
Grab your bread and toast it, can be straight from the freezer, you don't need to thaw. I usually use the 'bagel' setting so the inside of my sandwich gets toasted without the outside getting too cooked, but whatever you wanna do.
After your bread is toasted, go ahead and condiment it – I do mustard/mayo on top, tomato jam on bottom topped with arugula.
Your egg and protein should be ready – you can throw them on and add some hot sauce, salt and pepper.
Delicious! You did it! No one can take this breakfast sandwich away from you; whatever indignities your day may bring, you can hold this in your heart. I'm so proud of you; I always knew you could do it.