This weekend, when Birds of Prey lands in wide release, we will finally see Renee Montoya on the big screen, where she deserves to be! Not only is Montoya the first Latina lead and lesbian lead in a DC film, she also has an iconic history, including being one of the first and most celebrated lesbian comic book characters of all time. Here are five things you need to know about her before you hit the theater.
---
1. Renee Montoya was invented for Batman: The Animated Series in the early 1990s.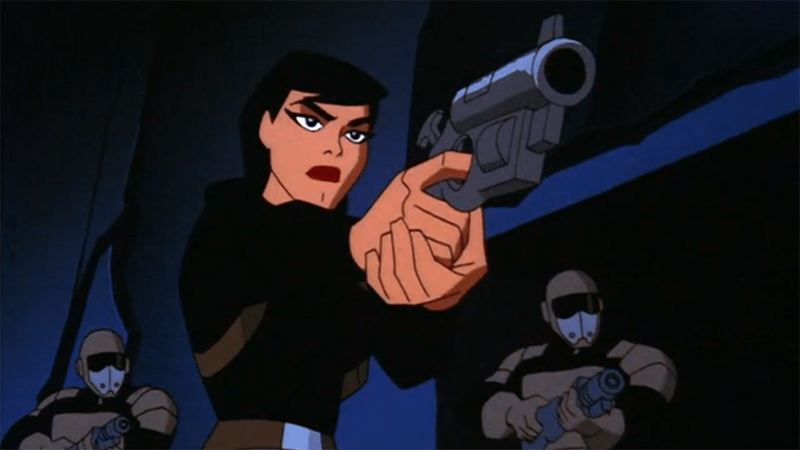 There are countless iterations of Gotham City in the Batman canon, but one pretty standard fact about Bruce Wayne's hometown is that the police force is corrupt as hell. Batman: The Animated Series conceived Renee Montoya to stand in stark opposition to the casual extortion and bribery and perpetuation of crime that took place inside GCPD, even partnering her with Harvey Bullock, who was originally a foil for Commissioner Gordon. Montoya is a fresh-faced officer in the animated series, and one of the few allies Batman has within the force. She's also a serious badass, able to fend off multiple foes singlehandedly and unarmed! She even has a character-defining Éowyn moment in the episode "P.O.V.," in which Harley Quinn and Poison Ivy — self-proclaimed "Queens of Crime" — claim that no man can capture them, and in fact no man does. It is Renee Montoya who brings them down.
---
2. But she didn't become a fully realized character until Gotham Central in 2002.
Greg Rucka and Ed Brubaker created Gotham Central to explore an "honest" unit of the GCPD that worked with the same morality as Batman to fight crime in the city. Rucka pulled Renee Montoya off the sidelines and gave her the most universally lauded story arc in the book's run (and, honestly, in the non-superhero DC canon). "Half a Life," which comprises issues #6–#10, fully pulls readers into Renee's life, and not just her cop life. Renee is a closeted lesbian with a super religious family. In "Half a Life," she's outed, shunned by her fellow officers, disowned by her family, and kidnapped by Two-Face.
The way the book is written and drawn is all empathy for Montoya, and unapologetic villainizing of every homophobe she runs up against. Her breakdown in her girlfriend Daria's car after she's outed is, to this day, a visual kick in the guts. Rucka's portrayal of Montoya was, at the time, the most nuanced and sympathetic storytelling any LGBTQ character had ever received in a DC or Marvel book. No small feat, as the effects of 1954's Comics Code Authority — which forbade "Sex perversion [gayness or transness] or any inference to same is strictly forbidden" — are still rippling out in storytelling, from comic books to TV to big screen films, to this day.
Renee leaves GCPD and it's corruption behind at the end of "Half a Life."
---
3. Renee Montoya is famous for being Kate Kane's girlfriend.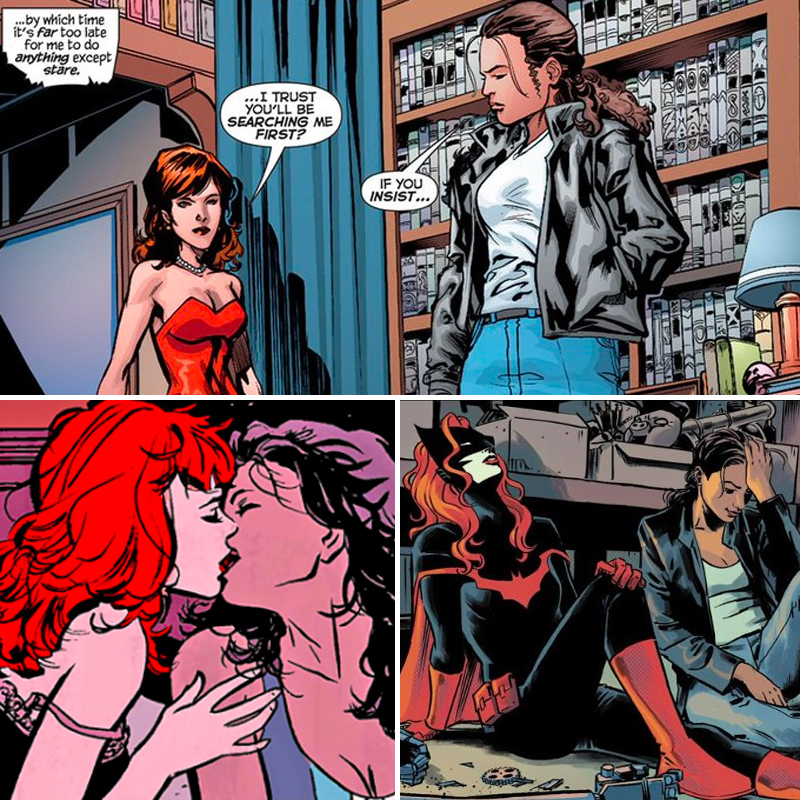 When Kate Kane came out to audiences as a lesbian in 2006's 52 (issue #7), she did so by running into her ex-girlfriend, Renee Montoya. When Renee realizes she's going to have to question Kate about a case she's working on, she showers multiple times (using fancy soap), shines her boot, irons her shirt, and broods about how good they were at "pushing each other's buttons." From that point on, Batwoman, who'd been literally erased from the Batverse since 1985, outstripped Montoya in popularity — taking over Detective Comics, getting her own GLAAD Award-winning book (with a foreword written by Rachel Maddow), and ultimately going on to star in her own solo TV series. With very few exceptions, Montoya is Kate's go-to girlfriend in comics and on-screen.
---
4. But she was a lesbian superhero before Batwoman!
Renee Montoya may start out — and be reborn repeatedly — as a GCPD cop or detective, but she also almost always quits the force in protest. In Greg Rucka's 52, she is aimless and depressed in the wake of her decision to leave her job as a detective. She doesn't know who she is. But she runs into a masked vigilante named The Question (aka Vic Sage), repeatedly, and agrees to help him take down the Religion of Crime. When Vic dies of Lung Cancer, he asks Renee to carry on his legacy. "It's a trick question Renee — Not who you are — But who you are going to become? — Time to change — Like a butterfly." And she does.
---
5. Renee Montoya has been on-screen a lot — but never had her due.
Unfortunately, and despite her lauded story arcs over the years in DC's comics, Renee has never been given the respect she deserves on-screen. She appears in the 2016 DC Universe Animated Original Movie, Batman: Bad Blood, but only as a romantic interest for Kate. She was a regular character on Fox's 2014 live-action series Gotham, but she was pigeonholed as Barbara Kean's ex-girlfriend and then unceremoniously dumped from the show without reason or explanation. When Birds of Prey announced that they'd cast legend Rosie Perez in the role, I had — and still have! — high hope that the role will finally get the levity it deserves on-screen.
Perez would love to suit up as The Question eventually. She told Heroic Hollywood: "That would be amazing. I think that being of a certain age I could bring a lot of gravitas to that. Once she becomes The Question, it seems that all of the childhood trauma that she's still holding on to and the anger from it of being betrayed, outed and passed over with that mask that she puts on…. she's able to just break free and be fearless. She's fearless already, but it would be a heightened level. That would be amazing."
It sure would! Until then, Birds of Prey opens in wide release this Friday, February 7.