by Stef and Rachel
What you've heard is true: The X-Files is returning as a "a thrilling, six-episode event series" on FOX, featuring original stars Gillian Anderson and David Duchovny and original creator Chris Carter. Production on the show is set to begin this summer; we likely won't see it on our TV screens for some time. Until that happens, we have a lot to speculate about, and many questions.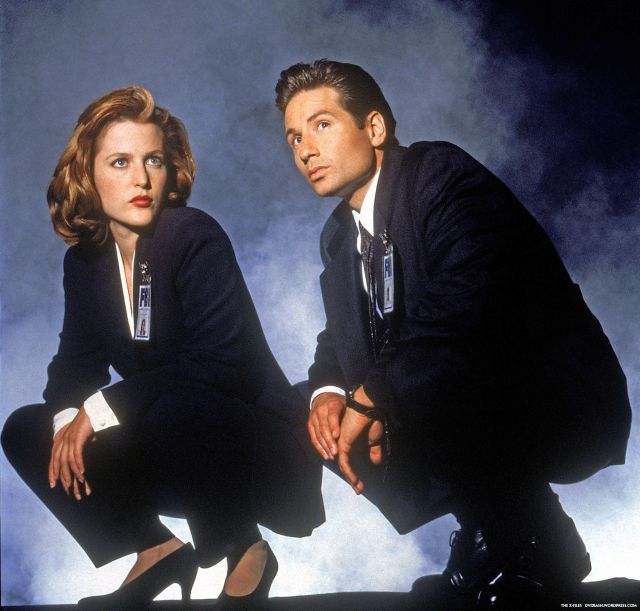 ---
1. Does this mean we can pretend the last movie didn't happen?
2. Does Scully still have shoulderpads?
3. Are they going to do a quick recap of whatever it was that happened with that baby, or do we have to rewatch the end of the series on our own time? Do we get to disregard the events of the last season and a half or so?
4. Is Mulder just scanning Reddit 9 hours a day or what? Are the Lone Gunmen members of Anonymous?
5. Any chance of an Invisigoth cameo?
6. Has Mulder seen Loose Change yet?
7. What's happening with Scully's haircut? Hoping for something like Season 5, but bracing for Season 1.
8. Does Mulder know where that Malaysian plane is? Can Courtney Love have a cameo where she helps him find it?
9. Any insight into those goat heads in Brooklyn?
10. Is Skinner in this? Feels like present-day Skinner would be paleo, maybe. Just throwing some ideas out there.
11. Does the Smoking Man vape now? He's still alive, right?
12. Is the Syndicate the reason the bees keep disappearing? Do we get a conspiracy episode about krokodil? Bath salts?
13. Is there someone we can bribe to make sure they don't do a ripped-from-the-headlines Slenderman episode?
14. Can Richard Belzer have a guest spot? His schedule cleared up recently.
15. Is Mulder's email still "trustno1@mail.com"? Doesn't seem very secure.
16. Can the show get through six entire episodes without an arc where a Magic Native American Person™ saves the day?
17. Oh god, is anyone on this show a medical doctor? ANYONE?
18. Actually though how did things even leave off? They were in like a boat, right? They waved at the camera? Is any of that right?