I have been incredibly sick (in the head!) for the last month or so. Being bedridden for days in a row is a trip, but one thing I was able to do was listen to a ton of new music. Some of the following songs and/or albums are dark, slow, and ponderous, great for really sinking into your mattress, especially if you're hopped up on doctor-prescribed drugs. Most of them, though, are cute, sweet, upbeat tracks that helped me keep going when it seemed like I was going to never leave my house again.
Because I was sick, I couldn't get this written by the end of last month, so here's a super-duper extra long edition covering April and May! The reviews are shorter than usual because there are so many releases to cover. Expect this "column" to go back to normal next month. Enjoy!
---
Laura Jane Grace, Park Life Forever (Single)
I couldn't start off with anything other than this. This is literally the cutest song I've ever heard. A rollicking, good-time queer parenting anthem, "Park Life Forever" is 90 seconds of pure joy. The video above is a behind-the-scenes peek into Grace's songwriting (and parenting) process, and the back-and-forth between Grace and her daughter, Evelyn, is so adorable I can feel my non-existent ovaries exploding.
The song is incredibly simple, detailing in vivid to-the-point imagery a nice, fun day in the park. It's a pure saccharine, dopamine, joy injection. It also features Evelyn on vocals, which couldn't be more precious.
Listen to the version with Evelyn here and catch Grace's band, Against Me! On tour here.
---
Darcy Fox, Ghost (Single)
Australian singer-songwriter Darcy Fox has just come through with a song and music video that are heartbreaking for their simplicity and realism. The video details in poignant vignettes the emotional rollercoaster that is the relationship between a not-quite-sure-if-they're-right-for-each-other lesbian couple. The video is beautiful and brave, especially because it serves as Fox's "official" coming out.
The simple act of refusing to hold one's lover's hand carries incredible emotional weight, whether in front of mutual friends to whom one isn't out or when alone in the car right after a tear-stained fight. Is it possible to watch this video without crying? I have no idea. I can't.
"Oh darling I know that you don't want to hurt me/ Your body it stayed but your mind it deserted me/ A long time ago/ I was left with the ghost/ of a love that I once used to know."
Buy on iTunes here.
---
Softie, Emotional Reasoning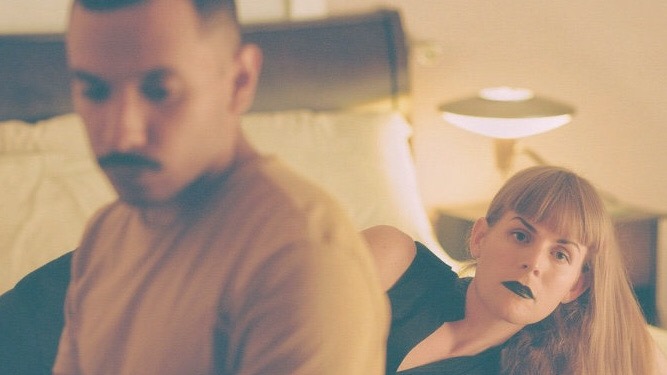 Softie is an independent New Orleans duo that makes strange, dark, intricately layered, synth-heavy electronica. This isn't an easy or simple album. Xavier's vocals are reminiscent of 80s darkwave bands like Depeche Mode, and Nessa's production takes the listener on a sometimes unpleasant, but always poignant, journey. Sometimes the production borders on jarring — like the last bit of Nudes, where it feels like the song is collapsing in on itself, and your brain is tempted to implode with it. Then there's a track like Passive, which, sounds like how I would describe the feeling in my head when I have been off my antidepressants for over a week and it seems like there's a lightning storm going on in there.
Check it out here.
---
Kitty Crimes, Crimes of the Kitty, Vol. 2
This is a shrewdly produced multi-genre album from Denver-based Maria Kohler, who writes, produces, and sings everything on it. It's smartly written and Kohler's flow is super solid. She shows a lot of range on this record, too, as a rapper, singer and lyricist — check out Two Weeks, which is a slow-burning ballad, with a simple drum beat and some distorted synth in the background, and Power, which is a rockin' pop track with some heavy guitar. She also directed the trippy video for Two Tens above.
Check it out here.
---
Be Steadwell, Queer Love Songs
It would be ridiculous for me to not mention Be Steadwell, who I had the pleasure of seeing live at A-Camp (again!) just over a week ago! Be's latest album, "Queer Love Songs" — a fitting sequel to her last one, "Break-up Songs" — is the first one they've been able to record with a full band in a full studio situation. The video above is one of the most beautiful music videos I've ever seen, featuring real queer couples AND ASL interpretation! Holy shit, Be.
But Be is one of those artists you have to see live. Watching her build each song from scratch with a loop pedal and repeater, as they harmonize with their own voice and beatbox to create the foundation of each track, then sings over herself, mixing in extra harmonies here and there and setting several loops opposite each other in intricate patterns — all live, mind you — is mind-blowing. This album is excellent, but do yourself a favor and find Be on tour.
Take a listen and buy here.
---
Chris(tine and the Queens), Girlfriend (Single)
Just try not to dance (or at least bounce around where you sit) while listening to this track. A love letter to butch lesbians and other queers for whom "girlfriend" isn't really a comfortable moniker and who may prefer the more gender-neutral "lover," this song is a neo-disco dancefloor jam that I enjoyed just as much in French (which I don't speak) before I learned there was an English version.
"I initially set out to smash against macho culture and macho men," says Héloïse Letissier, the creative force also known as Chris and/or Christine and the Queens. "I became obsessed with this idea of the macho man, and still being a woman. What does it mean if I'm this figure, and I'm a woman? Does it make me an aberration? Is it joyful?" If this song is any indication, there's plenty of joy to go around.
Buy on iTunes here.
---
Jay-Marie Hill, Here, Queer & Staying (Single)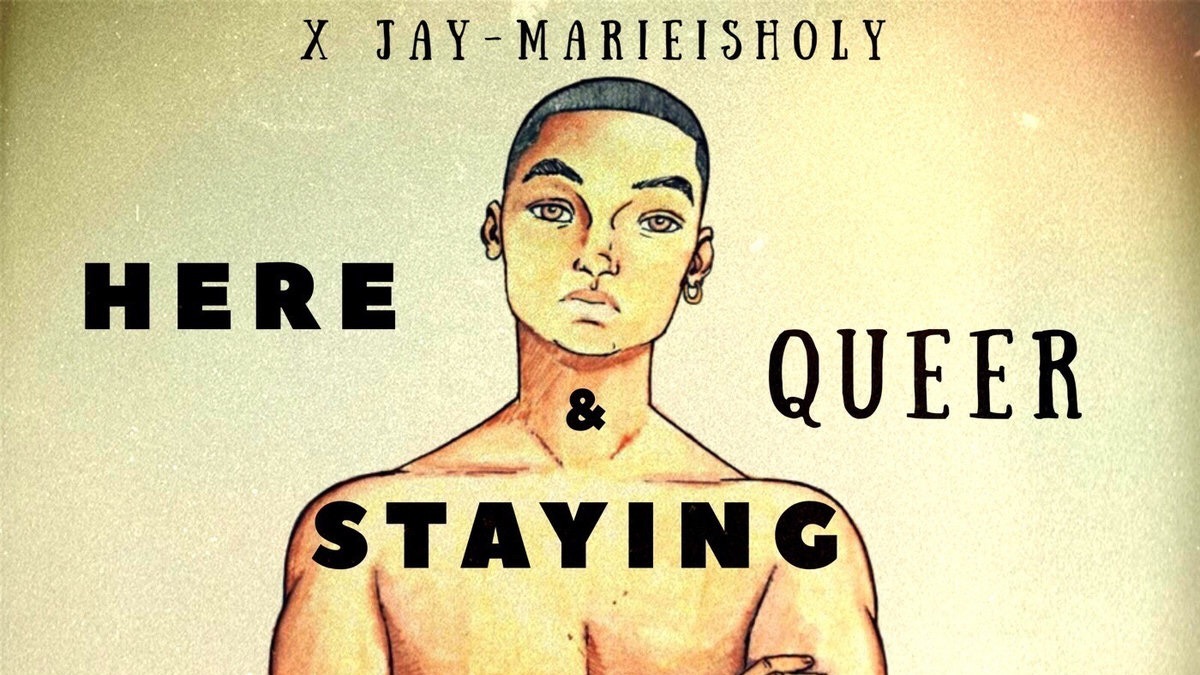 Jay-Marie Hill, longtime badass artist and activist known for their work with Reverend Sekou and the Holy Ghost, releases their first single! It's a sultry, downtempo R&B protest song, an antidote to Trump-ian exterminatory politics.
"You've pushed us out and kept us down/ You can't get away with this much longer/ We're up in your workplace/ All up in your bathrooms/ We gotta make a life just like you/ We are here and we are queer and we are trans/ And we ain't goin nowhere."
Preach! Cop the single Here.
---
Jenn Champion, Time to Regulate (Single)
If you're like me (a Sad Lesbian™) you spent a lot of the 2000s listening to woman-fronted low-fi indie/emo rock, like 2010's "i'm not as good at it as you" by S, maybe the hardest band to find online after !!!. Jenn Champion (formerly Jenn Ghetto — she wrote a Facebook post about the name change acknowledging anti-blackness, which I appreciate), was the creative force behind S, a Seattle indie rock staple.
And with the name change comes a huge musical change! S grew into a bit poppier full-band sound with 2014's "Cool Choices," but this is way different! This is a cute, electro dance pop rock track, and even though Champion's voice and delivery are still very sad lesbian, her solo work sounds much more "dance your tears away" than "drink alone in your bedroom."
Listen to this track and another single, and pre-order the full-length album coming out in July, here.
---
Zolita, Sappho
Zolita gives me major Hayley Kiyoko vibes. Immaculately produced saccharine pop with overtly gay, super feminist themes, lush visuals, and some personality (not as relatable as Kiyoko, which would be tough, but she definitely has her own vibe going). The video above is remarkable for its diversity — Zolita purposely included badass trans women, older women, girls, women of color… it's dope.
She has an explicitly political vision for her music and videos, which is also dope: "I want to make pop music that queer and marginalized people feel like is made especially for them. Queer people have been connecting to and projecting their experiences onto heteronormative music their whole lives. Is it really so hard for me to ask straight people to do the same with my music?" No, it's not, Zolita! God speed.
Buy here.
---
The Internet, Roll (Burbank Funk)
I was never a fan of Odd Future, but I will forever be grateful that they brought both Syd tha Kid (also known as The Internet) and Frank Ocean into my life! This is The Internet's first release since their 2015 album, Ego Death.
This song is such a bop. The bassline is killer, the synths are funky, and the lyrics are simple, but positive and catchy, enough to support the vibe without distracting from it. "Listen to your heart!" Always excellent advice. "Song of the Summer" hot takes are gonna start ramping up now that the season's almost here, and I can definitely see this one being a staple at your favorite queer daytime dance party real soon.
Listen here.