Last year I brought y'all an instant classic in 10 Low Key Horror Movies to Watch With Your Sensitive Butch Date. and since then I've been thinking. What if you're not into sensitive butches? What if, like me, you tend to lean more toward femmes who have the icy glare of someone who knows she's hot and will ruin you with glee? There are so many cold, cool femmes in my life that I want to make out with, but I also want to test their grit. The best way for me to see if a date passes muster is to watch a fucked up horror film that I really enjoy with them. I currently have been doing this with a friend but these movies could easily translate to date mode. So queue up a text to your hot local femme and dive into this list of films that you'll both be totally grossed out by.
Green Room (2015)

Green Room is one of my favorite movies to watch by myself. It follows a punk band and its members, Pat, Reece, Sam, and Tiger. They play in a band called Aint Rights that goes on what first appears to be a bad tour, that slowly turns into a hellish nightmare when the band is booked to play at a venue full of nazi skinheads. This movie has got gore, hella kills, music, and chilling performance by Patrick Stewart as papa skinhead. It's a movie that's brutality will match the brutal beauty of your date, who this time we'll call Azalea. She definitely always carries a knife and has a favorite color that she incorporates into all of her outfits.
Haunt (2019)

I said it four times while watching and I'll say it again: this movie is FUCKED. I kept watching it and thinking: how is this movie not over yet?? It's only about an hour and thirty minutes but it felt like an eternity. I don't mean this in a bad way either, it was just like this movie would not take it's killer heels off my neck. We watch a crew of friends centering around Harper, a girl with glimpses of a traumatic past. Harper goes out to a Halloween party one night and her friends decide it's a great idea to visit an "extreme haunted house." Just so you know, that's never a good idea. The crew are shocked and horrified to find out the haunts are much more real than they seem. You and Azalea will find yourselves rooting for Harper and grabbing at the couch cushions…or each other.
Blood Quantum (2019)

This movie rocked my world in a way other zombie movies haven't. The movie mostly follows Traylor and his family as they fight their way through a sudden zombie apocalypse on a First Nations Reservation. Blood Quantum has a surprise that made me gasp and laugh when I figured it out and it should get the same reaction out of Azalea if she's cool enough. Bloody, fast-paced, and pulse-pounding, this movie is sure to leave you both with a lot to talk about, especially after it's emotional climax.
Bliss (2019)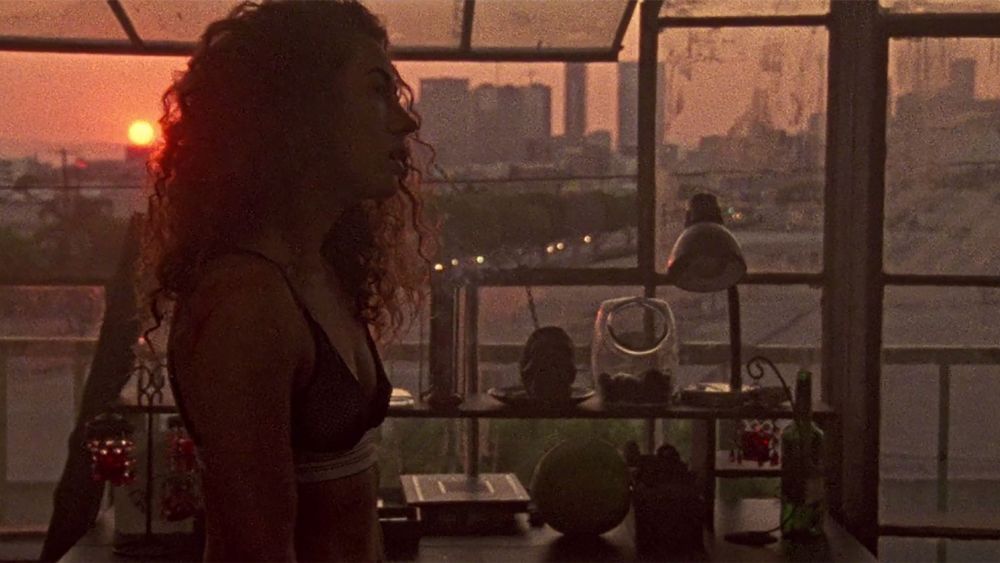 I watched this movie a while ago with a friend and while it's not my favorite, it was weird as hell and worth a watch just to talk about how it made you feel. Shout out to Shudder for having the strangest original movies. Dezzy is a painter that's going through one of the worst creative blocks of her career. As an artist, being on deadline for agents and galleries has her stressed. Instead of actually, you know, working, she turns to drugs and alcohol to find her inspiration, which leads to her getting into some twisted situations. Part of the horror of the movie is not only the murder and mayhem but Dezzy's spiral and loss of control of her life. There is, of course, plenty of blood and guts, so you both can leave satisfied in that means, and hopefully satisfied in other ways as well.
Ginger Snaps (2000)

Ginger Snaps is a classic that has one of the most memorable turning scenes I've ever seen. Seriously, I think about the werewolves in this movie often and the kills in it even more. Ginger Snaps is funny, and I don't normally like to mix up my horror with my comedy, but this movie does it well. Brigitte and Ginger are two sisters that seem to be inseparable. While they can be cruel to each other, they always come back together. If you can't tell from the title, after an encounter with a werewolf, Ginger… kinda snaps. Things start to get more complicated for the sisters and you as the viewer begin to wonder if their relationship can survive these changes.
Raw (2016)
I was so excited for Raw to come out. I watched the trailer and read the synopsis and couldn't wait for it to be available. Raw follows Justine as she goes through her first year of college as a strict vegetarian. I know it sounds bland but I'm trying not to give certain stuff away and provide a delicious tease, much like Azalea probably is. If she's anything like me she'll show up to this casual movie watching date in a body con dress smelling of amber and the air before sex. Raw is biting, beautiful, and shocking. One of the scenes that I had the hardest time viewing didn't even have any blood in it. The tension and intimacy of the moment were enough to get me cringing without the threat of guts.
Texas Chainsaw Massacre (1974)

A fucked-up classic with an iconic ending. Azalea is gonna love the movie's gross moments and its laughable moments. There's one scene where the main character is just running and screaming for what feels like 10 minutes. Another scene that made me laugh out loud comes later, but I'll leave it for you two kids to enjoy. A bunch of nosy teens ends up on the horror ride of their life all because they couldn't stop walking into a random stranger's house. Like most thrillers that surround a group of teens to early 20-year-olds, there are bad decisions abound but no shortage of carnage.
Train to Busan (2016)

Train to Busan is one of the best movies I've ever seen — not just horror movies, the BEST movies I've ever seen. Both of you need to get ready for an incredible emotional roller coaster. I'm not a big "talk to the screen" watcher but with this movie I did. I yelled. I wanted to throw things. I called for the death of some characters and prayed for the triumph of others. I can't begin to tell you how stressful this movie was! It's not in English and you will have to read subtitles but we are all adults and big enough to deal with that, okay? Okay.
All Cheerleaders Die (2013)

Not to spoil anything, but I think this might be the only movie on this list that contains some really great lesbian content. It's on Shudder and is a bit more of a low budget film, but sometimes those are the best movies. This is also another movie that isn't strictly guts and gore and includes a bit of comedy in it. With witchcraft and lesbianism, what more could you and Azalea ask for? You can get twisted up in each other's legs and talk about who gets to spit in who's mouth later. I'm imagining Azalea is not like your soft butch friend Ericka and will not play coy during the duration of the movie. She's a bitch that knows what she wants. And what she wants is you, you lucky devil.
The Descent (2005)

One time I was watching this movie with a friend and we kept screaming at certain jump scares. Her husband was like "you are scaring the cats!" and she was like "no sweetie we are scaring you" and that was when I knew I would be adding this movie into my regular watching rotation. The Descent follows a group of mostly white women who decide that it's a good idea to go exploring around underground in tight caves. During their trip, they run into some unsightly creatures underground that threaten to ruin their cute little reunion. A bunch of women getting trapped in a tight cave? Maybe All Cheerleaders Die isn't the only movie with lesbian content. In any event, you and Azalea can sit and laugh at white women white women-ing and outdoorsy types from the comfort of her velvet couch. I'm also imagining she has impeccable taste in furniture and probably owns a sex swing. Pause halfway through to get railed by Azalea and then resume for another memorable ending that calls to mind another on this list.
---
What gorefest movies would you add to the list?