After a long summer of underboob puddles and chub rub only soothed by the formation of a sweat river between my thighs, spooky season is finally upon us. This time of year brings us back to what really matters: cool weather that beacons you to cradle a mug of redbush tea by the window with a true-crime podcast playing softly in the background.
For the uninitiated, it is also cuffing season, the perfect time to send that risky text to Erica, your sensitive butch "friend" who you've been passively flirting with but not brave enough to kiss since May. Erica's sizeable forearms are offset by the fact that she blushes and turns away every time you give her a compliment. Plaid and earth tones really bring out the gold in her brown eyes so when she looks at you there's always the hint of a sparkle. You're smitten and a little punk when it comes to love. Here is where horror movies come in to do much of the heavy lifting.
Behold, ten horror movies chill enough to have Erica scooting closer to you on the couch and maybe even grabbing your hand for support, but not so disturbing that you both leave for the night restless and perturbed.
Carrie (1976)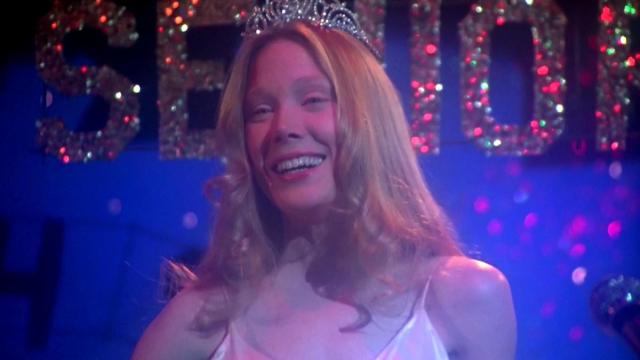 Carrie is a great movie to watch alone, with a friend, or with Erica who has arrived with a spiced nut medley she made herself, still warm enough to fog up the Tupperware container. Sissy Spacek stars as a girl many of us identify with: wide-eyed, odd, devastated by the onslaught of a period, and fascinated by the paranormal.
Both of you are sure to comment on Betty Buckley as the hero Miss Collins. Miss Collins is every stereotypical gay gym teacher. With perfectly waved hair (even when delivering verbal smackdowns) and cheekbones sharp enough to cut glass, Miss Collins is a heartthrob that attempts to protect Carrie in every situation. How does Miss Collins handle bullies?
Miss Collins: You too, Chris, and spit out that gum.
Chris: Where will I put it, Miss Collins?
Miss Collins: You can choke on it for all I care just get it out of your mouth.
This exchange is sure to get a chuckle out of Erica, who's beside you sipping on a seltzer and winding one of her curls around her finger.
The deaths in Carrie aren't particularly bloody or gory. A film made in the seventies, a lot of the supernatural direction is a little laughable. In the end, Carrie gets to haunt the people that tormented her and isn't that everyone's dream?
Nosferatu (1922)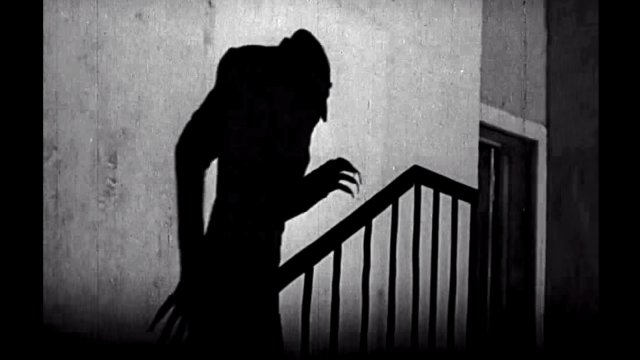 A silent film, Nosferatu is the epitome of chill. Vampire films from this era are great for dates because as students of horror know, vampires are often coded as LGBTQ and emblems of raw sexuality. Coupled with all that neck-nibbling, this film is sure to get a few suggestive eyebrow raises and sideways glances. Count Orlock's look is iconic for melding creepy with high fashion (a double-breasted, high collar black blazer? We stan!) Furthermore, Thomas Hutter has the perfectly bowed lips of a beautiful woman and watching him kiss his wife is as close as we can come to a gay experience.
Silent films completely rely on the drama of physical acting to create a tense and disturbing mood, so much of the movement in Nosferatu is exaggerated — almost effeminate in some cases, making it a delightful viewing experience.
Not without drama, makers of the film were eventually sued by Bram Stoker's heirs for basically stealing his entire story. A court ruled that all copies of the film had to be destroyed, but a few prints somehow made it out unscathed. Pepper in this fact while watching and Erica's eyes will be pulled from the scene where she has been attentively reading each dialogue card as they pop up. You really admire that about her, how she really listens and pays attention to what's around her.
A Girl Walks Home Alone At Night (2014)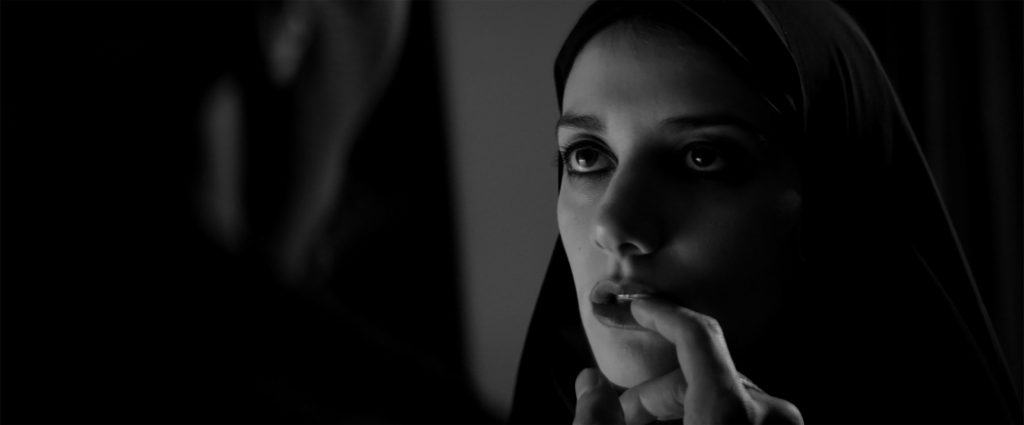 Promoted as the "First Iranian Vampire Western," this film is absolutely stunning and a story of feminism, reaching through loneliness, and women protecting other women. In one of the most poignant scenes, the vampire Girl spots a young boy walking by himself holding a skateboard at night. She approaches and asks
"Are you a good boy?"
The boy, terrified as she flashes her fangs, answers yes. She continues to ask, unconvinced that he is being truthful, and threatens to take his eyes out, warning:
"Till the end of your life, I'll be watching you."
The interaction ends with her ordering him to be a good boy, and flying down the streets at night on his skateboard, the street lights forming a halo around her chador as it billows in the breeze.
This moment reads like a woman intervening in the life of a young boy before he grows into one of the men The Girl has to defend herself against in the future. In a world where bad men are ruining the lives of women around her, the attitude of "boys will be boys" will no longer suffice. The Girl also forms a loving and protective bond with a sex worker named Atti in the film.
You and Erica can chew on the feminist subtext at this moment and throughout the film, and maybe get into a debate over the questionable treatment of addicts. Either way, you'll have a conversation that goes late into the night, and before you know it you'll both be under your thick-woven blanket, knee to knee and raving over the soundtrack.
The Girl With All The Gifts (2016)
Now we enter the creepy, bloody section of this list. This movie is stunning and stays almost entirely faithful to the book. Sennia Nanua is Melanie, one of the "Hungries" infected by a fungal disease that turns humans into flesh-hungry zombies. Melanie, like many young gays, has a major crush on her English teacher Ms. Justineau. They talk about ancient Greece and Melanie in particular revels in the creative writing activities. Author M.R. Carey and those involved in the making of the film may disagree with me, but Melanie reads as such a baby gay it's hard to not love and identify with her.
This movie is bloody, there are lots of scenes of people being eaten alive. There are jump scares and real scares and an ending that is equal parts sweet and devastating. There is also Glenn Close as domme-ish scientist with short-cropped hair. It's a thrilling watch that is beautifully scored for a date night or a night alone.
Last Shift (2014)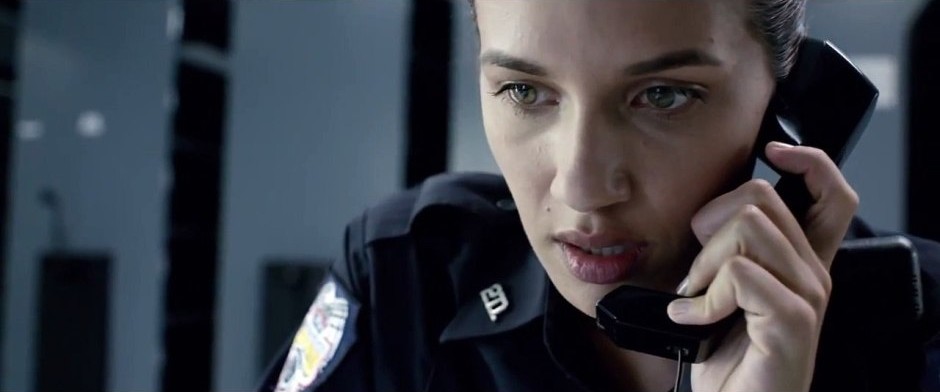 This one is tried and true. I watched this movie one night, got my hand held, and got kissed in the morning. It's rated pretty low by critics and viewers alike, but will do if you have Netflix and want to watch a cop get terrorized. The movie is about a police station that is closing down, and as they do with these things, they've sent the one rookie cop to watch over everything. Jess is a legacy cop though, which makes her somehow special, and her father died in the line of duty so she's got something to prove! The station is haunted by the souls of a Manson-esque cult that committed mass suicide inside holding cells back when Jess's dad was a cop. They appear doing basic haunting stuff: giggling, slamming doors, relocating objects, and singing childlike melodies as full grown adults.
Cops aside, the sound design on this one is pretty decent if you want to be scared. There's plenty to jump at, and when Jess turns around and comes face to face with someone that wasn't there before, you and Erica will undoubtedly jump and reach for each other. You'll laugh sheepishly and ultimate your hands will rest wherever they lay and you'll spend the night in each other's arms.
Daughters of Darkness (1971)
If there's one thing this movie has got, it's lewks. Delphine Seyrig plays a Hungarian countess Elizabeth Bathory who dazzles in a sparkling silver turtleneck, a red gown with a deep v and mock choker, a black high collar fur with a mesh veil to match, and oh those damn finger waves! Her wardrobe is "Officer, my husband? Dead?!" in human form.
The Countess preys on young girls, which is a huge bummer, but not so much that you won't be completely entranced by her feminine wiles. Without spoiling too much, there is some gay kissing and sometimes watching other people kiss is a catalyst. So make sure you've packed your green tea mints from Trader Joe's and a travel toothbrush you can use on your third bathroom break when things start to heat up.
Us (2018)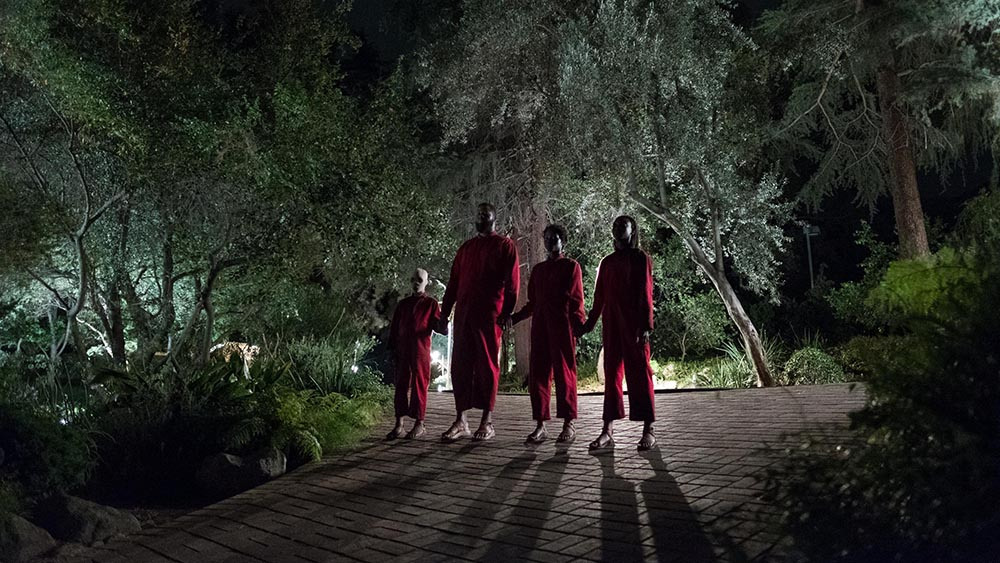 Now, if the Erica in your scenario is white, watching "Get Out" may not be the best choice for you. It will undoubtedly spark an awkward conversation about race where she attempts to get you to say she's "one of the good ones." If you want to live in a fantasy for a little longer, or if your Erica is a woman of color, Peele's "Us" is a date friendly choice that will leave everyone happy. Lupita Nyongo stars as the wife you wish you'd had and also your nightmare ex!
Rife with melanin, incredible tension, and the most bop-able spooky remix to a 90's hip hop classic in existence, "Us" will leave you both discussing theories and picking over minor details like picking cashews out of the pile of lesser nuts. You'll inevitably get into a discussion about Winston Duke's flawless complexion while complimenting the softness of each other's hands (whipped body butter recipe exchange time!)
The Witch (2015)
One thing you and Erica have in common is that you both love a liberated woman, and is there a more liberated woman than a witch? I think not. If for whatever reason you love colonial America and a heavy dose of Puritanism, this movie will suit your needs. It's got darkness, surprising sensuality, and one of the most quoted lines in a horror movie from the past decade. "The Witch" is grim, gothic, and liberating.
Thelma (2017)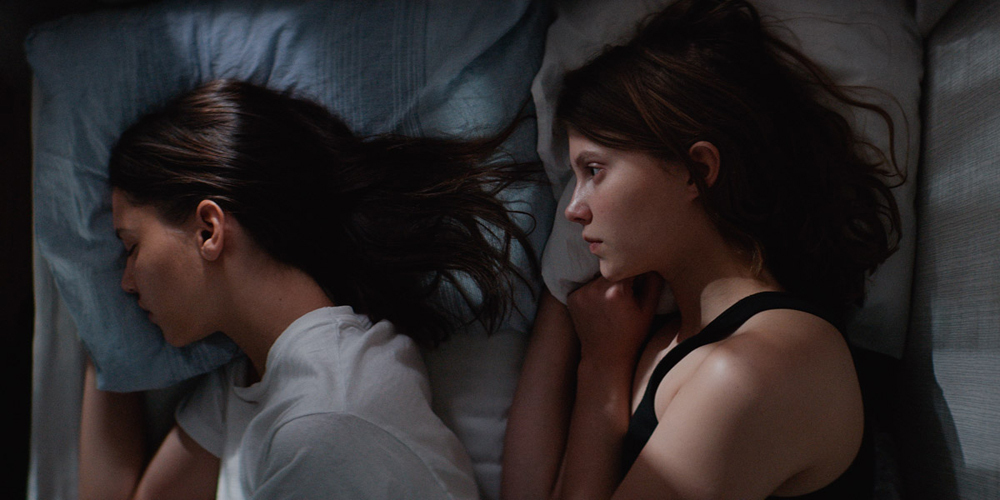 This movie is more of a thriller than a classic horror, but it will certainly get you both talking and your blood rushing. We follow Thelma, a Norwegian student that moves to Oslo for her first year of college. Not long after the move, Thelma begins to suffer from epileptic seizures that seem to coincide with her meeting a fellow student, Anja, who she begins to fall in love with.
The seizures are just the beginning for Thelma; she soon realizes that she has incredible psychokinetic powers. Anything Thelma wants she has the power to manifest, sometimes through violent means. It's a supernatural thriller that ruminates on the larger questions of a society that stifles and dulls the power of young women and girls. Bonus: no lesbians were harmed in the making of this film.
Both you and Erica will certainly be moved by the film's message of self-love and triumph in the face of adversity, and will feel inclined to share your traumatic coming out stories with one another. Is the church involved? You bet. Will there be tears? Absolutely.
Good Manners (2018)
When I first heard about "Good Manners" it was described as a "Brazilian lesbian werewolf flick" and I have been obsessed with watching it ever since. Set in Sao Paulo, Clara is a nanny that has just landed a job working for mom-to-be, Anna, who is exceedingly wealthy and gorgeous. Clara is hired to be a nanny but ends up spending more of her time caring for Anna through her mysterious disorder.
Like any classic lesbian movie, "Good Manners" takes a professional relationship with a blatant power imbalance and makes it romantic or sexual. This movie is a slow burn, and maybe all that building sexual tension will allow you and Erica space to make out a little while the story is inching along.
At a breathless two hours and 15 minutes long, it is, in a word: devastating. It really scared me and left me feeling unsettled, especially during the final 45 minutes. It's the kind of devastation that makes you want someone to hold your face in the palm of their hands, thumbs brushing your cheeks, eventually bringing you into an embrace. Who else to be frightened with but sweet, gentle, capable Erica?
The Eyes of My Mother (2016)
For When Erica Doesn't Text Back
So it's come to this: you've sent a double text. First, you wanted to come off playful and light, and then you adopted the tone of someone who knows they've been stood up. You frantically run through the many scenarios to which Erica could have fallen: car broke down, cell phone died, her grandmother fell, her grandfather fell, she burned the nut medley and was too embarrassed to come by.
Whatever it is, you'll want a move that is the opposite of "Good Manners", so devastating that you want to be left alone to do nothing else but try and remember your life before this movie. That movie is "The Eyes of My Mother."
"The Eyes of My Mother" tells the story of Francisca who was raised on a quaint farm with her family as a girl. After a devastating loss, we watch as Francisca grows up, isolated from everyone but the strange family she has amassed and the company of animals. It's the kind of movie that grabs all of your attention so you won't be tempted to look down at your phone every two minutes to check for notifications.
Was that a vibration? Could it be… her?
Can you let it go? Not for another six months at least.
I've recommended this movie to so many women I've dated and it says enough about me that I understand if I don't get a text back, and feel grateful if I do. It takes you through twists that seem both wild but altogether reasonable. You'll be left questioning who the villain is, and knowing it is Erica.