P!nk is releasing a greatest hits record! It's called Greatest Hits… So Far!!! and the album drops on Tuesday.
Does news about Pink excite you? Or even remotely pique your interest? If you're not fond of Pink's music, stop reading here. I'm about to get my fangirl on.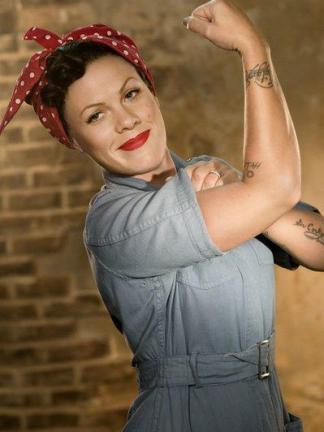 So if you can move past the album's excessive exclamation marks (and I hope you can), I think you'll find that Greatest Hits… So Far!!! is a fairly well-crafted reflection of Pink's decade-long, genre-jumping musical career. Here's the track list:
1. Get the Party Started
2. There You Go
3. Don't Let Me Get Me
4. Just Like a Pill
5. Family Portrait
6. Trouble
7. Stupid Girls
8. Who Knew
9. U + Ur Hand
10. Dear Mr. President
11. So What
12. Sober
13. Please Don't Leave Me
14. Funhouse
15. I Don't Believe You
16. Glitter In The Air
17. Raise Your Glass [new]
18. Fuckin' Perfect [new]
19. Heartbreak Down [new]
These are arguably Pink's most commercially successful hits; they got a lot of airplay and moved a lot of records and made Pink a very popular lady and Linda Perry a very rich lady. However, there are a handful of tracks missing from this greatest hits record that my heart considers to be 'hits' as well. Which brings me to the following:
The Great Hits That You Won't Find
on P!nk's Greatest Hits… So Far!!!
1. Most Girls (Can't Take Me Home, 2000)
Greatest Hits… So Far!!! favors Pink's later work, but I was nonetheless surprised that "Most Girls" didn't make the cut. I suspect it's because Pink's name isn't listed in the writing credits, girl isn't silly.
"Most Girls" first introduced me to the idea of having 'game' and for that I will always be grateful. The song is about finding a man with the bling-bling. Or not wanting to, in Pink's / our case. What it lacks in relatable lyrical content, it makes up for with a brilliant hook that, nearly a decade later, is still showcased in Pink's live shows. [Watch the live clip]
2. Split Personality (Can't Take Me Home, 2000)
Before Pink was a pop star, she was an R&B artist – and a rather talented one, at that. "Split Personality" is one of the early songs that makes me wonder what Pink could've achieved if only she'd stuck with the genre. (As AS reader Janay pointed out to me via twitter, the Pink/Perry collaboration, "Catch Me While I'm Sleeping," is a similar indicator of her R&B potential.)
When you break it down, this is about two girls trying to blend, trying to vibe, trying to live just one life. She just wants to fly, fly, fly, you know? While the artist in "Split Personality" is not overly familiar today, several characteristics of this track — such as the spoken interjections — have been carried through her entire career. [Watch the live clip]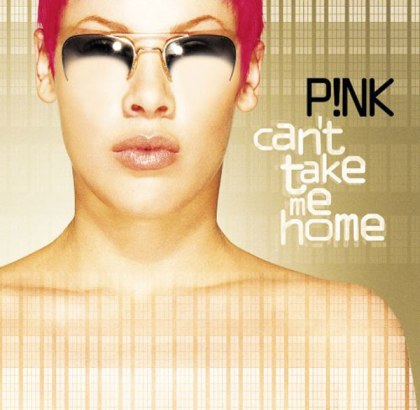 3. 18 Wheeler (M!ssundaztood, 2001)
"18 Wheeler" was one of many girl power-esque anthems that helped to position Pink as the independent kick-ass woman that we see today. Of course there were traces of this person from the very beginning, but it was in M!ssundaztood that she really amped up the attitude. I was 17 when I first heard "18 Wheeler" and it made me feel invincible. Sorta link you could run me over with your 18 wheeler truck and I wouldn't give a fuck. [Watch the live clip]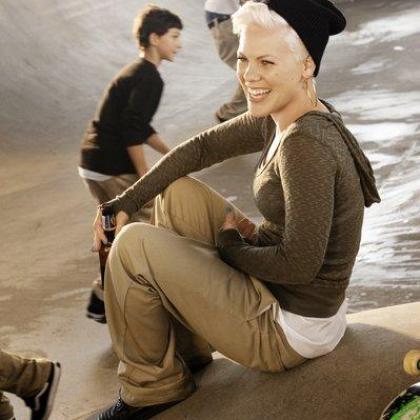 4. Tonight's the Night (Try This, 2003)
I'll never understand why Try This was Pink's lowest selling album of all time, it is SO GOOD you guys. Maybe in 2003 America wasn't ready for the future, or something. We can probably blame George W. Bush. "Tonight's the Night" is not a complicated track, I don't want to beat you with needless analysis. It's just a feel-good song with a memorable vocal line and wicked groove. Everyone should try it at least once. [Listen here]
5. Oh My God (Try This, 2003)
If you've never heard this collaboration between Pink and Peaches, you should probably go and do that right now.
For all of its ambiguity, gender-wise, "Oh My God" comes across as hyper hyper queer. I like it for being wonderfully primal and organic and sexual without the fanfare that accompanies like-minded tracks by Pink's pop peers. Part of its appeal is lesbian subtext that (maybe?) only exists in the wishful minds of listeners, and yet even with the fantasy element there's still something so incredibly honest here. Also, every time I listen my mind jumps to this place where Pink and Peaches are making out, which is a magical and not-entirely-impossible scenario that's worth the admission price.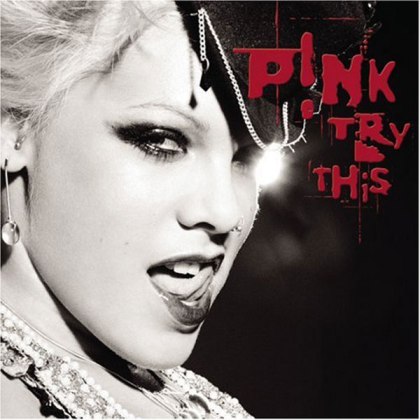 6. Waiting For Love (Try This, 2003)
"Waiting for Love" is a collaboration between 5 (!) songwriters, including Pink and Linda Perry, and happens to feature one of my all-time favorite guitar lines. But its beauty is mostly in the slow, dramatic buildup, which is not nearly as predictable as Pink's other hits. She really makes you want it. [Listen here]
7. The One That Got Away (I'm Not Dead, 2006)
Pink has enough acoustic heart-string ballads in her repertoire to show us that 'less' is more. She also has enough themed records and circus stunts under her belt that prove that 'more' is Pink. "The One That Got Away" somehow manages to bring both. It's just a girl and her guitar and a make-believe campfire, belting out an anecdote about real life that, even in its simple raw form, reveals far more than you might expect. [Watch the live clip]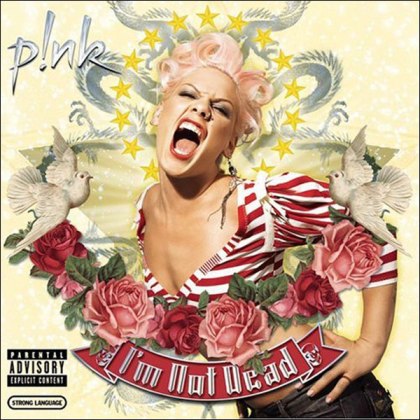 8. Fingers (I'm Not Dead, 2006)
"Fingers" is a song about masturbation. It uses little metaphor or subtext. In concert, Pink performs the song in underwear and a net. When she touches herself the crowds' jaws collectively drop to the concrete. They throw each other a look that says, "This is really happening." It's quite amazing. [Watch the live clip]
I don't love this song for its sound, or adult content, or even the way she performs it onstage (although that is a bonus). What I adore about it is the way it just sits there, unadvertised, at the end of the album. It's more cheeky than it is 'shocking.' It's like a private joke and she's waiting for you to find it.
9. Crystal Ball (Funhouse, 2008)
What I love most about the Funhouse record is the element of fantasy. It's really no surprise that Greatest Hits… So Far!!! plucks so many songs from its track list. Right in the middle of the Funhouse's bells and whistles and carnival crazy is a ballad that I think everyone should hear once. It's not hugely memorable, but it is lovely. [Watch the live clip]
10. Bad Influence (Funhouse, 2008)
"Bad Influence" is Funhouse's party song. It's unpredictable, while remaining effortlessly on theme. It makes me excited about the pop music of the future. [Watch the live clip]

Got any to add?