LIKE LIP SERVICE BUT REAL:
Hey are you into Lip Service or at least our recaps of it? Someone out there is really banking on it, so, if you haven't gotten into it yet, just be aware that there may soon be a "Lip Service Valentine's Special" where you and your lady can enjoy a romantic holiday in scenic Glasgow. Yes. This is how we live now. (@scotlandonsundays)
Based around the Merchant City, which it describes as "the city's gay quarter", the two-night package in February will include dinner at the Hummingbird on Bath Street, where the characters Cat and Sam have their first date, VIP passes to "Scotland's hottest gay club" – the Polo Lounge, which does not feature in the series – and a guide to the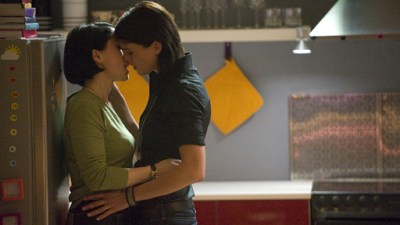 other cafés, bars and venues used as locations.
There are similar L Word-themed events, and they are almost embarrassingly successful in how they manage to monetize our collective obsession. Really the only question here is whether they're jumping the gun – do we love Lip Service as much as they think we love Lip Service? Or as much as my tumblr dashboard would imply we love Lip Service? Is it me or is this really funny? Someone answer me. Do you even get to meet that girl who plays Frankie. I don't think you do.
GLEE:
Apparently the gayest episode of Glee to date was also by some metrics the most popular; Darren Criss's cover of "Teenage Dream" is the best-selling single the show has ever had. This is nice not only on a vague psychological level because it means that America enjoys having a boy tell Chris Colfer to put his hands on him in his skintight jeans, but because apparently Glee donates money to the Harvey Milk school? Did everyone else already know this? "…some of those funds might be going toward paying the salary of a counselor of Harvey Milk School in NYC — a job that was eliminated due to budget cuts, but which Glee is underwriting (in addition to $25k in scholarship funds) so gay students are better equipped." In case you haven't already had the song stuck in your head all week, here it is again. (@queerty)
LINDSAY LOHAN:
LiLo is out of actual rehab and staying in a "sober house," with all of her comings and goings approved by program directors. One of those outings is to a magazine shoot this week, which is her first work sort of thing since being readmitted. Also, ONTD has a lot of pictures of her moving from her house to her car, if that's the kind of thing you're into. (@ontd)
GAY NASCAR:
Is there a word for a gay NASCAR fan? Gayscar? Anyways this guy started a website for them, Queers4Gears.com, and we're trying really hard not to make a joke about how all six queer NASCAR fans now have a slice of the internet to call their own. Mostly this article is great because it contains the quote: "Nascar has more fans who are accepting of me being gay than gays have been accepting of me being a Nascar fan,wp_postsMyers said in a recent telephone interview." (@nytimes)
FINNISH:
Finnish churches have approved a moment of silent prayerful meditation for gay partnerships and civil unions. I have no idea what that means in practical terms, but it seems like a good thing in general. (@advocate)
TRANS BARBIE:
In a really fantastic manufacturing error, thousands of dolls with male genitalia on female doll bodies were shipped to Lithuania. They will probably be recalled or something, I don't know, but it's still great that trans and intersexed kids were able to see themselves reflected in their playtoys for like five minutes. The revolution will come via manufacturing error. (@queerty)
ART:
The series Hide/Seek: Difference and Desire in American Portraiture at the National Portrait Gallery offers over 100 pieces of art done largely by queer artists and featuring almost exclusively queer subjects, one of the largest exhibitions ever focused on queer art and artists. It features artists like Jasper Johns, Georgia O'Keeffe, and Robert Mapplethorpe, and subjects like Walt Whitman and Susan Sontag. Click over to the NPR site for a really nice slideshow of 13 selected portraits – THERE IS ONE OF JAMES BALDWIN. @npr)
GAY BOLLYWOOD:
After delays caused by lack of support and wrangling with government censors, the Bollywood film Dunno Y… Na Jaane Kyun was released Friday as the first Bollywood film to deal explicitly with a gay relationship. The more recent hit comedy Dostana featured Bollywood stars Abhisheik Bachchan and John Abraham pretending to be in a relationship for laughs, but the new film features two male leads whose on-screen relationship is real, and who even have kissing and sex scenes (kissing onscreen even between men and women was completely forbidden in India until recently). One of the male leads, Yuvraaj Parashar, has been disowned by his family for his role, and both have received numerous threats. Check it out! (@advocate)