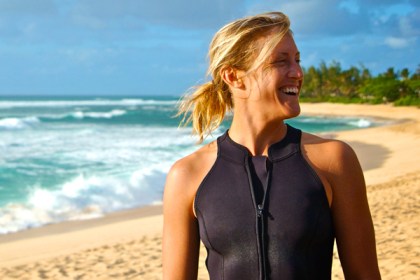 Cori Schumacher, 33, is a lesbian and the reigning women's world longboard champion. There are a lot of world championships out there – snooker, darts, chess and certainly one can't expect all "world champions" to make a living from their crafts. However, based solely on my observations of the surfing portions of Disney classic "Johnny Tsunami," I'd expect a surfing champion to make a living surfing.
But Cori Schumacher makes a living waiting tables at Naked Cafe, a restaurant in Solana Beach, California, at least partially because "this independence gives her the freedom to publicly speak her mind, and she's got a lot to say."
Schumacher has refused endorsements since 2001 when she walked away from a $2,000/year sponsorship: "I was like, I can't do this anymore. This is ridiculous. So I just totally quit." Somewhere in LA, Kobe Bryant probably just made $2,000 for thinking the word "Nike." Whereas $50,000 is the max prize for lady-surfers, men compete for prizes of up to $1 million.
"Any opportunity handed down by the powers-that-be is generally accepted with gratitude by female longboarders," Schumacher writes in The Guardian UK, but now Schumacher is in the spotlight for boycotting the ASP Women's Longboard Tour, set to take place on Hainan Island, China. Schumacher wrote ASP administrators to say:
"I have deep political and personal reservations with being a part of any sort of benefit to a country that actively engages in human rights violations, specifically those in violation of women. The ASP's reconnoissance (sic) of possible sites in China for events last year and its first ASP event in China followed an important US congressional hearing on China's "One Child Policy", a policy sanctioned by the Chinese government that is implicated in gendercide, sexual slavery, forced sterilization and forced abortions."
This is the first time a professional surfer has opted out of a major competition since 1985 when a few bros were totes done with that whole apartheid thing and didn't compete in South Africa. That makes sense to me since there haven't been any other major world events that could cause moral dilemmas since 1985.
The New York Times recently covered the surfer's decision in a piece about the challenges facing female surfers. I'll sum it up quickly for you. Ahem: "No one cares about women's surfing. When women think/speak/have feelings it is bad for business. If women want money, respect, anything other than the vagina they were born with they have to yell about it and then all they will get is this news article which is the equivalent of when you try to be a good person that adopts a dog instead of buying it from the evil pet store empire but all you leave the shelter with is puppy slob on your sleeve and the sounds of a chew toy echoing in your head."
In other words, if you want details on, say, the actual experiences these women have as surfers, you won't find it in The New York Times. Schumacher mentions that surfing is "massively homophobic" but we don't get any details about how it's not exactly Curl Girls out there. Despite stating that Schumacher refuses sponsorship partly because she wants to be outspoken about the causes she cares about, The Times barely even broaches these issues, choosing to fill news-space with quotes like this one from ASP north America executive director Meg Bernardo: "I think that women's overall surfing is just having a real hard time right now with sponsorship and it will really come from the women making a stand about how women are portrayed."
There's a brief mention of  Schumacher's reasons for refusing a sponsorship from Roxy:
"Here's a company who talks such an amazing game, and yet in their advertising, they're cutting off women's heads. Over the years, the rhetoric has changed. They've embraced more enlightened language, and yet through their advertising, they're marketing the same things, and that doesn't make sense to me."
… and that's it. In the context of an article re-packaged as being about women struggling to bank in surfing, the author seems to characterize Schumacher's activism as rabble-rousing, and I don't appreciate it. Schumacher is straight up gay married and an advocate for gay and women's rights in surfing and beyond. I think if the article wanted to get into the nitty gritty details of the hurdles female surfers face, she would have been on board (see what I did there). Meanwhile her move has been praised by Women's Rights Without Frontiers and um, totally mis-categorized as a "pro-life" platform by the "American Family News Network," which is profoundly upsetting and quite reductive.
Schumacher is given a platform to explain her decision in The Guardian UK, however, and also in The The Del Mar Times, Schumacher gets more face time regarding her decision to boycott China:
I felt like I had two choices: I could go with my reservations and wear a 'Free Tibet' shirt, or something trite like that. Or, I could stand up for what I believe in and hopefully call more attention to these issues through a boycott.
What do you think? Does coverage of this decision reflect the very same dismissive misogynistic attitude within surfing that Schumacher wants to change? What do you think of her decision to boycott the competition?