Brazil is headed to a high-stakes runoff presidential election on October 28th that will have huge implications for the largest country in Latin America, perhaps even the world.
Far-right candidate Jair Bolsonaro, known for his ultra-conservative agenda and often compared to Trump, has polarized the country with his incendiary commentary filled with misogynistic, racist, anti-LGBT and anti-democratic views. His base of support was strengthened after he was stabbed in a failed assassination attempt on the campaign trail in September and spent most of the last weeks before the October 7th election broadcasting himself on Facebook Live from his hospital bed. He won 46 percent of the vote, just a few points shy of the 50 percent majority needed to win. Leftist Worker's Party (Partido dos Trabalhadores) candidate Fernando Haddad trailed in second with just 29 percent of the vote. They both head to a runoff election on October 28th and the elected candidate will take office in January.
The presidential election is significant for many Brazilians, who have been facing political and economic crises. In recent years, Brazil's economy has plunged into one of the worst recessions the country has seen, mostly due to huge corruption scandals impacting Brazil's biggest companies and implicating many top government officials. Nearly a third of Brazilians have struggled to buy food in the past year and the unemployment rate is at an all-time high with nearly 13 million people without a job. In addition, Brazil faces a security crisis with its murder rate reaching unprecedented levels in 2017, rising 3 percent within a year, due to violence associated with organized crime and corruption.
On top of all this, many Brazilians have come to distrust the government, in part due to the downfall of former Brazilian president Luiz Inácio Lula da Silva and the questionable impeachment of first woman president Dilma Rousseff in 2016, both of the Worker's Party (PT). Lula was very popular and a celebrated working-class president during his years in office from 2003-2011. He's credited for creating a social welfare program that helped lift 20 million Brazilians out of poverty, increasing university access for black students and strengthening rights for housemaids. However, his administration has also been critiqued for perpetuating a system of bribery and corruption in order to keep the PT party in power. He hoped to make a comeback in the October elections but was barred from the race and is now serving a 12-year sentence on corruption charges which he is appealing in court.
Much like Trump, Bolsonaro has used his powerful social media presence to promise to fix these crises without proposing any real policy plans. For example, in September he tweeted: "While they insist on fallacies, labels and this fixation with the word 'dictatorship', more than 14 million people are unemployed, citizens are held hostage in their own homes, there are 60,000 homicides and 50,000 women are being raped each year. This is what the people care about! It's urgent!"
Brazilian journalist Eliane Brum points out why Bolsonaro resonates with many Brazilians, and it's very reminiscent of Trump and his supporters:
"Bolsonaro is less a post-truth phenomenon than a phenomenon of what I call self-truth. The content of what he says doesn't matter: what matters is the act of saying it. Aesthetics have replaced ethics. By saying everything and anything, no matter how violent, he is labelled truthful or sincere by his voters at a time when politicians are being shunned as frauds and liars. At the same time, "truth" has become an absolute and a personal choice. The individual has been taken to a radical extreme."
Here's a quick overview of why Jair Bolsonaro is so dangerous for LGBTQ Brazilians, what's been happening with the Brazilian presidential race the past few months and how Bolsonaro's potential win could affect not just Brazil but the entire world.
---
Who Is Jair Bolsonaro?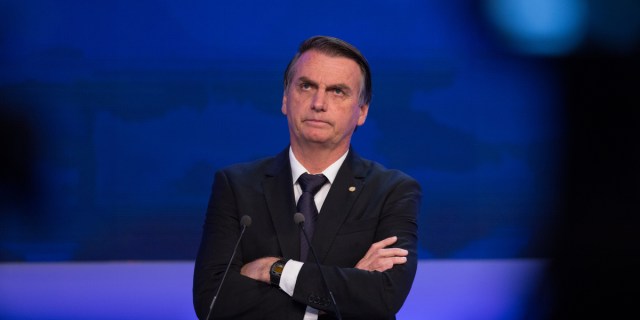 63-year-old Jair Bolsonaro likes to paint himself as a political outsider but he's been peddling the same ideas for a long time and is definitely not new to the political scene, having served seven terms in Brazil's federal congress.
He's a former military officer and has glorified Brazil's former military dictatorship that held power from the 60s through the 80s. He said he was in favor of a dictatorship in a 1993 speech and in 2015, he was quoted as saying the military rule in Brazil was "glorious." In 2016, Bolsonaro voted to impeach Rousseff and made a speech praising Colonel Brilhante Ustra, the man who oversaw the torture of hundreds under military rule, including Rousseff herself. Bolsonaro's affinity for military rule has alarmed many Brazilians while others justify his position in the country's security crisis.
Bolsonaro's conservative agenda boasts support from the rapidly growing evangelical Christian sect, who believes in eliminating legal abortion and gay rights. Bolsonaro's campaign has focused on safety and security, vowing to loosen gun ownership laws while also being hard on crime. He's also in favor of developing the Amazon, the world's largest rainforest and the world's largest source to combat carbon dioxide emissions, which could lead to disastrous effects for the environment.
His whole deal is very reminiscent of Trump and it seems like he took a page from his playbook by dominating social media networks during his campaign, probably illegally using fake accounts on WhatsApp. He has 7 million followers on Facebook and 1.8 million Twitter followers, a third of which are suspected of being bots.
---
He's Homophobic, Racist and Misogynist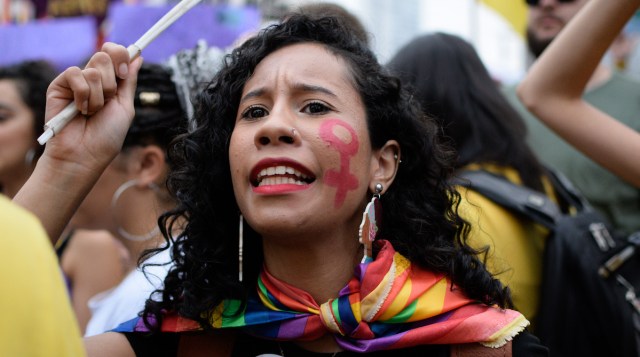 Bolsonaro has a long record of spewing hateful speech towards women, the LGBT community, and black and mixed-race people in Brazil who make up more than half of the country's population. In 2017, he had to pay a fine for hate speech and earlier this year he was charged with inciting hate by the attorney general. His violent rhetoric has spurred attacks from his far-right supporters, including one case where a woman had a swastika carved onto her body. And the Brazilian Association of Investigative Journalism reports more than 60 physical attacks on reporters committed in a political context.
These are just some of the things Bolsonaro has said that have encouraged this type of violence.
Disturbing, violent anti-LGBT comments
For context, same-sex marriage has been legal in Brazil since 2013 but in the last few years the LGBT community has seen a horrific rise in violent hate crimes towards them, including the assassination of prominent bisexual activist Marielle Franco. According to LGBT watchdog group Grupo Gay de Bahia, at least 445 LGBT Brazilians died from hate crimes in 2017, an astounding 30% increase from 2016. Luiz Mott, president of Grupo Gay de Bahia, told The Guardian that the rising violence is linked to the increasing prominence of ultraconservative politicians who align themselves with the evangelical caucus in congress. "It's a discourse that destroys solidarity and equates LGBT people to animals," he said.
Here's how Bolsonaro contributed to the discourse:
+ In 2002, he threatened gay people with violence after seeing a photo of then-President Fernando Henrique Cardoso holding a rainbow flag in support of same-sex marriage. "I won't fight against it nor discriminate, but if I see two men kissing each other on the street, I'll beat them up," he said.
+ In 2011, Bolsonaro told Playboy magazine that he "would be incapable of loving a homosexual son," and adding, "I would prefer my son to die in an accident" than bring a man home.
+ In 2016, Ellen Page interviewed Bolsonaro for Vice's webseries "Gaycation" in which he tells her homosexuality is a behavioral issue: "I believe that for the majority of gay people it's a behavioral issue," Bolsonaro continues. "When I was young, talking about percentage, there were few [gay people]. Over time, due to liberal habits, drugs, with women also working, the number of homosexuals has really increased."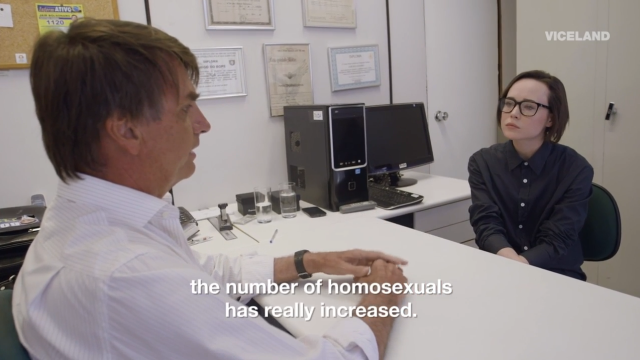 Also disturbing and violent misogynistic comments
+ In 2003, Bolsonaro was filmed arguing with fellow lawmaker Maria do Rosario. "I wouldn't ever rape you, because you don't deserve it …Slut!" he says before shoving her.
+ In 2014, he says the same thing again during a debate. He says a fellow woman congresswoman was too ugly to be raped. "She's not my type. I would never rape her. I'm not a rapist, but if I were, I wouldn't rape her because she doesn't deserve it."
+ He also told Ellen Page in that "Gaycation" interview that he didn't care if she were gay because she's pretty: "I'm not going to look at you and say, 'I think you're gay,'" Bolsonaro said. "That doesn't matter to me. You're very nice. If I were a cadet in the military academy and saw you on the street, I would whistle at you. All right? You're very pretty."
+ He has four sons and one daughter which he jokes resulted because of a "moment of weakness."
+ He doesn't think women deserved to get paid the same as men because women get pregnant and harm work productivity.
Racist views
+ He's spoken terribly about indigenous and Quilombolas communities, who are descendants of Afro-Brazilian slaves, saying that "they did nothing," implying that they were lazy. "I think they don't even manage to procreate anymore," he said.
+ In addition, he's said indigenous communities would rather have "electricity, television, blonde girlfriends and internet" than conservation reforms.
+ In 2011, he responded to a question asking what he would do if his son fell in love with a black woman:  "I won't discuss promiscuity." He continued, "I don't run that risk because my sons were very well educated."
---
The Movement Against Him
Women in Brazil are mad as hell about Bolsonaro's rise to popularity and his potential presidency, which has sparked a movement. Ludimilla Teixeira, a 36-year-old black woman from Salvador, created a Facebook group called "Women United Against Bolsonaro" on August 30 and within a few days 2.5 million women joined. Teixeira told The Guardian she created the group in order to coordinate protests against politicians with "misogynist, prejudiced and truly fascist" ideas. In September, Bolsonaro's supporters hacked the group as well as the group administrators' personal accounts and emails. Teixeira responded to the digital attacks with a call to protest against Bolsonaro.
On September 29th, thousands of women took to the streets of major Brazilian cities and declared #EleNão (#NotHim). According to organizers, 150,000 people marched in São Paulo alone.
But much like conservative white women still supported Trump even after the whole pussy grabbing tape blew up in the news, there's been an increase in support for Bolsonaro from women. 
---
His Opponent: Fernando Haddad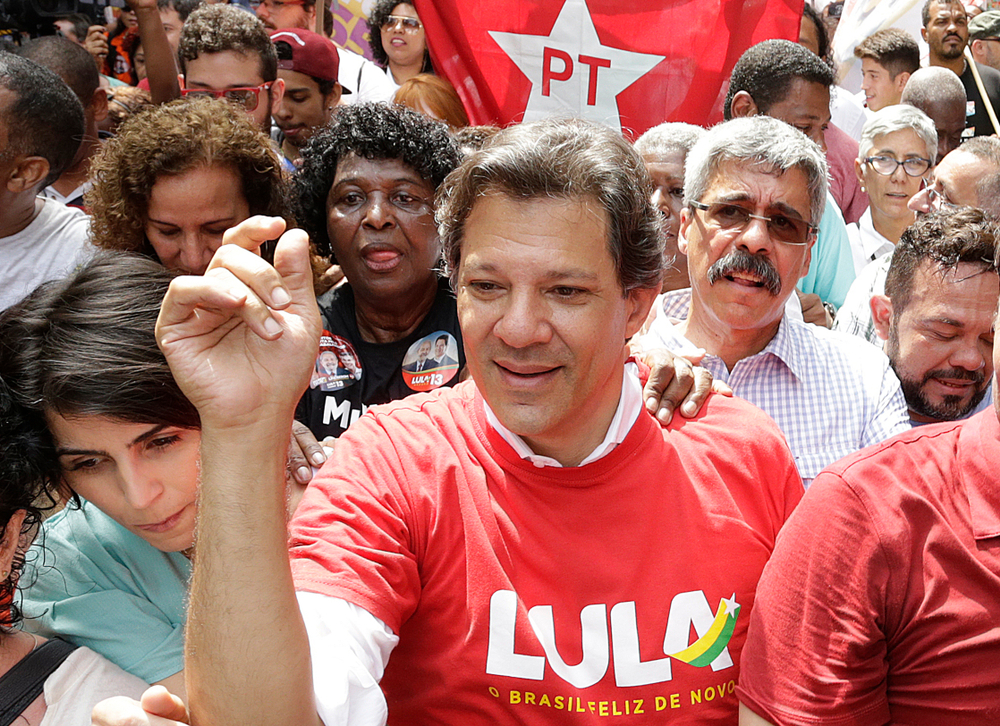 Lula was replaced on the ballot in September by 55-year-old Fernando Haddad after a court barred Lula from running. Former Minister of Education under Lula and Rouseff and former mayor of Sao Paulo, Haddad has an entirely different record with LGBTQ people than Bolsonaro. As Minister of Education, Haddad launched an anti-homophobic bullying initiative in schools that was eventually suspended by Rouseff. On the campaign trail, he pledged to be an ally for LGBTQ people and promised to criminalize homophobia and transphobia. He also plans to roll out a nationwide program like the one he launched in Sao Paulo in 2013 called Transcidadania, which helps transgender people complete their education and professional training.
Haddad currently trails behind Bolsonaro in the polls, 41 percent to 59 percent.
---
How Brazilian Straddlers Are Affected
Autostraddle commenter Carol Almeida is a lesbian journalist and Ph.D. cinema student who lives in Recife, in the northeast of Brazil. Almeida is concerned for herself and her community with the rise of attacks from far-right Bolsonaro supporters; she says many of her family members don't see Bolsonaro as a threat to their lives and don't take his hate speech seriously.
"I can't hold my girlfriend's hand in public now, and all of this happened too fast," Almeida wrote in a comment on Autostraddle. "They want to kill us and although we'll resist until the very end, it's truly devastating having this feeling we're about to enter another war in a continental country where millions and millions of people are voting against their own lives. I don't wish this to anyone."
She tells me over email the election season has taken a toll on her body; she's been to the hospital twice in the last week due to pain all over her body from stress and anxiety and was given a fibromyalgia diagnosis while many of her friends are "experiencing distinct processes of depression."
"I think this will be a very very dangerous country to all of us in the LGBT community," she wrote in an email. "In addition to losing our rights, our greatest fear is that [Bolsonaro's] government can trigger a process of violence against the community that won't receive any type of punishment, since there will be no law to protect us."
Almeida's hope is that she and her community can survive the election outcome without losing their love for life. "I spent the day with some of my closest friends today and we made a pact to never give up."