Whitney's Team Pick:
Reasons why you should watch the lesbian webseries, Girl/Girl Scene:
1. Hot ladies
2. Funny, well-writen dialogue
3. Hot ladies
Number one and three on the list might be pretty obvious off the bat (I mean, hey, have you seen the cast list for this thing?) but number two took me as a bit of a surprise when I watched the first episode. You can't really blame me for not knowing what to expect, writing-wise — there isn't an astronomical number of queer fictional webseries out there, and there's a universal tendency toward ill-put lines like "CALL ME YONDER, ALAS, TO THINE BOOTYCALL" in a lot of web productions.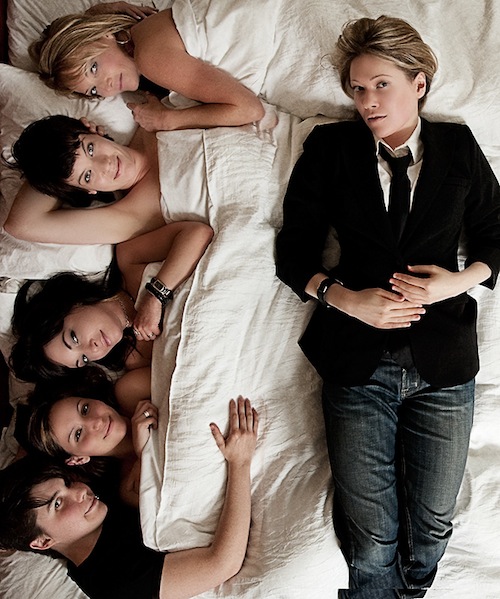 But Girl/Girl Scene is genuinely funny. I actually cracked up a few times watching the show, and coming from me, Whitney "I Don't Find Many Things Funny, Which Is Weird" Pow, that's a pretty good thing. Of course, I'm one of the last people to know about the writing chops on this show, as Girl/Girl Scene won Best Screenplay Award at the 2010 World Independent Film Expo (WIFE for short, which is a pretty great acronym).
Girl/Girl Scene is filled with expectedly interlocking, twisty relationships and storylines, and while the show centers on lesbians, it also features a cast of unconventional queer, straight and trans characters. The show stars Jackson E. Cofer, a transman actor and activist, as Elliott, the transboy best friend of babydyke Jessie; Cindy Allen plays Susan, the middle-aged, self-professed "cool mom" to said babydyke Jessie (Susan ends up having twisty drama as well); and Santana Berry plays Tyler, a petite, pixie-cut, extremely queer rabbinical student (as in adorable rabbi to-be).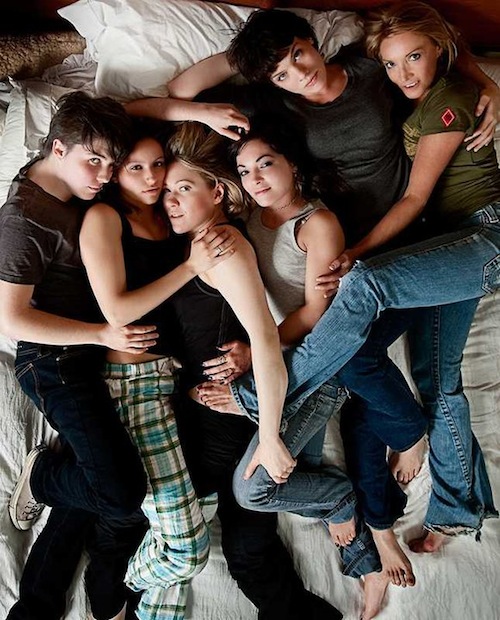 As always, there are the classic character draws, too — Tucky Williams, the show's creator and scriptwriter, plays Evan, the soft-butch, throaty-voiced, tie-wearing, swaggery womanizer and generally all-around hottie (I'll insert a coughShanecough, as the comparison's been made before); Joe Elswick plays the 16-year-old woah-I-didn't-know-I-was-a-lesbian-until-dot-dot-dot-happened Jessie. Kate Moody plays Zoë, Evan's best friend, with a well-balanced mixture of insanely neurotic and insanely great comedic timing; Zoë is getting over a bad psychotic ex and does meditation and yoga to counterbalance all that negativity ("It doesn't help," she says bluntly).
I'm not going to spoil the plotlines for you, but so far Girl/Girl Scene  is on its first season with seven episodes to boot — you should watch and get caught up in all of the drama, makeouts and panty shots. While you're at it, you should probably check out Girl/Girl Scene's Tumblr, as it has the best stock of hilarious / sexy / cute gifs taken from the show — a gif for every possible moment (from awkward to sexy to awkwardsexy).