When I first saw the commercial for CBS' new Edie Falco-helmed cop drama, Tommy, I casually shouted at the television, "GAY!" like I always do when I see a powerful woman in a suit on-screen — but it turns out I was right. Falco plays Abigail "Tommy" Thomas, a former NYPD officer who becomes Los Angeles' first female police chief, after a federal judge forces the mayor to hire a woman in the wake of multiple misogynist scandals within the department. If you think it's wild that CBS of all networks greenlit a lesbian-led police procedural rooted in #MeToo, wait'll you get a load of the fact that Tommy's daughter, Kate, is played by Olivia Lucy Phillip, and the pilot sees Tommy going head to head with ICE to keep a young mother and her daughter from being deported. In fact, before the first commercial break, Tommy leads them safely to her police car through a swarm of people in MAGA hats screaming at her.
This isn't to say Tommy is without its issues. Over the last few decades, some of the TV characters who have resonated most with queer women audiences are, essentially, on crime shows. The first gay kiss between two women happened on 1991 on L.A. Law. Then, uniformed officer Abby on NYPD Blue appeared out and proud in the mid-'90s even before Ellen's "Puppy Episode."
We've had narcotics detective Kima Greggs on The Wire, Helen Stewart as Governing Governor of Larkhall prison on Bad Girls, FBI Agent Diana Berrigan on White Collar, Commanding Officer Arleen Gonzales on Law & Order: LA, beat cop Gail Peck on Rookie Blue, pseudo-FBI Special Agent H.G. Wells on Warehouse 13, NYPD Detective Rosa Diaz on Brooklyn Nine-Nine, GCPD Detective Renee Montoya on Gotham, S.W.A.T team member Christina Alonso — not to mention the myriad lesbian and bisexual superheroes in league with their cities' various police departments, and space and fantasy law enforcers, and the dozens of not-queer-but-kinda-queer characters like Olivia Benson on Law and Order: SVU.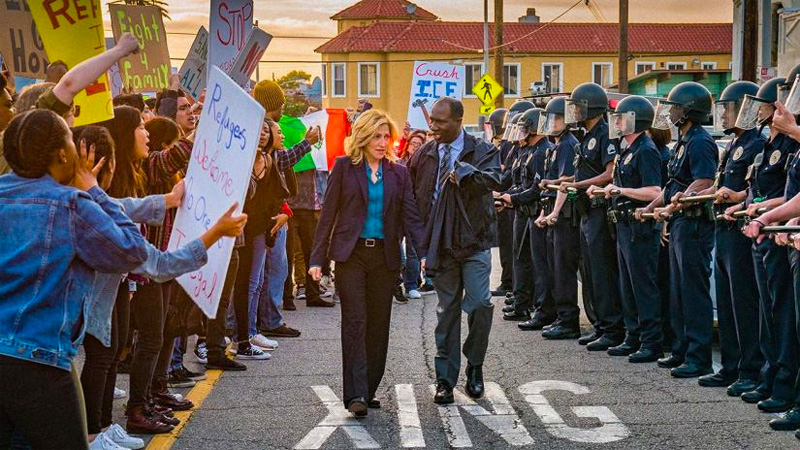 It's a thing because shows about cops and courts remain one of the most popular TV genres and because "strong women character" stereotypes have a lot in common with "lesbian character" stereotypes (starting — but not ending — with motorcycles and leather jackets). Edie Falco's Tommy is set apart because she's the show's main character.
Cop shows may be ubiquitous, but they are also problematic. In Color of Change's recent and revolutionary Normalizing Injustice report, the organization cited severe public misconception about crime rates, and about race and crime; and asked, simply: Is scripted television essentially a PR machine for the police? A summary of their findings:
Normalizing Injustice found that the crime TV genre—the main way that tens of millions of people learn to think about the criminal justice system—advanced debunked ideas about crime, a false hero narrative about law enforcement, and distorted representations about Black people, other people of color and women. These shows rendered racism invisible and dismissed any need for police accountability. They made illegal, destructive and racist practices within the criminal justice system seem acceptable, justifiable and necessary—even heroic. The study found that the genre is also incredibly un-diverse in terms of creators, writers and showrunners: nearly all white.
Tommy does tick off many of these checkboxes. The show's lead is white; the creator, writers and directors of the first few episodes are white; Tommy is painted as a hero/white savior in the pilot; and while the main "good guys" of the pilot are a woman and child of color, so is the "bad guy." It's exciting to see that Tommy's daughter and granddaughter are POC, but a conversation about race hasn't come up in relation to either of them in the episodes I've seen, which could indicate the "racism rendered invisible" trope.
And, of course, Tommy doesn't take place in a fictional city inside a Batman comic book. It takes place inside the historically racist Los Angeles Police Department, which, as recently as 2018, was forced to release documents about their predictive polling and surveillance algorithms that showed they "propagate a vicious cycle of disproportionately high arrests of black Angelinos, as well as other racial minorities." Which makes sense; algorithms continue to be proven racist, in healthcare and beyond. Robots learn implicit bias from their — usually white — human creators. All of that on top of the this country's endlessly long and universal history of police brutality against people of color and against LGBTQ people (obviously the two groups aren't mutually exclusive).
I am not generally drawn to cop shows, so I was shocked to find myself not only leaning into my laptop as the first episode progressed but tearing up by the end of it. Pilots are a clunky business, but "In Dreams Begin Responsibilities" deftly introduces Tommy; her estranged daughter, Kate, a child psychologist with a daughter of her own; Mayor Buddy Grey (Thomas Sadoski), a career politician whose soul still seems to be in tact; Blake Sullivan (Adelaide Clemens), Tommy's clear-eyed, ambitious, feminist PR person; Ken (Michael Chernus), Tommy's shades-of-West Wing idealist speech writer; and a romantic interest I won't spoil for you. Those elements alone pique my interest beyond a classic hour-long procedural. You've got your political intrigue, your case of the week, your battles of political ideology, your family trauma, and your lesbian love drama.
What has surprised me most about the episodes I've seen so far is what a huge role Tommy's gayness plays in the series. It's not a throwaway fact for diversity points, or a way to get out of giving her a love interest. The suggestion of it starts out as a joke — "It would explain a lot," the mayor's chief of staff tells him when he says that, no, he didn't ask about it in their interview, "gay people are more independent-minded, by definition, because they're diverging from the majority view!" — but evolves into a facet of Tommy's life that has caused her and her family major pain in the past, and something she struggles with whether or not to publicly disclose because she's already making headlines and the conservatives are out to get her. Her sexuality, it seems, has been something of a personal and career liability, and part of the series will see her grappling to turn it into something empowering.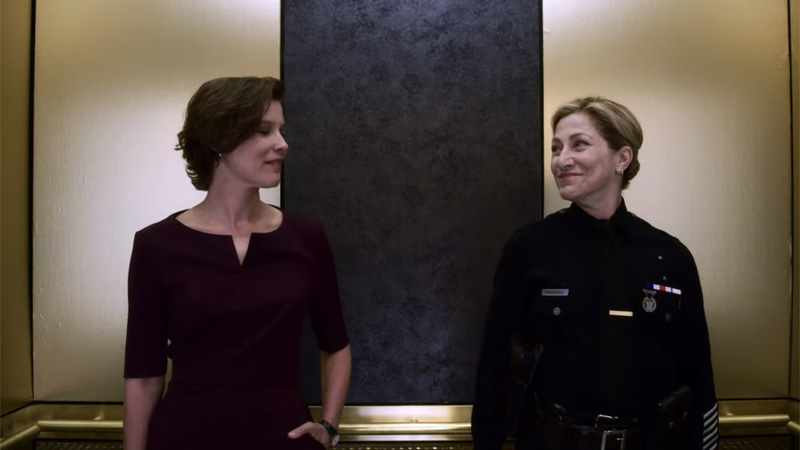 What didn't surprise me is Tommy's no starry-eyed protagonist with plans to reform the Los Angeles police department with her big dreams an even bigger heart. She's not Nurse Jackie (although I did cringe every time she took a sip of alcohol), but this is also no glossy girl power series. There's no way an actress with Falco's storied career and her collection of trophies — three Emmys, two Golden Globes, and five Screen Actors Guild Awards — was coming back to broadcast TV without a good reason, and that reason is series creator Paul Albert Attanasio, who was the co-creator an executive producer of House. Tommy doesn't have a whole lot in common with Hugh Laurie's antisocial, misanthropic medical genius, but there are inescapable shades of comparison between the two shows.
A middle aged lesbian character with such power is a rare thing to see on TV. But it is quite a complicated intersection — between mostly well-received LGBTQ representation, decades of distortion about POC on crime TV, and IRL racist policing — for any actress, even one of Edie Falco's caliber, to step into. Only time will tell if the series will reckon with the multiple difficult legacies of a genre it seems to want to elevate.
---
Editor's note: An earlier version of this review did not include important context about police brutality against people of color and LGBTQ people, the history of LGBTQ women characters on crime TV, and research about the negative effects of crime TV stereotypes on people of color that we feel is necessary to understand the full scope of Tommy. As a part of queer independent media it's our responsibility to criticize and recognize the systemic violence and injustice that affects our communities, and we thank our readership for illuminating this oversight in the original. This review has been updated since its original publication.