Greetings squirrel friends! Have you all recovered from Halloween yet? I finally have. What… a whirlwind.
News time! This week we've got a few premieres: the Real Housewives of Orange County (Thursday 11/5), Tabatha's Salon Takeover (tonight at 10), and V (tonight at 8).
Mia Michaels explains her decision to leave So You Think You Can Dance, 90210 gets even gayer (guess I have to start watching now), True Blood continues to be super gay, and Better Off Ted returns to our TVs on December 8th (please watch it, we don't want it to get cancelled).
Ok recap time. Basically this week was all about gay Halloween and completely implausible storylines. And these are both mutually exclusive, btw, as gay Halloween is every bit as amazing as they say it is. Oh, and DVR alert: Autostraddle BFF Rising Star Haviland Stillwell will be appearing on an episode of Eastwick airing Nov 18th! Set your calendars!
And now…
The Carlytron Television Awards for the Week Ending 11/01/09!

The Strangely Plausible Lesbian Tension Award – Heroes
Episode 406 – Strange Attractors
Ok so in all seriousness, this was probs the best Heroes episode of this season so far. And considering how bad this episode actually was, that's really saying something.
This week Sylar takes over Matt's body and has sex with his wife. Ha! Then Sylar kills Matt so I never have to deal with this awful storyline again. Sigh, jk. Wishful thinking! Additionally in this episode, some dumbass cops drag a boy facedown from the back of a truck, killing him. Uh… not cool.
The real story of Heroes this week — and the thing that got it an award — was the Claire/Gretchen storyline. I know I was completely not impressed with this two weeks ago, but apparently they're not gonna just sweep it under the big gay rug. Well, at least, not this week.
Gretchen: "Are you afraid i'm gonna kiss-attack you in your sleep?"
Claire: (coy smile) "Maybe."
This week Claire contemplates hooking up with Gretchen while locked in the trunk of a car with her. Hm, maybe I should've gotten myself into a sorority in college after all…
Except, hellllls no, 'cause the sorority girls lock Claire, Gretchen, and two other new pledges in a fucking slaughterhouse and then that invisible girl tries to kill them. Yeah I really don't understand sororities. I am curious to see where they take the Claire/Gretchen thing though, as it was greatly unresolved at the end of the hour. I'm sure we'll have to wait several weeks to even see them together again, as this show now has so many characters and storylines going at once that you only see a plot every few episodes.
I dunno, while I find their storyline to be believable, and the tension feels real, maybe this would have been more interesting to me when I was 17, and I was obsessed with watching things like this.
And despite its best efforts, miserable Heroes will probably get cancelled and that article has a list of things that should happen before it ends, all of which I agree with wholeheartedly.


The Get Well Soon Award – FlashForward
Episode 106 – Scary Monsters and Super Creeps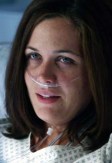 After 5 hours in surgery, Janis lives. #yaygay! But then something happens and she has to go back in to surgery. Ruh oh. But then she's ok for real, and Maya sends her flowers. Recover fast so that you guys can make up and make out some more! Also that kangaroo appears again, the first time since the pilot. And Dominic Monaghan apparently helped to cause the blackout! And then he seduces Daphne from True Blood on a train! Hot!
The Chuckle Award – 30 Rock
Episode 403 – Stone Mountain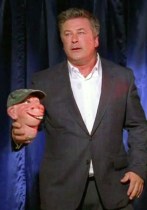 Liz and Jack travel to Kenneth's hometown of Stone Mountain, GA to search for the new castmember. Wackiness ensues as Jack finally learns that middle America isn't as wholesome as he thought, and Liz eats a sandwich that makes her sick for their entire trip. She also explains her worldview: that all anybody anywhere wants is to sit down and eat a sandwich.
"What a surprise, your worldview is food-based." – Jack
Liz Lemon and I might as well be the same person. Jack snaps and completely destroys a ventriloquist's dummy in front of a crowd full of… Kenneths? Jack McBrayer is like an American Chris Lilley or something!
Michael: "Girl. I don't even have the energy to tell you what's happening here. So read… my… face." (makes an amazingly sassy face)
Jenny: "GASP! Oh my God, they're using me to get invited to Gay Halloween so they can meet hot girls!"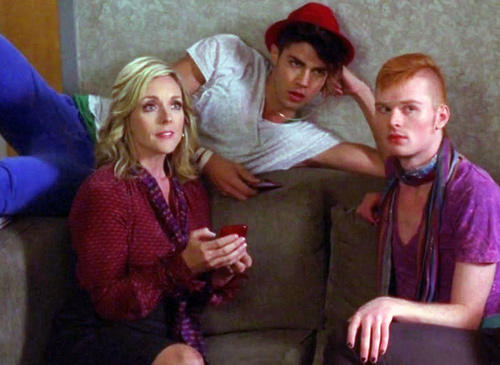 Anyway, while they're gone, Tracy is convinced that he's going to die and Jenna forms a symbiotic relationship with Frank, Twofer, and Lutz. As in Parks and Rec this week, we learn how awesome gay Halloween is. And Jenna's gays are back! They make me so happy. But I miss Patrice.


The Mindy Kaling Award for Excellence – The Office
Episode 608 – Koi Pond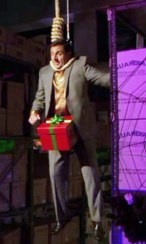 This episode was confusing to me; I thought it was a Halloween episode but the only Halloween-related part was the cold open. And that was the funniest part of the episode! As far as I can tell, here's what everyone was dressed as: Facebook (Jim), Justin Timberlake from "Dick in a Box" (Michael, of course), a pumpkin (Daryl), a black widow spider (Angela), Paul Blart: Mall Cop (Kevin), Princess Fiona from Shrek (Erin), Leeloo from the Fifth Element (Kelly), Sarah Palin (Oscar!), Rosemary from Rosemary's Baby (Pam), Jigsaw from the Saw movies (Dwight), Edward Cullen from Twilight (Ryan), an old school vampire that looks a lot like Grandpa Munster (Creed), Michael Jackson (Andy), "a hobo" (Meredith), Stanley (Stanley), and I'm not sure what Phyllis is. Amazing costumes! So why was this episode all about a stupid koi pond!? We did learn that Meredith had sex with a terrorist (??) and Jim continues to be kind of a jerk.
Luckily Mindy Kaling got to direct her own websiode series, Subtle Sexuality. You can watch all 3 parts on NBC.com or Hulu or their own band site (yes!), but the best part of it is the music video: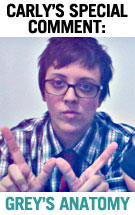 Special Comment: Grey's Anatomy
Episode 607 – Give Peace a Chance
Hey, do you hear that? It's the sound of me being very surprised that Grey's Anatomy is somewhat watchable this season! I don't know what it is, maybe the new absence of Heigl or better writing or what but I'm not even complaining about the lack of lesbian-relationship-plausibility anymore! This week Derek does a totally bonkers surgery and then the Chief fires him because the Chief sucks. He also draws all over the wall in permanent marker which REALLY IS NOT COOL and totally sent my OCD into overdrive. A Mister Clean Magic Eraser will NOT take that off, trust.
Arizona totally yells at the Chief this week too, which made me love her even more. And then Callie hugs her, and later they hold hands. Maybe in Shonda's mind, that's like third base for lesbians or something, and there's all this sexy subtext we don't know about? Look, I'm even giving them the benefit of the doubt, what is WRONG WITH ME?
I liked this week's episode because the entire staff — minus the dumbass Chief — banded together and were awesome and supportive in helping Derek. I like that stuff.
The Hysterical Parenting Award – Modern Family
Episode 106 – Run For Your Wife
The best thing about this episode is that Mitchell and Cameron lock their baby in the car and then this happens:

The Mean Girls Award – Gossip Girl
Episode 307 – How To Succeed in Bassness
"Now either make me kiss a girl already or let's move on" – Blair
Here, here! I agree with Blair, let's get this show on the road already.
In this week's Gossip Girl: Dorota gets a pedicure and plays chess, Rufus has a mid-life crisis or something, a little girl dressed as Lady Gaga comes trick-or-treating, Serena gets a fakey work-boyfriend, Jenny starts going completely batshit crazy (again) and is a total bitch to Eric. Oh, hells no! What is this moron doing? Everyone knows you can't accomplish anything without your main gay! And then her stupid handmaidens throw eggs at Eric's boy Jonathan.
Oh, and Serena's boobs go to the opening of Chuck Bass's new club: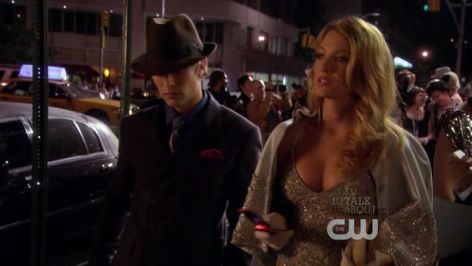 And by the end of the hour, everyone hates everyone. Awesome!


The Hot Girl of the Week Award
(by Intern Lola)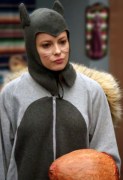 Carly and I both heartily agree that Gillian Jacobs is hot. We've been wanting to call her Hot Girl of the Week since Britta first graced our televisions on NBC's Community this fall. However, we held out for a truly exemplary moment of hotness (or in this case, cuteness). Behold! For Halloween, Britta wore a home-made costume (footie pajamas!), and was the most adorable squirrel ever. Take that, womyn who use Halloween to gallivant in scantily clad "costumes"! Not Britta Perry, feminist warrior/woodland creature.
Back when I went to community college (before I came out), I snuck fervent glances of the moody, quasi-political, leather jacket-wearing, closet smoking, ridiculously pretty, bad ass chicks like Britta. But let me be honest – I've had a real-life crush on Gillian Jacobs since I was 11 years old. For a young theater geek such as I, Gillian Jacobs was a Pittsburgh celebrity. As a lowly middle schooler competing in Pittsburgh Public Theater's Shakespeare Contest, the highlight for me was watching the seniors do their thing. Gillian won several times, both for monologues and scenes, and also won my young homo heart. She was just so pretty and talented. And guess what? She still is.
[P.S. — The only thing I won was this t-shirt.]


The Oscar Mayer Award – Ugly Betty
Episode 404 – The Wiener, the Bun, and the Boob
Why does everyone at Mode Magazine have Macs yet are somehow all running Windows XP? Sorry, my HDTV betrays everything!
Hilda sends a sexy photo of herself to the Karate Kid and — in some sort of totally-would-never-happen turn of events — it gets sent out as a reply-all to a campaign email.
"As much as i love giant wieners flying at me this is a little out of my comfort zone." – Marc
Mode Magazine might be edging out Seattle Grace Hospital for most inappropriate working environment on TV, as Daniel accidentally touches the boob of his new assistant, and then she calls him old. And then he fires her and lets her be a model. Then Betty and Marc dress as a hot dog and a bun, respectively: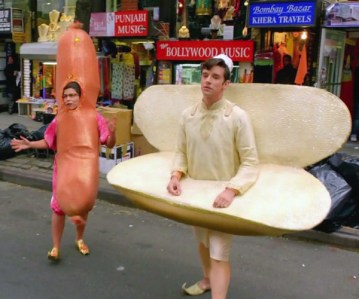 Additionally, Amanda is totally obsessed with stupid Matt and has a crazy daydream where she's kissing him but then he turns into Betty: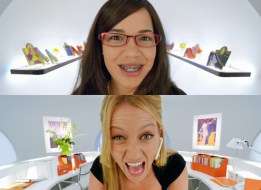 Honorable Mention
Community: Abed continues to be awesome, Britta continues to be adorable (see above).
Parks and Recreation: Best line of the week goes to April, with "I passed up a gay Halloween party to be here. Do you know how much fun gay Halloween parties are? Last year I saw 3 Jonas brothers make out with 3 Robert Pattinsons." Andy pretends to be in the FBI and is generally ridiculous and Tom and his hot fake wife steal my heart.
So You Think You Can Dance: I just realized why this is a summer show: there are too many shows on during the fall to have the time or energy to wade through a billion hours of dancing. I'm afraid SYTYCD has finally jumped the shark, but I'll revisit this again in a few weeks when I've had ample time to form opinions about the dancers.
'Tron out!