Carmen's Team Pick:
For the past two weeks, my desire to finally achieve adulthood and get my shit together has been tested in a series of Olympic-like races against the clock to get to work in time for the Supreme Court rulings on everything from the Voting Rights Act to affirmative action; for the past two weeks I then spent the remainder of each work day in deep mourning for our country's ideals of Making Sense and Not Being Total Fuckers.
I printed each decision to acquaint myself with the law and create a barrier between my head and the desk I was repeatedly banging it on; among the voices in each, whispering not-so-quietly from the back and typically under a small header reading "dissent," was Ruth Bader Ginsburg, ready to affirm my belief in humanity and make me cry a single tear for feminism, rational thought, and general badassery. I wasn't alone in needing Ginsburg's wisdom to carry me through the day.
And thus, enter Ruth Bader Ginsburg's final steps into Internet fame: The Notorious RBG. She deserves it.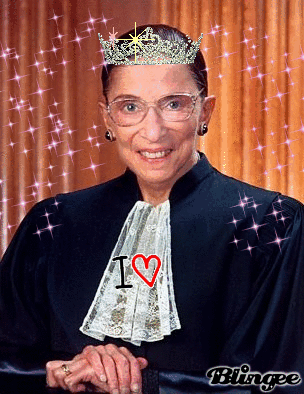 The Notorious RBG is a new Tumblr dedicated to promoting the life and work of the Supreme Court's second female justice of all time. Her appointment came at the tail-end of Sandra Day O'Connor's often interactive legal presentation called Women Can Do This, Too, which ended in 2006. Ginsburg is joined now by Justices Sotomayor and Kagan, but was the only woman in the court for over three years.
The Notorious RBG tumblr gives Ginsburg her due Idol Worship for holding up the fort of sanity in the SCOTUS. It's a trove of videos, images, memes, and quotes from The One And Only Chief Justice of My Heart right there on the Internet ready and willing to be "liked." IT'S LIKE A DREAM WORLD.
People ask me, "If you could be whatever you wanted to be, what would you be?" My first answer is not "a great lawyer." It is, "I would be a great diva." But I totally lacked that talent, so the next best thing is the law.

— Radio interview, New York Public Radio station WQXR's "Operavore" program (Feb. 2, 2013) (In Italian, a diva is a celebrated opera singer.)
In case you didn't know already from that time in 2009, Ginsburg likes to speak sharply about human rights and the law, often employing devices of humor in her written and oral arguments that make people with brains large enough to comprehend the basic equality of all people smile out of the corner of their mouths.
You are really diminishing what the state has said is marriage … There's two kinds of marriage, there's full marriage and then there's sort of skim milk marriage.

— Oral Argument, United States v. Windsor (2013)
This is a space where those words are collected and printed in an easy-to-read font, which those of us who have peered into a Supreme Court docket will realize quickly is an amazing feat.
I have said before and reiterate here that only an ostrich could regard the supposedly neutral alternatives as race unconscious.

— Fisher v. University of Texas (2013) (dissenting)
Ginsburg also often speaks out about her gender and feminist values at large when she appears on television or whatever (she's sort of a big deal). This is a space where those appearances and the amazing observations she makes about women during them can be memorialized forever. As GIFs, nonetheless.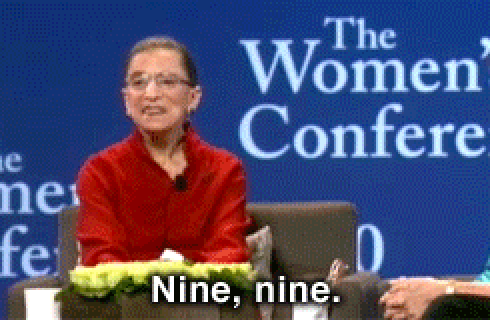 What I'm really saying is, you need this Tumblr. In your dashboard, probably, but mostly as a part of your daily balanced Internet consumption. Maybe you can read it in the morning with a tear in your eye, remembering last time Ginsburg spoke your life in a crowd of zillions of white dudes. Or maybe you want to read it at night by candlelight while compiling your next zine, "Ruth's Truths."
Either way you should read it.
And maybe buy one of the shirts.