Lori Petty, the star of several projects that i'm sure many of our readers will be familiar with including A League of Our Own and Tank Girl is moving to another Autostraddle favorite property- Orange is the New Black. TV Line announced that Petty will be joining the cast in a guest-starring role during this upcoming second season. No additional details about the character Petty will be playing were released, but it's exciting to see yet another female character being added to the mix of a cast that's already full of complex and diverse female characters. If Petty plays one of the inmates at the women's prison, it looks like you'll be able to add another Lori Petty character to your list of lesbian halloween costume ideas.
Petty started her acting career in the late 80's, but really gained fame in the 90's when she started getting roles in movies like the ones I mentioned above, Free Willy and Point Break. She then returned to acting in TV and later released her directorial debut The Poker Room (which, by the way, features Jennifer Lawrence's first starring role in a movie) to much critical acclaim in 2008. OITNB won't be Petty's first time on a prison-themed TV show. She previously played the role of "Daddy," one of the leaders of the female prisoners in the show Prison Break and that series' made for TV movie finale, Prison Break: The Final Break.
The announcement that Petty is joining the cast is the latest in a busy offseason of cast news for the show. Last summer we learned that Taryn Manning, who plays the proselytizing and Piper-Chapman-antagonizing, but still surprisingly nuanced character "Pennsatucky" will be promoted to a series regular for the second season. We also found out that Danielle Brooks, who plays Taystee on the show, is also being promoted to a series regular and that the show is adding veteran actress Lorraine Troussaint (who has been in a ton of tv shows and recently played Dana, Lena's mom on ABC Family's The Fosters) in a heavily recurring role. According to deadline, Troussaint will play "Vee, a longtime street tough who ran her own drug business, recruiting children to serve as runners." Then in November, we learned that Laura Prepon, who plays Piper's incarcerated ex Alex Vause, would be appearing in four of the series' thirteen episodes rather than the just one episode that we had heard earlier.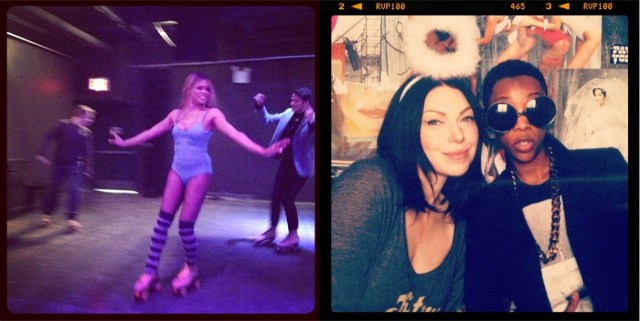 The cast of Orange is the New Black recently celebrated the end of production on season two with what seems like the most incredible roller skating wrap party ever. Several cast members including Laverne Cox, Samara Wiley and Laura Prepon showed off pictures of the shindig on their instagrams, immediately making the whole world jealous. The official Orange is the New Black account even posted a few videos of the event. Not only did we have Taystee, Poussey, Alex, Sophia, Daya and the rest of the incredibly talented and attractive cast all hanging out together, but we were also treated to possibly the greatest instagram photo of all time- Laverne Cox roller skating in a leotard, looking as Flawless as Beyonce in the "Blow" video. While no release date has been announced for the second season, many people are guessing it will be sometime this spring.