Tits and ass, tits and ass — this seems to be the focal point of the superheroine Starfire in DC's recently-released reboot comic series, Red Hood and the Outlaws. Issue one started a bit of a controversy in the comics community when Starfire, mostly known as one of the beloved main characters in the show Teen Titans on Cartoon Network, suddenly became a creepy blow-up-doll sex pot.
Tell me, how did this:
Become this?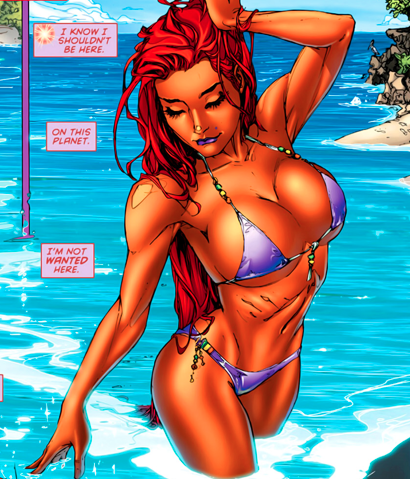 The T&A shot: an image where both a woman's tits and ass are visible at the same time, in the same panel, from the same angle (see Kate Beaton's "Hark a Vagrant" for her brilliant "Strong Female Characters" parody). Go out and try this stance if you want (guys too) — go up to a full-length mirror and see if you can contort your torso so that your butt and your upper chest are both visible. Not easy. Kind of painful. And it so happens that Starfire poses in a T&A shot in just about every panel in which she appears in Red Hood #1, from swimming at the beach to casually standing next to a male main character.
After trying out the T&A pose, you'll probably agree that the stance is completely unnatural (and something I've never seen occur in the real world). You've got to wonder here: Who is she standing like that for? Not for herself, obviously (as you would probably not contort yourself T&A style unless you were following the instructions in an Autostraddle article) — but instead for the invisible gaze of the male reader as it hovers ubiquitously over the comic book pages.
What's uncomfortable is that this completely unnatural contortion of women's bodies is being used frequently and unironically in DC Comics's new reboot that's aimed primarily at teenage boys (given the teen rating on the comic, the boobs flying out of bikinis made out of fabric the size of tea sandwiches and the way Starfire absently propositions every guy she meets for sex — but I'll get to that in a bit). It's scary because this is a demographic that's least likely to know about the reality of relationships and women and most likely to believe that women can look and act like blow-up dolls.
Worst of all, kids who used to watch Teen Titans in their preteen and early high school years (such as myself) have to see the continuation of a beloved character appearing as a silicone-breasted sex doll, and little girls everywhere are facepalming and sadly moaning at this new incarnation of a strong, familiar character. Michelle Lee wrote an article for io9.com where she interviewed her Teen-Titans-loving, 7-year-old daughter about the new Starfire, which drew out some revealing responses:
Lee: "What about this Starfire? What do you think about her?" [Refers to the image of Starfire in a bikini.]
Daughter: "I can see almost all of her boobs … But, she's not relaxing or swimming. She's just posing a lot." *my daughter appears uncomfortable*
Lee: "Do you think this [new DC] Starfire is a good hero?"
Daughter: "Not really."
Lee: "Do you think the Starfire from the Teen Titans cartoon is a good role model?"
Daughter: *immediately* "Oh yes. She's a great role model. She tells people they can be good friends and super powerful and fight for good."
Lee: "Is this new Starfire someone you'd want to be when you grow up?"
Daughter: *she gets uncomfortable again*"Not really. I mean, grown ups can wear what they want, but … she's not doing anything but wearing a tiny bikini to get attention."
The premise for DC's new Starfire is immediately noticed by a 7-year-old: Boobs. Posing. Revealing clothes. Very little characterization of and plot development for Starfire in the first issue. The problem here is something that Lee's daughter was definitely sensing, judging from her responses — that DC's Starfire is essentially an object rather than a character.
And the comic does very little to hide the fact that Starfire is little more than a sex object — the issue goes as far as to write in a nameless young boy voyeur (who looks barely ten years old) who watches Starfire and records a video of her. He whispers "There is a god" to himself as she arches her back orgasmically and splashes around on the beach in her purple finger sandwich bikini. Even a small child can see that Starfire is a sex object, the comic tells us — hella creepy.
While the boy's actions do have plot consequences (the boy uploads the video of Starfire to his Facebook analog and it alerts people to her existence on earth), the impression I get is that all men, even small children, want to objectify Starfire, who seems unaware that her contorted T&A poses are being witnessed by every random guy within a mile radius.
And another problem in Red Hood #1 is the way Starfire is introduced in the comic — her first physical appearance is heralded by a bro-joke between the two main male characters, Red Hood and Arsenal. "I hope you have at least one good backup," Red Hood says. "38 of them," Arsenal replies, and then Red Hood thinks, "Who do we know who carries a pair of 38s?"
The next page cuts to a dramatic full-page spread of Starfire floating aloft in a pile of rubble. She strikes a T&A pose and her whole torso is naked save for two purple band-aids over her erect nipples.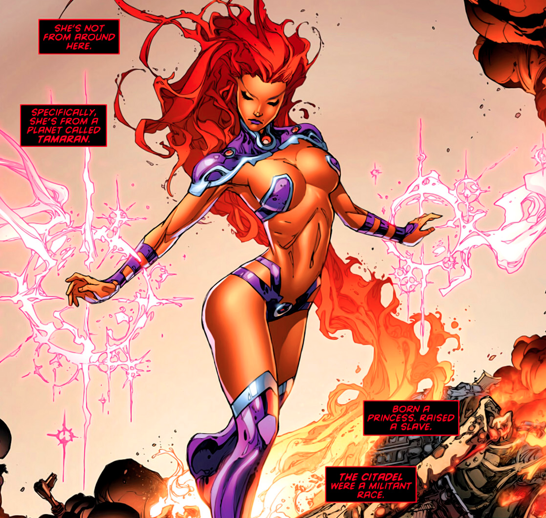 Get it? Who carries a pair of 38s? Starfire — a pair of 38DDDs you mean! Hurr Hurr. "Sophisticated" teenage bra joke.
Her first appearance in the comic is a boob joke, her first line is an uncomfortably subservient "Is there anything else I can do?" Before we can even get to that gem, there's a gratuitous ass shot of Starfire — the two male main characters sound like frat boys as they banter with each other: "Is she with you?" "With us, yeah. But yeah, she's been 'with' me." Quotation marks and all. Starfire is another tapped-ass notch on Arsenal's belt of sexual double standards. The two characters basically chest-bump about it.
And it gets worse — Starfire becomes complicit in this chest bumping, as she propositions Red Hood once they arrive on some beach paradise not too far away: "Do you want to have sex with me?" she asks. No joke — there's some class-A dialogue writing there.
When Red Hood hesitates and asks if she's actually Arsenal's girlfriend, she responds "I am free to do what I want when I want. If you are not interested, I can probably—" to which Red Hood immediately interrupts and says that, no, no, he's "Happy to oblige" — he totally wants to have sex with her. And then he does.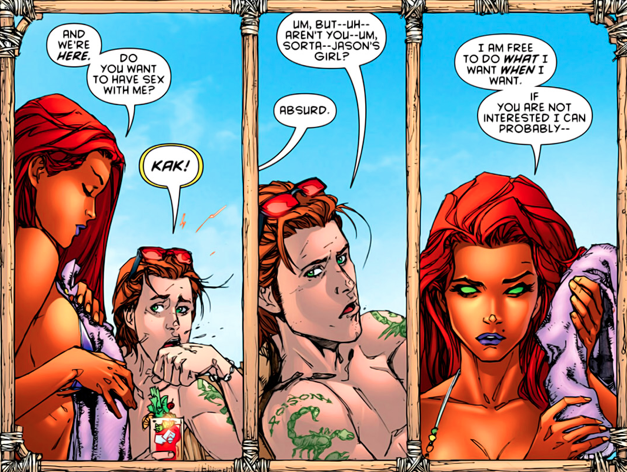 The argument in favor of this creepy, sexually promiscuous, blank-eyed Starfire is that she's "sexually liberated" — that she's in charge of her sexuality, knows what she wants and if she wants to sleep with 50 guys (and not remember their names — in her words: "I can't recall … you are boring me") she can totally do that. It's like the comic writer is rooting "Girl power!" as he put together Red Hood #1, but there's some odd Stepford Wives business going on behind the scenes.
The supposed "sexual liberation" exhibited by Starfire implies that the sexual objectification of her body is somehow okay if she initiates it herself — that a female character putting her own body on display somehow absolves men from the responsibility for exploiting her.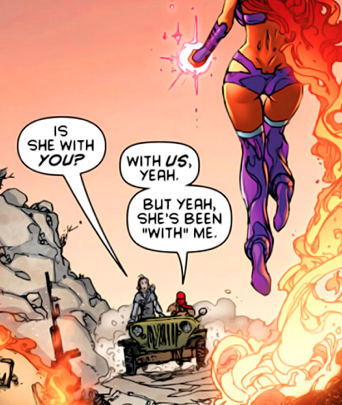 The problem is that in the new Red Hood series, Starfire is a female character who treats her body the way men treat women's bodies. Which makes sense, considering that she's not actually a woman — she's a female character who was written and drawn by men for other men. And the evidence of this male gaze is all over the pages of the first issue of Red Hood, from the awkward contortions of Starfire's body to the way she is introduced in the comic and the way she approaches and propositions men for sex.
So what do you think of the new Starfire? What do you think of the T&A pose, and where else have you seen it in mainstream media? (Also feel free to post pix or comments of your attempts at the T&A pose in the discussion!)