Happy Sunday Funday, frosted sugar cookies and iced americanos! I hope you had a great week in which you read absolutely no news at all because that shit is depressing AF. I also hope you did not decide, against your better judgement, to make a new Twitter for spying on the alt right. Just saying, that will be a test of your ability to deal. Heard it from a friend.
Dance Yrself Clean (of Fascism)
Dance protests are the new gay pride marches. I'm calling it, here and now. This week, LGBT folks danced outside of Trump Hotel in DC in an act of protest. Sweet, sweaty, bumpin' protest.
"We are here today to celebrate in solidarity our intersectionality and our resistance," said lead organizer Firas Nasr in opening remarks as the crowd assembled outside the Trump Hotel.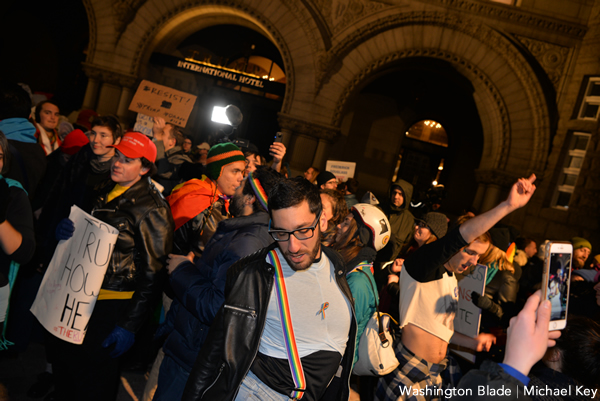 "We are here to send a clear, clear message to Donald Trump and his administration that we will not tolerate discrimination, hate, or bigotry in our country."

Nasr, who is one of the founders of WERK for Peace, told the gathering at the hotel that organizers selected dance music from all seven Middle Eastern countries that the president included in his controversial executive order that temporarily bans people from those countries from entering the U.S.

"We will be celebrating with lively music from all seven banned countries and from Latin America because those cultures are part of our fabric, the beautiful fabric that makes America great," Nasr said. "We need to be very cognizant to the fact that many of the people from those seven countries could not join us tonight. So we dance in solidarity with them."
Local News You Can Use to Forget About the Big Bad News Everywhere Else
+ University of Wisconsin-Marinette celebrated the opening of an LGBT center this week.
+ Maryland is launching an LGBT Chamber of Commerce.
+ An LGBT seniors bill of rights is moving through the California legislature. Why haven't you moved here yet.
+ A court has ruled that lesbians are lesbians, even if the folks on the Isle of Lesbos beg to differ.
The Grandma We All Deserve
When Suna came out as bisexual to her grandmother, she received in exchange a hand-knitted gay AF sweater. When I was around 22, my grandmother took my hand and put a twenty in it and held it and whispered: "I'll love you no matter what. No. Matter. What." I figured I didn't need to worry about coming out to her after that, TBH.
Rather than fret about her granddaughter's future or express confusion about her identity, Suna Huls' grandmother this grandma showed her love and support in a classically grandmotherly way.

She knitted a sweater. But it wasn't just any sweater. Grandma knitted a sweater with a big rainbow splashed across the front.

Much to the surprise of Huls, who lives in the Netherlands, a photo of her grandma holding the sweater went viral.  No word yet on what Grandma has to say about her newfound fame, though Huls said she expected she would "lose her shit."
Atta Girl
Bisexual Governor Kate Brown is leading Oregon's government in resisting Trump.
Democratic Oregon Gov. Kate Brown, the first openly LGBTQ governor, issued a executive order Thursday making clear that her state would refuse to participate in President Donald Trump's ban on refugees and travelers from some Muslim-majority countries, as well as in any future Muslim registry.

"I will uphold the civil and human rights of all who call Oregon home," Brown said a statement. "It is also my duty to prevent any undue harm to our economy and ensure the ability of Oregonians to support their families. These new policies from the White House show no regard for the values Oregonians believe in or the economic realities Oregon faces."

… Brown also called on Oregon Attorney General Ellen Rosenblum to take legal action against Trump's order. Other states including Minnesota, New York, Virginia and Massachusetts have already filed suit against the federal government's immigration actions.
Next time, vote for a woman.