Hi friends! This weekend I've used my projector to watch Hallmark movies on my wall, finished meal prep for next week, survived Hurricane Harvey and finished my rewatch of Will and Grace (it only took me 18 days!)! I hope your weekend has been as fun and productive as mine has been!
Also, an unrelated observation: what's the point of that butter shield in the fridge if my butter still smells/tastes like garlic?
---
Whiskey, Weed, and Women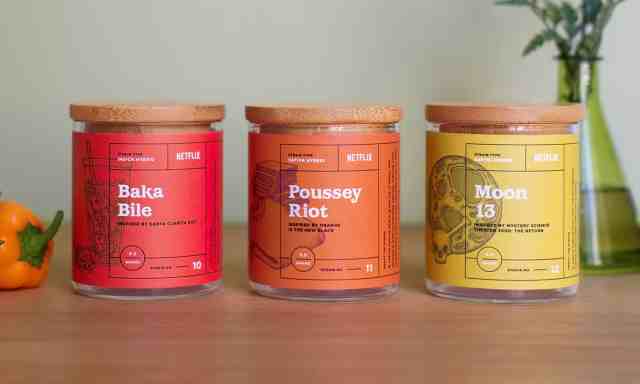 Netflix really knows their audience. As part of a pop up event in West Hollywood this weekend, the streaming television service created The Netflix Collection, a set of cannabis strains based off of popular shows. Strains include Poussey Riot, a sativa hybrid meant for "kicking it with somebody, talking, making mad stupid jokes,wp_postsand strains based off of other popular shows like Arrested Development (Banana Stand Kush), Mystery Science Theater 3000 (Moon 13), Grace and Frankie (the Peyota-73), and Wet Hot American Summer (Camp Firewood). It seems like the strains are only available for a limited time, so get them this weekend at Alternative Herbal Health Services and upgrade your "Netflix and chill" session by 100%.
---
Who Run The World? (Queer) Girls.
Teen Vogue did a great profile on Liliana Bakhtiari, queer Iranian-American who is running for city council in Atlanta. If she wins, she would be the first queer Muslim woman to serve her city.
Already, she's received positive responses to her candidacy. One Iranian woman wrote to Bakhtiari about her daughter's excitement at seeing a public figure who looks like her. "She said that made her feel so incredibly happy, that her daughter had someone [who] is running for office [who] she could actually identify with,wp_postsBakhtiari says. And she's received similarly encouraging stories from members of the LGBTQ community, of all ages. That's not to say it'll be easy to break those barriers, but she's prepared. "There will always be . . . challenges, but they are ones that I'm willing to take head-on,wp_postsshe says.
---
Baseball is Getting Gayer
More and more baseball teams are hosting Pride Nights and other LGBT specific programming, and it's due to the work of grassroots activists.
---
This is the Future Liberals Want
Girls and Their Cats is an original photo series by Brianne Wills that showcases cat-owning women and their pets together. Brianne is trying to change the perceptions around women and cat ownership and travels around New York taking pictures of cats and their women owners together. She's photographed over 180 women and cats already, and if you're in New York, you can apply on her website to be photographed with your fur babe!
---
Lastly, when was the last time you watched Barbra Streisand and Judy Garland sing "Happy Days are Here Again" together? Has the video always been this gay?
Happy Sunday sailors! Stay cool, love ya!