QUEER ELECTION 2010:
Ok ok ok so our net feelings about the midterm elections may not have been entirely positive, but hey: a record number of gay candidates were elected! 106, to be exact!
Landmark victories included that of Marcus Brandon — who, as state representative, will be North Carolina's second openly gay elected official — and Jim Gray, who beat an incumbent to become mayor of Lexington, Kentucky. Laurie Jinkins, elected to the Washington State House, is the stat's firs lesbian lawmaker. In Connecticut, Ken Lembo became the only openly gay candidates to win a statewide race when he was elected state comptroller. And, having been elected judge on the Superior Court of Alameda County, California, Victoria Kolakowski becomes the nation's first transgender trial court judge.
Although we still have, you know, a lot of Republicans, this is being called a "tipping point" for gay politics. What that means exactly is unclear. Maybe there are enough of us now that if we were put on a giant seesaw with like every tea partier in Arkansas, we could now tip it over. I dunno. Anyways! There's an openly gay mayor in the same state that elected Rand Paul a US Senator! That's actually really cool, albeit weird! And it appears that even some of the straight people we elected are a little more gay-friendly than their current counterparts – the newly elected governor of Hawaii has said that he'll approve civil unions in the state, whereas the current governor has vetoed them. The actual passage of the law may still be a long ways off, but it's a step. And you need to take steps to move forward. This is a fact.  LOVE YOU, AMERICA.
Also in not-good-news Keith Olberman is suspended indefinitely without pay, sir. But really he's not the only one who donates to candidates so MSNBC should probs calm the fuck down. If I had Rachel Maddow on my team I would never be mean to anyone else again ever. According to an "insider," it's common knowledge within the organization that MSNBC's increasingly left-wing programming and personalities aren't required to abide by NBC News' exacting rules."
Keith Olbermann emerged from twitter silence only moments ago: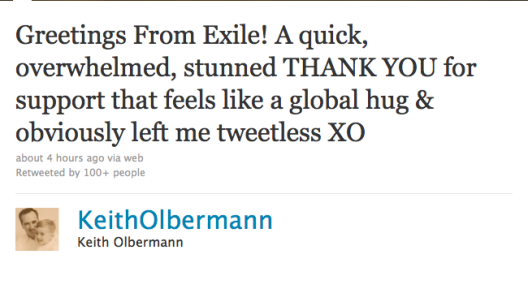 Maddow points out that this is all bullshit because Fox News is basically a fundraising machine for Republican candidates:
So gay voters' support for Republicans nearly doubled in 2008! Probably because with no marriage initiatives up like Prop 8 or Prop 19, many liberal gays stayed home rather than go through the effort of electing officials into office for the country which refuses to give me health insurance or any of us equal rights.
GLEE:
Wow, ok, no offense to a capella groups but this is seriously the gayest thing I've ever seen. What's the gay male equivalent of lesbian eye contact. It's happening here. We're like 95% positive that this is
AWESOME BASKETBALL PLAYER:
If we were to elect weekly candidates for Fantastic People That We Want To Grow Up To Be, this week's winner would be Kye Allums, the trans basketball player for George Washington University. He is the face of trans athletes and trans people for thousands, and is probably going to get a ton of shit for coming out, and he's being chill as fuck about the whole thing anyways. "I'm a transgender male, which means, feeling-wise, how I feel on the inside, I feel I should've been born male with male parts, but my biological sex is female, which makes me a transgender male." Also kind of a hottie! Just saying!
GAY MUSIC:
Ke$ha has a new song called "We R Who We R," so I think that means "gay pop music" is "in" right now. I mean, the New York Times said so, and they're very smart and important! Also Katy Perry's "Fireworks" is designed to keep gay kids from killing themselves, did you know? Anyways, this would all sound like bullshit to me except that Lady Gaga is actually a huge fucking deal and I think really is bringing queerness to the mainstream in a serious way, so I will let this rest. "Together, these artists represent a new wave of young (and mostly straight) women who are providing the soundtrack for a generation of gay fans coming to terms with their identity in a time of turbulent and confusing cultural messages. "These songs are countering a hateful message that a peer, family member, politician or a bully might be saying," said Dan Savage, the sex columnist who started the "It Gets Better" campaign, for which Ke$ha has also recorded a video."
SUCKER PUNCH:
This is a hardcore movies about hardcore ladies who are badass and awesome. I don't think they wear that many clothes. It's from the same people who made 300, aka AbGate, so probs there will be some ogling for you. WHOA actually I just watched this all the way through and does anyone else think this is like a sexy videogame remake of Girl, Interrupted? WHAT IS HAPPENING
JAMES FRANCO:
James Franco is the new Lady Gaga, by which I mean we have to post something about him at least once a week apparently. This week, it's that he was late to the premiere of his own movie because he refused to skip class – he's getting a PhD in English from Yale. I'm sorry, but I have to go change my pants. Jesus Christ. (@ontd)
HELLO I'M AN OTTER:
OTTER