As part of our three-week Spaces & Places series, we asked you if we could see your favorite spaces — and wow, did you deliver! With brilliant design choices, innovative solutions, and kickass elements, there are some truly incredible rooms and areas here. Check out your stylish and creative spaces:
---
Emily / she/her / 30 / Brooklyn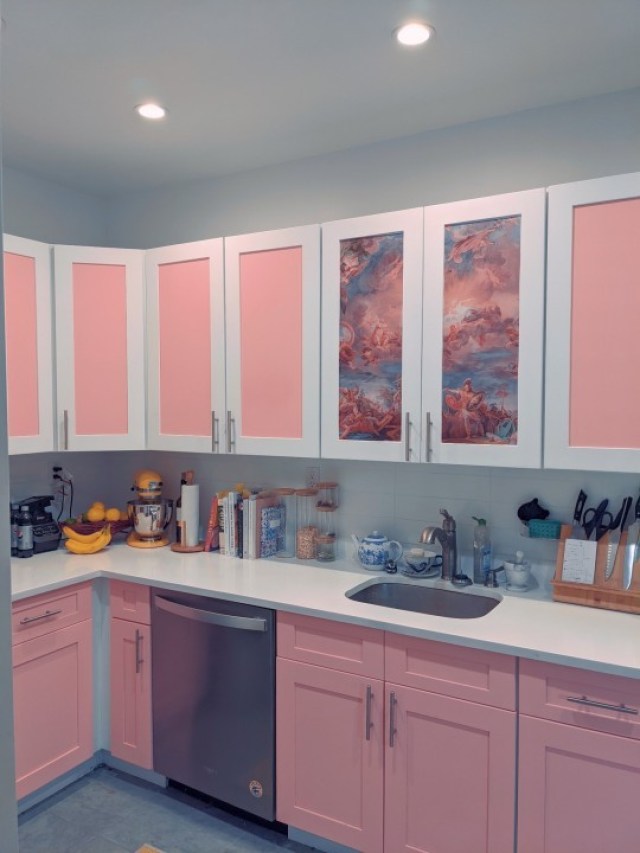 This is the kitchen in our apartment ("our" being mine and my fiancee's). Early in the pandemic I had a heart murmur while cooking, and upon returning from the hospital was too freaked out to use the kitchen. My fiancee suggested making it the cutest place in the house, thereby divorcing it from the scary experience. It worked! She painted the cabinets, added the peel-and-stick wallpaper, and I pulled it all together by cooking in there every day. It's a little testament to our love, and sticking by each other during a hard year. 
---
Bina / she/her / 26 / Sydney, Australia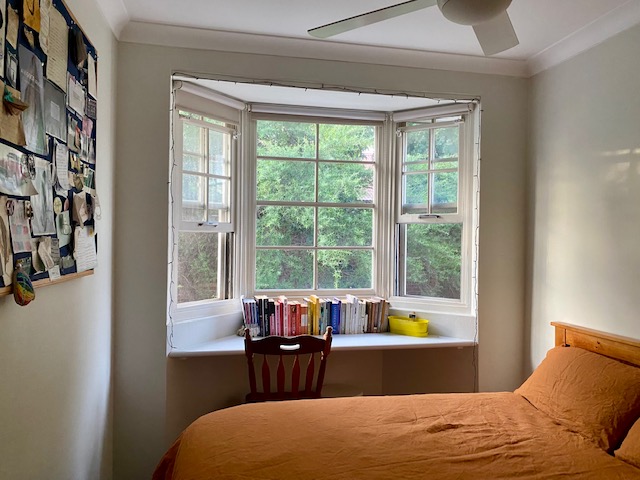 My room is minuscule, but I'm in love with this window desk. The moment I saw photos of it I knew I had to rent the room. I end up doing most of my work from bed, and look out at the greenery when I need a break – I feel like I'm in a treehouse from here. ❤️
---
Kerri / she/her / 37 / New York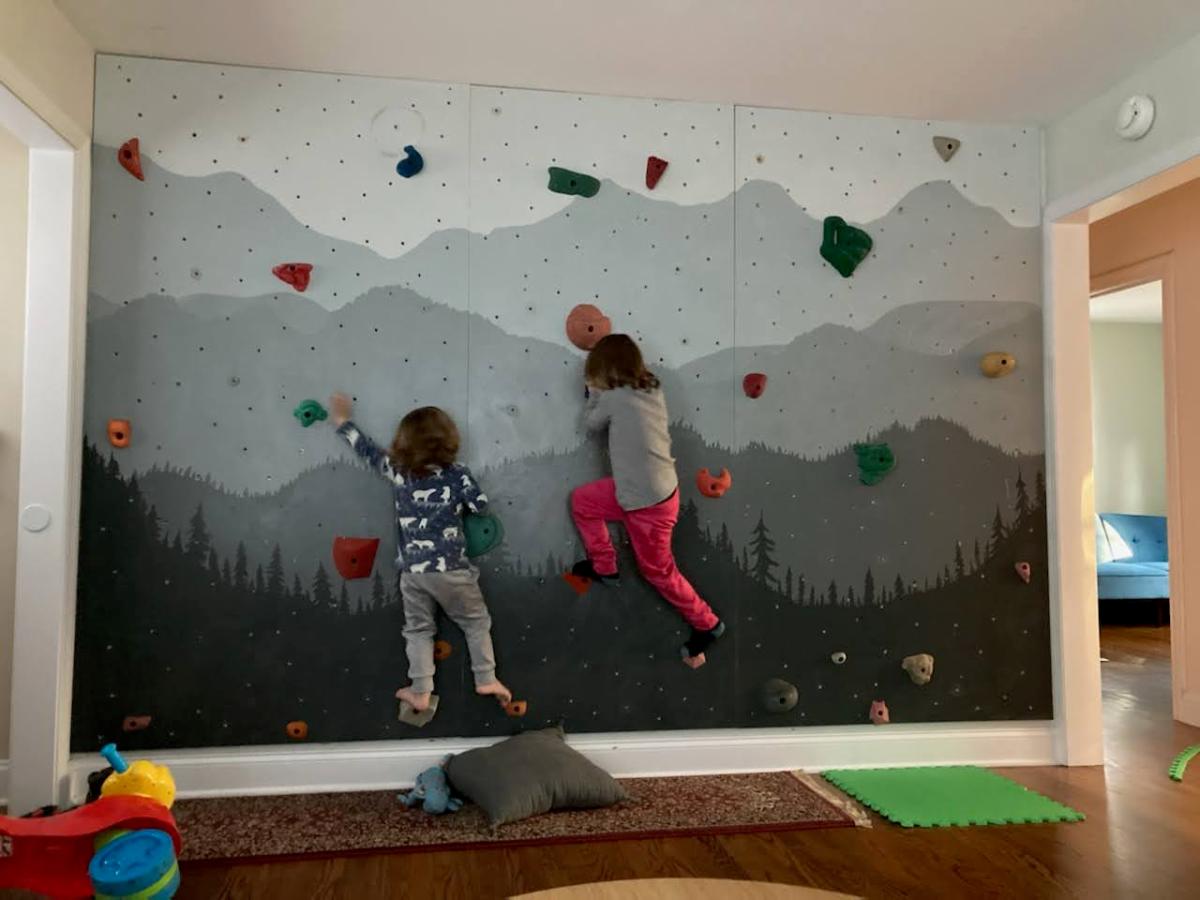 Everything was shut down and I was furloughed during the spring and summer of 2020, and one of the things I missed most was going to the climbing gym. So a couple of friends helped me design, build, paint, and install this wall in my living room. Every few months I change out the holds and keep it fresh for myself and anyone else who comes over!
---
Nicole / they/them and Sadie / she/her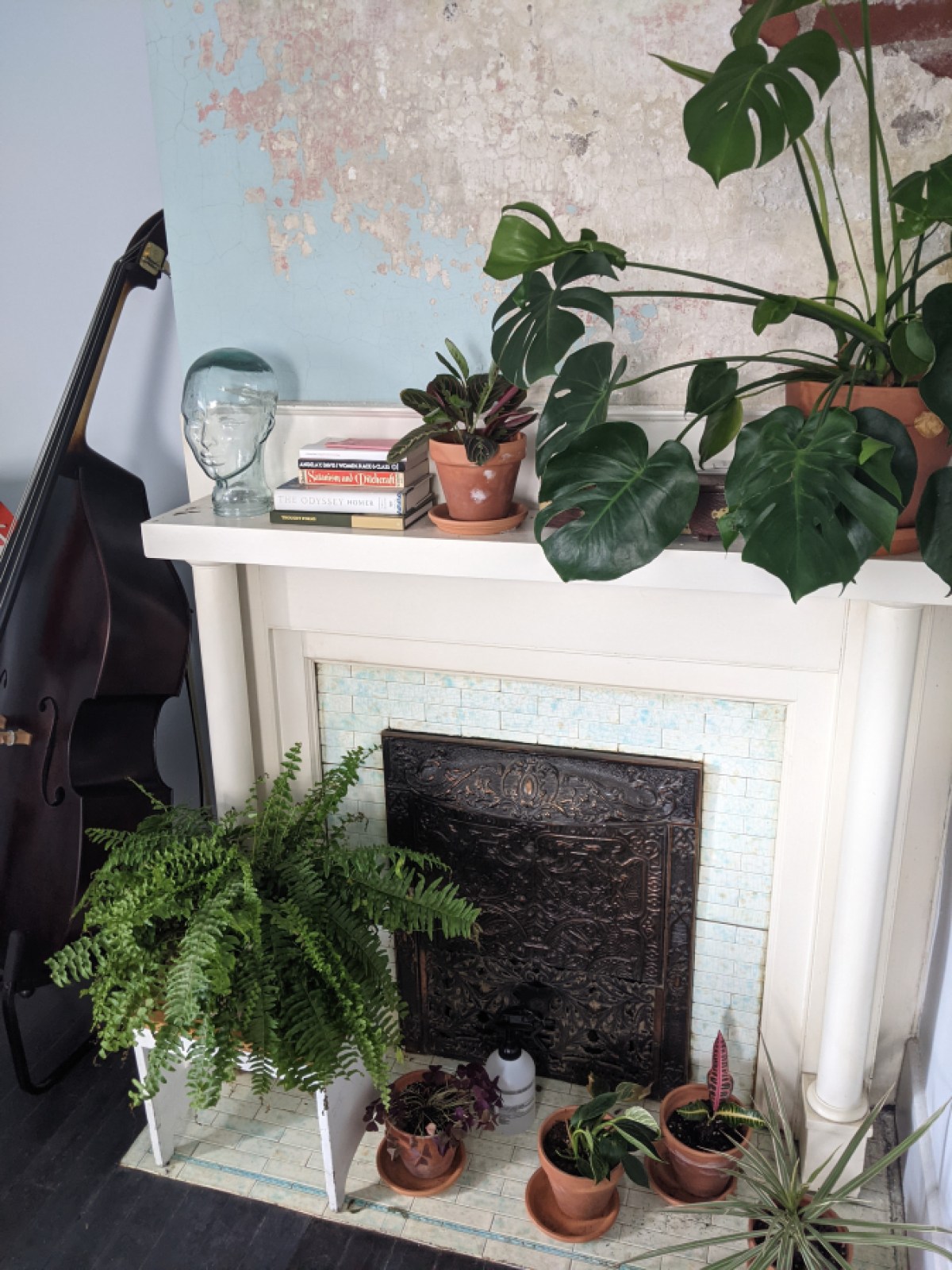 We found this 106 year old fireplace behind a fake closet made of wood paneling in our bedroom. Sadie very carefully restored the plaster on the walls and ceiling and preserved the patina above the fireplace.
---
Nova / she/her / 16 / Butte, Alaska 
I still live with my parents and our living environment can be a little hectic (and suffocating) at times so my room, although small, is kinda my safe space. I'm a cinema/book obsessed maniac and besides that I often live in my own head. My room feels a bit like a dreamland sometimes away from everything. I hung tutus from the ceiling that I used to wear when I was little and I have doodles and little trinkets all over the place. I'm glad I can have this little place of solace to help me make it till I graduate high school. 
---
Mary / she/her / 24 / Pittsburgh, PA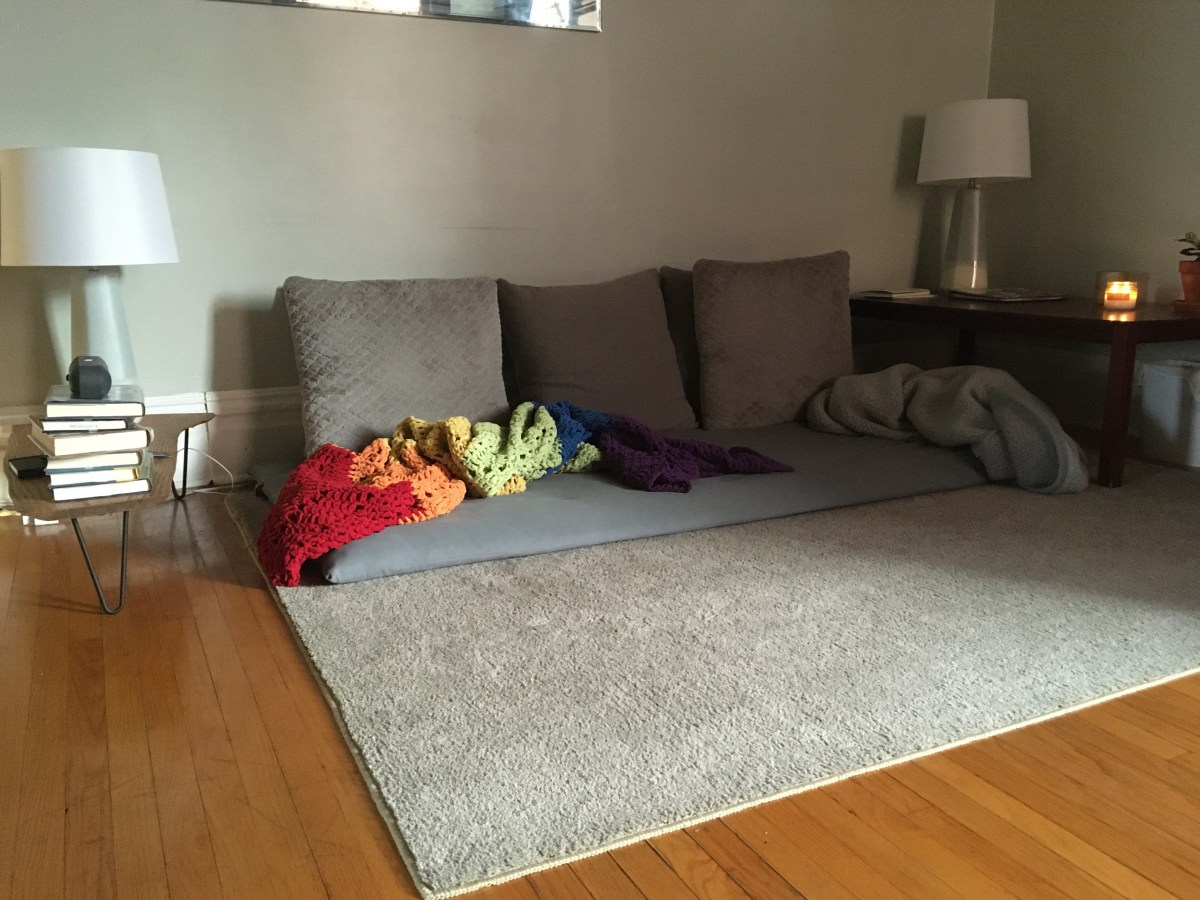 I'm a yogi and I like to move around on the floor as much as I can, so this is my floor couch! The couch itself is composed of a futon I bought online and an assortment of large pillows. The low table on the left was handmade by a local furniture refinisher from reclaimed wood, and the rainbow blanket was crocheted by a friend. I love this couch because it's completely "something I would do" – I have other seating for guests just in case, but they are often surprised by how comfortable it is! It also doubles as a comfy spot to meditate, a massage mat, and a guest bed (and no one has to worry about falling off the couch in the middle of the night). 
---
Laneia / she/her / 40 / Phoenix, AZ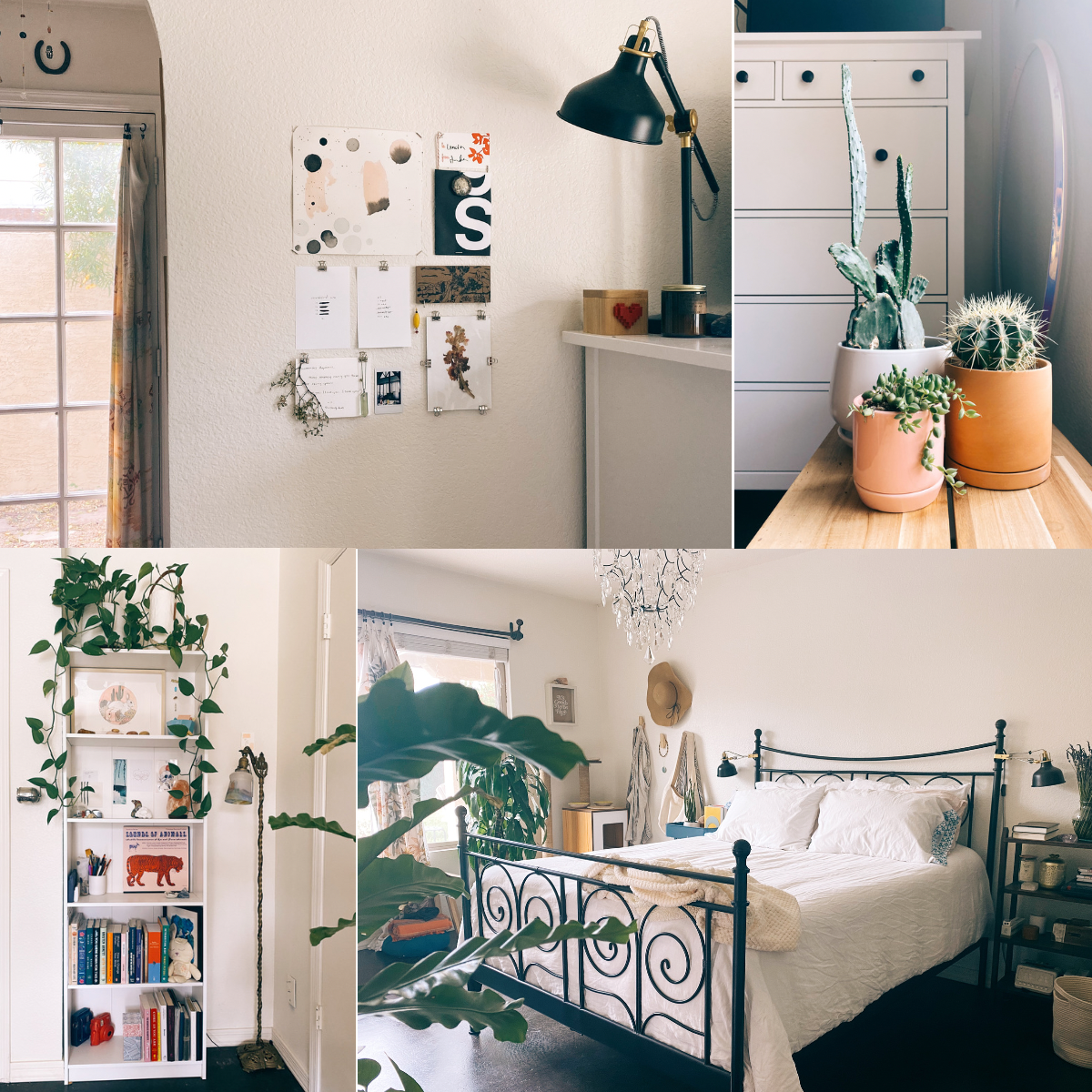 I haven't been able to put this much care and personality into my bedroom since… high school? I wanted this room to feel like I was sitting inside my own universe, comprised entirely of me: my grandmother's antiques, my hula hoop, my art, my love notes, my books. The window is south-facing, so plants do really well in here, and usually you'll find Winona (cat, but also not just a cat, you know) tucked into that soft blanket piled onto the foot of my bed. 
---
Eli / she/her / 22 / Savannah, GA
This was the 2020 quarantine advent calendar I made for my love, displaying only the queerest holiday cheer. I have an affinity for Christmas in general, advent calendars in particular and all things queer and embroidered, so this was a joy to make, hang and admire all throughout December.
(And yes, Eli, a nook absolutely counts as a space! 🖤)
---
Arielle / she/they / 31 / Portland, Oregon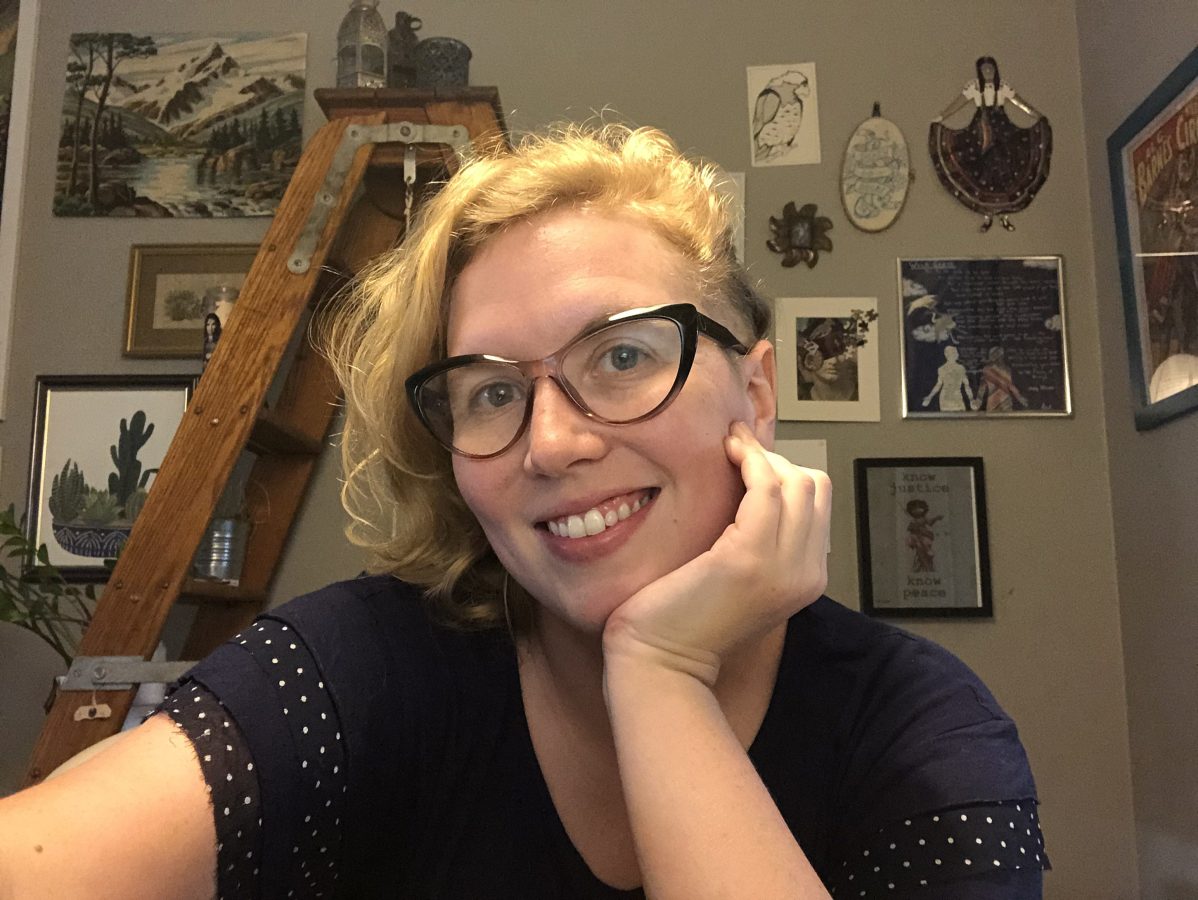 I moved into my own apartment during quarantine, and the first space I made beautiful was my Zoom therapy office. I put a ladder that my mom found for me at an antique store when I moved out here: I think it's from 1911! I use it to hold rocks from my travels, statues, my lanterns, and the one plant I haven't killed. I've collected art and made some of it: the woman is from Oaxaca, where my parents used to live and I made two of the collages. A friend drew the hawk as a graduation present, most of the rest was thrifted. I love that there's visual interest, without making clients focus on any one thing, and I can rearrange the art if I want to. 
My 2.5 year old kid's bedroom nook. Her space was the second space I set up and I'm really pleased with it. The garlands are from Trader Joe's and the green naked lady painting I bought from an artist in China. Her dad is Mexican and Indigenous, and I wanted her to have some representation of that with the tin hand, the blanket, and the painting of the Grand Canyon. The zebra and Rosa Parks prints are from an artist on Etsy, and Milan is a local PDX artist. The tiny bees, bike print and llama are from art fairs in Atlanta. One day I'd like her to have her own space when she's staying with me, but for now, she has her own corner carved out. 
---
Sarah / she/her / 34 / Portland
I'm still working on it, but I'm well on my way to making my bedroom the sexy sanctuary of my dreams! I honestly love everything in here, but some of my favorite things are the iridescent glass orb I had a queer electrician install above my bed, by giant Voluspa Moso Bamboo candle, and the dried uunnaamm bouquet I ordered for myself on Valentine's day. It's hard to see in this photo but I also installed removable wallpaper which adds a whole other ambiance.
---
Joanna / she/her / 44 / Columbus, OH
A garden queer's queer garden.
---
Jess / she/her / 27; Emily / she/her / 32; and Hazelnut the cat / ageless / San Diego, CA
The bedroom is our oasis from daily stressors. To keep the space feeling open and inviting, we use light-colored linen textiles, warm wood tones, and accents of ceramic and brass. The bedroom set is an amalgamation of thrifted IKEA pieces and someone else's homemade bed frame that Jess modified with a saw, sandpaper, stain, and new hardware. Hazelnut seems to appreciate our efforts and spends most of her time sleeping on our bed or inside the dresser drawers.
---
Stephanie / she/her / 32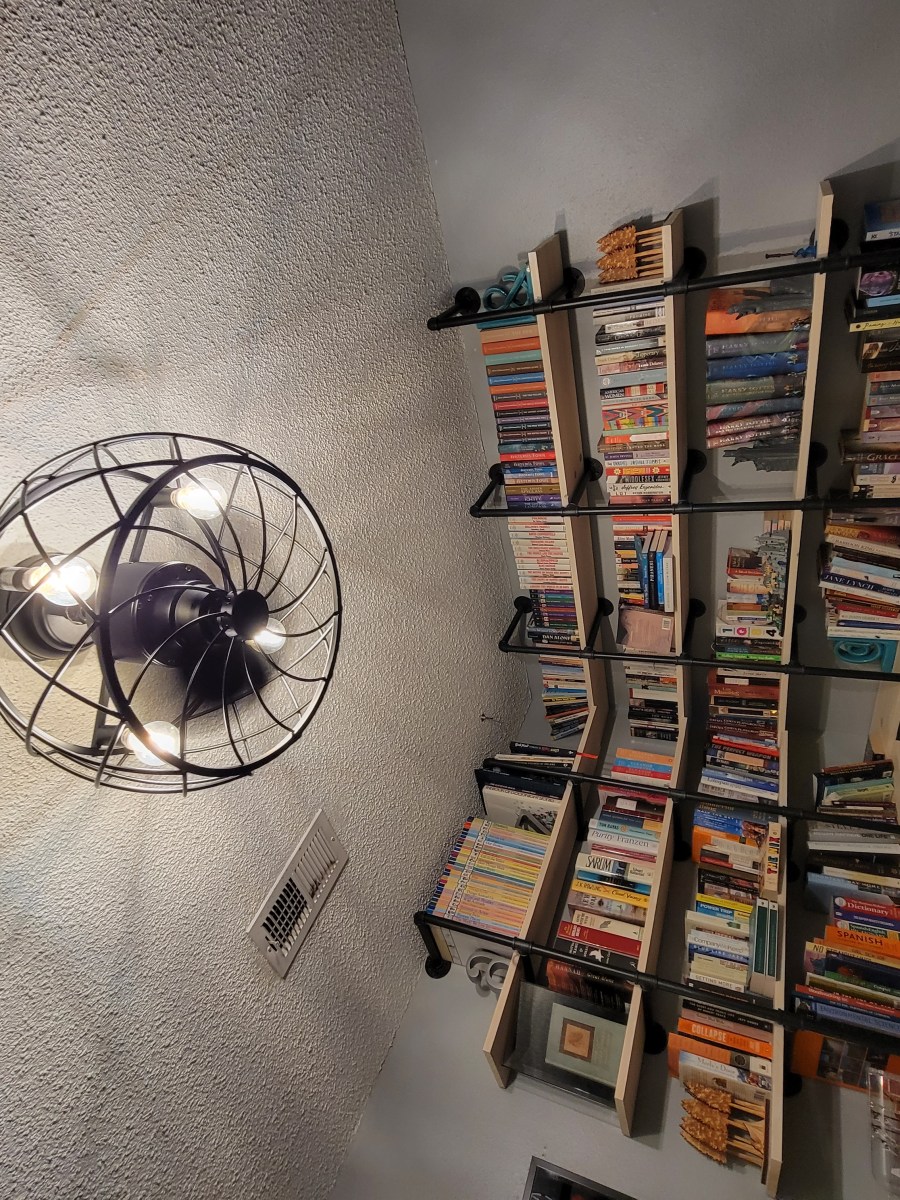 When my wife's job was permanently made work-from-home, we made our office nook off the kitchen hers so that she could enjoy the company of our four dogs during the work day. That meant I lost my reading nook. We ended up converting our guest bedroom to my lady lair, and it's my favorite spot. I have a giant library corner for books and knick-knacks, a desk I made, some framed memorabilia from my favorite musical artist Brendan James, and all of my triathlon/cycling stuff. It's definitely my happy space!
---
Allison / she/her / 32; and Jules / she/her / 34 / Toronto, Ontario, Canada 
Jules moved in with me at the beginning of the pandemic as just a "two week trial run" (we were so naive!) but we made it official in December. Since then, we have spent a good chunk of this pandemic doing various DIY and home improvement projects. The latest is our kitchen, which we just spent 2 weeks painting! Before, the cabinets were all a boring mid-tone wood, and now they are a gorgeous blue-green called Beau Green from Benjamin Moore! We also spray painted all the handles and pulls gold, and you'll see a few other gold touches if you look closely. This took two full weeks to accomplish, just the two of us. There were so many steps in the process, and a few days of simply waiting for paint to dry while everything in our kitchen was strewn about the rest of the apartment. But in the end we are SO happy with the result! By the way, all the shelving is IKEA, including the two Billy bookcases in the corner that serve as our pantry. The white cart, black barstools, and the gorgeous glass hanging lights were both found on Facebook Marketplace. 
There are a lot of pieces in this kitchen that we love. The poster of the Segwun, a steamship that I used to watch pass by my grandparents cottage on Lake Muskoka a few times a day, which used to hang in the dining room there, was salvaged when my family sold it in 2017 after my grandpa died. The paddle was a gift from my parents last year. The painting is by Samuel Gagnon, an artist I found on Instagram who does these amazing live landscape paintings. It was supposed to go in our living room but it matched the colour of the cabinets so well that we had to put it there. And of course I can't forget the KitchenAid stand mixer, which used to be silver until Jules painted it that gorgeous rose gold! It goes well with the lavender Always Pan, which I bought Jules for her birthday earlier this year. Pink is her favourite colour, and she's the cook, and the baker, so that's why all our kitchen gadgets are pink! 
---
Taylorlyn / she/they / 26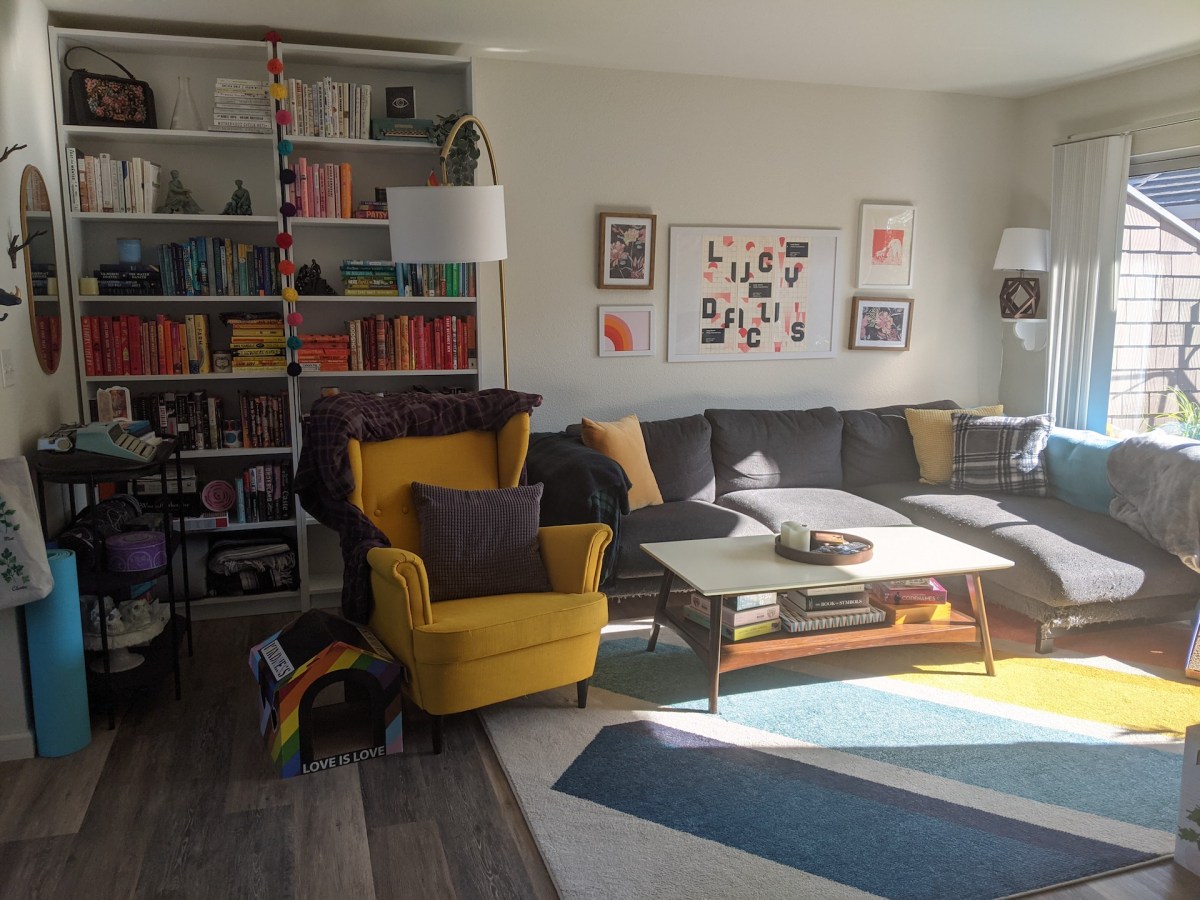 I spend almost all of my waking hours in my living room/reading nook (my desk is out of frame). I love the bright colors; all of the cozy blankets (which also serve as a cat scratching deterrents…); and the art: especially the bear and rabbit wood block print created by my college roommate and the subtle™ lesbian flag. My girlfriend was the one who pushed for the basically floor-to-ceiling bookshelves, and she was absolutely right that 1) it makes the space look so much bigger, and 2) it is a perfect display for most of our book collection/the fun objects that don't fit elsewhere. Yes, almost all of the furniture is from IKEA, but they make really sturdy stuff if you build it properly and add cozy accents.
---
Stef / she/her / 37 / Brooklyn, NY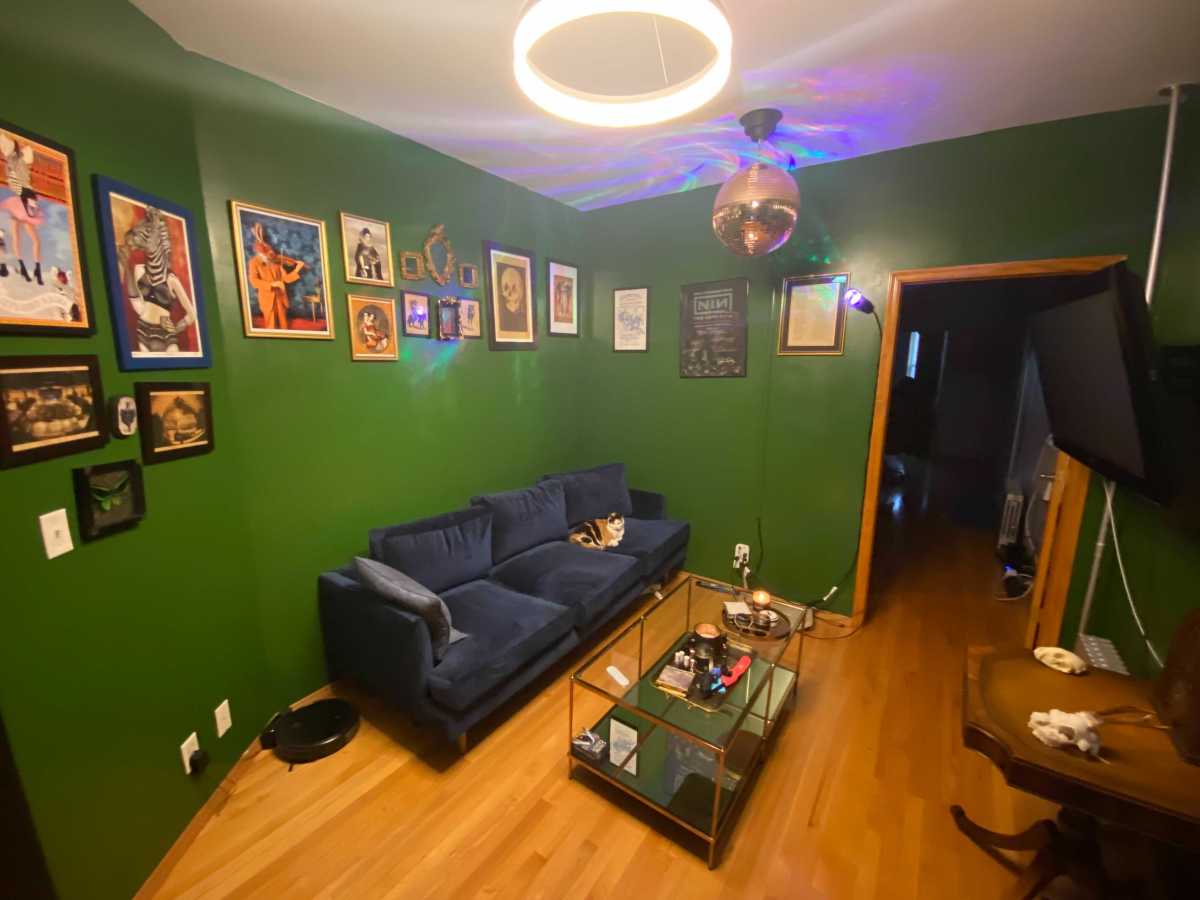 I moved into my very own adult apartment in April of this year, following a very long pandemic displacement. I was lucky to find a place to land, but I had been living as a roommate in other people's homes for years and I was ready to make something officially Mine. I'd spent a lot of time on Pinterest beforehand so I knew I wanted to do some kind of velvet couch/jewel tone situation with a rose gold coffee table and a disco ball; the rose gold disco ball was an auspicious discovery. Luckily, I also inherited a few great pieces of antique furniture that had been my beloved grandma's (you can't really see it, but on the back of that table on the right there's an antique radio that belonged to my great great grandfather!). Beyond that, I framed some memorabilia from concerts I've worked at and scoured Etsy for weird artists specializing in creepy art. My favorite pieces are the three gold-framed prints from thelittlechickadee and the gorgeous framed scorpion and butterfly from DevineRituals. I did not hang any of these very carefully and refuse to fix it. This room is my sanctuary, and it's where the cat and I spend most of our time.
---
Dana / she/her / 34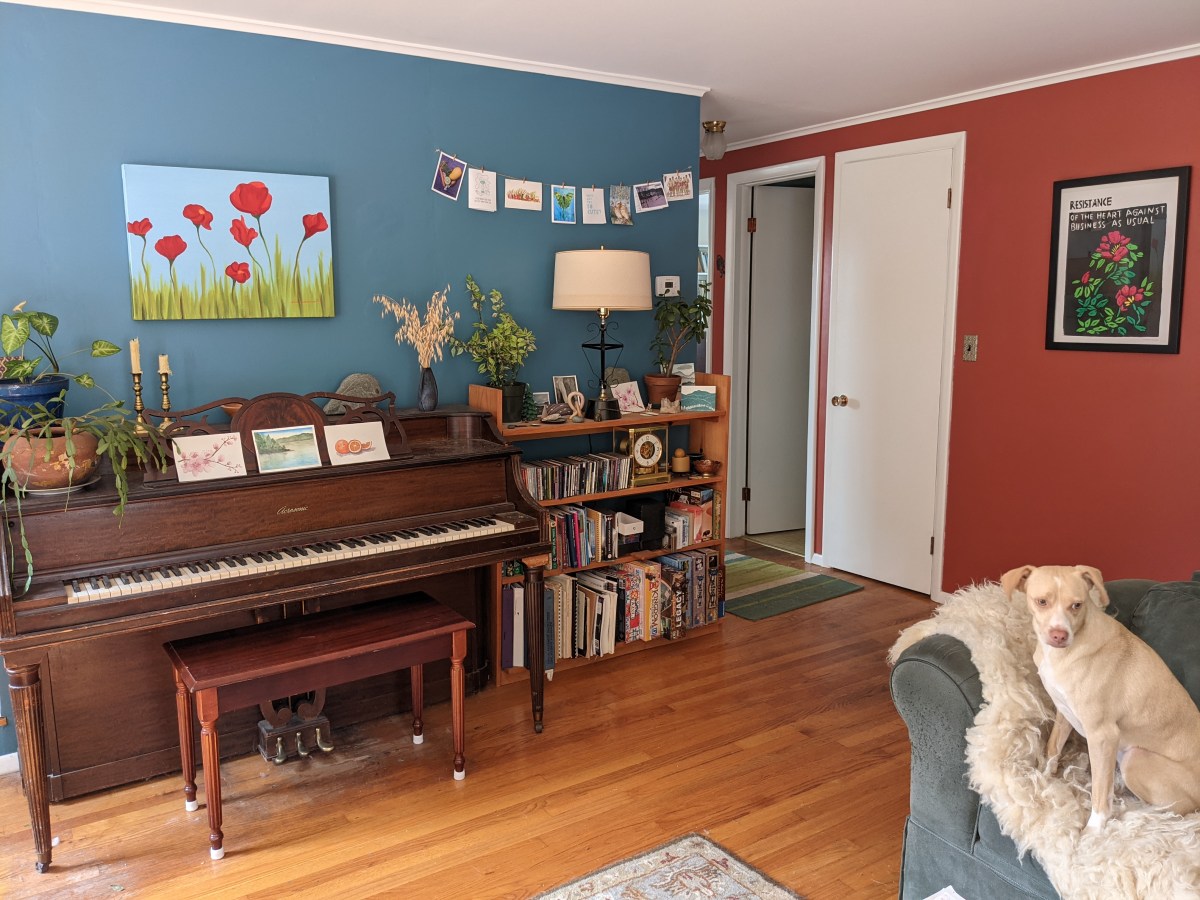 I really like the confluence of colors in this space. The way that the green plants (one rescued from my metamour, who loves plants as much as me but is much better at killing them) and the poppy painting (purchased at a yard sale from the teenager who painted it) interact with the blue wall. The little bit of bright green striped rug you can see in the rosy watermelon hallway. The way my teal gray-green couch magically goes with all of it even though I bought the couch for cheap from a neighbor and therefore didn't pick the color at all. I'm always thinking "oh, I'm a full-grown adult now, maybe I'll paint my wall some sort of calming and fashionable off-white" and then I'm always like NOPE give me ALL the colors. 
Other things I love: The top of the bookshelf and space above it is a little altar of sorts with lots of treasures and cards gifted to me by my friends, and I love having my friends be part of my space, especially since I live alone. I love the piano as a display — it's the family piano that my dad used to play, and it overflowed with cards this past winter after my dad died. Now a friend and I have taken up watercolor painting again (now that we are vaccinated and can go in each other's houses and hang out) and the piano is holding my own art and reminding me that I can Make Beautiful Things. I love that sheepskin on the couch so much, as does my skeptical but snuggly dog. I bought it from a local farmer who is also one of my graphic design clients and it was expensive as heck but makes me feel so luxurious and pampered and cozy every time I sit on the couch. 
Anyway, I could probably tell you a million more stories about all these things in this picture, and that about sums up my aesthetic: A happy jumble of beautiful and brightly colored objects that were thrifted or gifted or randomly acquired and that (mostly) all have a story. Thanks for giving me the opportunity to appreciate my sweet space a little more by seeing it with fresh eyes!
---
Erin / they/them, ey/em / 23 / Michigan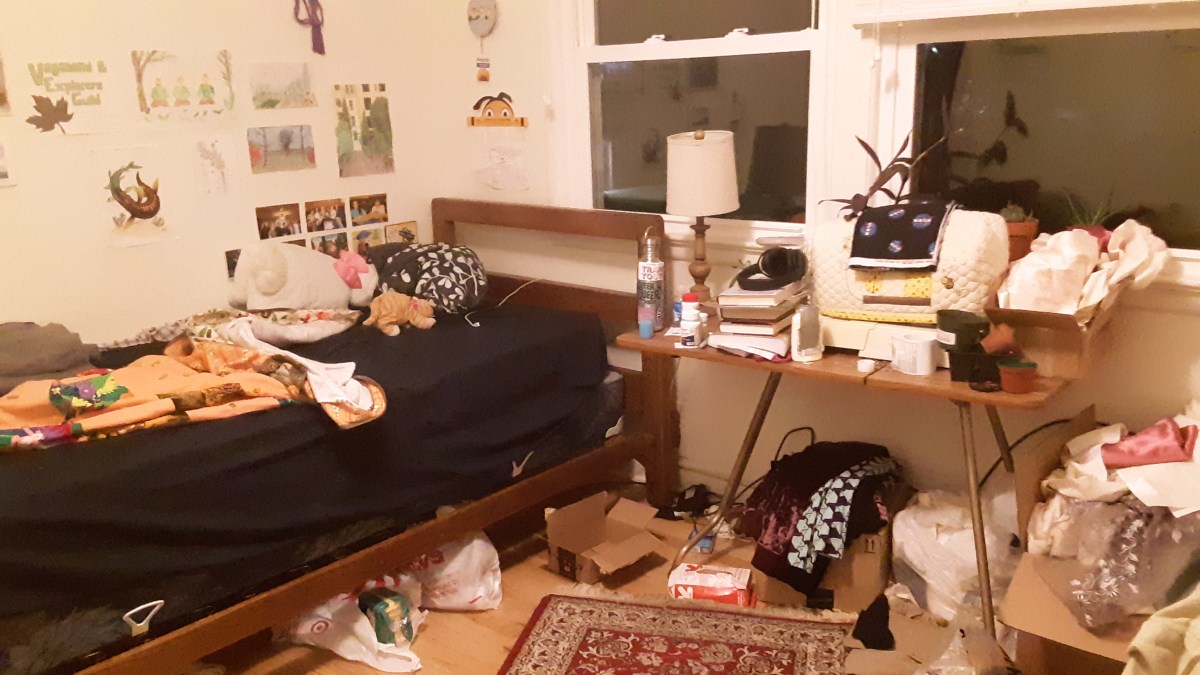 I move about every six months, sometimes more, so my space is always very impermanent. This also makes it difficult for it to truly feel mine, both since I'm going to be there for such a short amount of time and because I'm usually not in full control – it's from my employer, or it's a friend's spare bedroom, or the landlord is sketch, etc. Things I love about my bedroom now are: my rug, my sewing machine, all the art on my walls, the furniture layout, my houseplants, the comfort, and how it's styled to fit my needs. Many of my art pieces remind me of my friends, and the rest just are pretty and/or meaningful and make it feel like home. Some of these I've had with me since I initially moved out of my mom's house, and have put up in nearly every home I've had. My rug ties the room together in a way that I love, connecting all the different parts of the room, and making it much more comfortable and luxurious. My sewing machine was my grandmother's and I am using it to sew my wedding dress. Additionally, the cover she made is really cute and has a bee and hexagons on it, and I work with plants and insects for a living and have studied bees! When I first moved in I made sure to rearrange everything to suit me, rather than trying to get myself to like the (bad) arrangement everything had been in.
I love my lifestyle of moving so often, but something that makes it a lot better is all the strategies I have to make my space feel like home, even if I have very little real control over it.