I thought this week couldn't get any better. We already knew that tomorrow would see the release of Sleater-Kinney's 7XLP box set of all their albums plus a 44 page hardcover book. Now we also know that the trio of Corin Tucker, Carrie Brownstein and Janet Weiss, who have been on indefinite hiatus since 2006, will release a new album, No Cities to Love, on Jan. 20 on Sub Pop and go on a 13 date tour shortly thereafter.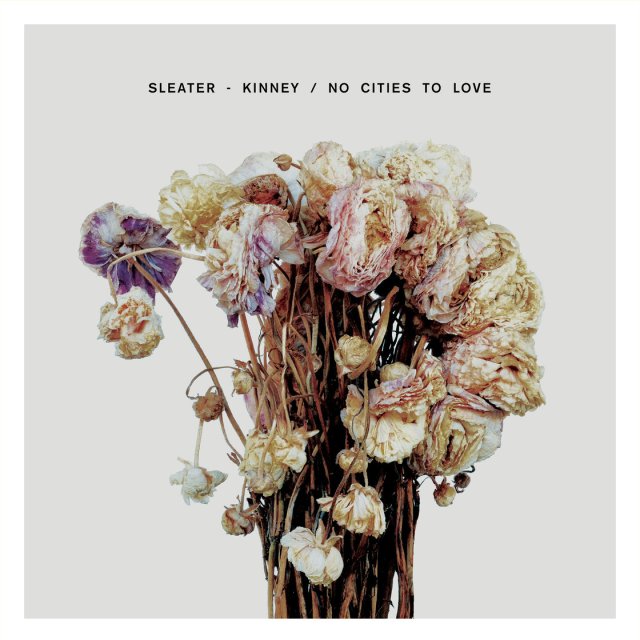 I'm not usually one to give myself a "fanboy" moniker but if we're going all the way back to something I've loved since I was a baby dyke I'm going to go ahead and call myself obsessed. This most certainly applies to Sleater-Kinney as the epitome of Pacific Northwest lady rockers, and one of my absolute musical queer roots. From the very beginning, like this 1996 video by Emily Kingan (of The Lovers) about the SPRGRL Conspiracy Convention where I nearly passed out from joy at sharing a stage with SK (yes that's my first band, Bonanza Jellybean, in part 2 at about 4:30), to their very last two Portland shows in the last days of Portland Summer 2006, I was a true fan. Now with so much news, it's hard to know where to look first.
Tomorrow packages will be delivered to doorsteps featuring a beautifully colorful look back almost two decades into SK's music. A rainbow of remastered records accompanying a book of memories and photos divided by album era takes us back to the ultra-raw self-titled release, through the big breaks of their next two albums with gems such as Call the Doctor's "I Wanna Be Your Joey Ramone" to finish on the the deep and polished sounds of The Woods' "Jumpers." In the book's intro, Weiss recounts her beginnings with the band, which remind me very much of my own first memories of hearing them live.
Out of the blue Corin called me at work to say that Sleater-Kinney was looking for a drummer. We had all met a few days earlier at a show our bands played together upstairs at La Luna. She had recently moved to Portland so the three of us connected at her home in NE and went down into the practice space. Carrie was wearing black converse. They said they had been working on a new song and wondered if I might try putting drums on it. It was called "Dig Me Out."
…The first time I heard Sleater-Kinney I clearly remember thinking to myself "I could be in this band." Desparate and tough, this was music that meant something, that mattered.
It did matter.
It mattered enough that as I listened to the seven remastered albums I also desperately searched through old pictures and seven inches to see what other tracks I could find. But looking back can also mean looking forward.
A new seven inch was also included in the box set mysteriously labeled as 1/20/15 and speculation began last Friday that this new song might imply a new album. That was confirmed this morning when "Bury Our Friends" was released as a lyric video featuring filmmaker and performance artist Miranda July. It's a perfect bridge from old to new, with July as another symbol of feminist art from 1990s Portland growing into a new millennial sensibility.
Sleater-Kinney has always been about raw rock'n'roll realness and empowerment, unapologetically shredding guitar licks, and they need to keep this level of intensity for any return. But, though they have returned to an earlier songwriting process, they had no interest in moving backward by revisiting sounds and styles and paths already trod. In a letter to NPR Brownstein writes,
Sleater-Kinney isn't something you can do half-assed or half-heartedly. We have to really want it. And you have to feed that hunger and have the energy to. I'm not saying we need to be in a dark place to be in Sleater-Kinney. In fact, we could be in the best places in our lives. But we have to be willing to push, because the entity that is this band will push right back…
..I think we had to go back to an earlier model of writing in order to reacquaint ourselves with the language of the band. It's a sonic vernacular that isn't easily translated into other contexts in which we've played. This was a very deliberate writing process, there were many edits and iterations of the songs. We thought a lot about melody and structure.
So what will this new grown-up Sleater-Kinney sound like? I expect a certain amount of personal remastering certainly, but also a return to commitment, to being women who unabashedly thrash with anger or happiness and most importantly, a message, through these more polished licks.
Their tour begins in Spokane, Washington this coming February shortly after No Cities To Love release. Oddly, the international schedule includes no Seattle, Olympia or Portland shows (sadly no West coast shows at all). This lack of hometown celebration seems a pretty big oversight, but I am guessing that the Northwest might just be treated to some rough and underground re-introductions to be announced last minute. So you might start thinking about planning a trip in late January, which is normally not something I would ever recommend. Only Sleater-Kinney could warm these rainy winter streets and drive our sodden hearts into a hot rock reuniting frenzy. Excited? You bet I am.
You can pre-order No Cities to Love here and download a copy of "Bury Our Friends" at this link. Track list and tour dates are below and at sleater-kinney.com.
No Cities To Love Track List:
1. Price Tag
2. Fangless
3. Surface Envy
4. No Cities To Love
5. A New Wave
6. No Anthems
7. Gimme Love
8. Bury Our Friends
9. Hey Darling
10. Fade
2015 Tour Dates:
02-08-15 Spokane, WA @ Knitting Factory
02-09-15 Boise, ID @ Knitting Factory
02-10-15 Salt Lake City, UT @ The Depot
02-12-15 Denver, CO @ Ogden Theater
02-13-15 Omaha, NE @ Slowdown
02-14-15 Minneapolis, MN @ First Avenue
02-15-15 Milwaukee, WI @ Turner Hall
02-17-15 Chicago, IL @ Riviera
02-22-15 Boston, MA @ House of Blues
02-24-15 Washington, DC @ 9:30 Club
02-26-15 New York, NY @ Terminal 5
02-28-15 Philadelphia, PA @ Union Transfer
03-01-15 Pittsburgh, PA @ Stage AE
03-18-15 Berlin, Germany @ Postbahnhof
03-19-15 Amsterdam, The Netherlands @ Paradiso
03-20-15 Paris, France @ Cigale
03-21-15 Antwerp, Belgium @ Trix
03-23-15 London, UK @ Roundhouse
03-24-15 Manchester, UK @ Albert Hall
03-25-15 Glasgow, UK @ O2 ABC
03-26-15 Dublin, Ireland @ Vicar Street