So you like drinking tea. You have a special storage area carved out for your stash, both bagged and loose leaf, and every color of the rainbow is accounted for. You've maybe splurged on a tea infuser or some reusable bags. Possibly when no one else is around to see you still have tea parties with your dolls, although that's not actually about your love of tea, that's something else entirely if we're being totally honest.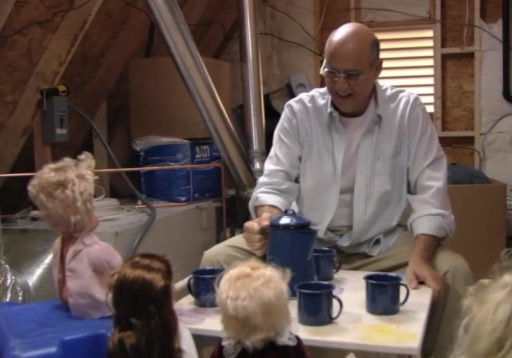 So what's left to do with your abounding love of all things steeped in water now that you've already discovered Autostraddle's "lesbian tea" tag? Well, if you're already sitting calmly on your sofa thinking soothing thoughts, you could be knitting! Just saying!
For real, tea and crafting go together like a teabag into a handmade ceramic mug, but we're not actually going to talk about handmade mugs because that sounds hard. There are a lot of other options though! READY, SET, STEEP.
Tea Cozies
Tea Cozies are the OG tea craft. I think for a long time I didn't know what they were and just thought they must be extraordinarily comforting. As it turns out, they are soft fuzzy things you put around a whole pot of tea to keep it warm as you refill your mug from it while marathoning Daria.
We often think of these as being knit, which is a totally legitimate way to make one! It's sort of like making a hat except misshapen and maybe a little more difficult. It depends on how snugly you're interested in fitting around the pot and also how crazy cute you want it to be. Here are two examples I think are really top-notch: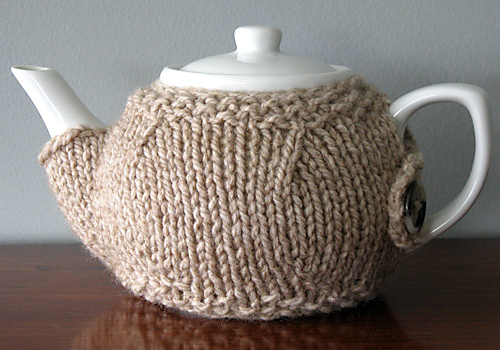 But even if you're not a knitter, you can still make a charming tea cozy with minimal sewing skills! Like this one:
If you're interested in doing something that seems extremely complicated but is set to very soothing music, there's always this!
If you somehow still have tea cozy curiosity, this is a very comprehensive list of tutorials of many, many types of tea cozies, including some of the ones listed above. Quilted tea cozies! Who knew!
Mug Cozies
Okay, so now your tea is toasty and you can handle the pot safely, but what about when you drink your tea? YOUR POOR BABY HANDS OH GOD. It's super quick and easy to whip something up that can make it easier to hold your mug of steaming liquid so that you can cradle it to your chest on cold days without burning yourself, or even your travel mug! This is also a great option if you frequently buy coffee/tea when you're out, and want to carry an eco-friendly alternative so that you don't waste disposable cardboard sleeves.
Mug cozies are a lot less complicated than tea cozies; they are essentially just strips of fabric, sewn or knit, that go in a circle around a cup. If you're just using one for a travel mug, you don't even need to worry about the handle! They can be as simple or as complicated as you need them to be.
This is a more complicated mug cozy; in fact, I would say this is about as complicated you can make a mug cozy, which is inherently a stupidly simple thing. Here is a simpler one, more suited to travel mugs.  Here's one if you crochet! And here's one for people who sew. Here's literally a million different kinds.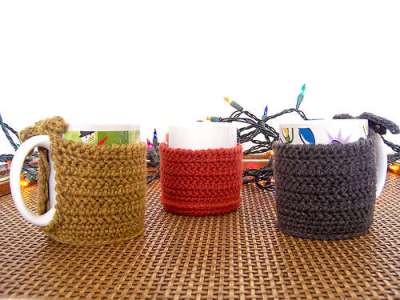 Painted Mugs
If putting stuff on, near, or around your tea accessories isn't extreme enough for you, what if you decorated YOUR MUGS THEMSELVES?? If I just blew your mind too hard, that's okay. You can do some deep breathing for a second. Seriously though, you don't even need to be an artist, or go to Plaster Fun time or whatever. If you have a local craft store, they probably carry paint pens something like this that can be heat-treated to withstand the dishwasher, and you can doodle your name on your mug to claim it, or a teabag on it to remind yourself what you're supposed to put in it.
Best Coast-ers
And finally, what are you going to put your mug on? Definitely not your coffee table's surface directly, amirite ladies? For that, you'll need some coasters. You probably have some laying around, but if you want to impress people with your creativity even as you are warning them not to ruin your furniture, you could try making some out of cork, because let's be honest, you have some wine corks piling up. If you're ready to really go hard in the paint with some coasters, you can try this Mod Podge transference tutorial, which I will never ever do in one million years.
Happy sipping!