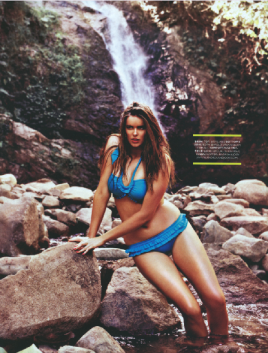 Whether you're a human being who feels symbolically annihilated by the homogeneously super-skinny body types visible in mainstream media or you're a human who likes looking at photos of hot girls or you're an intern for Autostraddle instructed to find photos of not-skinny&white-girls to diversify an article's imagery, you will feel excited and enthusiastic about the existence of Runway Revolution:
RunwayRevolution.com is a not-for-profit archive of images, videos, etc. showing larger (typically called plus-size) models, and presented for critique and comment under "Fair Use" law to anyone seeking to expand their aesthetic sensibilities concerning beauty and size, and to the general reader who needs a break from the images in the media that completely disconnect with how larger bodies look in real life.
Over the past 20 years there has been a wealth of beautiful imagery, videos and other marketing ephemera created showing models over a size 10. It is the sole mission of RunwayRevolution.com to capture and provide a permanent home for as much material as can be found. RunwayRevolution.com is the ONLY online resource providing this wealth of material in a dated and highly cross-referenced manner, complete with photographer credits. This site offers, wherever possible, complete series of editorials and advertising campaigns without prejudice to brand, model or concept.
It's owned by Pippa J, an Australian model with 16 years experience in the plus size industry. Also, as a magazine nerd, I'm highly appreciative of their status as "the largest and most complete collection of MODE Magazine available online."
AND AND AND ALSO ALSO ALSO — Pippa J herself of Runway Revolution would like to say to all y'all autostraddlers:
"It is damn hard work to find good images of People of Color in the plus size world… if anyone out there has back issues of Essence or Ebony or Veinitantos, etc etc with larger models, I'd love to add them! Hit me up via this page: http://runwayrevolution.com/contact/ and I'll give you the specs."
Oh and um, here's a video from there. Happy Friday!
BUT! Everybody knows that "plus-sized" models aren't actually "plus-sized" — they're just models who are larger than traditional fashion models — instead of a size 0-4, "plus-sized" models are actually around a size 8-16 — they're just modeling clothing designed specifically for plus-sized women. So it's basically the same discrepancy as always. Buttttt if this website makes you wish you could see actual plus-sized women  in cute outfits, there are some tumblrs for that! Check out:
+ fuck yeah fat positive: "Because there aren't enough FA/HAES tumblrs."
+ fuck yeah chubby fashion: "Someone mentioned I might start a blog about my own style… I took the feedback and started a blog about everyone's chubby style!"
+ A Queer Fat Femme Guide to the Net: "Flotsam & Jetsam By (Autostraddle contributor) Bevin Brandlandingham, the Queer Oprah."
+ the thickness: "Celebrate the sexuality. Admire the brave. Encourage the unique."
+ hey fat chick: "Fat is a celebration. The way these women fill out their clothes, the smooth curves, the second helpings, the way their bodies jiggle and fold and just beg for greedy hands, the softness, the way fingers can dig into them, the way they lie like a rubenesque painting… It is fat. And it is amazing."
+ Vanity Loves Curves: "Fashion blogs are overwhelmed with thin girls who dress- well, epically. I just want to contribute as a fat girl who strives to dress- well, epically, too. And I also want to take time to admire fierce, confident, sexy chubby women. We're all lovely."
+ fatshion february: "I can't wait to see what you're wearing!"
+ Afrotitty: "Photos and musings on fatshion, hippos, power + privilege, nom nom food, burlesque, NYC, and ferocity."
+ dressupbox: "Queer femme of color who believes in glitter armor and survival as resistance. poet/performance artist. first generation college student workin erryday to smash the ivory tower."
+ fat shopaholic: "What sets Fat Shopaholic apart from other blogs is Tiffany's vibrancy, bright smile, her willingness to make it work and experiment with various prints and patterns."
+ femme styles: "I love femmes and all of our amazing styles."
+ closet riots: "A body-positive fashion revolution."
+ gisela ramirez: "As much as i aspire to be the next big thing in plus size fashion, the benefit of my work is to remind you, and myself: Your curves are beautiful, lovely and importantly, sexy. You are entitled to celebrate your mind, spirit and your body. Fashion is your friend & you must rock it."
+ the cupcake criminal: "A spot for the girl who loves all things to do with food, fashion, travel, the caribbean, baking, chubby beautiful girls, gardening and of course CUPCAKES!!"
And though these two aren't described as fashion tumblrs, we still like them SO WHATEVER:
+ Fuck Yeah Chubby Butches: "This is a fairly self-serving project but i hope others can also reap the benefits of my campaign to represent the hotness of chubby butches.
+ Fuck Yeah Trans Fats: "There is too much cis-centrism in the fat positive scene and too much sizeism in the trans community. We're here to smash that to pieces! We want to focus beautiful full-bodied trans folks of all varieties."