I've been thinking about the kitchen a lot lately. My wife says I have to learn how to cook. I can bake just fine, but whatever skill it is where people taste food they are cooking and go, hmm, this could use more [insert ingredient here]? I don't have that. I have the cold hard science of baking. It is this conversation that has inspired me to find the nerdiest kitchen implements I can possibly Google up, cooking or baking. So here we are, in no order and with no organization (because seriously, I could've done just Star Wars, that's how much nerdy kitchen stuff the internet holds), here is the very geekiest cookware out there.
---
That Kitchen Stuff I Mentioned
Death Star Waffle Maker, $39.99. Pikachu Cake Pan, $19.99. Dino Cookie Cutters, $14.99. Star Trek Oven Mitt, $14.99.
Printable Sciencey Spice Labels, $5. Come to the Dark Side Kitchenaid Decal, $5. Cookie Cat Cookie Cutter, $5+ (depends on size). Cook You Must cutting board, $20.
And Cookbooks Because Maybe We're Not In The Darkest Timeline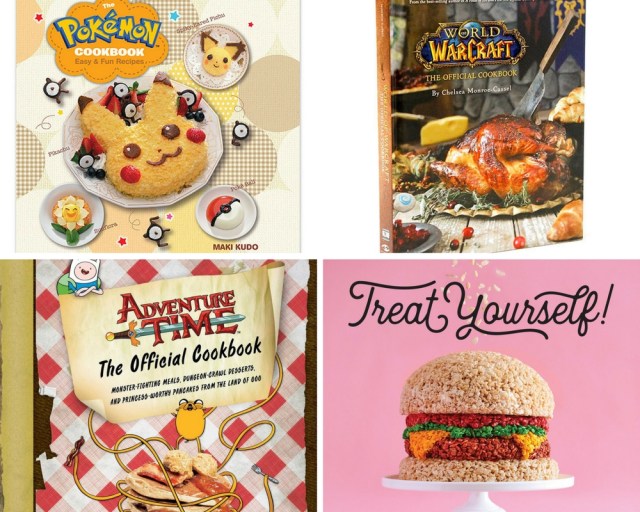 Pokémon Cookbook, $14.99. World of Warcraft: The Official Cook Book, $34.99. Adventure Time: The Official Cookbook, $18.06. Treat Yourself, $8.86 (full disclosure, my friend wrote this book. And it is full of ways to make emoji rice krispy treats, so).
---
Before you go!
It takes funding to keep this publication by and for queer women and trans people of all genders running every day. We will never put our site behind a paywall because we know how important it is to keep Autostraddle free. But that means we rely on the support of our A+ Members.
Still, 99.9% of our readers are not members.
A+ membership starts at just $4/month.
If you're able to, will you join A+ and keep Autostraddle here and working for everyone?
Join A+