The first rule of quilting is is you do not talk about quilting. Actually that's not true at all. You should definitely talk about it with anybody who has any idea of what they're doing. Quilting's long history means that the best way to figure out this geometric art is by talking to master quilters. When I began, I went to my next store neighbor's house and she talked me though my problems and gave me tips on things I hadn't even considered.
When you've never sewn anything quilt-like before, the idea of coming up with something from scratch can be daunting. I mean honestly, where do you start? And once you've got an idea, how do you know if it's even possible to get out of your head and onto a blanket? Luckily, there are centuries of grandmas and just generally grand people who have been making quilts and will happily lend their shoulders for us to stand on.
Decide on Fabric
Walking into a fabric store can be daunting and disappointing. They have hundred of bolts of fabric but none of them seem to be exactly what you're looking for. How is it that they can carry Toy Story fabric, multiple John Deere designs and 15 different Christmas patterns in July but don't have anything that you're looking for? Don't worry, I promise that there's something there for you. In fact, many somethings. I've come up with 6 rules that help me when I'm looking for the right fabric for a project.
1. Give everything in the store a once-over before you even think about picking anything up. This will keep you from planning a whole warm-color scheme only to find the perfect green fabric when you get to the other side of the store. It'll also help you out when you start pulling bolts. You'll remember the nice geometric pattern you saw over there and will be able to run across the store and grab it up.
2. Don't go looking for one magic fabric. If you go in to the store with clippings from a magasine and the idea that you'll find the same fabric that you see in a Pottery Barn magazine on the shelf, you're setting yourself up for failure. Those companies play big money for people to design fabric specifically for their duvets and cushions and rugs and you just won't see the same thing in JoAnn's. That's not to say inspiration is bad! Going in with a general color scheme or a pattern in mind will help you navigate the endless shelves of fabric.
3. Choose one fabric first. So even though you shouldn't have your heart set on one perfect design, finding something that you can base the rest of your project on suddenly makes all that fabric a lot more manageable. The first fabric I chose didn't end up featuring as prominently in my quilt as I thought it would, but it still gave me a really good starting point.
4. Move that ish around. You'll never know what looks good together if you don't put them next to each other. Unroll a little bit of fabric and stand back to see what designs look good with each other. As long as you're respectful and put away the fabric you decide not to get, you're golden.
5. Don't let the cranky people get you down. I don't know what it is about fabric stores, but they always seem to be filled with grouchy people. Once when I was 12, I bought Harry Potter fabric to make my little brother a pillow for his birthday and was treated to a 10 minute spiel from the lady who cut by fabric about how her church thought HP was evil and that I really shouldn't be buying fabric that celebrates witchcraft.
6. Coupons. Fabric and craft stores are basically giving their stuff away thanks to weekly 40% off coupons. Around my, Hobby Lobby, Michael's and JoAnn's all accept competitor's coupons. Since they all three have that 40% coupons, you can theoretically get 3 cuts of fabric for 40% off at each store (in reality, I've found that this all depends on your cashier). And because the Internet is now a thing, you can visit each store multiple times and use the same coupon. You can call it cheating, but I call it Not Giving Too Much Of My Money To A Store Who Doesn't Really Like The Gays.
Color and Pattern 
Like I said, going in to a store with a fixed idea of what you want isn't going to make for a very successful trip. I usually leave my house with a loose idea of what I want – amount of fabric, what colors I'm thinking – and let the store's selection ultimately decide what I get.
Color-wise, you really can't go wrong. If you think it looks good, it does. I'm sure you've seen gorgeous monochromatic color schemes and beautiful rainbow fandangoes. One thing you do want to seriously think about is pattern scale. If you're making a quilt, it's likely that you'll be making a really big project that consists of many tinier pieces. Do you want the patterns to all be the same size?  Are you okay if finer details in a single fabric get lost in the overall project? Does it bother you if larger flowers or geometric patterns are cut into smaller shapes that obscure the bigger picture?
I didn't want my quilt to be entirely any one thing. What can I say? I'm a libra. I chose a combination of deep warm and bright cool colors, geometric shapes and organic patterns and solids and busy prints. To keep the fabric from being too starkly contrasting, I found choices that related to each other in some little way. The star pattern on the black fabric is the echoed in the background of the pink kimono fabric. Black shows up in three of my fabrics and white is featured in six. The patterns on the purple and turquoise flowery fabric resemble each other while the colors of each show up in other fabrics. The one oddball choice I made was the bright orange print. It's completely unique in both color and pattern, but I picked it just because I liked something about it.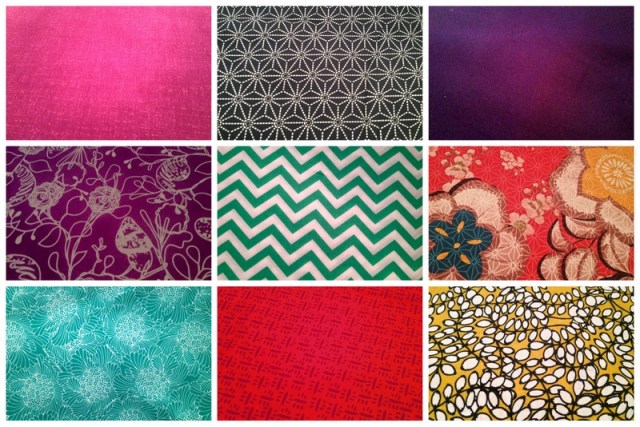 Material
When it comes to making a blanket, cotton is the obvious choice. Cotton is breathable, hypo-allergenic, soft, strong and natural which means that it's a really good choice for something you'll be wrapping around your body to sleep in. 100% cotton isn't always the cheapest fabric out there, but it'll last through plenty of restless nights and washes – it actually gets stronger when it's wet!
When you take your fabric home, you should test it for colorfastness, i.e. to make sure that the colors won't bleed onto each other. You can do this by getting a small piece of each color wet and soapy, stacking them on top of each other and letting the dry. If there are no stains, you're good to go. Some people suggest prewashing fabric so that it shrinks before you make your project, but others think that the sizing (the stuff that protects it on the shelf and keeps it stiff) that comes on fabric is helpful when sewing straight lines. The choice is totally yours.
Get Your Materials Together
When you're making a quilt, you can obviously go with the bare minimum – a needle, thread and your two hands – because thats what quilters did for ages. But if you want to successfully finish your first quilt without going crazy, there are lots of tools that can help you get the job done. Like most crafts, what you use totally depends on your budget and whether or not you'll be using the materials again after you finish your quilt. If buying all this stuff makes quilting prohibitively expensive for you, ask around! Chances are you have an aunt or neighbor or friend who has one or more of these things and would love to lend them to you for a week or two.
Scissors – If you don't want to rip your fabric with your bare hands (And I'm going to suggest that you don't since I'm willing to bet you have a pair of scissors), you'll need some of these guys. Official Fabric Scissors are best because they're super sharp and will help you cut straight lines. A good pair of fabric scissors doesn't cost much more than $10 and will be good after this project for cutting up clothes that need to be repurposed. Whatever you do, don't use fabric scissors on paper! It'll dull them superfast and waste all that hard-earned money you spent on nice scissors.
Rotary Cutter – A rotary cutter isn't a necessity but damn if it doesn't make the whole process easier. Instead of having to focus on cutting very straight lines with scissors, rotary cutters let you slice the whole length of fabric like a pizza. They're around $12 and the blades (~$2) only last about one project.
Self-Healing Mat – If you have a rotary cutter, you'll need a self-healing mat. It's like a giant cutting board for craft projects. I have an 18″ inch that I got for $15 many many years ago and it still looks new. They're great for projects that involve x-acto-ing or box-cutting things like leather or paper so if you're crafty, this might be a worthwhile investment.
Ruler – Quilting rulers are helpful because they create unfuckupable right angles for your squares and strips. Since I don't quilt that much, I used an 18″ metal ruler that I already had and a square piece of cardboard for measuring 90° angles. A t-square or one of those right triangle ruler things that you use in geometry class would also work great for this.
Pins – Pins are one of those things that you can't really get around. They hold everything in place so that you get nice even stitches.
Chalk/Pencil – They make all kinds of fancy washable fabric marking chalks, but I never use anything other than a normal old number 2 pencil. It makes crisp lines that are easy to follow and comes out after the first wash.
Seam Ripper – A seam ripper is the most wonderful thing in the world when you sewing. When you inevitable sew the wrong sides together or run the seam off track, this little guys picks out the seam 10x faster than you'd be able to with scissors. I'd be surprised if you paid more than $1 for one of these.
Thread – Obviously. 100% cotton thread is great because it's sturdy and natural. Don't worry too much about matching up colors for the thread that you'll be using to put it all together; I use white and I can never see the seams. If you'll be adding decorative stitches on top or ribbon borders, though, you'll definitely want to get a color that works with the rest of your fabric.
Iron – Any old iron will do and I bet you have one already. I like to steam everything at the end of a project, but since my iron doesn't have a steam setting, I just use a wet washcloth.
Sewing Machine – Again, you can absolutely hand stitch your quilt together. But quilting is not my number 1 favorite activity in the world and I'm not a masochist so I use a sewing machine. If you're not a weirdo like me who already has a sewing machine, see if you can't borrow a friend's. You don't need anything special like a serger or embroidery functions; just a plain Jane stitching robot.