I feel like the state of Virginia has earned itself a bad reputation. From our horrific and embarrassing Transvaginal Ultrasound Bill to the controversy caused back in 2010 by Attorney General Ken Cuccinelli's awful, discrimination encouraging letter, Virginia comes off as a cultural hellhole where our daily life is ripped from the pages of poorly written Margaret Atwood fan-fiction. But the city of Richmond is the antithesis of everything terrible you've ever heard about Virginia. I've been here for over four years now, and I can tell you in complete honesty that RVA is, hands down, one of the gayest cities in the American South. It's like a big Queer oasis surrounded by a desert of red state. The only real problem with Richmond's LGBTQ scene is that nobody outside of the city knows we're even here. This guide is just a taste of what the 804 has to offer.
+ 
Word On The Street: RVA'S Chillest Neighborhoods
+
The Fan District is located in the heart of the city and is the largest area in all of metropolitan Richmond. Virginia Commonwealth University (VCU) is situated in the center of the district so the Fan is one of the safer areas to live due to the university police presence. Housing in this area ranges from very expensive to very reasonable, depending on what you're looking for in an apartment or townhouse.
Oregon Hill is an area mostly populated by VCU students, so if you're young and you're looking for a house party, it's where you should be. Housing here is particularly affordable (if you like having roommates) and there are a lot of incredibly cute places for rent in the area. One downside is that Oregon is home to some of the worst sidewalks in the entire city which is really saying something because Richmond is famous for it's shitty, uneven brick pathways that somehow never get fixed. (Do NOT attempt to wear heels in this city. Ever.)
Carytown is a shopping district that hosts a wide selection of cool stores, clubs and restaurants. It's my favorite place in the entire city to do my Christmas shopping because you can literally find anything and everything here. One of the coolest parts of the neighborhood has to be the Byrd Theater. It's this insanely beautiful old school movie theater that screens second-run movies for two dollars a ticket. Every spring, the theater hosts Richmond's annual French Film Festival.
Shockoe Slip is definitely the fanciest and most expensive area of Richmond, but it's where you should go if you're looking for a ritzy night on the town. Most of RVA's Fortune 500 companies are based in this area, so naturally the stores and bars are a little out of the price range of your typical twenty-something. There are a couple of great places in Shockoe, namely Siné Irish Pub and The Canal Walk, but Queers be warned: a lot of the bars and clubs in this area are not exactly LGBTQ friendly.
+
Rams Nation: Virginia Commonwealth University
+ 
Richmond is totally and completely run by VCU. With a student body of 30,000 that keeps growing every year, it's Virginia's biggest state school by a landslide. If you pay any attention to the March Madness tournament, then you've already heard about VCU and our eternal God-King of college basketball, Shaka Smart. But Virginia Commonwealth University is also legendary in the community for providing a safe space for its LGBTQ students and faculty. VCU's Department of Gender, Sexuality and Women's Studies sponsors most of the university's LGBTQ programs and outreach, including our biggest organization, Queer Action. The department is also active in international outreach programs, most recently in India.
+
Let's Get Shitfaced: Richmond's Best Bars, Queer Or Otherwise
+
Before we dive into Richmond's bar scene, it's important to mention that the official beer of the city is PBR. Seriously. There's a running joke in the 804 that PBR actually stands for the "People's Beer of Richmond." No, I'm not kidding. We have shirts and everything.
Godfrey's (308 East Grace Street) is probably the most famous gay bar in the area because of their legendary Sunday Drag Brunch. Wednesday's College Hump Night is very popular with the VCU crowd because you get in free before 10PM with a student ID. The drinks can get expensive, and the drag performances that happen throughout the night will cut into your dancing time, but Godfrey's is still worth checking out.
Babe's of Carytown (3166 W. Cary Street) is a close second in fame and reputation when it comes to Richmond gay bars. It's one of the top spots for Richmond lesbians mainly because it's been around forever. Babe's doesn't draw much of the young college crowd because it's 21+ to get in, but that just means you won't have to deal with seeing freshmen puking up 4Loko every time you go to the bathroom.
Balliceaux (203 N. Lombardy Street) isn't really considered as a gay bar most of the time, but every few weeks or so, the bar hosts an event called BEARD: A Queer Dance Party and it's steadily becoming the hottest LGBTQ party scene in the entire city. If you're coming to Richmond and you're into dancing, you absolutely can't miss out on BEARD.
Cellar Door (1600 Monument Avenut #B2) is by far my favorite Richmond bar that isn't a gay bar. It's located in the basement of an apartment complex, so the parties they host aren't huge ragers like the ones you see at Balliceaux. If it's getting late and you're looking for cheap drinks and a calmer atmosphere to end your night, Cellar Door is your destination.
+
Eat Your Heart Out: Restaurants And Cafes For Great Dates
+
Sticky Rice (2232 W. Main Street) is a phenomenal Asian fusion restaurant near the Carytown area with a major cult following. It's not the most authentic sushi joint in the city, but it sure as hell has the perfect atmosphere for a fun dinner date. (If you get their logo tattooed somewhere on your body, then you can have $1 PBRs for life. I actually know people who have done this.) If you're here on a date, you should order one of their giant maki rolls (the Godzirra Roll is orgasmic) but be sure to split it with your lady friend because their portions are HUGE.
Ipanema (917 Grace Street) is a popular vegan/vegetarian restaurant that's unique because like Cellar Door, it's located in a dark basement. There's a small but cute outdoor seating section that's great for lunch but usually too crowded for dinner. The vibe at Ipanema is incredibly romantic, and their Mexican Chocolate Pie is literally the best thing I've ever eaten.
Harrison St. Café (402 N.  Harrison Street) is my favorite place to get a cup of coffee. It's great first date territory because everything is really affordable and like Ipanema, the café caters to vegans and vegetarians. (One thing you should know about Richmond is that there are a ton of places that are accommodating to different diets. You can easily find vegan/gluten-free/locally grown/etc. versions of every type of food.) The upstairs area of the café is surprisingly cozy and perfect for days when you want to just chill with a cappuccino and read a good book.
Cook Out (4802 Broad Street) gets an honorable mention in the restaurants category because even though it's technically a chain, it's exclusive to the Virginia/Tennessee/Carolina region. The best thing about Cook Out is that it's open until 4AM and you get a stupid amount of food for next to no money. It's the kind of place where you can get a corn dog as a side dish. Is it trashy? Sure, but that's why it's good.
+
Shopaholic: Where To Blow Your Money
+
Rumors (732 W. Broad Street) is a consignment boutique specializing in the resale of branded clothing and other cool shit that you can put on your body. You can get some seriously great deals and you can also sell them your own unwanted apparel for money or store credit. (Protip: Take the store credit. There will ALWAYS be at least one thing you want to buy in the store)
Diversity Thrift (1407 Sherwood Avenue) is one of Richmond's biggest and best thrift stores with a strong tie to the LGBTQ community. Located at the Gay Community Center of Richmond, Diversity uses the proceeds from its sales to support several non-profit Queer organizations in the city. It's incredibly easy to find Diversity thanks to the bigass rainbow painted on the side of the building. It's the best place to go if you're looking for something specific and obscure, like one of those multicolor 90s windbreaker jackets.
Plan 9 (3012 W. Cary Street) is the sickest store located in the heart of Carytown that specializes in new and used CDs, DVDs and records. Vinyl is huge in RVA, and Plan 9 has the best selection of records in the entire city. Besides selling and buying CDs and LPs, the store is one of the biggest sponsors of the Richmond Folk Festival and they frequently host in-store shows for local musicians.
Fine Food Market (700 Idlewood Avenue) is Richmond's best bodega, no contest. Located in Oregon Hill, the store hosts an enormous selection of import and domestic beers, wines, and of course, malt liquor. Their grocery section is much more extensive than your typical locally owned convenience store, but the guys who run it are some of the coolest dudes in the whole city.
+
Paint Me Like One Of Your French Girls: Culture And Entertainment
+ 
The Virginia Museum of Fine Arts (200 N. Boulevard) is the perfect place to spend a Sunday afternoon when you're flat broke and in need of culture. With a diverse collection of galleries featuring pieces from prolific artists such as Andy Warhol, Georgia O'Keefe, Claude Monet and many, many more, the VMFA has everything you could ever want from an art gallery. If I could, I would live in their Art Deco/Art Noveau gallery and never, ever leave (except to get a cup of coffee and one of those divine little tiramisu cakes from the museum's café.)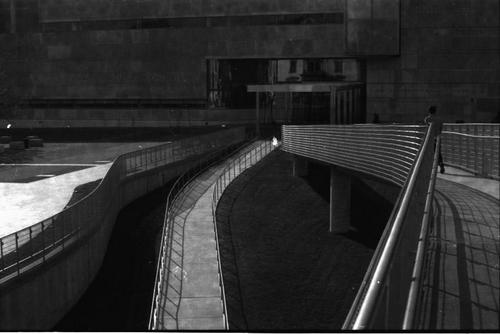 First Fridays is an art walk that takes place on Richmond's Broad Street every first Friday of the month. Local galleries host exhibitions and cultural enrichment programs, such as music performances, burlesque shows and wine tasting events. The best-known and most loved hot spot for FF is Gallery 5, located just off Broad Street.
Belle Isle is RVA's number one go-to spot for cooling down in the swamp-ass inducing summer heat. Located in the middle of the James River, the island offers you the perfect place for swimming, kayaking, and straight up chilling. Even though Richmond has strict open container laws (Boo!) most people come with a cooler of PBR and sit out on the rocks by the river. Belle Isle is located in Oregon Hill, and is nearby another choice Richmond landmark, Hollywood Cemetery.
+
We're Here, We're Queer: Activism And Outreach In RVA
 +
Fan Free Clinic (1010 N. Thompson Street) is our oldest free clinic that specializes in outreach for the LGBTQ community. Located in Richmond's Fan District, the FFC offers many great services such as: women's healthcare, immunizations, adult and pediatric medicine and sexual health education. Fan Free is also notable for being very Transgender-friendly; they offer specialized medical and counseling services for Trans people in the community and they have a wonderful reputation with the RVA Queer family.
Southerners On New Ground is an organization with a strong membership basis in Richmond that is dedicated to fighting legislation which negatively affects LGBTQ persons in the American South. SONG also works for the rights of immigrants and other Southerners who are otherwise disenfranchised or oppressed by their communities. The organization also does outreach in Alabama, Georgia, North Carolina and South Carolina.
Girls Rock RVA is one of Richmond's newest outreach organizations, but it's also one of the most exciting! Girls Rock hosts an annual summer music camp for girls and gender non-conforming youth between the ages of eight and fourteen. Their mission is to "facilitate a space in Richmond that empowers girls to collaborate creatively in an environment of mutual respect and positive self-expression."  The campers are given creative freedom to form their own bands and write songs for a performance at the end of the camp.
ROSMY is a youth advocacy and support group for LGBTQ teens and young adults. They offer several counseling programs and outreach facilities, including a special toll-free support hotline that takes calls 24/7. One of their most notable outreach programs is their Alternative Prom, which is held every spring and caters to Queer youth who otherwise don't feel comfortable or safe attending their own proms. ROSMY also provides educational programs for the family members of LGBTQ youth.
Richmond is a city with a lot to offer. Whether you're into chugging PBR until the sun comes up, or if you're looking for a calmer and enriching experience, there's literally anything and everything you could ask for in the 804. Special thanks to Danny Caporaletti for providing the photography, and thanks to my Richmond Queer family for their input!