I've been out in Melbourne since my early teens and I've danced, shopped, laughed, eaten, drank and smoked my way into my early 20s without ever losing my love for this city. Melbourne is safe and queer-friendly on the whole, with fantastic grungy areas to shop and eat scattered around the CBD. We're a bit of a melting pot of British, European and Asian cultures and so our café culture is competitive which amps up the quality of coffee and food. Public transport can get you just about anywhere. I could never tell you everything that there is to do/see/adore because I still don't know everything even after 23 years in one place.
+
First and Most Importantly: Where to Dance
Melbourne queer venues and events are mostly mixed for lesbians, gays, trans* and their friends. We're very attached to our lesbros here and any bar that tries to deny men entry quickly goes out of business. The key to a rich social life here is definitely to have the right facebook friends — all of the events and a few bars have their own pages that advertise when/where/what is on. Some of the best dance nights are not on regularly and they don't always stay in the same bar so if you want to be where it's happening, get on facebook!
There are several dance nights that are more or less once a month, on the north side of town or in the CBD.
Danceteria Party Every third Friday at Laundry (50 Johnston Street), this queer dance party packed to the hilt with hipsters in beanies and flannel shirts plays mostly RnB and Hip-hop.
Grouse Parté (various locations) Has a few different types of events and moves around a bit so definitely check their page. They've got more varied music ( think a mix of indie, retro and RnB) and thus different types of women for different tastes!
Lick (various locations) Lick prides themselves on unique events, so it's different every time.
Pinkalicious (various locations) They hold varying events, but their Sundaylicious parties usually attract a slightly more mature, better-dressed crowd. Not to mention that their parties are always held at gorgeous venues. Check out their Facebook.
Tomboy The opposite of Sundaylicious. Tomboy is still finding its feet but is bound to improve.
Q: Is there an underage Dance Party?! A: Yes! Even the under-18s have a place to go and let it all hang out. Minus18 (various locations) has been operating for at least a decade now. I went as a miniature queerling and it's still going strong with huge support from the community.
+
Bars
Sircuit (103-105 Smith Street, Fitzroy) Free pool. Cheap drinks. Fab drag. Women are only allowed entry on Thursday and Sunday nights.
A Bar Called Barry (64 Smith Street, Fitzroy) They've got IQ Thursdays and queer dance night.
DnM Nightclub Bar (119 Commercial Road, Prahran) Open all week, DnMM does a packed Bounce RnB on a Saturday night. Other nights have food and themed shows.
Libation (302 Brunswick Street, Fitzroy) Looking for a laid-back Sunday evening drink? This is not it. I'm always surprised by how many people want to get their dance on, even on a Sunday.
+
Now That You're Danced Out…Other Events
ButchFemmeTrans a monthly catch-up at Hares and Hyenas (63 Johnston Street  Fitzroy) LGBTI book store.
Queer Melbourne Stitch'n'Bitch (various locations) a knitting group!
Lesbian Open House (681 Sydney Road, Brunswick) a lesbian discussion group on the 1st and 3rd Thursday of every month.
+
Where To Eat and Shop
We don't have a designated Gaybourhood in Melbourne, but with the obvious exception of 3am on the weekend (when it's a bit dodgy to be on the streets alone regardless of your gender and sexual orientation), I've always felt safe walking the streets of Melbourne holding hands with a beautiful lady.
+
Brunswick Street, Fitzroy
Easily accessible with the 112 tram, there's lots of shopping to be done on Brunswick Street. For something that you won't find anywhere else in Melbourne check out Polyester Books (330 Brunswick Street, Fitzroy); you'll see the sandwich-board with an aroused manga schoolgirl in bondage out front). Vegie bar (380 Brunswick Street, Fitzroy) has some of the most interesting vegetarian and vegan food around and Bimbos (Corner Brunswick Street & Rose Street, Fitzroy) is a seriously awesome pub with cheap pizza and a hipster vibe.
Sydney Road, Brunswick
For the one-and-only lesbian café in Melbourne you've got to jump on a no. 19 tram in the city and head up Sydney Road to Empire Café (295 Sydney Road, Brunswick). They do a mean hangover breakfast and are conveniently located across the road from the Retreat (280 Sydney Road, Brunswick), a laid-back pub with fake grass, a pool table and occasional live music. Also on Sydney Road is the Cornish Arms (163A Sydney Road, Brunswick), where monthly Grouse queer dance parties are sometimes held.
Smith Street, Collingwood
The 86 Tram will get you to Smith Street, a grungy street that's home to A Bar Called Barry (64 Smith Street) and Sircuit (103 Smith Street) for all your drinking/dancing/pool needs and a variety of vegetarian restaurants, $2 shops, vintage stores and In.cube8r, a store that sells jewellery by up-and-coming designers. Wilde Yak (97 Smith Street) has vegan food and designer beers. It's a short walk to the Peel, the only gay bar that refuses women entry. Avoid it at all costs!
Chapel Street, Windsor
Chapel Street will forever hold my heart as the most wonderful place to be young and fabulous in Melbourne.
Just off Chapel on Commercial Road is DnM Nightclub/Bar (119 Commercial Road), one of Melbourne's few bars that is equally friendly for gays, lesbians and trans* people all week round.
Eating on Chapel includes Tusk (133 Chapel Street), Yellow Bird (122 Chapel Street), Tyranny of Distance (147 Union Street) and Buddah's Belly (75A Chapel Street) for breakfast, lunch and dinner, all with vegetarian options and great coffee. Lucky Coq (Chapel Street & High Street) has cheap, delicious pizza in the evenings and afternoons. Borsch, Vodka and Tears (173 Chapel Street) has spectacular cocktails and hearty Russian food. Mad Mex (129 Chapel Street) has the best Melbourne has to offer in Mexican food.
Many of the cafes as well as the bars have happy 'hour' from 4-8, such as Wonderland (right next to Windsor train station on the Sandringham line) which also has outdoor heaters and couches, and Holy Grail which has sneakily circumvented the smoking laws and basically allows you to smoke inside.
The next best things to eating and drinking are the Op Shops (thrift stores) which are scattered along the Windsor end of chapel street and have fantastic quality clothes, and make looking your best a very cheap prospect.
Important tip about Australian dining: Tipping is not a thing here. If you go somewhere really top-notch then you might tip 10%, but regular cafes and restaurants don't expect you to tip. Drop some pocket change in the tip jar at the register if you're feeling generous.
+
Get fit! (or watch people doing it, and feel fitter)
The Australian Football League, or AFL, is locally known as Aussie Rules or 'footy.' Professionally, it is our national pastime and is sexist and gross but word on the street is that the Victorian Women's Football League is where the hot fit ladies play. It's a winter sport so for us that's the middle of the year. To join a club with known out ladies, check out the St Kilda Sharks.
Roller Derby has taken off in Melbourne and the games were selling out so fast that they had to move the matches further out of the city to a bigger stadium. There are massive waiting lists to get onto teams and it's virtually impossible to get a ticket unless you know a player. If you're really keen, though, best of luck to you!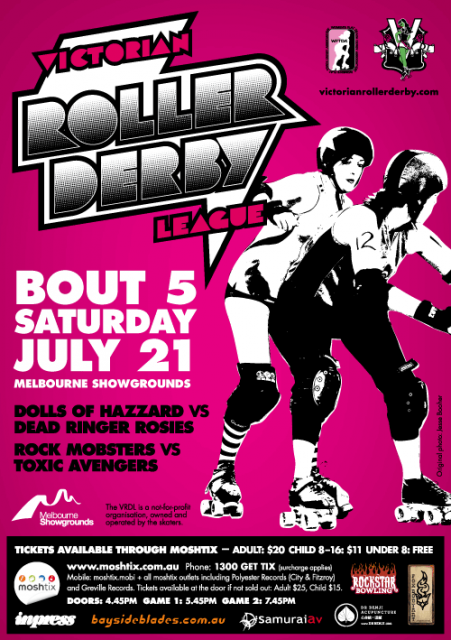 Other sports reported to be packed to the brim with queers:
Touch Football
Hockey (a cool article about equality in hockey)
Soccer (the website says 'football' but it is actually soccer)
+
College! (or as we say down under, Uni!)
Rather than listing the numerous educational institutions that are accessible from the CBD by public transport (there are so many and most major universities have multiple campuses all over the state) I'll give you UniLodge, the easiest way to find accommodation right next to the place you want to study. As far as cost, well, it's affordable by Melbourne standards. (If you're not a student check out Gumtree, our version of craigslist.)
All Unis that I'm aware of have a queer department of varying amazingness and life on campus could not be more queer friendly. Look to the union building or campus centre for info.
+
Health
The Gay and Lesbian Switchboard (9663 2939) is a valuable telephone counseling, referral and information service for the LGBTI community. They also provide specific support for other minority groups within the community and for family and friends.
Drummond Street Services (177 Drummond Street, Carlton) is basically a mental health service with a primary focus is on youth and family relationships.
The Melbourne Sexual Health Centre (580 Swanston Street, Carlton) is the place to go for testing and treatment of STIs.
The Northside Clinic (370 St. Georges Road, Fitzroy) is a General Practice specifically focused on the health of the LGBTI community.
+
Midsumma and Pride

Our Midsumma Pride celebration is not just about marching and partying, it's a full-on arts and culture festival with theatre and visual arts at the centre, book-ended by Carnival on the 13th of January and Pride March on the 3rd of February. Carnival includes performers, stalls and grassy hills to picnic on and Pride March ends with a very chilled party by the bay.
So, now that you've danced, eaten, played, gotten healthy, bought books and clothes and hopefully met some rad people along the way, the last thing you need to know is that the joke Melbournians make about living in Melbourne is that our city has "four seasons in one day." So grab a jumper (sweater) and don't be surprised if you leave the house in the rain and come home sunburnt.