We are recent Atlanta transplants who actually met at Atlanta's unofficial meetup for Autostraddle's International Brunch Day who bonded over the fact that we've been exploring the city and its lesbian offerings all by our respective lonesomes. So we decided to join forces, share our collective knowledge of the city, and co-write this guide. Atlanta is a very diverse city with a rich history that includes the civil rights movement. However, parts of the city remain highly segregated and also has the highest income disparity in the United States.
But not all is gloomy in Hotlanta. The city boasts one of the largest LGBTQ populations in the U.S., and there are more and more resources and opportunities for LBT ladies in the "A."
Nightlife
My Sister's Room (1271 Glenwood Avenue) is the only lesbian bar in the city of Atlanta and also one of the oldest in the Southeast. As such, it does its best to partner with diverse promoters to offer a wide variety of theme nights and parties that appeal to lesbians of all ages and musical and cultural tastes. Wednesday nights feature karaoke and the bar hosts a comedy show Saturday evenings. Other popular nights include drag shows featuring the "Lee family" and Friday night old school dance parties for more "mature" lesbians. The bar is located in LGBTQ-friendly East Atlanta Village.
Like many cities, the queer nightlife scene in Atlanta is dominated by the guys, but there are several promoters who host monthly and weekly events to supplement the ladies' social scene. Ladies at Play caters to the 25+ crowd and hosts monthly parties at various upscale venues around Atlanta. The crowd at Ladies at Play events include a diverse mix of ages and gender expression from high femme to dapper stud.
Traxx Girls holds weekly parties at different clubs in Atlanta. The promoter also hosts My Sister's Room's Friday night dance parties.
Sports
With two eastern conference championship wins in the past two seasons, the WNBA's Atlanta Dream is arguably the most successful professional sports franchise in the city. The team is largely made up of veteran favorites like Erika de Souza and Armintie Price. Three-year Dream veteran and fan favorite, Angel McCoughtry is led the US Women's Basketball team to a Gold Medal in the 2012 London Olympics.
The Atlanta Roller Girls roller derby league is a founding member of the WFTDA and features four home teams as well as three travel teams. Bouts, which are held at the Yarab Shrine Center, 400 Ponce de Leon Avenue, frequently sell out days in advance. Plan ahead and purchase tickets online at the Atlanta Roller Girls' website.
The Atlanta Xplosion are a women's professional full contact football team. The team's season runs April through June.
If being a spectator isn't your thing, you can get hot and sweaty with the Hotlanta Softball League. The city's LGBTQ softball league has a women's league with teams that accommodate all playing levels. If you are a beginner, you may want to start with the Fall league, which is purportedly more laid back.
Though technically not in the city of Atlanta, the Decatur Women's Sports League provides competitive sports teams for women including softball, volleyball, tennis and bowling. While the league is not specifically targeted to queer women, it must be said that Decatur is known for having one of the most dense populations of queer women in the greater Atlanta area.
The College Scene
Emory University (1518 Clifton Rd NE), located in the North Druid Hills neighborhood, scores a 5/5 on the LGBT-Friendly Campus Climate Index. Their Office of LGBT Life has been around since 1991 and sponsors a number of organizations for undergraduate and graduate students. Plus, the Center for Women at Emory hosts the following weekly discussion groups: Queer Women, Queer People of Color, and Queer Interfaith.
Larger, more urban campuses include Georgia Tech (225 North Ave) and Georgia State.
All-women's liberal arts colleges in the area include Decatur's Agnes Scott College (141 E. College Ave) and Spelman College (350 Spelman Lane SW), America's oldest historically black college for women.
Furthermore, the Atlanta University Center Consortium (440 Westview Drive Southwest) is the largest consortium of African American higher educations, allowing students to cross-register for courses across its institutions. Its members include Clark Atlanta University, Morehouse College, Morehouse School of Medicine, and Spelman. (Notable alumni: Martin Luther King Jr., Alice Walker, and both of Joy's parents!)
Pride
Atlanta Pride is the largest pride festival in the southeast. Established in 1971, it's one of the longest-running in the U.S. as well. It recently moved from early July to the 2nd weekend in October to coincide with National Coming Out Day (and so less people pass out from the heat). The weekend begins with a number of kick-off parties, Dyke March, Trans March, Atlanta Pride Literary Showcase, and a non-denominational Commitment Ceremony for couples who want to publicly pledge their commitment to each other. Sunday features the Annual Atlanta Pride Parade and the Pride Marketplace in Piedmont Park.
Atlanta Black Pride occurs annually during Labor Day weekend, and features community empowerment seminars and workshops, as well as what we can vouch for are pretty much the best dance parties ever. This is one of the largest Black Pride celebrations in the world, drawing a huge out-of-town crowd from the U.S. and beyond.
Pride entertainment information hasn't been officially released yet, but past performers have included Brandy, Ciara, Nicki Minaj, and The Voice's Beverly McClennan.
Places of Worship
Atlanta is a great place to participate in LGBT-friendly religious life. Official Pride partners include Saint Mark United Methodist Church (781 Peachtree Street NE), Trinity United Methodist Church (265 Washington Street SW), Virginia-Highland Church (743 Virginia Avenue NE), and Unitarian Universalists of North Georgia (11420 Crabapple Road, Roswell, GA).
The Catholic Shrine of the Immaculate Conception (48 Martin Luther King Junior Drive SW) hosts regular LGBT Pot Luck Socials to promote connectedness among their LGBT parishioners and welcome any LGBT person interested in knowing more about the church.
The Rainbow Center (4549 Chamblee Dunwoody Road) is a congregation of Jewish LGBT individuals that has been operating since 2001. They are located at the main office of Jewish Family & Career Services and features services addressing adoptions, homelessness, domestic violence, career counseling and more.
Community Resources
As the name suggests, Charis Books & More (1189 Euclid Avenue NE) is much more than a bookstore. Charis is the largest and oldest feminist bookstore in the South. Much of the programming at Charis Books is hosted through its Charis Circle not-for-profit arm. Charis Circle hosts the Cliterati Open No-Mic poetry night every third Thursday night, drawing some of the most talented local and national poets as well as a facilitated writers' group. Other community-oriented programming provided by Charis Books and Charis Circle include T&F Transitionz for teens and young adults interested in exploring gender and a series on raising families in the black lesbian community.
The Health Initiative is dedicated to improving the health and wellbeing of Georgia's LGBTQ community. A new and notable program sponsored by The Health Initiative is Real Boi's Talk, a program that focuses on the health issues of African American masculine-identified gay women. The Health Initiative also hosts Fourth Tuesday, a social network for women that hosts happy hours (ironically) every second Friday at Mixx (1492 Piedmont Avenue NE) from 6-8 p.m.
Restaurants
Atlanta has tons of great restaurants that can't all be named, so the following is a list of queer-friendly or queer-owned restaurants. And it's probably no coincidence that most of the restaurants on this list specialize in brunch!
Highland Bakery (various locations) is lesbian-owned and one of Atlanta's most popular brunch spots. There are three locations in Old Fourth Ward, Midtown, and Buckhead neighborhoods. The original, Old Fourth Ward location is the most popular and the busiest – 655 Highland Ave NE #10.
The Flying Biscuit Cafe (various locations) has many locations throughout Atlanta, but the Midtown location (1001 Piedmont Avenue Northeast) is easily identified by the rainbow flag that hangs prominently from its facade. The is a popular queer meeting spot, especially for Saturday and Sunday brunch.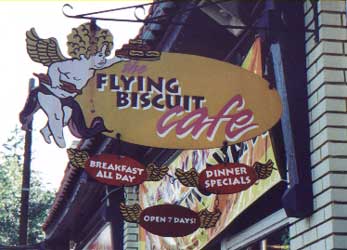 Einstein's (1077 Juniper Street) (not the bagel chain) is another popular brunch spot for queer ladies. Like The Flying Biscuit Midtown, Einstein's announces its gay-friendliness with a large rainbow flag.
Joe's on Juniper (1049 Juniper Street) is another restaurant owned by the same restaurant group as Einstein's, and is a popular watering hole and bar foot joint. While Joe's appeals primarily to the guys, many queer ladies also frequent this Midtown gathering place.
Atlanta Lesbians on the Web
Atlanta boasts not one but two webseries dedicated to lesbian life in the city. Between Women is a fictional lesbian webseries that chronicles the relationships, friendships, and, of course, drama of a group of lesbian friends.
The Other Women of America is a reality webseries that features a diverse group of lesbians living in the Atlanta area. At one point, Atlanta Dream veteran Chamique Holdsclaw was listed as a cast member, although she does not currently appear in the promotional material. While the website features some clips and previews, the first season of the series seems to be still in production.

This article was brought to you by the hardworking people of Autostraddle, the world's leading independently owned queer-lady website! If you loved it, you should donate to our bitchin' fundraiser and be part of the revolution! We've got until September 7th to reach our new fundraising goal and you can read more about what's in it for you here. Every little bit counts. Thank you!