(Ed. note: Originally two city guides, these were combined because Amherst and Northampton are so close in geographical location and in spirit. Some sections are divided into Amherst and NoHo, and some are applicable to both.)
Amherst
I nervously moved to the sleepy town of Amherst*, Massachusetts almost six semesters ago, not sure what to expect. I was somehow under the impression that the town was literally in the middle of nowhere with absolutely nothing to do and that I'd be bored all the time. I wasn't out to anyone (even myself), and even though my dad's side of the family all went to school here I somehow had no clue about Amherst's hippie-liberal vibe.
Now, I really love this tiny little town. Having lived in the liberal bubble of Massachusetts my whole life, I've found Amherst even more queer-friendly than other parts of the state (except Northampton and Provincetown). I'll be sad when I have to leave for grad school.
*protip: The H is silent. Enunciate it and I will shove a sharp object into your eye.
Northampton
Hello queermos! Emily and Mareika here. We really like Northampton and you should too. Northampton is known as the lesbian capital of the world (we have no reference for this) because it is basically a lesbian commune on a larger scale (this may or may not be true).
In all seriousness, though, the city is extremely queer-friendly. Actually, we always do a double-take when we see straight couples holding hands because there's that many queers. If you like butches with babies, or gay dads with four kids, or quirky people of every kind, you will like Northampton, aka Noho. A lot of people you will meet in Noho are in undergraduate or graduate school. They are probably very smart and they probably listen to NPR (station 88.5).
Overall, Northampton is queertastic. There's a lot of gay families, and people of all ages. It's very economically diverse, but not so much racially. Even though it's the lesbian capital, there's still a ton of gay boys, and they have their own event/info site too…no, not grindr. There's an extremely large trans community, both trans men AND women. There's no tension or exclusion among the G, L, B, and T communities. Cohabitation is happy and peaceful! Even the non-queer people (which must be like 40% of the population) have shared interests in things like veganism and organic things and local and feminism. It's way cheaper to live here than in bigger cities, and it's cheaper to go for a bigger house/apartment. One- or two-bedroom ones are kind of expensive because the landlords want to over-charge Smith students. There's lots of apartments with good access to Main Street AND there's a bike trail that goes just about everywhere. And lastly, just in case you were worried about your rights, Massachusetts was the first state to pass marriage equality, and there's also a bunch of gender expression and identity laws — Northampton and Amherst even have nondiscrimination statutes that cover public accommodations.
Lesbian Bars
Amherst
Unfortunately, Amherst isn't really big enough to sustain a dedicated lesbian bar. Go to Northampton instead. (No, seriously. Go to Northampton. It's connected to Amherst by a bus which is only $1.25/free if you're a student, and I promise you there will be lots of ladies). It does have some not-particularly gay bars though, which I will list here! (Stay away from the Monkey Bar at all costs.)
Moan & Dove (460 W St.)
This bar is known for its large beer selection. They also have barrels of peanuts at the door, so, you know. Yelp describes their ambience as "hipster" and "casual", which is possibly all I ever wanted in a bar? It's not downtown so it's kind of secluded, but it's still on a bus route.
Amherst Brewing Company (10 University Dr.)
This is a pretty casual place if you just want to kick back and relax with some friends. They moved last fall from their space on East Pleasant St. to a larger space over on University Drive. I haven't actually been to their new location yet so I don't really know how much I can recommend this but I've enjoyed going here in the past. Also, if you go to UMass, you will end up taking somebody here for their first legal drink on their 21st birthday.
Lit (41 Boltwood Walk)
Amherst's classiest. It's a restaurant until 10 and after that they move the tables away and it turns into a club. They have a waterfall under the dance floor. A WATERFALL.
Northampton
So, almost everywhere you go is welcoming and probably has at least two other queers inside.
Tunnel Bar: (125A Pleasant Street.) Tunnel Bar is a secret-ish place without a sign, which is why they don't even have a website. It's across the street from the Pearl Street Nightclub. It's super sweet because it's underground and in an old train tunnel. Sometimes it's hard to get
a drink while dodging all the breeders, but there is usually lots of seating, whether it's upstairs or downstairs. Upstairs is a good/private date space. Relaxed/dark atmo, tunnel-y.
WWII Club/The Deuce: (50 Conz St.) Home of Bon Appetit Burlesque, monthly queer burlesque. Also has trivia, karaoke, open mic. Always pretty gay.
Also check out:
Ye Olde Watering Hole: (287 Pleasant St.) Hidden dive-y gem. Also, a beer can museum!
The Dirty Truth: (29 Main St.) Lots of beers 'n' queers.
Hugo's: (285 Pleasant St.) Also dive-y and fun.
Northampton Brewery: 11 Brewster Court.
 For concert venues:
The Calvin: 19 King Street.
Pearl Street Nightclub: 10 Pearl Street.
The Iron Horse: 20 Center Street.
All of these venues frequently host some of our fave gay ladies, including T&S, Ani, Dar Williams, Alice P…I mean Uh Huh Her, and Melissa Ferrick.
Food/Cafes/Coffee Shops
Amherst
Rao's (17 Kellogg Avenue)
This is my favorite coffee shop of all time. It's nice and cozy. They play good music but not loud enough to actually distract you from getting your work done. I even come for reasons other than the baristas. Bring cash though, because they add a surcharge on debit/credit card purchases. All of their bathrooms are gender neutral.
Amherst Coffee (28 Amity St.)
This place is smaller than Rao's, but in addition to coffee they also serve wine, beer, whiskey, and cocktails! They're also open until midnight. Last time I was here there was a guy playing guitar in the middle of the shop.
Cushman Market and Cafe (491 Pine St #A)
Up in North Amherst, most students don't know about this place because it's not really on a bus route. It's in an old railroad mail depot and makes delicious sandwiches of both the vegetarian and carnivorious variety. Giant collages and chalkboards everywhere, free jazz music on Saturday mornings, and a convenience-store type place in front make it a cool place to hang out for awhile.
LimeRed Teahouse (50 Main St.)
This is where you go for bubble tea if you don't drink coffee.
Other Popular Coffee Shops/Cafes (I have not personally checked all of these out out)
The Black Sheep (79 Main St)
The Loose Goose Cafe (1 East Pleasant St.)
Mango Mango (61 Main St.)
For the brand-loyal, Dunkin' Donuts are located at 175 University Drive and 312 College St, while Starbucks is at 71 North Pleasant St.
Late Night Eats (aka you're drunk and starving):
Wings over Amherst (55 University Drive)
These were the reason it took me so long to become a vegetarian, which should be good enough of an endorsement for you. Also, they deliver and I swear they usually show up literally 5 minutes after placing your order. Open until 2:30am on the weekends.
Antonio's Pizza (31 North Pleasant St.)
Antonio's is always packed because it's near the downtown bars. They're known for their crazy pizza combinations (I went there last night and the choices involved pasta on pizza or quesadilla pizza). If you just want the basics, cheese pizza is $1 between midnight and 2am on Friday nights.
Rt. 9 Diner (458 Russel St. in Hadley)
Located on the Amherst-Hadley town line. Personally I find their food so-so unless it's between midnight and 4am, because greasy diner food is the best thing ever at those hours.
Northampton
It would be impossible to list all of the restaurants that are delicious here, we left out some great ones that you can list in the comments if you like! You can find pretty much all kinds of ethnic food in Noho.
Haymarket Cafe: (185 Main St.) All-vegetarian, delicious food downstairs and coffee shop upstairs. There will almost always be gays and Smithies in the Haymarket! And cheap — the half sandwiches are pretty big, and delicious, so, you save dollah billz.
Woodstar Cafe: (60 Masonic St.) Woodstar has delish gluten-free (as well as gluten-filled) treats. They have the best bagels. And pretty amazing iced coffee. It's cash-only though!
The Roost: (1 Market St.) The Roost is Mareika's favorite place in Northampton, and it always has lots of people doing work/studying. Really good food and coffee — the breakfast sandwiches and grilled cheeses are ridiculous. There are queers with good fashion here, good people-watching.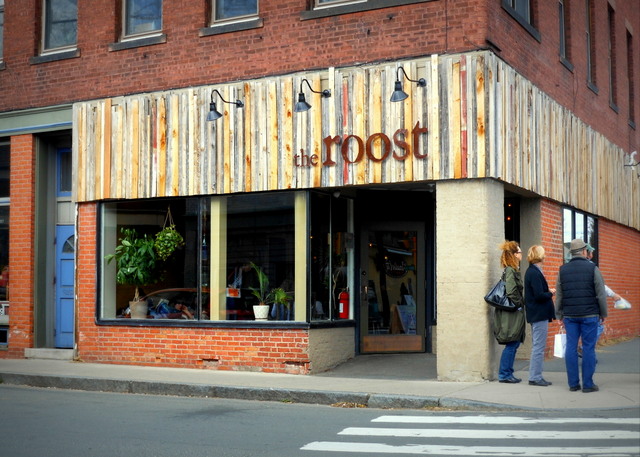 The Foundry: (24 Main St.) This is a new place that just opened in March, owned by a Smith alumna. We walked in and we thought it was The Planet. Like, lesbians! Errywhere! Cute ones! It also serves alcohol at night.
Shelburne Falls: (124 King St.) Cheaper coffee than most of the other shops, but no sitting area to do homework/work.
Bread Euphoria: (206 Main Street, Haydenville, MA 01039) This place hired Mareika, so you should become a fan/patron. Also, REALLY good bread! And breakfast sandwiches, yum. It's a little farther away than the other locales, but not so far you can't bike.
Bueno y Sano: (134 Main St.)  There's lotsa Mexi food in Noho, but Bueno is really good and really cheap. The two most important things.
Viva Fresh Pasta: (249 Main St.) Viva makes their own pasta/sauce. SO good.
Zen: (41 Main St.) We vote this the best Japanese food in Northampton. Recommendations: spicy salmon roll and Kirin beer.
Local Burger: (16 Main St.) Even though Emily doesn't eat meat, she still thinks Local Burger is the best burger place — veggie or meaty. There's also milkshakes and all the fries.
The Green Bean: (241 Main St.) There's a few breakfast/brunch places in Noho, but the Green Bean is THE BEST. It's super veg friendly — you can sub tofu/tempeh for everything.
Sweeties: (68 Main St.) A great candy shop with kosher and vegan options.
Gay Coffee was brought in to the world by two Smith alums, and is now roasted in Williamsburg. It's not a place you can get coffee, but a cool local brand. Their coffee is whole bean, fair trade, organic, etc.etc.etc. and has really funny/gay packaging. Like, "Second Date: Pack the Kitties". You can order it online, or pick it up at Pride & Joy.
College Life
Amherst is a quintessential college town due to the presence of THREE colleges within a few miles of each other. All three colleges are part of the Five College Consortium, which means if you attend one you can register for classes at any of them. (The other two colleges are nearby and are Smith and Mt. Holyoke. This means QUEER GIRLS QUEER GIRLS EVERYWHERE).
All five colleges have queer things happening all the time. Just in the last month I've seen Andrea Gibson at Smith and Rachel Maddow at Mt. Holyoke, and got to talk to both of these amazing human beings afterward.
Amherst College
Amherst is one of the US's best liberal arts colleges, so you'll obviously be getting a top-notch education if you can get into school here. Queer things include the Gay Amherst Parties (monthly queer dances open to Five College students) and a resource center and Pride Alliance, as well as a group called "Pride and Color". Here's a list of gender-neutral restrooms on campus!
Hampshire College
Hampshire has a very different educational philosophy than most other colleges, and I hear that Hampshire students love it. Instead of grades they get evaluations and everybody is required to do a huge project before graduating; all majors are self-designed. Hampshire's former president Ralph Hexter was also openly gay, which is pretty cool.
Queer things include a Queer Community Alliance Center, a Center for Feminisms, a yearly conference on sexuality and gender, and queer studies program.
UMass Amherst (Disclaimer: I go here)
With 20,000+ students, its by far the biggest school around. I could type for hours on minute details of UMass but I'll spare all of you (message me if you have questions, though).
UMass added "gender identity and expression" to its nondiscrimination policy a few years ago.
The Stonewall Center is the resource center. They do things like ally training (RAs can go through this to get a cool rainbow sticker to put on their door) and free STD testing. Their website has a wealth of information on topics ranging from gender-neutral bathrooms on campus and in town to LGBT-friendly religious groups in the area. Sign up for their weekly newsletter or check them out on Facebook if you want a summary of everything queer going on in the Pioneer Valley.
The Pride Alliance is active but doesn't have a website. It's more undergrad-focused and social than the Stonewall Center. Housing has special floors for queers and their allies.
Things that are not specifically queer but relevant to your queer life include the Everywoman's Center, Earthfoods (a student-run vegetarian co-op that I may or may not spend large portions of my paycheck at) and People's Market (student-run business with the slogan "Food for People, Not for Profit", sells things like vegan bagels and organic coffee).
Support for LGBT Families
Amherst
There are no specifically queer groups, but most of the family-oriented things are LGBT friendly. For example, UMass's Office of Family Resources just hosted a panel on LGBT parenting and provided free childcare during it. The Amherst Family Center is also queer-friendly. This list of accepting religious institutions in the area is probably also helpful. (There are also numerous groups in Northampton, including PFLAG if you don't mind driving). As far as women's resources, there's Tapestry Health (27 Pray St), which is like Planned Parenthood, but local (and they don't do abortions, you'll have to go to nearby Springfield or Enfield for that). They have a rainbow on their website. Costs are determined on a sliding scale.
Northampton
Mareika's mom's colleague lives in Northampton and she says that 40% of families in the Northampton public schools have lesbian parents. Although this is extremely unsupported by fact/science/statistics, we think that it shows how not-alone gay parents are in the city. LGBT families are not really a minority and they have plenty of say/acceptance in the community. For further evidence of Noho as Gay Utopia, the PTOs of the four Northampton public elementary schools fundraised for and supported Transperformance in 2011. There's a bunch of support groups, if that's your style, as well.
Pride
Amherst
Sorry, everyone. Amherst doesn't have Pride. Northampton does though! (I will repeat my point that Noho is REALLY CLOSE).
Northampton
Noho Pride is much bigger than you would expect for such a small city. Last year, Kate Clinton was one of the parade marshals, and Calpernia Addams and God-Des and She (you know…that song, "Lick It"? For all y'all who think you don't know it, remember in the L Word when Shane is gonna marry Carmen, and at the bachelor party there's that song? That.) performed.
New England's Trans Pride Parade also happens in Northampton!
Other queer events in NoHo include:
Rainbow Riverfest: Rainbow Riverfest is like Pride and Lilith Fair had a tiny gaybie. This year, Melissa Ferrick and Bitch are headlining. Check it out, September 22nd.
The Miss Trans New England Pageant is an awesome thing and is held in Northampton.
Art Groups and Galleries
Northampton
Northampton Arts Council: Plans theater events, public art, etc. 240 Main Street Room 5, Memorial Hall.
R. Michaelson Gallery: This is the fancy art gallery in town. 132 Main Street.
A.P.E. Ltd. Gallery: This place has some cool work. It is much more contemporary than other galleries in the area. Installation and sculpture are often shown. 126 Main Street.
Social Activist Groups
The LGBT Coalition of Western Mass pretty much does all the things. No big deal, but Emily works there. She says: We were voted Valley Advocate's NUMBER ONE BEST ACTIVIST ORGANIZATION for 2012. Ahem. Anyway. We do work with LGBTQ youth, parents of said youth, old lesbians, baby dykes, trans folks, and everyone in between of all races / ethnicities / abilities / etc. There's workshops of all kinds, films/forums about every subject – including trans parents and youth athletes, social events, dances, and the RAINBOW RIVERFEST, which is the best/we will talk about a lil further down.
Queer Newspaper
The Rainbow Times: Emily works here too and has lots of good feelings and thinks everyone should read this one-of-a-kind publication, that gives back to LGBTQ organizations that it works with. TRT was started by two lesbians, is printed/based out of Noho, serves all of New England, and has an entire segment in Spanish, working to directly serve underrepresented communities. TRT also has done/does do, lots of additional special projects, like the Official Boston Pride guide. Not only is everything featured on their website, but on every social media network imaginable. It's the best. Basically it should just be your number one source for everything gay.
Places to Avoid
Honestly, I've never felt physically unsafe in this town and I sometimes do dumb things like walk back to my house alone in the dark after consuming alcoholic beverages (don't tell my mom!). I would avoid PDA in the Southwest Residential Area at UMass and in the vicinity of the downtown bars on Thursday-Saturday nights, due to the large drunken contingent of bros that I don't trust to not verbally sexually harass you.
LGBT or Feminist Bookstores/Other Shopping
Amherst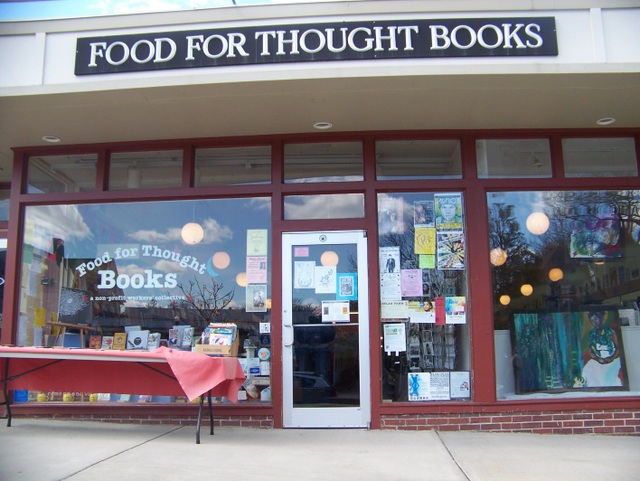 Food for Thought Books (106 North Pleasant St., Tumblr, Facebook)
Not specifically queer or feminist, but it is not-for-profit, a worker's collective, radical and progressive so it's essentially queer/feminist. They host local authors all the time and often have hardcover books on sale in the $5-10 range. Occasionally they cosponsor open mic nights with UMass's Stonewall Center as well.
Montague Bookmill (440 Greenfield Rd.)
A ~20 minute drive from Amherst, their slogan is "books you don't need in a place you can't find". (Sidenote: The first time I went here I used a GPS and was dismayed to find out that it is actually quite easy to find, albeit literally in the middle of nowhere.) This former mill is the largest used book store I've ever been in. What I'm trying to say is going here is like going to heaven.
Northampton
River Valley Market: (330 North King St.) Everything for all of the eating preferences, whether you are a locavore, vegan, vegetarian, gluten-phobic, or only eat mangos. It's really hard to get hired here.
Sid Vintage: (279 Main St.) Sid Vintage has been Mareika's favorite since high school. They basically take all of the cool things from lamer thrift stores and condense it into one little beautiful shop, where there are multicolored suede boots from the 80's, alongside Members Only jackets, alongside fancy tie clips. And the owners are really well-dressed, kickass queers.
Faces: (175 Main St #2.) So Mareika's girlfriend's ex-girlfriend saw Tegan and Sara shopping here once. That was the gayest sentence ever. If you need more reasons to go than that, it has cheap but trendy clothes, and hilarious T-shirts like this one. We have heard it described as a cheaper Urban Outfitters. You will probably have crushes on the salespeople.
Oh My: (122 Main St.) GO HERE. Best feminist sex shop, ever. Even though it's small, they have all the fancy sex toys that you've read about. Also the women who work there are big 'mos, really open and supportive, so you don't have to be embarrassed asking about pack n play/vibrators/ALL THE HARNESSES.
Raven Used Books: (4 Old South St.) Great, tiny, warm and musty. Used books galore! Mareika likes the art book section.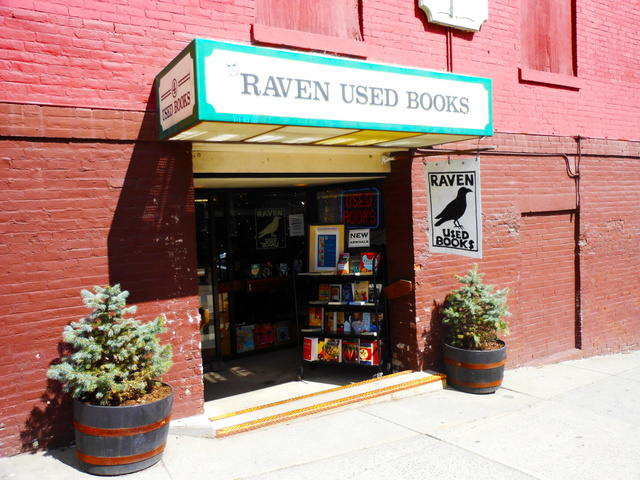 Thornes Marketplace: (150 Main St.) Thornes has a weird green awning, but is magical inside.
25 Central: Really fancy, femme-y clothes. They carry Free People dresses, which are amazing to look at even if you can't afford them.
Herrells: ICE CREAM
Pride & Joy: Emily worked here. They have baby/puppy shirts that say "I love my mommies" and all the best bumper stickers.
Cornucopia: Tiny natural food market.
Booklink Booksellers: An indepedent bookstore.
Salons/Tattoos
Amherst
Unfortunately, my hair is not quite short enough to be considered alternative lifestyle. However, if I were to do that, I would not trust any of the stylists in town and would instead go to Northampton.
Northampton
Hair:
Bucci: (145 Main St.) This is like a gay version of Cost Cutters, and gets the job done for cheap.
Glamourama: 7 Old South St.
Salon 241: 241 Main St.
Tattoos:
Lucky's: 37 Main St.
Haven: 108 Main St. 
Cost of Living
I think apartments here are pretty cheap, but my frame of reference is the Boston area is so this probably pretty skewed. A one-bedroom apartment will set you back $800-1000/month, a two-bedroom $1300ish, and a three-bedroom $1700ish. However, BEWARE if you're thinking of living with tons of roommates. There's a lot of tension between the townies and the students so Amherst enacted a bylaw a couple years ago that prevents more than four unrelated people from living together to cut back on large parties or some nonsense like that. That isn't to say that there aren't plenty of landlords who rent out entire houses to students who will particularly care if there's a fifth person living in the house.
Big Y is the cheapest supermarket. There's a weekly farmer's market year round that I occasionally find a little expensive but hey, local vegetables!
Public transportation is close-to-free. A lot of the buses are operated by UMass and don't even have fare boxes. I think technically you are supposed to buy tickets for them online but I promise you they will never check. (Note: the B43, which goes to Northampton, does have a fare box and costs $1.25).
Queer Friendliness
This is confusing sometimes. On one hand, half of the residents are Massachusetts college students who will return to suburbia after college and stay there the rest of their life, and on the other hand, there is an incredibly vibrant liberal political community working to bring awareness of issues disadvantaged groups face. However, this is Massachusetts so pretty much everyone doesn't really care who you're fucking. I've had exactly zero problems in this town since coming out and don't have any firsthand accounts of people who have. Every once in awhile you'll hear about isolated incidents but they are definitely not the norm (and I suspect that they are not perpetuated by locals).
Also though, Massachusetts was the first state to legalize same-sex marriage! This is great! It also means if you're married filing your taxes is moderately confusing because the federal government doesn't think you're married but the state says you are!
Gay adoption: Legal in Massachusetts! Second-parent adoption is also legal.
Employment: Discrimination of the basis of sexual orientation has been banned for quite some time and gender identity was added to the books last fall.
Housing: Discrimination on the basis of sexual orientation and gender identity banned in the wholes state.
Hate crimes: MA includes sexual orientation and gender identity as protected classes.