They're here, at least one of them's queer, and surprise: she's not the one who dies! Coady and the Creepies rocks queer and disability representation while honoring lesser-known punk history.
Artist Amanda Kirk (known for her work as Nation of Amanda) describes its illustration style as "punk zine" meets "Saturday morning cartoon," where readers meet the Castoff triplets, known onstage as the Creepies. The story — written by award-winning comics creator Liz Prince (Tomboy, Will You Still Love Me If I Wet The Bed), drawn by Kirk, and colored by Hannah Fisher — follows the sisters post-automobile accident, beginning with a news-segment-style recap of the gruesome event. We learn the band's manager didn't survive the crash, but the rest of the crew go on to see another day. Criss ends up in a wheelchair, Corey with a red gash down the side of her face which she refers to as her "Harry Potter scar," and Coady (whose fans have dubbed her "the lucky one") with a much more reclusive vibe about her — and also, she's a ghost.
The band prepares for a gig at Warehouse 21, a real-world teen arts center in Santa Fe, New Mexico, where their rivals, The Boneheads, are also playing. While Criss seethes over sharing a stage with her dude-bro enemies, Corey is busy wooing the purple-haired fan that got them the gig and Coady is just trying to keep up the facade of still being alive. Full of foreboding and spooky stories, sisterhood, cute girls kissing in dark corners, disability visibility and a deft knowledge of the culture it embodies, it's easy to get sucked into the vibrant, genre-melding world of Coady and the Creepies.
To flesh out the Creepies' world, Prince invested time in developing the triplets as both individual characters and three parts of one larger entity.
"I did a lot of reading about triplets as research for this series, and I became very struck by this term 'the pair and the spare,' which is what it is sometimes called when a set of triplets consists of a pair of identical twins, and one fraternal," says Prince in an interview with Autostraddle. "[The second issue] touches more on what the previous dynamic of the sisters was, but Coady and Corey, being identical, were always closer than Criss, who is 'the spare.' But since the accident, Coady has been very withdrawn, and Criss is now in the position of playing peacemaker between the two."
As someone invested in the punk scene and spotlighting diversity, Prince's attention to detail gives Coady and her sisters' world a grounded foundation beneath what she calls a "disarmingly cute" exterior.
"Did you notice that nobody has a mohawk? That's very intentional," she notes. "There are lots of different ways to be punk." She later went on to add that there tends to be a certain expectation when something is marketed as "punk" and "a cast of main characters made of up of women doesn't immediately fit that expectation."
She also discusses her excitement regarding Criss' storyline and her effort to bring up the topic of accessibility — something she notes "tends to get buried" — in the punk scene.
"Punk is a really great community, a place to make friends, a place to discover new bands or zines or artists, a place to start your own band, but if you can't get into a venue to see the shows, you miss out on a lot of those opportunities. I wanted Criss to be a character who exemplifies the 'do what you love' spirit, without having to say it. There isn't enough visibility for the differently abled in punk, Criss is my nod that there should be! [She] was inspired by Sean Gray, who is a jack of all trades in the punk scene, and fronts a punk band called Birth Defects with a walker. He was born with cerebral palsy. Sean created an online database of punk venues which lists whether or not they are accessible [and] what makes them inaccessible if they are."
The origin of the plot was another detail sparked by real events.
"Coady and the Creepies is mostly inspired by the tragic van accident that killed three of the four members of the Exploding Hearts way back in 2003," says Prince, "coupled with the death of Brandon Carlisle, twin drummer of Teenage Bottlerocket guitarist Ray Carlisle back in 2015." When Prince was asked to craft a Josie and the Pussycats-style comic with punk at its heart, she knew she wanted to include some aspects of the community she participates in. Warehouse 21? It's where Prince attended DIY shows as a teen in the 90s. She also wanted the story to have a supernatural twist, so even the ghost stories draw on regional tales.
Kirk also uses nonfictional details to bring the comic's aesthetic and characters to life.
"The comic is set in New Mexico, so one of the main characters is wearing a Shang A Lang shirt since they were a band from New Mexico. In the crowd scene while the Creepies are playing you can see Liz, and Danny Bailey who wrote the Creepies theme song, and Ben Snakepit with his wife, Karen," Kirk says.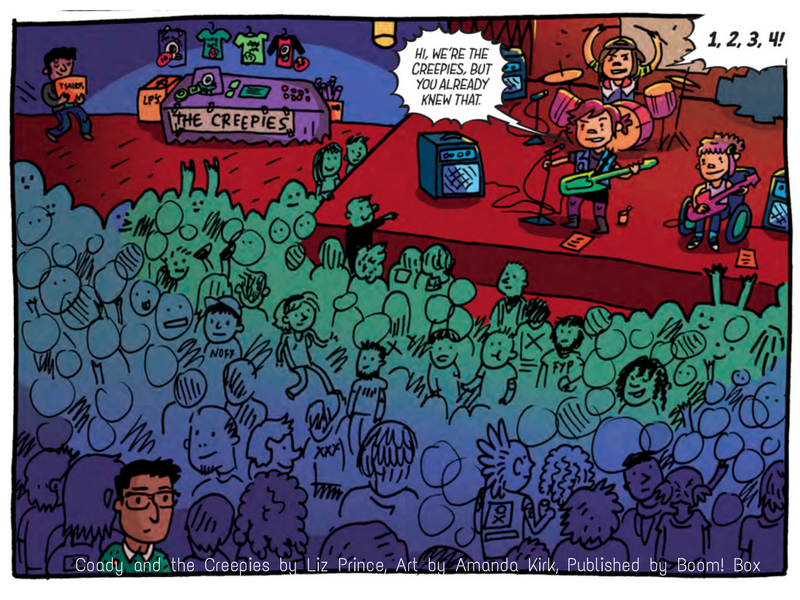 As for the sisters?
"I just drew the sisters the way they looked in my head when I was reading the script. We went back and forth a little bit, but more or less they look a lot like the original designs. Coady is styled like teenage Liz, Criss is dressed a lot like teenage me, and Corey is supposed to be the most concerned with looking cool, so she is the most on trend in terms of fashion."
Though the Creepies share a tour van, they're distinctly individual. I asked Prince about each sister's unique qualities. Beginning with Criss, the ghost story fanatic, I wanted to know what might be queued up on her Netflix account. "Criss would definitely be into binge watching the X-Files, Supernatural, and Unsolved Mysteries. She likes real ghost stories and fake ghost stories: the whole band is into spooky stuff, hence the name the Creepies."
As for Corey, the heartthrob of the group, I asked about her signature moves for a hot date. "Corey definitely uses her status as the lead singer of the band to hit on fans. She's the most outspoken, self-confident member of the group, so her game is really just putting it all out there."
Finally, the titular character, Coady is mysterious and quiet and we see her curled up in the van loft listening to music. I was curious what her playlist might include. "Coady is the more emo member of the group. She (and I) are really into Julien Baker, Chumped, and the Get Up Kids at the moment."
The comic is a perfect mashup of punk rock, humor, romance, mystery, and even a little horror-lite. It is Buffy meets Powerpuff Girls meets Bikini Kill.
Whether you seek ghost stories, cute queer plots, candy-colored artwork or seeing a protagonist who is both in a wheelchair and simultaneously not defined by it, Coady and the Creepies is sure to please, thanks to its creators' vision of what punk rock and good storytelling look like: bad-ass, ghoulish, babe-kissing, fierce, music-playing, introverted, hammy, passionate, loud women, doing what they love, together, unapologetically. Even from beyond the grave.
Get your all-access pass to the first issue of Coady and the Creepies at Boom! Studios. The second issue goes on sale April 19th.