Lawyers begin closing arguments in the federal Prop 8 trial today. You know what that means: Judgment Daze is coming back!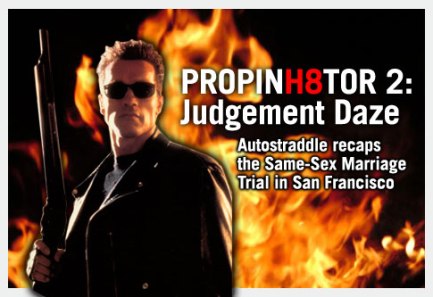 We've been waiting since January for this auspicious occasion. If you can't remember what this trial is even about because it's been such a long break, read Rachel & Jessica's wonderful recaps/explanations and get back up to speed! Supposedly, Judge Walker needed that much time to think things over. Last week, after all that thinking, he released a long list of questions for both sides.
Walker's questions reveal some of the issues still troubling him and suggest that his decision will rely heavily on evidence about the nature of sexual orientation, the effect of Proposition 8, and the similarities and differences between heterosexual and same-sex couples. He asked each side 12 questions and posed an additional 15 to both. (@latimes)
The lawyers are expected to address those questions, and then some, today.
Also this is really f*cked up: Prop 8 supporters "are urging the judge to go a step further and revoke state recognition of the marriages of 18,000 gay and lesbian couples who wed before voters passed Proposition 8." So not only are they fighting to uphold it, but these people would now like to expand the reach of Prop 8. Such action would mean Ellen and Portia aren't married anymore, btw, so let's all pray that doesn't happen.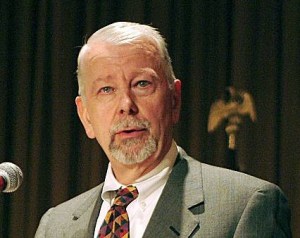 Just like the trial, the closing arguments will not be televised. Walker originally wanted to broadcast the whole thing back in January, but the Supreme Court stepped in and no way. That's probably part of the reason why Walker said no to cameras for this part.
But, says the LA Times: Prohibiting cameras in the courtroom makes even less sense for the closing arguments, when there are no witnesses to feel intimidated. In this instance, the theory is that lawyers might play to the cameras instead of to the judge. If they were foolish enough to do so, after investing this much time and passion on both sides, they could only lose ground by alienating the judge. The millions of people who have been watching with intense interest as the story of same-sex marriage unfolds have a legitimate stake in seeing and hearing the arguments that will determine whether gays and lesbians in California are granted the basic right to form families with the same legal status as all other families.
That article also goes into the Prop 8 supporters' argument about adoption:
The objective of the lawyers arguing for Proposition 8 before Judge Vaughn R. Walker is to show that voters had rational reasons for approving it rather than being motivated by bigotry. And a key reason, one of the lawyers said, is that children fare best when raised by a married couple of opposite genders.
But all these studies we've been talking about — the ones that show that lesbians' kids are better adjusted than straight people's kids — undermine their whole point.
And apparently there's also a new study that says all the money spent on the gay marriage debate in California had no effect on voters. Most people stuck with their original views. But really, it's quite possible that all the campaigning is the reason why people didn't change their mind; we'll never know what would've happened without all that money. There is a take-home point for Prop 8 opponents, though: If this trial doesn't overturn the ban, putting it on the ballot again in 2012 could backfire.
Anyway, the trial is happening right now. Here's a rough schedule of the day's events (in Pacific time, I'm assuming), according to the wonderful people over at Prop 8 Trial Tracker:
At at 8:30 am, the plaintiffs (Kris Perry, Sandy Stier, Paul Katami, Jeffrey Zarrillo, American Foundation for Equal Rights Board President Chad Griffin) will be making brief statements outside of the courthouse.
Then the lawyers get their turn in front of Judge Walker in rapid fire.
10 a.m. – 11:30 a.m. Plaintiffs give their closing argument (Ted Olson and David Boies)
11:30 a.m. – 11:45 a.m. City and County of San Francisco take their turn
11:45 a.m. – noon Governor, Attorney General and county defendants are up
noon – 1 p.m. Lunch/David Boies and Chad Griffin talk to the media
1 p.m. – 3:15 p.m. Proponents are on the hot seat (argued by Charles Cooper)
3:15 p.m. – 3:45 p.m. Plaintiffs' get a chance to make their rebuttal
4 p.m. Plaintiffs are holding a press conference on the day's events
Obviously, we will be on top of this ish for you. We have no idea when Walker will make his decision, though probs it will happen before the summer is over. Check back tomorrow for some Autostraddle-y coverage of today's proceedings!