Hey y'all, welcome back to your weekly Pose recaps! How are you doing? This one was rough.
The first ball of the episode is framed by Pray Tell's dependably hilarious and often hurtful commentary; this time on Madonna, Lofting, and Candy. Candy tries to perform in the Lofting category — she even shows up in a Madonna-inspired, blue striped suit — but Pray Tell shuts her down. He gives a nod to her "nerve" but tells her that neither Voguing nor Lofting are her categories because she's not a dancer. Then he gets real ugly and insults her body so the crowd "ooh's" in discontent, and Blanca tells Pray Tell his commentary is fucked up. Candy wants to know why Pray Tell's always coming for her, and she echoes his words about being seen back at him. He refuses to see or acknowledge her but Candy knows that she has heart and talent "just like Madonna." Candy walks out to the applause of the crowd and with her head held high despite the judges' low scores and Pray Tell saying she should "take a hike and don't ever come back".
Later, Candy interrupts "The first bi-monthly Masters of Ceremony Council" to pitch her idea for a new category; lip-synching. The MC's are trying to figure out ways to grow ballroom now that they have some interest from the outside world, and Candy argues that they need categories that allow performers to show off their talents and be seen. Candy thinks lip-synching could do that. The MC's don't agree and Pray Tell insults Candy some more causing their conversation to escalate into a fight. Candy pulls a knife on him — she's so quick with that knife! — but puts it away in favor of pelting foil-wrapped food at Pray Tell and walking out.
At the next ball, Angel interrupts Papi's adorable conversation with Blanca — he's asking for a bird — and takes her to Lulu who tells them that she hasn't heard from Candy in two days. Lulu is worried because that's not usual for Candy. She's extra worried because Candy started sex work to help support their house and Lulu figures the last place Candy was at is the motel she works out of. Lulu doesn't want to go alone so she asks Angel and Blanca to go with her. The guy working at the front desk is super unhelpful, but Blanca leaves her number anyway.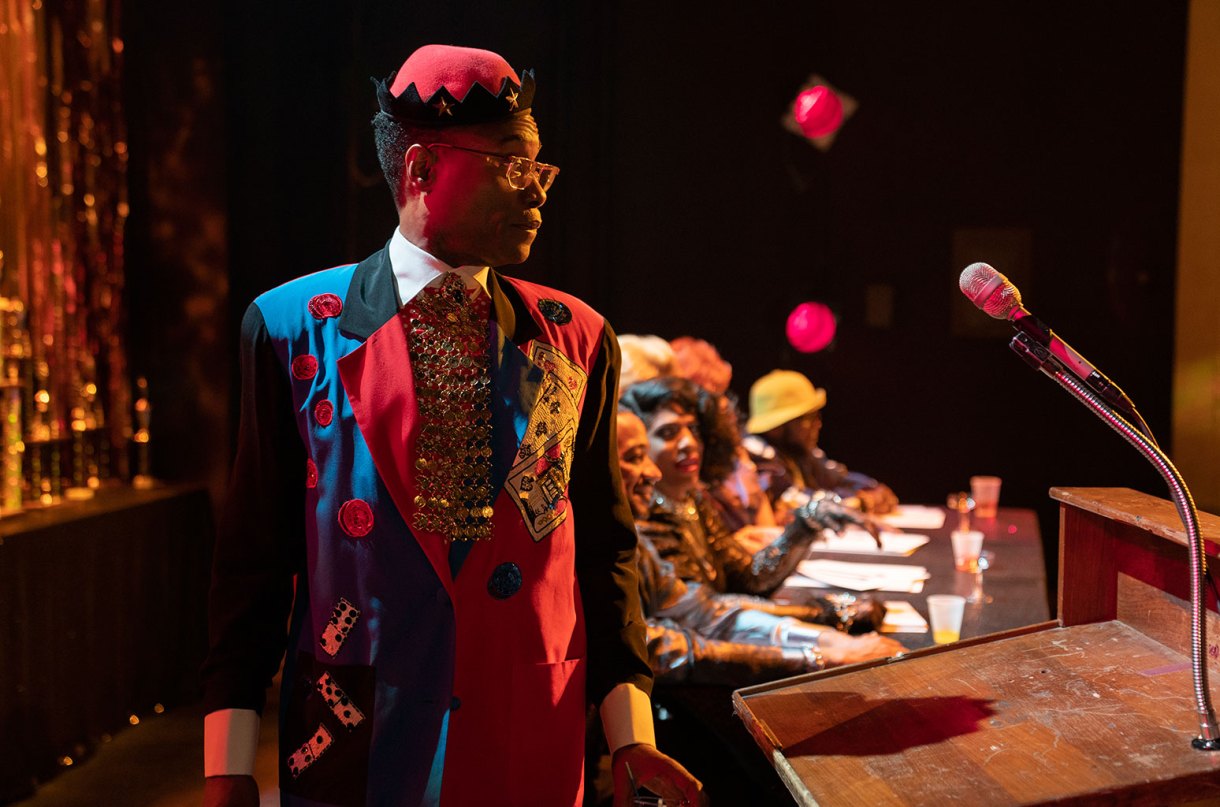 That night she's in the middle organizing her house to look for Candy when the phone rings and they get the news. The scene shifts to Blanca letting Lulu into her house. Lulu wants to know what the news is, and if they've found Candy. Blanca wants to wait for Elektra to arrive because she's not sure how to say this (and neither am I) but Lulu wants to know as soon as possible, so Blanca tells her, "Candy's dead" They hug and when Elektra arrives, the three of them take a moment to hold their grief. Blanca is a Mother now, but before that, she was Candy's sister. She and Lulu lost a sister, and Elektra lost a child.. Lulu asks if there's any information on the murderer but Elektra tells her that the cops don't care about murdered trans people, and "Candy's death isn't any different." Angel joins their conversation to say that her death should be different because "11 girls have been killed this year" and Candy would want them to fight.
At least 11 trans women have been murdered this year.
Pose has been my light since I first watched it. It reconnected me to queer media because I was able to see myself in the narrative again. It has brought me so much joy and it has also wrecked me. My pain is because even though this story is narratively grounded in the '80s and '90s, so much of it is true today. Too much. Black and brown bodies are ceaselessly policed and brutalized. Black and brown trans women even more so. What kind of future are we fighting for if it's at the continued expense of some of us?
Before Candy's funeral, Blanca, Elektra and nurse Judy stop at the hospital to claim her body. The guy in charge puts up some resistance — the second time this episode a "guy in charge" has thrown barriers up — but after an impassioned plea from Judy — the guy is gay and she asks him to envision a future where someone he loves passes away and he isn't allowed access — he lets them write down their funeral home and says he'll have Candy sent there. Blanca, Angel and Elektra arrive at the funeral parlor two hours early and it's a good thing too because Candy looks wack and they need all the time to redo her hair and makeup. Candy's death was out of their control, but this isn't. It's a small comfort but it's comfort all the same. Then the guests arrive and the seats are packed. Pray Tell MC's the funeral; he shares Candy's words about funerals being for the living and he agrees. He says that "unfinished business is the burden of the living" and that it's our job to fight and "protect our sisters from the hands of men who are weak."
When Pray Tell takes his seat, he's visited by Candy's ghost. Candy tells him that she forgives him, but she wants to know why he was "such an asshole" to her. Pray Tell says that she's everything he tries to hide about himself in "the real world"; loud, Black, femme. She asks, "what good is everyone's opinions when you're gone?" She says she has no regrets and Pray Tell says that's what he's jealous of. Her bravery. Candy says she's never had a choice, but maybe Pray Tell's just doing what he has to "to stay alive". She also says that "it's going to be a sad, lonely life" at the balls without her. And she would have killed it at lip-synch.
The next person Candy visits is Angel. Angel's having it rough. She knows that Candy's funeral could easily be her funeral, and when she goes to pay her final respects she asks "why not" her. Candy turns that question around and says, "Why not you, bitch?" Angel isn't in the coffin; she's alive and able to open doors for herself and so many people behind her. Candy tells her, "That is [her] duty".
Candy visits Lulu third. Lulu wasn't going to show up because she didn't want to remember Candy "laid in some box with a bad beat" but Angel sees her outside the parlor and tells her that she gets to choose how she remembers Candy and that she'll regret it tomorrow if she doesn't show up. So Lulu goes to pay her respect but it quickly turns into her calling Candy a "thieving bitch" and ripping things off her body until people manage to pull her off and she walks out. Candy doesn't seem bothered by it though; she says she was "dying of boredom" and she knows why Lulu is having a hard time; she didn't like Candy.
Lulu accepts this easy. She says that they were good at talking shit and teaming up against people but that's about it. She says Candy resented her for being "light-skinned and thick" and Lulu feels like she was nothing but her accessory. Candy reminds her that isn't all their story was. She talks about stealing a Bloomingdale's coat together and using it to steal Thanksgiving meals and cuddling together because their light was out. She talks about winning six trophies in a night and by then Lulu is laughing. Candy's gift to Lulu is permission to grieve.
Blanca and Candy don't talk. Instead, they sit together and hum the chorus to "Jesus Loves Me" because sometimes you don't have to talk. Then, Elektra comes to tell Blanca that "there's an old couple out there looking like George and Weezy and partaking in our refreshments." She sends Blanca to "shoo them away" but they turn out to be Candy's parents.
While her parents pay their respects, Candy visits her mum and they have a heart-to-heart. Her mother wonders why it took her so long to see who Candy was and she responds "you refused to." Candy talks about trying on her mother's clothes and feeling like they had "some sort of pact" because her mother never sent her away or smacked her for it but when Candy came out, her mum rejected her. Candy stands straight and tells her mother "this is who I truly am" and finally she's seen.
With her father, Candy is different — even joking a little. He calls her his "little fighter" and she tells him that he saw her, and that gave her the courage to be herself. He's not ready to let go but he has to, and he does.
Pray Tell shows them to their seats and thanks them for coming. Then he calls the other MC's up and they announce that they'll be adding a lip-synch category called "Candy's Sweet Refrain." The pallbearers come to take Candy's coffin away and — keeping with the metaphysical theme of this episode — the back of the parlor opens up into the ballroom and Candy gets out of her coffin and lip-synchs Stephanie Mills' "Never Knew Love Like This Before" to the screams of an adoring crowd. The judges give her all 10's and Candy walks out of the ballroom for the last time.
The other main storyline this episode is Pray Tell's decision to get on AZT. Before his MC meeting, Blanca and nurse Judy call a meeting with him to try to convince him to take AZT but he refuses. At the end of the episode, after the dinner they host for Candy and the kids leave to go dancing, Pray Tell and Blanca share a moment. He tells her that Candy's death reminded him that "life is precious" and he has "an obligation to fight for [his] life" so he's decided to take AZT. He and Blanca make a toast and take their pills together and the screen fades to black.
Like I said, this episode was rough. How are you doing?