Oh well hello and welcome to your Monday Pop Culture Fix.
---
+ During the Blindspot series finale last week, Natalie and Valerie Anne got what they wanted, for just a second. Patterson and Zapata got married (in one of Jane's hallucinations).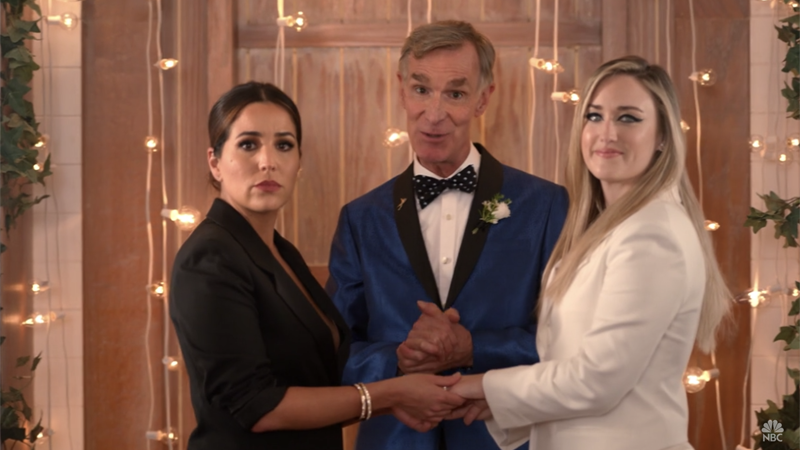 + Audrey Esparza's behind the scenes pic is even better.
+ From Zoya Raza-Sheikh over at NME: LGBTQ+ romcoms are thriving online – so why aren't the big studios interested?
+ From Fabiola Cineas at Vox: Representation is deeper than putting Black icons on magazine covers.
+ How How Gina Prince-Bythewood overcame her fear of failure and paved her own path in Hollywood.
+ Brian K Vaughan's Paper Girls is coming to Amazon Prime.
+ Wynonna Earp's Dominique Provost-Chalkley shares her journey to coming out.
+ Related: Inside Wynonna Earp's tumultuous, triumphant return to screen.
+ Tambay Obenson interviewed Lena Waithe at IndieWire about George Floyd, humanizing Black people on screen, Black criticism, and coming out in Hollywood.
+ Jim Halterman of TV Guide Magazine did a Comic-Con@Home2020 panel on LGBTQ Characters on Television with some huge names: Jamie Chung, Jamie Clayton, Wilson Cruz, Tatiana Maslany, Anthony Rapp, J. August Richards, Harry Shum, Jr., and Brian Michael Smith.
+ Monica Owusu-Breen of Alias, Lost, and Fringe fame will join Jason Richman as co-showrunner of season two of Stumptown. And here's a panel with the Stumptown team from Comic-Con@Home.
+ This is a really, really good piece from Sebastian Modak at WaPo that least touches on the broad issues of racism built into nearly all of our in fantasy worlds: Amid a pandemic and a racial reckoning, 'D&D' finds itself at an inflection point. (Follow it with this New Yorker piece on N.K. Jemisin's dream worlds.)
+ Some news I've especially been waiting for. Adventure Time: Distant Lands' second episode about Marceline and Princess Bubblegum will "escalate" their relationship AND Marceline will release new music.
+ How voice actors are fighting to change an industry that renders them invisible.
+ We Are Who We Are's official teaser is here.
+ How The Baby-Sitter's Club made social justice fun for teens.
+ Kashish Mumbai International Queer Film Festival is going online this year.
+ Kristen Lopez at IndieWire put together an awesome Women and Disability Panel on the 30th anniversary of the Americans With Disabilities Act.