Hello and welcome to your Pop Culture Fix for April 1st, 2015! It's April Fool's Day! I hope nobody told you they were pregnant unless they were actually pregnant.
---
The Teevee
Ellen
ELLEN IS TAKING OVER THE WORLD SOON SHE'LL BE QUEEN OF THE MOON!!!! You know how I know that, because I read it in a mainstream publication. The Wrap looks inside Ellen's empire and investigates "how the queen of daytime is conquering Hollywood." She apparently has shows either on the air or in development, a home design book, Ellen-themed slot machines, a QVC Lifestyle Collection. Telepictures Programming Executive Vice President David McGuire says, "There's something about Ellen and her voice that has people genuinely believing she's telling the truth. She has an authenticity about her that comes through." There's lots of info in here and it's pretty interesting.
Grace & Frankie
Out actress Lily Tomlin and legend Jane Fonda will be appearing together in a Netflix sitcom premiering May 8th entitled "Grace and Frankie," about "bitter rivals who are forced to come together when their husbands reveal that they are gay and in love with each other." The sitcom was created by Marta Kauffman of Friends.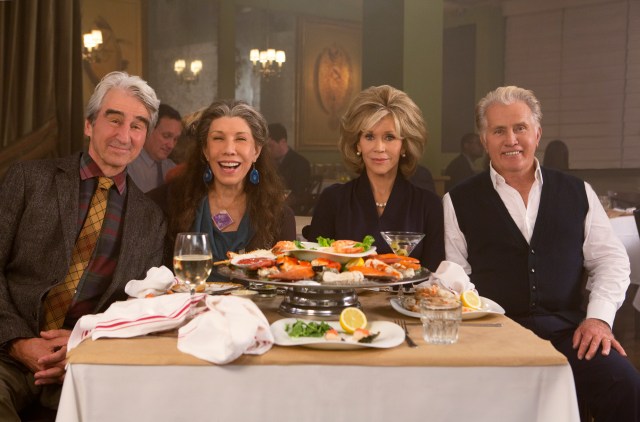 Tomlin and Fonda play bitter rivals who are forced to come together when their husbands (played by Emmy winners Sam Waterston and Martin Sheen) reveal that they are gay and in love with each other. The sitcom comes from TV veteran Marta Kauffman, best known for her work on "Friends."
Weird Loners: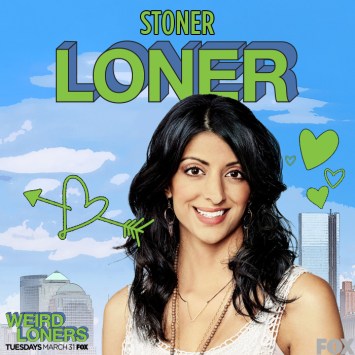 Weird Loners, which premiered last night on Fox, features a bisexual woman of color who is described as "free-spirited:
AfterEllen was on the set of a later episode of the Weird Loners (written by out lesbian Rebecca Drysdale) which takes place in a lesbian bar (more on that before the episode airs) and has Caryn hitting on Katie Aselton. But Caryn isn't gay, and she just likes the attention. It doesn't keep her from asking Zara for lesbian sex advice, though.
"She tries to and Zara doesn't have any of it because Zara's not so into the whole—if Caryn were actually wanting to explore her sexuality, that would be one thing. But if Caryn were using the idea of exploring sexuality for her own selfish benefits, that is another thing and that is wrong," Meera said. "Not that Zara's a saint, by any means, which we will definitely see."
Meera Rohit Kumbhani plays the lead role and says of her own sexuality: "I've been attracted to several women, but I guess I've just been shy to explore that, if we're being honest." Maybe she and Gillian Anderson could go have a beer!
The 100: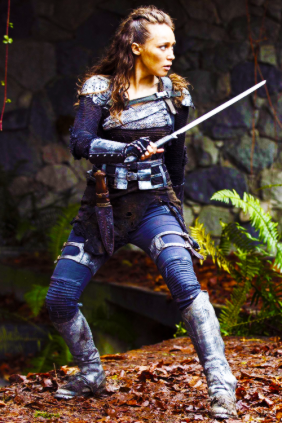 AfterEllen talked to Kira Snyder about the bisexual storyline on The 100. They said they're not sure yet if Lexa will be back for Season Three.
AfterEllen.com: Were you part of creating the Clexa relationship?
Kira Snyder: The stories are all collaboratively written. Lexa was introduced in the episode that I wrote. It just happened to be where I came up in the writing assignment series. It was something we talked about and [creator] Jason Rothenberg was supportive of and the CW was supportive of so we're really happy to have that storyline and really gratified that it's sparked the fan response and press response that it has. It just goes down to the issues of representation and seeing [bisexual] people on screen. But that' something I'm very pleased to be involved with.
AE: Do you see Clarke as bisexual?
KS: I believe, yes, officially Clarke is bisexual.
AE: That's so rare—to have the female lead being bisexual.
KS: And that not being her defining characteristic, it's just something we also wanted to do and have so it's not, "Oh my gosh! It's a big revelation!" It's like, she loves boys, she love girls, and she wasn't ready to be with anybody at that point. The way in which that unfolded was something we were committed to treating responsibly in a grounded kind of way.
Going Clear:
When I first saw the preview for "Going Clear," I felt like March 29th was years away and would never come, and then suddenly it was March 29th and there I was, finally watching this documentary about my favorite topic, Scientology, a topic on which I've read many longform articles already. Apparently I was not alone — Going Clear is HBO's most-watched documentary premiere since the 2006 premiere of Spike Lee's Katrina documentary. Salon has Five Things that weren't in the documentary and Vulture has 21 Insane Things "Going Clear" left out. You could also learn about those things by reading Lawrence Wright's New Yorker article The Apostate, The Tampa Bay Times' Inside Scientology or Scientology: The Cult Of Greed.
Also while we're on the topic of rich lunatics, here's Kate McKinnon doing a fantastic imitation of Robert Durst:
http://www.hulu.com/watch/770973
K-Stew:
An insider has spoken on the relationship between Kristin Stewart and Alicia in an article entitled "Kristen Stewart, Alicia Cargile are "Like a Married Couple":
"With Alicia, Kristen does not have a façade. Very few people can actually get to know the real Kristen and that is how she likes it. But when Kristen is with Alicia, there are no walls around her. She not only acts like herself, but she is also incredibly genuine because Alicia brings out the best in her." the insider added, "Kristen is finally in a relationship where she is just loved unconditionally, but not because she is a movie star."
I wonder who makes up these quotes! It'd be such a fun job, I think. I want that job.
Etc:
+ I'm so into this little gay storyline between the teenage boys on The Fosters, and I'm so into the actor who called out YouTube for age-blocking a video of Jude and Connor kissing.
+ The Best (and Worst) Depictions of Asperger Syndrome on TV at Flavorwire. Spencer Reid from Criminal Minds isn't on the list though, which was sad for me, unless I'm wrong and that character isn't on the spectrum and somebody in the comments will set. me. STRAIGHT.
+ In Watch My Show: One Big Happy Creator on Why Her Comedy Is Overdue on TV, Liz Feldman makes a case for why you should watch her show, which she describes as "It's Three's Company plus Will & Grace times Friends divided by Ellen's puppy episode plus 18 years times Mom minus the alcoholism and sad parts."
+ Black TV Actors Never Stop Auditioning: "I can't tell you how many auditions I have been on where the character is so obviously written for a white woman. One referred to her blonde hair and lack of a tan, no lie. I called my agents like, Really? The onus is on me, the actor, to go into the audition rooms and make them see the character another way — black."
+ This writer thinks that Peggy Olson Is the Most Accurate Depiction of Women in the Workplace TV Has Ever Seen! What do YOU think.
+ Angelina Jolie gave a cute speech when she won Best Villan at the Kids Choice Awards: "I want to say that when I was little, like Maleficent, I was told that I was different. I felt out of place," she told the audience, made up of mostly kids. "Too loud, too full of fire, never good at sitting still, never good at fitting in. And then one day, I realized something, something that I hope you all realize. Different is good. When someone tells you that you are different, smile and hold your head up, and be proud … Cause a little trouble. It's good for you."
---
Music
+ Did you need a new workout anthem? Good news: Janelle Monáe's 'Yoga' Is Your New Workout Anthem.
+ Look, Azealia Banks has a brand-new video where she is an Ice Princess! Literally, not metaphorically.
+ Selena Forever: "From a personal level, there is no other celebrity whose cultural experience can more closely mirror my own. Her music and legacy has shaped my own identity as a Mexican American and the admittedly sugary screenwriting of her biopic, Selena, helped me verbalize my own struggles of being bicultural. While there will never be another Selena, I am hopeful to see how other Latinas will embrace their talent and trail blaze paths of their own. I'll be honoring La Reina today by eating pizza with hot sauce in my bustier and doing the washing machine to "Bidi Bidi Bom Bom." How about you?"
---
The Future:
As you may know, I have limited interest in the future. But I'm trying to care, for the children.
+ Disney is developing a live-action Mulan! A LIVE-ACTION MULAN! MULAN LIVE ACTION MULAN LIVE ACTION MULAN! A MULAN WITH HUMANS!
+ NBC's next live musical will be THE WIZ! This is exciting. I hope they don't mess it up.
+ Hannibal Buress, who plays Lincoln on Broad City, will host the Webby Awards. This matters because Lincoln is one of the only men on television I don't hate.
---
Also! Also. Also.
+ Fun Home is KILLING IT.