Growing up, I avoided country music like most kids do green vegetables. The genre's overbearing fiddles and drawling vocals bored me to death. Then, there were those predictable themes of alcoholism, agrarian life and patriotism.
I eventually realized why I really disliked country: Yearning for an antebellum home and cotton fields to match, it seemed to be trapped in the "good ole days." Country music was all too willing to pawn away my hard-earned rights as a woman and person of color for the sake of three minutes and forty-five seconds of twangy nostalgia. It was hyper-conservative; I was anything but. The moment those tell-tale plucks of a dulcimer appeared on the airwaves, I'd spin the radio's dial in the opposite direction. I wasn't having any of it, and I'd be damned if a bigoted musician profited from my listenership.
And then Natalie "mic drop" Maines dissed George W. Bush.
We're ashamed that the President of the United States is from Texas. All it took were twelve dissenting words to forever change my perspective on country music. I'd never listened to Dixie Chicks before, but the subsequent media firestorm surrounding the incident schooled me in everything I needed to know about the trio: They were rural, whip-smart and opinionated as all get out.
My sentiments toward country music were both affirmed and invalidated. Yes, the country music community is chock-full of conservative zealots. But there are a handful of people who — like Maines –aren't afraid to call out a social injustice when they see one.
The Chicks are in good company. Many of the artists we now consider country music legends lean(ed) to the political left. Johnny Cash's "The Man In Black" is a liberal anti-war, anti-prison industrial complex manifesto. When asked about his political affiliation in 2005, Merle Haggard quipped, "Let's just say I didn't vote for George Bush." And when it comes to having a queer fanbase, Lord knows Dolly Parton is the original Mother Monster.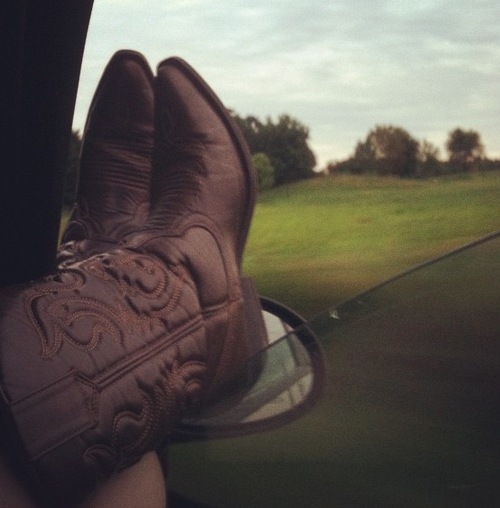 While Dixie Chicks fans were passive aggressively cracking their copies of Wide Open Spaces in half over their knees in '03, I was buying their entire discography.
I fell in love with country music a little.
Then I fell in love with country music a lot.
I'm still politically correct when it comes to not supporting country musicians who do not support me. I self-flagellate whenever I catch myself humming along to Gretchen Wilson's "Redneck Woman" or Miranda Lambert's "Kerosene." But whenever an unlikely country musician comes out, be it literally (Chely Wright) or in support of marriage equality (Carrie Underwood), listening to their music becomes all the more satisfying.
The following are songs on which I allow my radio dial to linger. These are songs I'm okay humming along with as they play over a supermarket intercom.
These are songs by country musicians who'll love you back.
+
100% Country, 0% A**hole
+
+
Wrong Side Of Memphis – Trisha Yearwood
Thank God I'm A Country Boy – John Denver
Beer Run – Todd Snider
Personal Jesus – Johnny Cash (Depeche Mode cover)
The Scientist – Willie Nelson (Coldplay cover)
Cupid's Got A Shotgun – Carrie Underwood
9 to 5 – Dolly Parton
Last Dollar (Fly Away) – Tim McGraw
Mississippi – Dixie Chicks (Bob Dylan cover)
She's Not Just A Pretty Face – Shania Twain
Be Back Home – Big Kenny
Damn Liar – Chely Wright
You Can Never Tell (C'est La Vie) – Emmylou Harris
Copperhead Road – Steve Earle
True Believers – Darius Rucker
Mama Tried – Merle Haggard
You're Gonna Make Me Lonesome When You Go – Miley Cyrus (Bob Dylan cover)
Friends In Low Places – Garth Brooks

Tell me your favorite tracks by progressive country artists below.
Want to suggest a playlist theme? Hit Crystal up on Formspring and someone on the team will make it for you.