Stef and Scully / NYC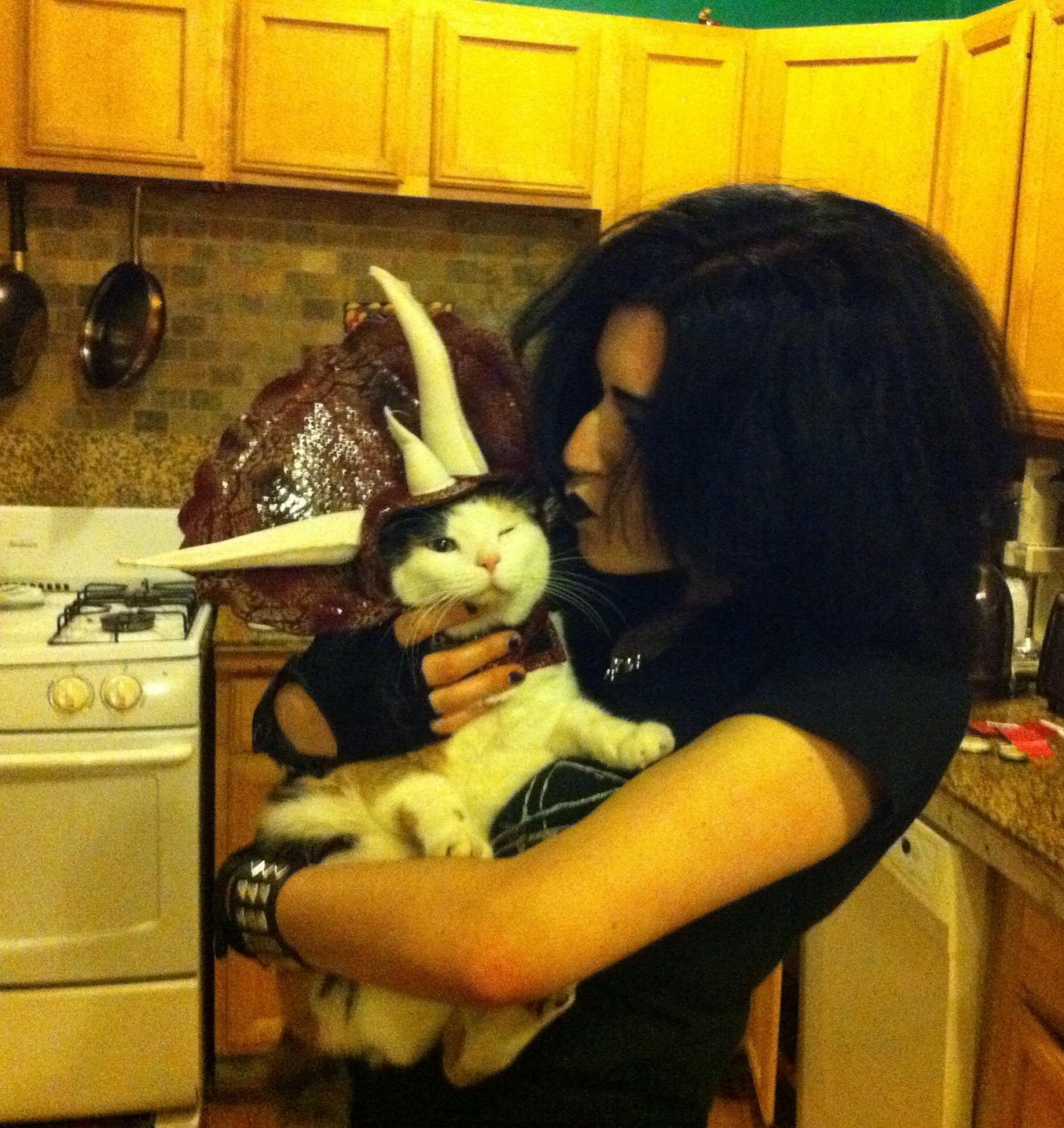 "This is the first time I ever dressed Scully up for Halloween and as you can see, she was 100% into it. Since then she's been a shark, a peacock, a bat, a bumblebee and an elephant."
---
Jillian and Peet / 39, 6 / NY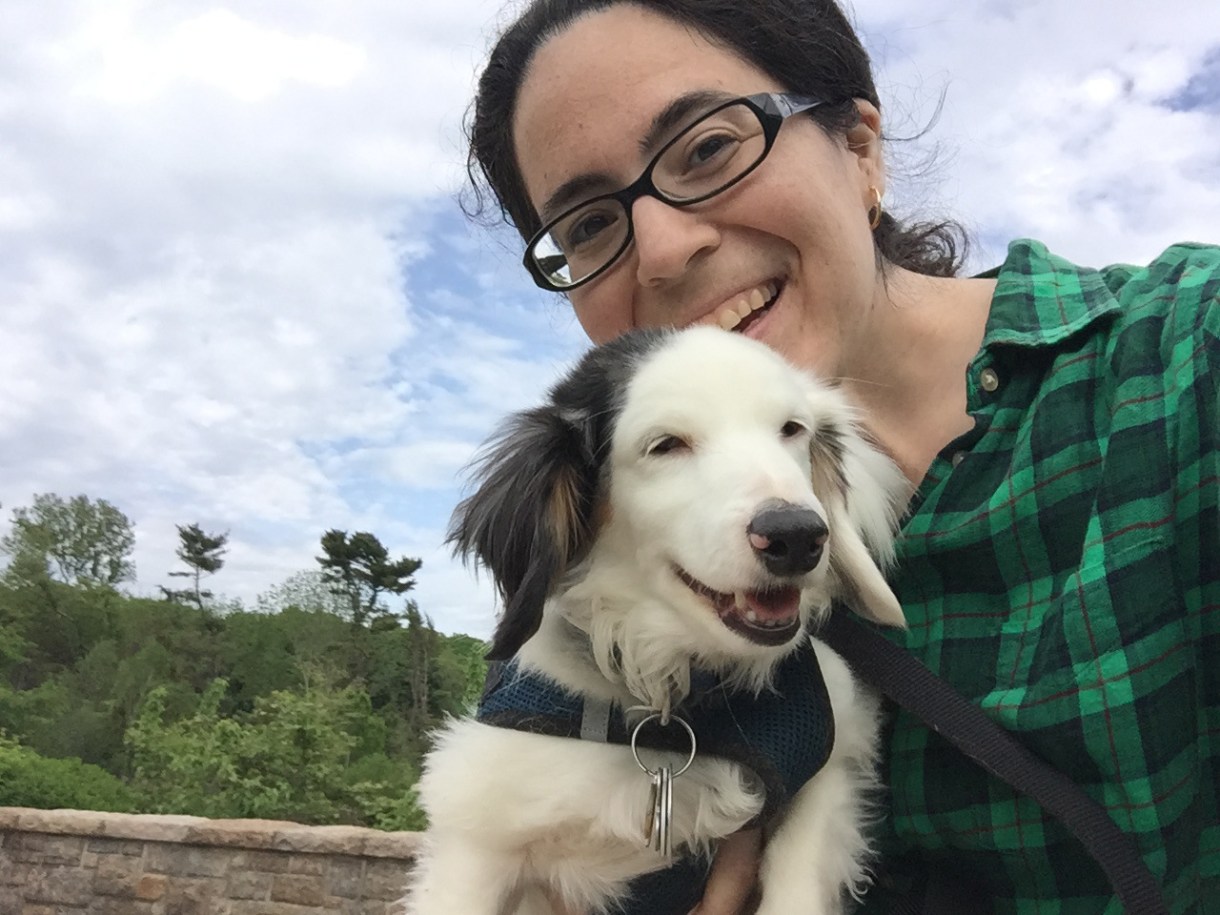 "Peet is a rescue from South Carolina. He got brought up to Long Island via Last Chance Animal Rescue, and we were the lucky ones to get to the adoption event first. He got out of the truck and into our car, basically. People were asking us seconds after we had adopted him if he was available, but he was ours! He chose us – with a little help from a 12 year old daughter of one of the LCAR volunteers peer pressuring us, and a whole lot of adorable. Best decision we ever made!
The best thing about him is he makes me talk to people. He is a town celebrity and makes everyone happy – especially me. He keeps me company while my wife is drowning in work as a resident. Also his flippy ears. We take him everywhere we possibly can, to the point of skipping wineries that won't allow dogs – trust me, it's a big deal to skip a winery on the North Fork of Long Island, and planning vacations and days around his participation. He is super easy to please and loves nothing more than a new parking lot to explore, so he's an excellent co-pilot. His answer for what we like to do together is "Eat foods".
He is a double dapple long haired dachshund, which is super rare, and almost no one has ever seen before, so he is mostly white, with blue eyes and black spots so he is inherently a little weird-looking. He will literally stop traffic, foot and automobile, except he's not super into people – he will make it 90% to them and then make them come that lasssst little bit. He's handsome and he knows it. And once we were walking him downtown, and someone yelled "Hey Peet" from the window of a passing truck – we humans had no idea who the person was, but they knew Peet. Instagram: @PJ_Peetyboo."
---
Kells and MC Sprout / 39, 10 / Lake Worth, FL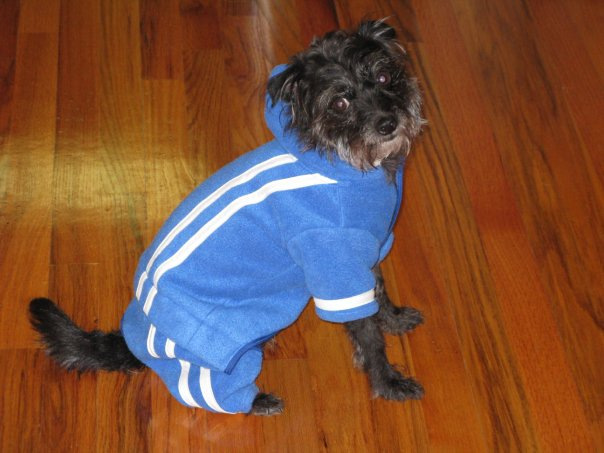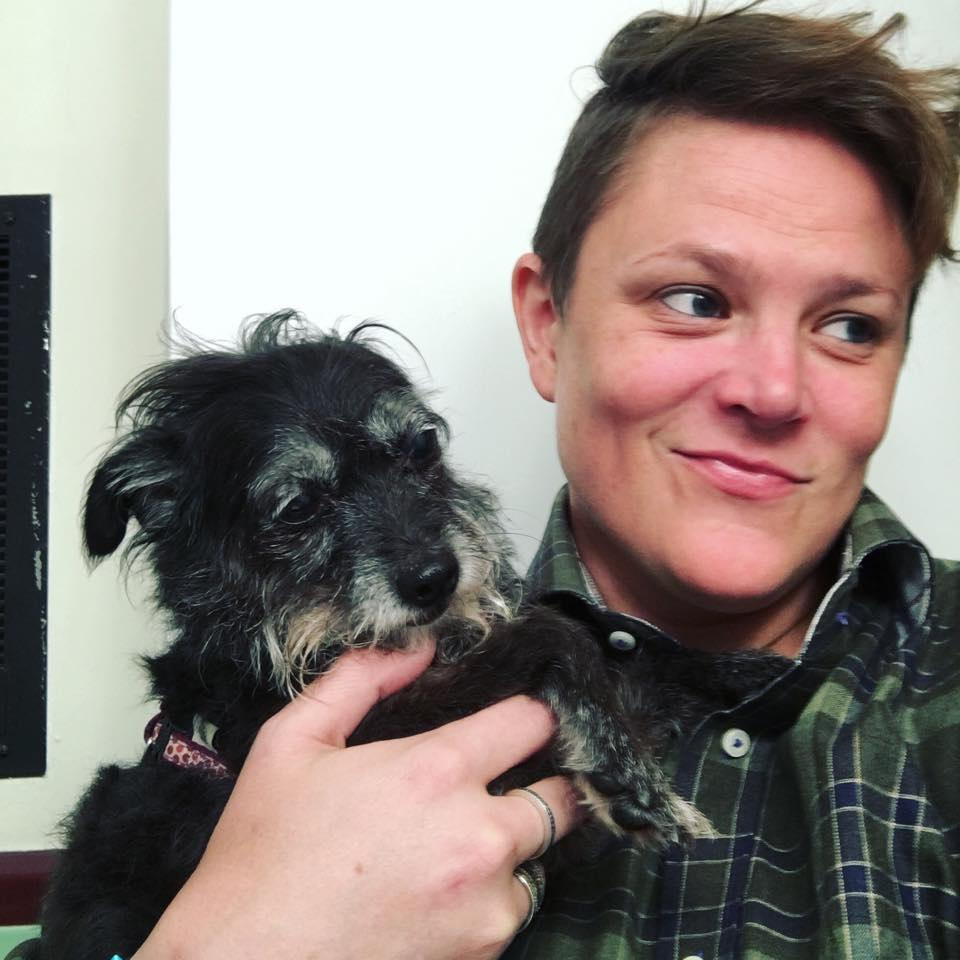 "I met Sprout at the dog park the day she was adopted from the animal shelter by a friend of a friend. I fell in love with this ragtag little 3 month old pup. Another 3 months later, I found myself driving her to her new home with me. She's been my sidekick ever since. She's named after a member of the band Northern State. I'd just fallen in love with them after seeing them open for Tegan & Sara about a month earlier. Sprout is super chill, extremely good-natured, and very portable, so I take her with me everywhere. We live in a very dog-friendly area, so Sprout and I walk everywhere, go to bars and restaurants, chill at the beach, and hear live music regularly.
She absolutely thinks she's a person. Every day when I return from work, she spends about 3-5 minutes "talking" to me. It's pretty much the cutest thing ever. Her weirdest trait: she won't let me out of the bathroom without licking the water off of my freshly showered legs. Her Instragram is (obvs) @MCSprout."
---
Dekel, Michal, Luka / 37, 33, 9 / Dead Sea, Israel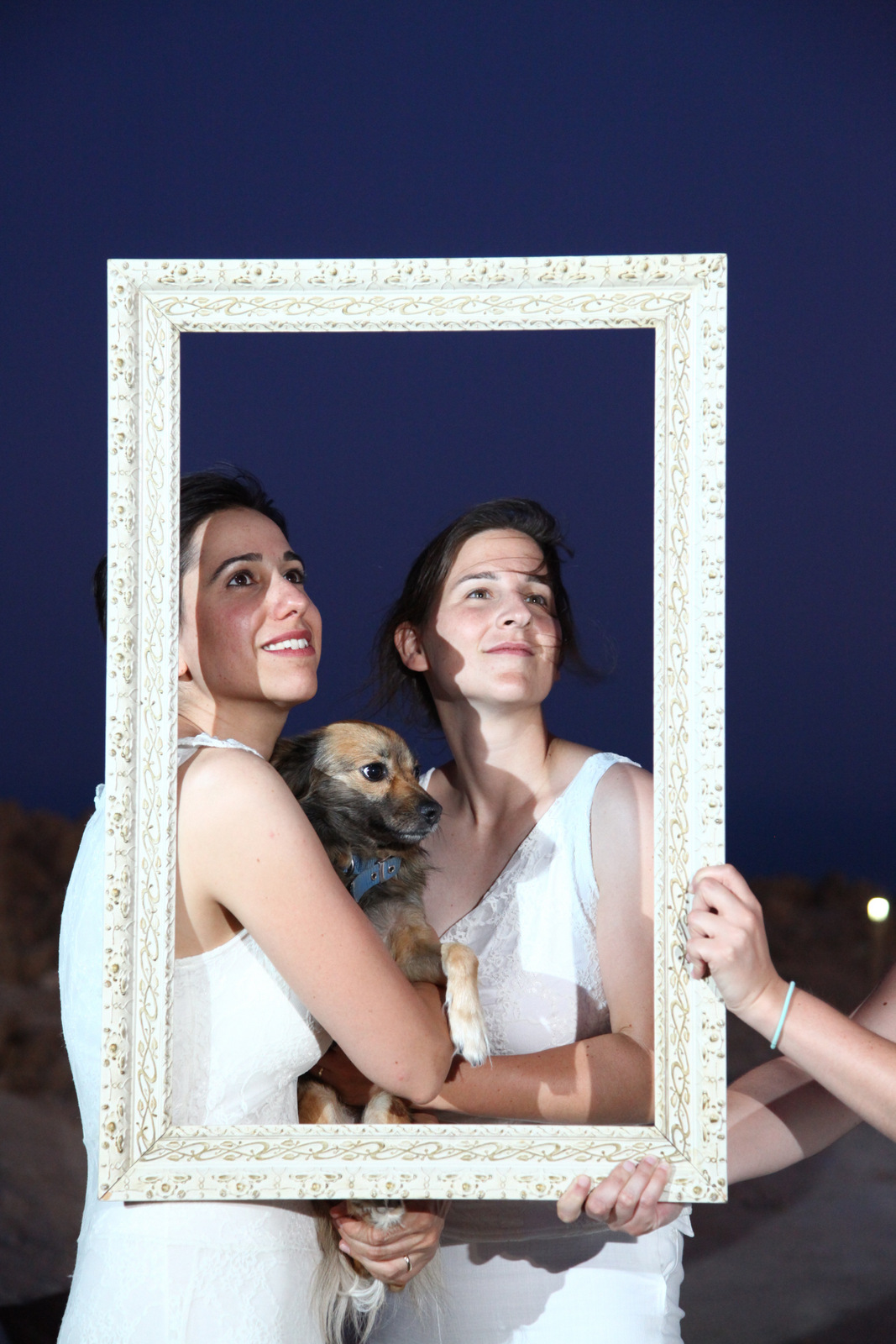 "This picture was taken on our wedding day. Luka was the cutest, most nervous, ring bearer. She was a stray puppy found in Jerusalem, and like many Jerusalem natives, has deep phobia of water. She also pees with both her rear legs in the air in a weird Kung fu stance, just to make sure the pee won't touch her legs. Hiking is a different story. She loves climbing even the steepest mountains, and getting really close to the cliff's edge, without any consideration of our fragile hearts. On weekends, she sleeps in until 11AM, then sunbaths for another couple of hours on the balcony, reminding us what life is all about."
---
Ryn and Moose / 38, 17 / Brooklyn, NY
"Moose was my mom's little guy until she went on vacation and left him with my wife and me for safekeeping. He got so attached to us that she decided to give him to us on a permanent basis. His name is technically Matisse, but as pet names tend to do, it's evolved (variations include Mr. Moose, Moose Moose, Moo, Müs, Der Elch (supposedly the German word for moose)). Once I tried to affectionately call him a douche and a dork at the same time and ended up calling him a duke. He spends most of his old age sleeping on the edge of our bed, completely ignoring the cat-sized bed we bought on his behalf. My wife and I argue constantly regarding his (fuzzy) body of knowledge (me: he is all-knowing and wise! her: he knows NOTHING). His meows are loud, regretful, and sound uncannily like someone saying "hello" at a funeral."
---
Jenn, Cait, Kennedy / 26, 29, 6 / NYC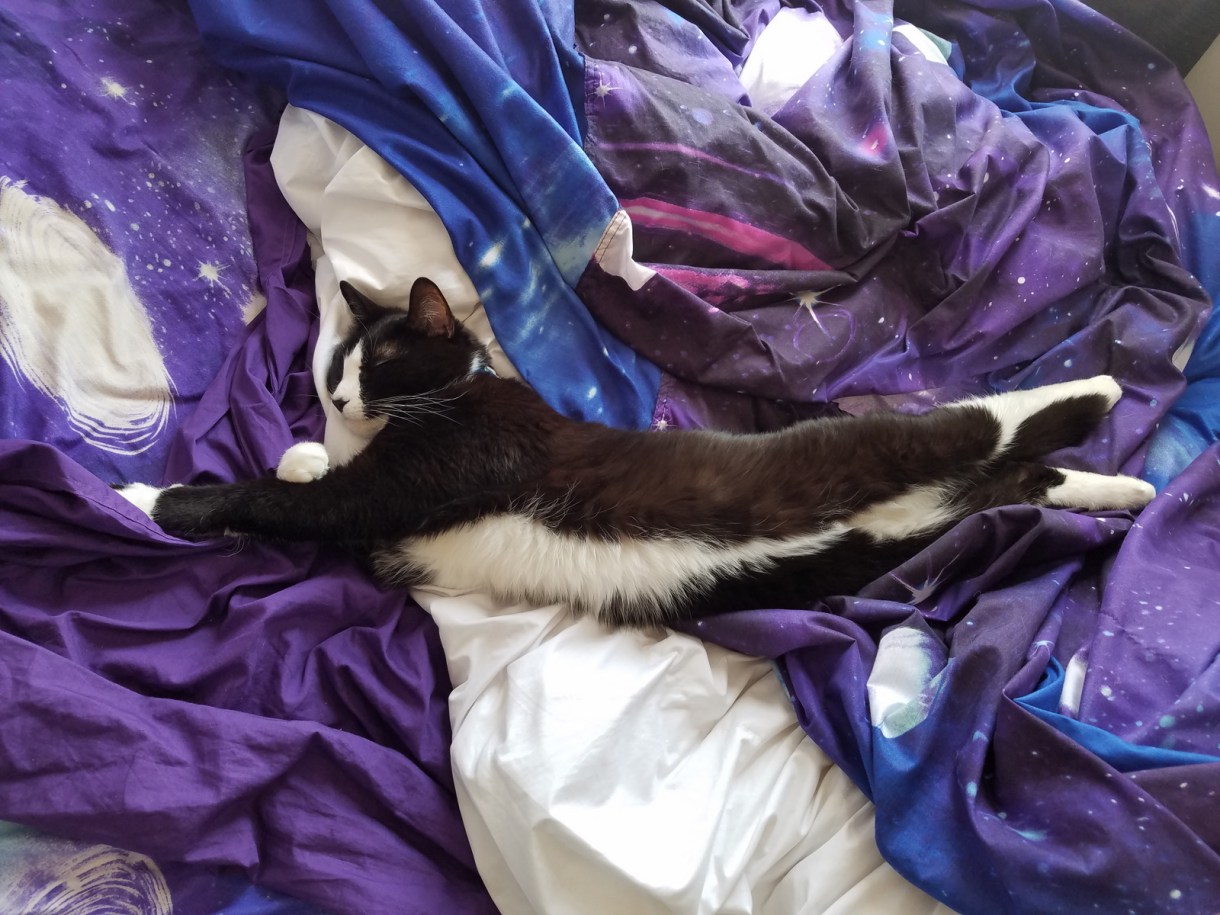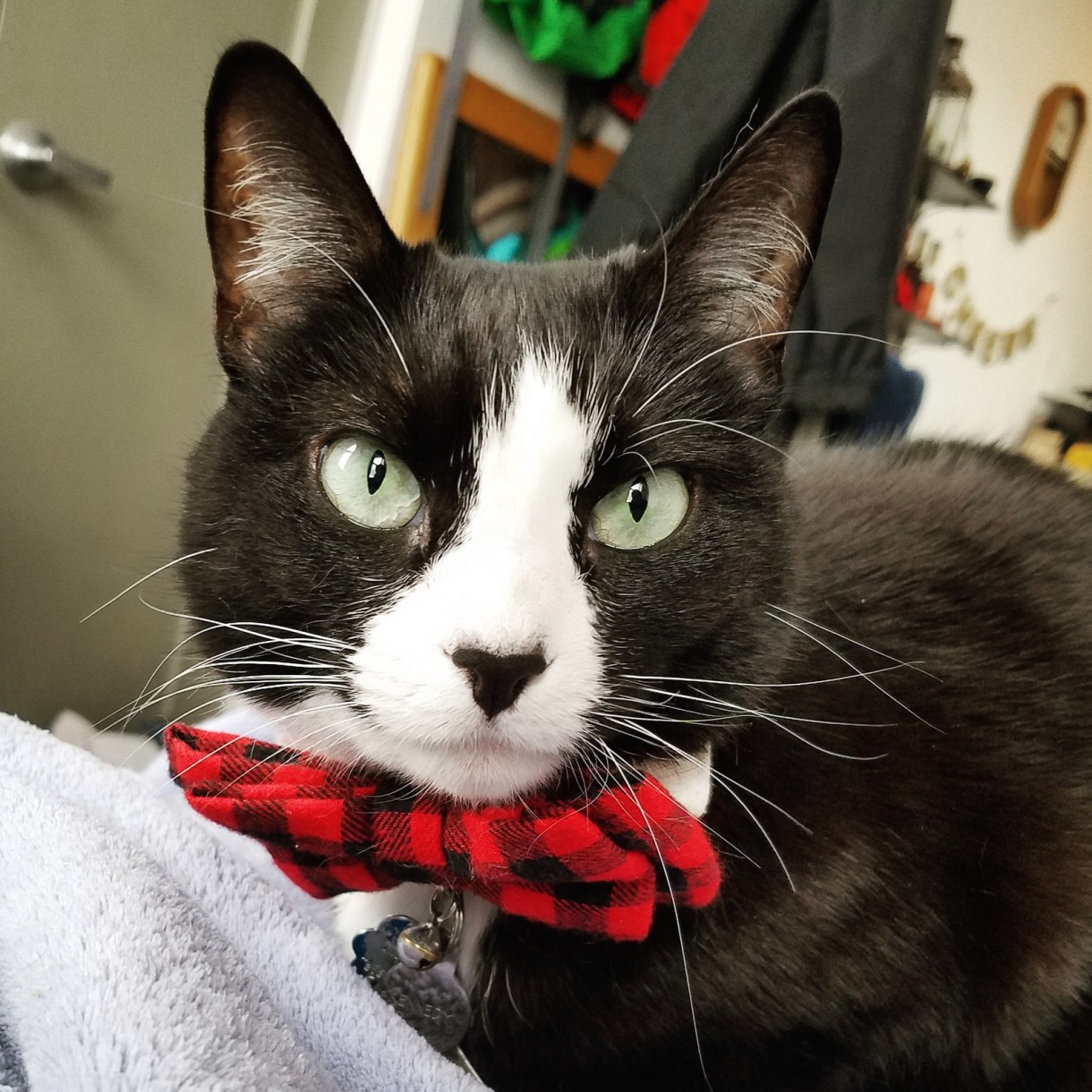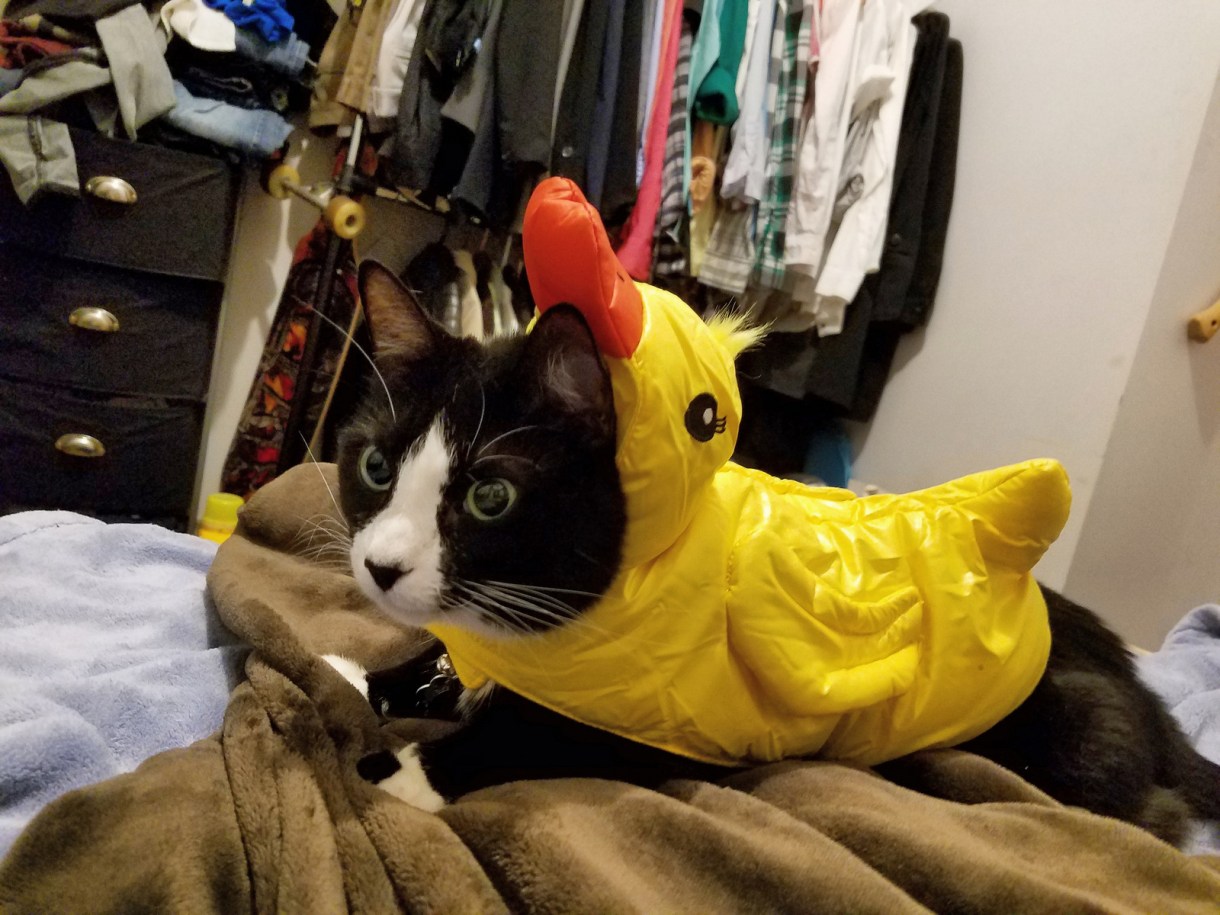 "Kennedy was adopted from a no-kill animal rescue and very quickly decided that she was in charge of the apartment. We let her believe that in exchange for getting rid of mice and begrudgingly letting us take seasonal/costumed photoshoots of her. Her favorite activities are sleeping, terrorizing the geckos, playing with literal trash on the ground, and running around at 3am. We've trained Kennedy to walk on her back legs when we feed her treats, but she has yet to break the habit of snacking on cheese and olive oil when we're not paying attention. Occasionally we take her outside on her leash, but she has a long way to go to reach "dog in a bag on the subway" level. Kennedy doesn't have an Instagram because of the very real fear that she'll be infinitely more popular than us, but gets tagged with #LesbianCatsOfInstagram."
---
Laura and Boriss / Toronto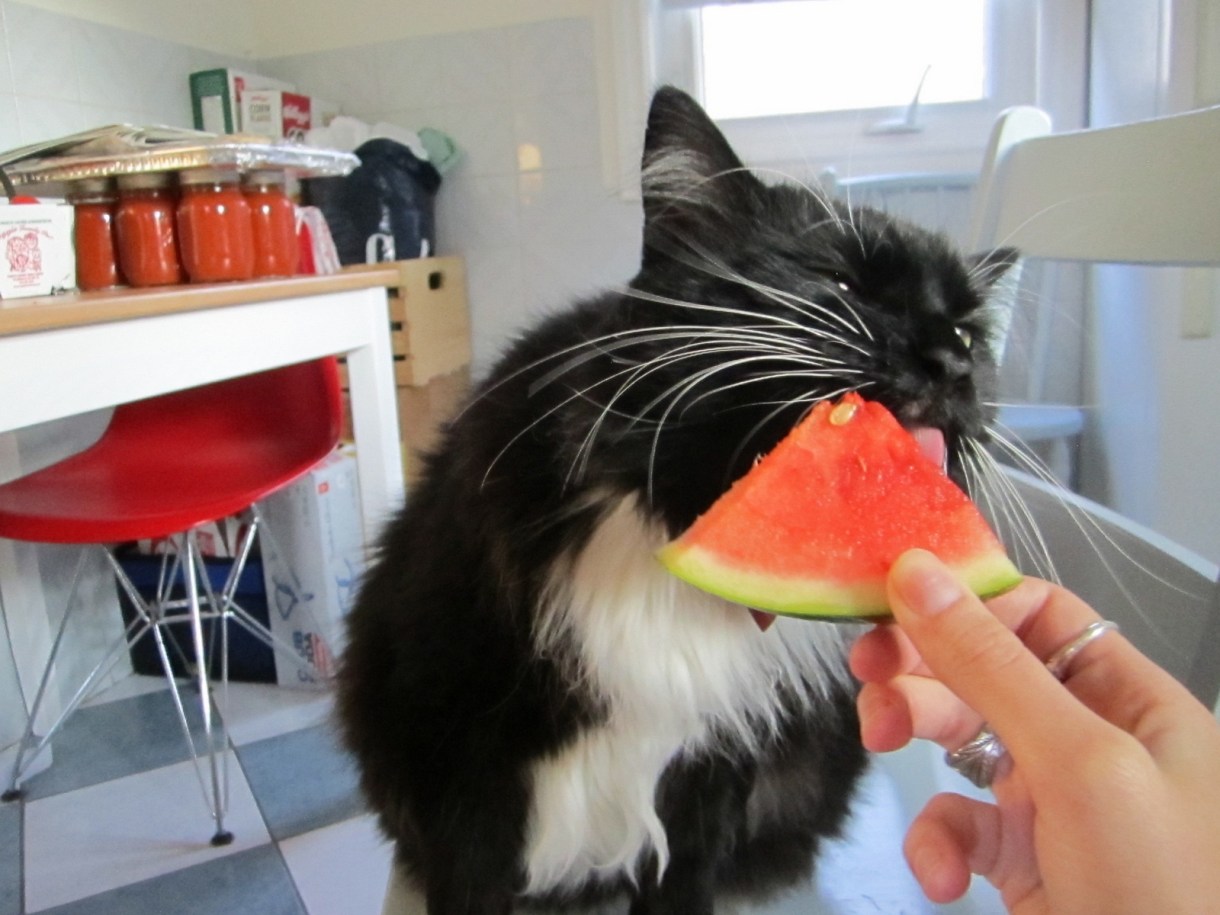 "Boriss' hobbies include long walks in the garden, sleeping in boxes and eating fruit, particularly watermelon. This beautiful beast came from the animal shelter in my ex's hometown, where I fell in love with his whiskers online months before actually being able to adopt him. Apparently he was a jerk to everyone at the shelter while he was there, obviously because he knew his human would be coming for him soon."
---
Katie, Al, HP Lovecat / Chicago, IL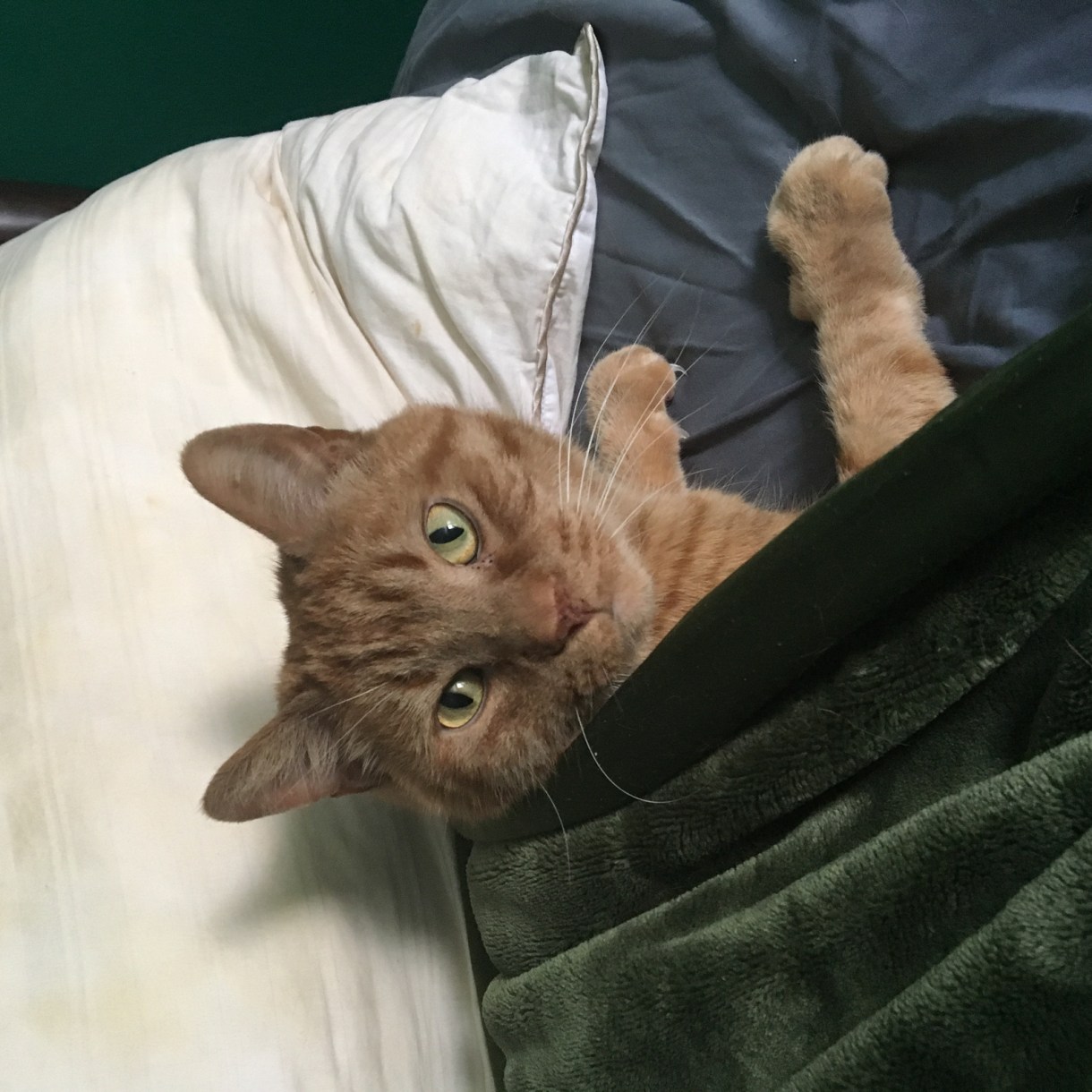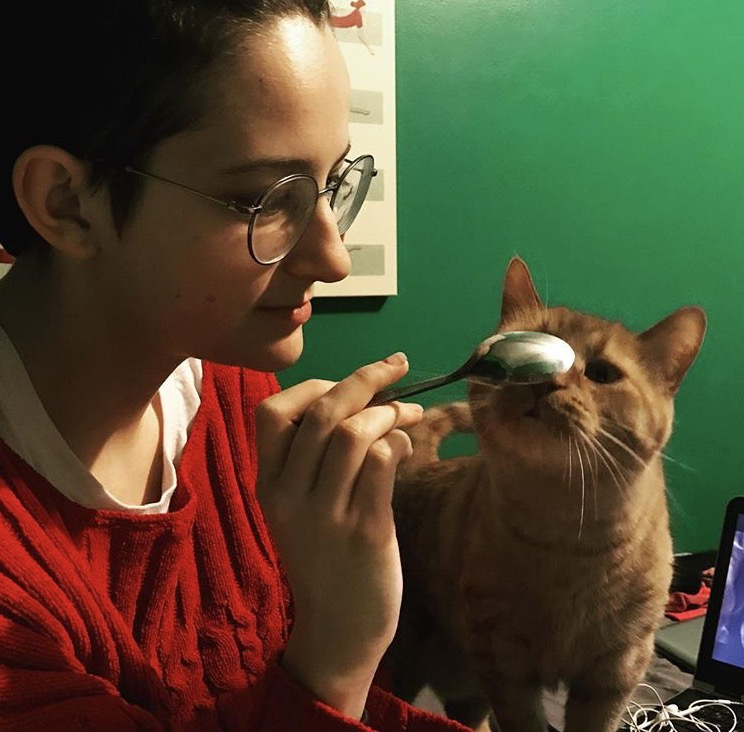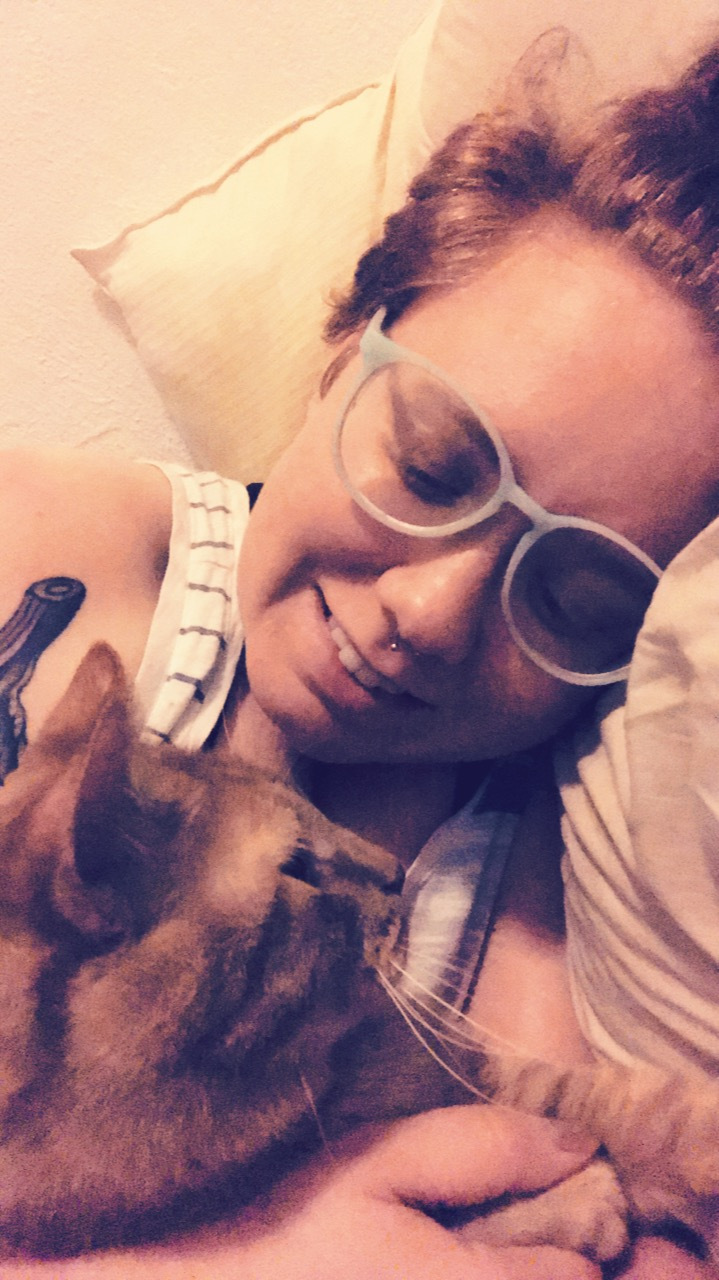 "HP came with his name, but he also answers to: Little B, Tiny Butt, Son, Perfect Being of Light and Joy, Butternut, BunBun, Pumpkin. He spends the long days in anxious vibrations, and all night gently smacking Al's face with the softest of paw. Katie is a Cool Mom and spoils him rotten. He loves holding hands and hates the squirrel out front."
---
Crystal, Monday, St Mark / Chicago, IL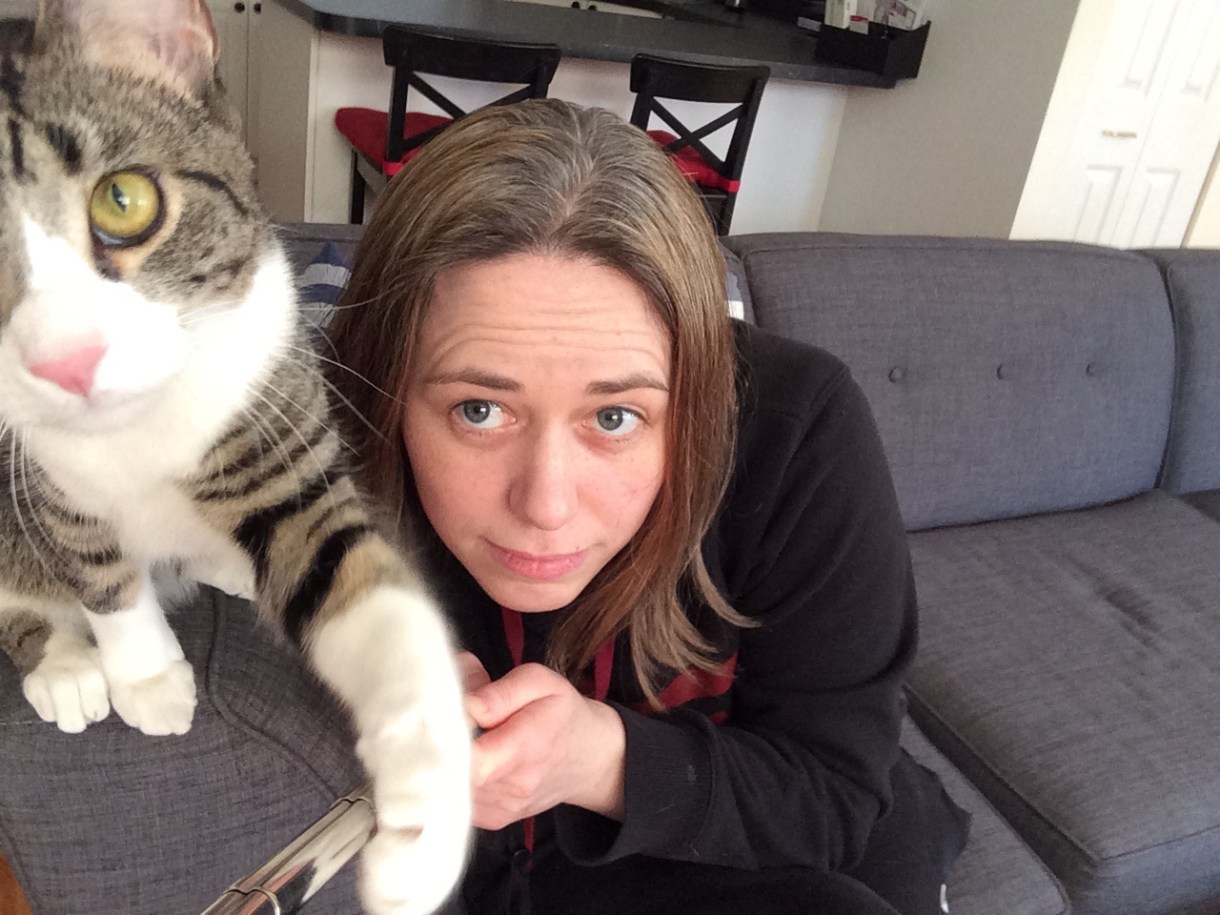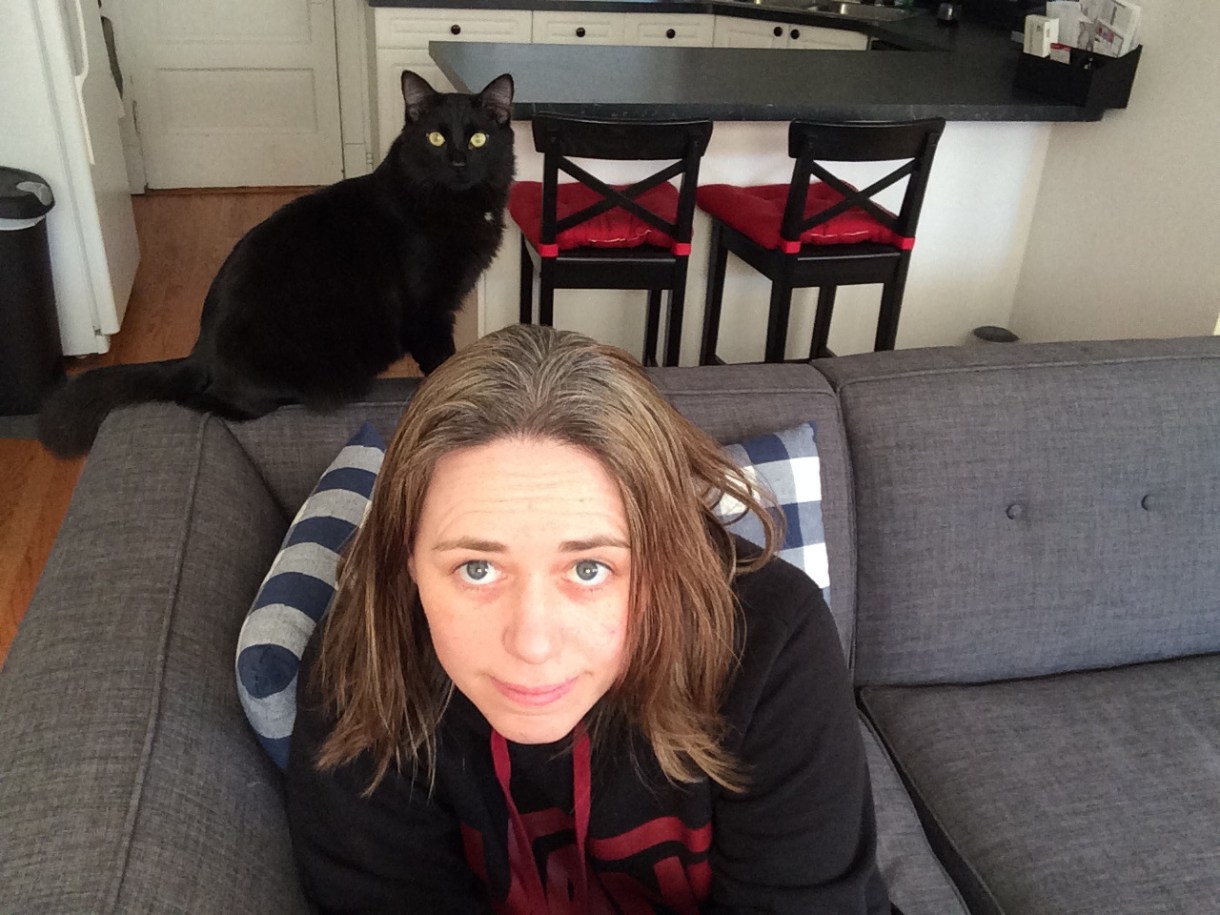 "We adopted Monday from a shelter, alongside his brother, St Mark. He's such a weirdo! He likes licking and nibbling my shins obsessively while I'm sleeping. Here we are testing out our new selfie stick. St Mark was named after a part of NYC I used to love, but we mostly just call him floofy. His favorite things include sitting in cookware and knocking over freshly cracked cans of LaCroix."
---
Maddie, Maddie, Radar / 26, 28, 1 / New Orleans, LA
"After 2.5 years of dating and a year of living together we decided we needed something to pour our maternal love into. Thus Radar was found on Petfinder (thanks, Take Paws Rescue!). Radar was a stray discovered at s high kill shelter an hour outside New Orleans. He had signs of abuse and advanced heartworm. His amazing foster mom nursed him back to health and we took him home two months later! We both love MASH and he had sweet eyes like Radar O'Reilly. Plus he's a sighthound (he's part Italian greyhound) so he has great sight and hearing, also like Radar.
The best thing about him is that he's like Velcro! He'll sweetly follow us from room to room, not needing anything, just wanting to be close to us. He also has a slightly curly tail that he wraps around your wrist when you pet his butt. He runs like such a weirdo! He has long, goofy legs that flail like he's wearing flippers. It looks like he's going to trip himself. Instagram: @Radar_Gaydar."
---
Before you go!
It takes funding to keep this publication by and for queer women and trans people of all genders running every day. We will never put our site behind a paywall because we know how important it is to keep Autostraddle free. But that means we rely on the support of our A+ Members.
Still, 99.9% of our readers are not members.
A+ membership starts at just $4/month.
If you're able to, will you join A+ and keep Autostraddle here and working for everyone?
Join A+
Pages: 1 2 3 4 5 6 7 8 9 10 11 12 13 14 15 16 17 18 19 20 21 22 23See entire article on one page