Wafia, the 25-year-old Iraqi-Syrian pansexual Muslim musician, makes music that you can't help but groove to. Her greatest musical influence is Lauryn Hill, and her sound is filled with pop synths, catchy lyrics, and very danceable (and fuckable, tbh) beats. After getting her start on Tumblr, where she felt like her audience focused on her music more than her looks, she's been signed to Future Classic label out of Australia. She's one year out of her first North American tour, and she's not stopping anytime soon. We got together and talked about being brown, queer, political, and our love for our pets.
---
Al(aina): Why do you think there's been more room in the past few years for yourself and so many other queer pop artists?
Wafia: Because I think more kids want to see themselves in the music that they're listening to, and just because of simple supply and demand, you know what I mean, I think because kids want to see that there's more of a demand for that, so they'll naturally gravitate towards kids that identify like them. Representation has always been so important for any sort of minority historically and it's awesome that that's what kids want out of their pop stars now. They don't want one-dimensional beings anymore who just look pretty and exist on magazine covers. These kids are connecting with the stories and personalities more than just their images.
A: You have influences that range from Lauryn Hill to Lizzie McGuire to stand-up comedy. What ties those together?
W: I like stories by humans. That's what I take away from them. My favorite standup is Hasan Minhaj, who did Homecoming King. He's a Muslim brown guy talking about his experiences in the world growing up Muslim and falling in love with a woman that was Hindu, and his themes just resonated with me. I love hearing these stories from these people that I can identify with, especially if they're brown or queer because I'm not surrounded by those people all the time.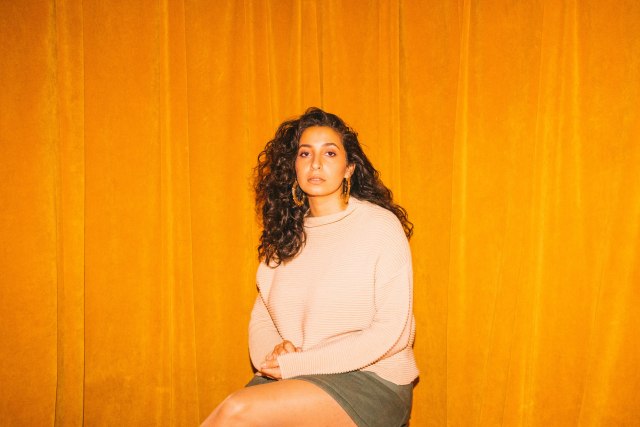 A: You mentioned stories, and your songs also tell stories. Is that intentional?
W: Yeah, I don't think things happen by accident. My family on my father's side, who are Iraqi, were always storytellers and poets, so naturally, that's in my DNA and runs through my blood. I feel like it's my job to tell stories, I wouldn't know how to do it any other way.
A: You're pansexual, you're, Muslim, and Arab, and just by existing, you, like a lot of other queer people of color are political just by existing. Realizing that, do you think your music has been politicized or was it part of your goal to make political music?
W: I think like you said, just by existing I am political. When I decided to release a song like "Bodies," I think that's when my music became political. But also it's a joy to share that part of my life with my audience. It's always been a part of my family's life, you know that we live here [in Australia] and some of them live in the Middle East; there's always been that. And it feels like a relief to share that. And I think it's important that I represent, so I don't see it as a burden. I do think that sometimes I talk to people and they're like "What are you going to address politically next?" and that's not me, I don't set out to write political music. My existence is political, but I have so many dimensions to me, I go through heartbreak, I want to write fun songs like everyone else, and sometimes it's political. It's what I want to do, you know what I mean? Just because I can be political doesn't mean that I want to be all the time.
A: What was touring through the US like as a Muslim queer non-citizen?
W: It was right around the time Trump — just before the election and right after. It really brings a person's morale down. And then I came back to Australia and people on the Australian media were playing devil's advocate as to why a Muslim ban might be great in Australia, and this is what happens when you allow negativity to thrive; it breeds, it validates the people that have those views, and morally it's not right. I was born in the Netherlands, and I have a New Zealand passport, and I can get in and out of the US alright, but someone like my mother, who is Syrian born, would have a lot of trouble. And if I'm being completely candid, my mom is choosing between going to Syria to see one of her nephews get married, or not because she wants to enter the US in the next few years. And it's hard for me to say to my mom, "Hey don't do this thing," because the thing is she might not go to this wedding and still be denied entry, so even saying "You'll be totally fine if you don't go to the wedding," is hard. No one should have to decide that seeing one part of my family means they can't see another. It's hard to see America (and Australia) dealing with this situation right now.
A: You've called yourself a "Tumblr kid;" how do you think growing up in that corner of social media shaped your adulthood?
I was just talking to someone about this yesterday — I think that Tumblr was my first opportunity to be myself without any caution tape. I didn't have any friends who looked like me or identified with me, and I ended up meeting my best friends because I didn't have a lot of Arab friends offline. And I think I really needed them because for most of my childhood I wished my name was Sarah and I had blonde hair because girls named Sarah and Brittney didn't get bullied, you know? And I wanted to be that, and then I met these incredible friends online who were queer and creative, and it let me know those people existed.
It was also the first place I put my music online. I always felt weird about Youtube and doing Youtube covers, because I didn't want to put my face associated with my music, I wanted it to be just about the music, and what I loved about Tumblr was you could just put the file and I would post covers on there. That's really where I started, so Tumblr was this incredible petri dish for me to try things out and just be myself, and even try out original songs, so I'm really thankful for that.
A: Talk about spending your early twenties changing careers, coming out, and doing it all public. What's that like?
W: Freeing. I feel like I don't have to explain myself, especially when you're trying to do music. At the time I started I was in cafes and writing because I wanted to pay for my own music, I didn't want to work through a label because of a negative experience. So I wanted to make all my money and all the money I made would go back toward my music. I was still singing in cafes as my friends were graduating, and it's so easy to think about just going back, but I knew I'd be living a life that didn't represent me. And when you feel like you have a calling that you're driven to do, there's no substitute, there's no plan B. It was hard to see my friends get success because we'd done the same work, but I was jumping into something new. Those were the times I was the most depressed, but I'm so glad I stuck with it and continued, because like I said I don't think I'd ever been happy. I'd rather be poor and happy than doing something I don't like.
A: Your song "Only Love" is an R&B-inspired song about falling in love with a woman. How does it feel to reclaim genres like R&B and pop as a queer artist?
W: As always it feels empowering, but it was never a conscious decision to me, I was just trying to make a song. My co-writer and I kinda wrote the chorus and he was trying to pull the song in one direction, and it just kinda felt forced because I truly knew what the song was about but I wasn't conveying it to him and eventually I kinda just burst. I talked about it hypothetically at first, and he gave me a big hug and understood where I was trying to come from. So I guess I wasn't really trying to do anything except to write the song I felt like I needed to write in that moment. It just so happens to be R&B, but I just write the song I feel. Most of the time it might be R&B or pop-leaning; it's awesome that we can take that genre template and switch it up.
A: You write using a lot of musical disguises. "Bodies" from your newest album is this bright poppy song about Syrian refugees and you've talked about how many other songs from VIII sound romantic to disguise the message. What's attractive about writing songs that have a differing lyric and sonic mood?
W: I think I'm a fan of layers to things, the more layers an artist has, the more you can delve into their world. For some songs, that layering results in interesting juxtaposition where things rub together in the right (or wrong) way. In the case of "Bodies," that was almost strategic, it felt like a complete play on the genre. At the time was listening to Whitney Houston's "I Wanna Dance With Somebody," and I thought "what if this was actually about people moving?" And you know when we see those photos of people at protests or music festivals or whatever, there's always something so calming and beautiful about a bunch of people all facing the same direction. It's kinda the same feeling I get when I go to the ocean as well and everyone's just looking out that commonality. That was the image I had when was writing. I guess I was trying to find how could someone who doesn't have a family dealing with everything going on in Syria understand? How can I get them to that place? I thought, what's more, common than our physical beings? We cannot deny that. I wanted to put that in a pop framing because everyone can connect to it at some level. I always say I don't want to be a pseudo-intellectual about it and say this is the only way you can digest the song. I always want the entry point to be easy, that's how you get people to learn more.
A: What's your favorite song from The Miseducation of Lauryn Hill?
W: "Ex-Factor" is always a classic, But I also really love "To Zion," and I feel like that one gets overlooked a lot. But I mean, it's an album of hits.
A: Who do you love to follow on social media right now?
W: The Teen Vogue editor Elaine Welteroth. I feel like after she had a hand in things Teen Vogue has been stepping up and has been informing kids in a really great way.
A: Tell me about your dog!
W: His name is Kahlil, named after Kahlil Gibran, my favorite author who wrote The Prophet. My dog is a toy poodle because my sister is hypoallergenic. I'm really weird about animals that shed hair, so we got the best dog in the world. he's so cute, he's chocolatey brown, he has very curly hair, and he looks like a human to me at this point. I've never connected with an animal like him in the past, sometimes he just looks like a tiny man. I love him so much.
A: What can we expect from you this year?
W: I'm gonna have a load of new music this year and also I'm working on a live show which I haven't done before. I think it's gonna be a fun year with new music.