Hello and welcome to the seventh recap of the third season of Orange is the New Black, a reality competition that pits cat-owners against babies to decide once and for all who looks better in an bee costume.
---
This is The Book Of Norma: Norma's Episode, an hour-long treatise on the benefits of human touch, shrugging your shoulders, chopping off your fingertips and possessing pungent vaginal discharge. No, really it's about how to find purpose or meaning in powerlessness, maybe, or about strength in silence. Or it's about how a quiet follower can become a spiritual center, made holy by her refusal to talk — let alone live — as loudly as those who surround her, ever-so-convinced they've got something important to say. It's about how we decide what to believe in, and how that decision claims to be wide open but really never can be.
It's also about two people connecting. With four other people. And aliens.
This is Norma's episode and everybody thinks Norma is magic. She hexes your ex's new girl by rubbing paper between her hands, which coincidentally is also how you warm up Sally Hansen waxing strips. They're about as good for removing hair as Norma is for removing your ex's new girl from your ex, I imagine. Norma's got healing energy hands, too. I learned about this in my Reiki Master training. You should try it.
---
Meanwhile the new guards have started "training," and by "training" I mean watching a '90s video about sexual harassment while Caputo hangs out in the back with Danny, trying to pretend like he's never masturbated in his office.
---
Back in the Underpants Factory, everybody's chatting about men who pay for women's panties. I really hate the word "panties" but I'm gonna try to roll with it for y'all.
The girls can't believe that's a thing:
Flaca: I can't believe that's a thing!
Black Cindy: Man, everything is a thing. Like the people who like to fuck in animal costumes!
Stella: Furries.
Piper: Or those guys who are really into My Little Pony.
Stella: Bronies!
Black Cindy: Look at you, boo-boo.
Piper: What are you, some kind of fetish fangirl?
Black Cindy says there's somebody out there for everybody these days, like even for cannibals and ticklers and whatever Larry Bloom is.
Black Cindy: See, it used to be all these weirdos sitting alone in their houses, jerking it to bugs or falling in love with their toasters, feeling all creepy and sad. Now, all they got to do is log on and find the same-minded toaster-loving peeps and, like, bam, suddenly shit be perfectly normal.
Sometimes it's hard to recap this show because the jokes in the show are just so good that you don't really even need my jokes anymore.
---
Red returns to the kitchen, where Gloria and the girls celebrate her arrival by doing some double-dutch routines to a Debbie Gibson CD. Just kidding! She returns and nobody celebrates anything.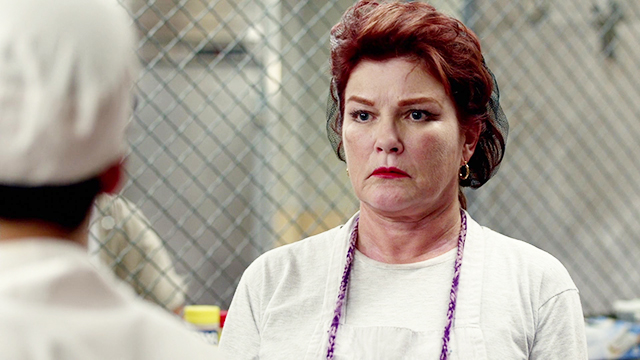 Norma, at least, is pleased by her Alpha's return.
---
FLASHBACK! Young Norma, a tender button-nosed curly-haired girl who looks like she'd be a really good babysitter is hitting up an EMPOWER YOURSELF meeting, lead by a long-haired bearded guy in white linen pants and sandals named Guru Mack. Not to be confused with "Guru Mac," McDonald's failed rice patty project.
Guru Mack's got all the standard spiritual mumbo-jumbo that charismatic and slightly unhinged guys like him used in the '70s to become "spiritual leaders" and bang a lot of chicks with center parts. Good news, readers: I've watched a lot of documentaries about cults, and I'm pretty sure this guy's based on Father Yod and The Source Family.
Cults like this one tended to follow a certain pattern: A charismatic and slightly unhinged man, usually a man who was rejected or otherwise felt alienated by the religion he'd initially aimed to dedicate his life to, begins gathering young, wandering followers under the auspices of equality and harmony. He spots an opportunity within the sexual revolution and second-wave feminism to create a dangerous and highly patriarchal and sexualized society while advertising it to be precisely the opposite. (FREE LOVE!) It was much easier to run off, too, than it was today, and running off felt like a real departure because phone calls weren't cheap and letters take time to travel and require an address. So it was easier for women to get lost and become the possession of a controlling polygamist.
Guru Mack calls Norma "Sister Sad Eyes," tells her she's among friends, that here she can share her story. Norma opens her mouth to speak but instead stutters — and Guru Mack, with his eagle-eye for exploitable weaknesses, seizes the moment. Here, she need not speak, he implores, he'll just place his hands on her forearms and declare her empowered.
She's all in.
---
Berdie's been given the gift of erotica, courtesy of her enthusiastic drama student Suzanne Warren, fan of purple love muscles and mammals with scales and vaseline dildos. Berdie reminds Suzanne that drama class is mostly about violence and Palex, not beastiality.
Berdie: I asked you to re-imagine a primary life experience, not write a kinky sex fantasy set in space!
Suzanne: It's not just sex. It's love. It's two people connecting. with four other people. and aliens.
Bless us, everyone.
Suzanne's devastated by the rejection but Taystee's there to turn her frown upside down: reminding her that even Stephen King and J.K. Rowling got rejected ten billion times and that she can't let Berdie stop her from living her best life. Just like there's a splosher out there for everybody, there's a reader out there for every terrible e-book. For example, a sequel to 50 Shades of Grey "from Christian's point of view" is #1 on The New York Times bestseller list AS WE SPEAK.
Suzanne: Chang got to do her scene and it's all heads popping off and organs coming out!
Taystee: That's because this is America. Violence is all good and fine but SEX?! Lord no!
I LOVE THIS SHOW.
---
In the Mel-Caf, the girls have gathered 'round for an intoxicating game of MASH, famous for its prominence in slumber parties of yore. Daya says she always got "shack" but she bets Piper always got "mansion." Also in real life, probably Piper had a mansion in real life too.
Piper sing-songs about her four bathrooms and the half-bath off the playroom and how truly, she was a very lonely child — which is both true and not really gonna work too well with this crowd.
Morello: Do you hear yourself sometimes? Like when you speak?
Over at Cafe Halal, Black Cindy, Taystee, Poussey and Watson are enjoying the hell out of their kosher meals, which's more than I can say for the kosher meals we all were treated to at A-Camp.
Morello's Suitor Talk gets Piper thinking about all this on macro level, and why caged women appeal to free men:
Piper: It's like we're all in Chained Heat or Cellblock Sisters and all we do is have lesbian sex and strip searches and have naked catfights in the shower.
(pause)
Piper: We also do other things.
Morello's not concerned, 'cause they get what they want and she gets what she wants and everybody wins. This gets Piper thinking, too: now that she's no longer crafting artisinal soaps with Polly to cleanse the buttcracks of Williamsburg's finest, she's ready for a new project. She's ready for the opposite of soap.
Piper, practically near-combustion regarding the first good idea she's had since doing the Macarena to "Milkshake," reveals her business plan to Alex Vause, who thinks it's FUCKING BRILLIANT.
---
Pages: 1 2 3See entire article on one page