One Day at a Time leads with its heart first. That was true in the popular Netflix sitcom's first season, and that remains true throughout the second.
If you still haven't seen it (or need a refresher), Netflix's One Day at a Time is an modernized version of Norman Lear's 1975 hit show about a single mother raising her two children, except in the new iteration the family is Cuban-American dealing with an updated set of social problems. The mother, Penelope (Justina Machado), known as Lupita to her family, is an Army veteran who is living with anxiety and depression stemming in part from her time in the service. The eldest daughter, Elena (Isabella Gomez), is a teen whose coming out story was the heartbeat of the first season. Penelope's son, Alex (Marcel Ruiz), lovingly referred to as "Papito," can charm any room. EGOT winner and living legend Rita Moreno stars as Penelope's mother and the children's grandmother, Lydia, also known as Abuelita, who lives with the family and takes care of the household. If you've watched the original before, yes there is a still a landlord named Schneider who hangs out around the apartment, but the new version casts him as younger and much more empathetic than the original.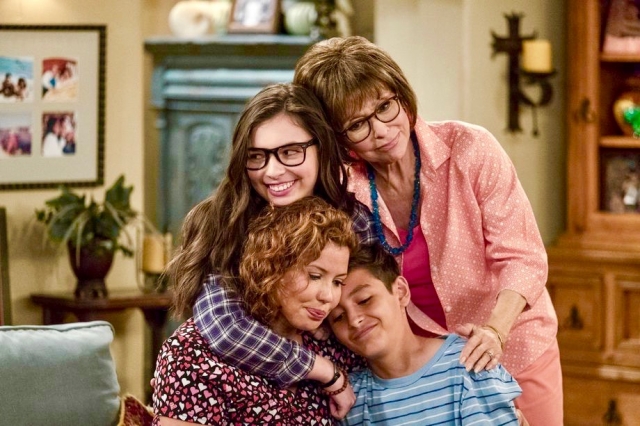 So, let's get back to its heart. One Day at a Time is the most generous, compassionate, loving family sitcom on television. That type of description often means a show is leaning toward the saccharine, but instead, One Day at a Time veers towards genuine. It's not afraid to have frank, sometimes dark discussions — there's perhaps no better case for this than the season's episode dedicated Penelope's ongoing battle with depression, or Elena's estranged relationship with her father, who has poorly handled her coming out. Not everything is picture perfect, or cleanly fixed by the end of the episode with a group hug. Nevertheless, this is a family that loves each other relentlessly. Warmth emanates from every line, every angle, every corner.
In addition to the undeniable chemistry between castmates, I think part of that warmth comes from the format of the show itself. One Day at a Time is shot as a traditional multi-cam sitcom, complete with a live studio audience and a supplemental laugh track. As any '90s or '00s kid who grew up sneaking Nick at Nite past their bedtime or having their after-school snack to syndicated classics will tell you, multi-cam sitcoms are comforting in their own right. Think of The Mary Tyler Moore Show, Golden Girls, or even Friends. Still, the genre fell out of style with the onset of mockumentary style comedies like The Office or Modern Family and more ambitious storytelling models like 30 Rock or black-ish.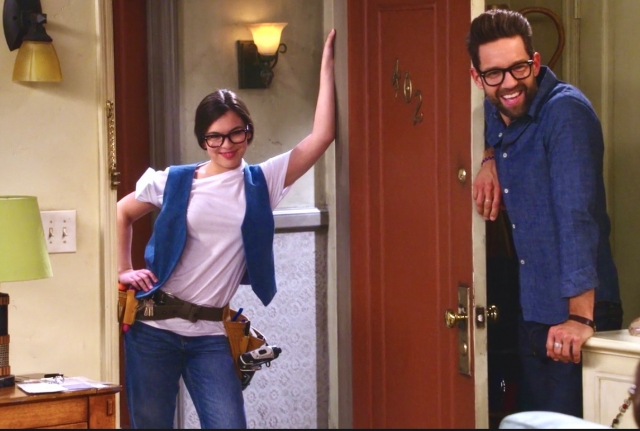 In the current slate of trendy television, a laugh track can feel outdated or, if we are honest with ourselves, even a little bit corny. Over the course of its two seasons, One Day at a Time has put forth a compelling argument that a little corny doesn't always have to be a bad thing — and if nothing else, it doesn't have to be limiting. The show uses the intimacy and familiarity of the genre to their advantage, luring their audience into cutting edge and weighty conversations from the comfort of the Alvarez's living room.
One of those conversations? The complexities of being Latinx in Donald Trump's America. The President's name is never mentioned directly, which is surprising given how strongly the effects of his presence are felt throughout the fist half of the new season. Instead of focusing on specific headlines or upcoming laws, One Day at a Time deftly and accurately explores the interpersonal; delving into what it takes to keep your Latinx family fortified in an environment that's openly hostile towards people of color. Executive Producer and co-showrunner Gloria Calderon Kellett made note of the purposeful difference between the first and second seasons, telling Remezcla, "We try to be true about what's going on with this family… there's been a change since we premiered after the election. I could feel a shift, and other Latinos in the room were feeling it as well".
The show also doesn't shy away from ups and downs of being a young Latina lesbian. Elena Alvarez has become something of a teen idol for those of us at Autostraddle since her coming out storyline, and subsequent gayest Quinceañera ever, in the first season. The second season keeps developing her character, including having a new love interest, Syd, who uses they/them pronouns and becomes Elena's girlfriend.
If there is anything cuter than watching Elena get help from her Abuelita in learning how to flirt or more triumphant than Elena and Syd's gay nerdy teen love for each other, I haven't seen it yet. I mean, they dress as Dr. Who and the Tardis for their local comic-con, come on! Syd's pronoun choice is deeply important for non-binary gender representation, and is handled with the show's trademark care and wit. Also, the already great gay jokes in the second season are bolder, more frequent, and gayer than ever before. A bit where the show pays homage to the costuming of the 1970s original Schneider character is played as Elena learning to be butch.
The show doesn't loose track of the difficulties of gay adolescence. My first real ugly-cry of the season came from an episode where Elena confronts her father, Victor, who walked out of her quinceañera in the first season finale. Heather Hogan has talked about the ways that another gay teen, Fresh Off the Boat's Nicole, has been healing and invigorating for her, because Nicole is a teenager in the late 1990s who is experiencing her gayness in a way that Heather was not able to at the same time period and age. I feel similarly about Elena. I was not out in high school, for a lot of reasons, but also because I didn't have working model for what being a young queer Latina would even look like. Watching Elena has been healing, and I'm so excited for the Latinx teens out there right now who can point to her as a model that I didn't have.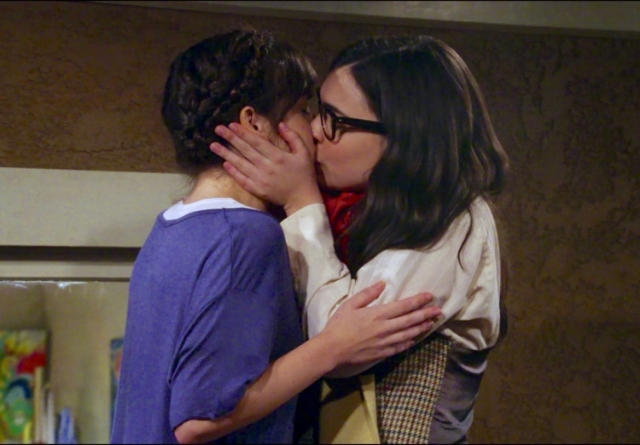 Speaking of heart-wrenching, Justina Machado and Rita Moreno bring their best work out to play in One Day at a Time's second season. In Vanity Fair, Moreno credited Machado as being "the best acting partner" she's ever had. Taking into account Moreno's long and illustrious career, that's the highest of compliments — and I couldn't agree more. I've been watching Machado work for decades; she's a rare and multilayered talent. It's a tragedy that there are so few well developed Latina parts in Hollywood that she wasn't afforded the opportunity to really show the full range of her ability onscreen until now. My second, though certainly not last, ugly cry of the season? Watching her pull back the curtains and take us into the depths of Penelope's depression. It left me exposed and raw in front of my television. I still haven't adequately found ways to express the feelings that her performance unearthed.
As a Puerto Rican, I'm pretty sure I was born loving Rita Moreno, so I'm an easy mark when comes to fawning over her on camera. That said, I am floored that at four years away from 90 years old, she is busy creating what is arguably the greatest role of her career this side of West Side Story. If Elena was the emotional centerpiece of season one, then season two definitely belongs to Abuelita, who keeps her entire family together with a diva fabulousness, quick wit, sexual innuendos, and an open heart. Mi Reina, my queen, I will love you forever.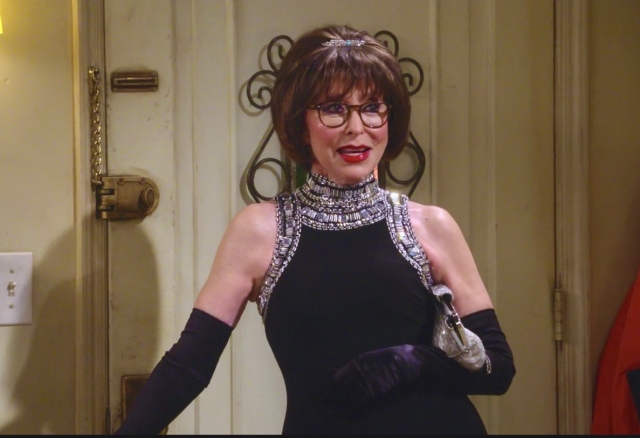 The tight rope balance between light, though nonetheless sharp, comedy and genuinely moving drama is no easy feat. One Day at a Time hits the sweet spot.
Last year, I joked to a friend that One Day at a Time is the most feminist show on television, but this year I'm willing to make that claim seriously. They approach every issue on their docket with an intersectional lens, without ever losing the mother/daughter relationships and the intimacies between Latina women that are at its core. Their jokes find the delicate place between being specific to our community, the ways that we poke fun, but also the ways that we love, and still being catchy to a broader audience. They aren't afraid to tackle race, or class, or gender, sexuality, ability, or aging with an ever-present grace and care. I would be hard pressed to find an expectation of mine that they haven't not only reached, but passed with flying colors.
My only complaint is that I have to wait another year to spend the weekend with the Alvarezes again. That's truly unfair.
So now, the fun part: In the interest of highlighting One Day at a Time's intergenerational, Latina feminism, and their emphasis on the relationship between Latina mothers and daughters, I interviewed my own Mamí about her thoughts and feelings towards season two! It's more spoiler heavy than this review, but if I can be a wee bit biased for a second — my mom is so wonderful. And she was so generous with her time to do this. You should definitely check it out on the next page!
Carmen: When I pitched this idea, I told my editors that one of my favorite parts about watching One Day at a Time's first season was watching it with you. I felt like, as a queer Latina who was a teen feminist, who went to Catholic school, who was raised by my Latina single mother in a Caribbean Latinx household — we're Puerto Rican, not Cuban — there was a lot of connection. And I felt like watching it with you in particular, it gave us insights about each other.
So, I wanted to have a conversation with you about season two. What did you think about this season?
Mamí: I liked season two! I like how they're advancing the characters this year. I particularly loved how they expanded the grandmother character and Rita Moreno's work.
Carmen: For people who don't know, you are a really big Rita Moreno Fan.
Mamí: Yes! I have loved Rita Moreno since I first saw her in West Side Story when I was a child.
Carmen: We don't have to tell everyone how old you are, but that was a long time ago.
Mamí: Haha! Well, you know, I was a girl when for the first time on the big screen I saw this larger than life, feisty, Puerto Rican woman who was patterned along the same lines as the women I knew in my life. I had never seen that before, in cinema. So, yes, I fell instantly in love with her. I fell in love with her strength, her pride at being Puerto Rican.
Carmen: We were watching an episode this season and I heard you — I don't know what face Rita Moreno made — but I watched you be taken aback and say, "My god she looks like my mother." That really touched me, because 'Bueli (abuela, my grandmother) died when I was a young girl. And I always saw a bit of 'Bueli in Rita Moreno as well. So I think, just having that physical recognition…
Mamí: Oh yeah, physically, especially as my mom got older, she looked a lot like Rita Moreno's character on the show. My mother didn't have an accent, but she still had that deep passionate pride for the island — the language, the food, everything. We did not grow up in a Westernized or Americanized household. For us, it was a big deal to have spaghetti or hot dogs — because my dad ate rice and beans every day.
Carmen: Oh yes, every day! Every day!
Mamí: In the last episode, when Penelope tells the story of her mother not being there when she left to go the army [at 18 years old]— I have a similar story of my mother not being there when I left to go to college.

It was very painful for me to watch that, because it was so raw, so real… so viscerally real. I lived it. I remember that whole trip, and my father taking me, on a train, because he didn't drive. Eight, ten hours. He was extremely supportive, he always had been. My mother also loved me, so much. But the thing that struck me was, at that moment, at that time in my life, I made a decision to not to ever be that kind of mom. I kept telling myself, "I will never do that… No matter what. If I have children, no matter where they decide to go, or what they decide to do, I will support them."

Because here it is, 45 years later. And it still hurts.

Yeah, there are… there are… a lot of truths going on in this little show. A lot of truths.
Carmen: I think one of the ways that Justina Machado's Penelope reminds me of you, is the way that she loves her kids.
We've talked about before how deeply protective and loving she is of them. But in particular, watching Elena and her interact remind me a lot of me and you when I was a teenager. And you know, I wasn't a teenager in Donald Trump's America, but I was a teenager in George W. Bush's America, and I remember distinctly almost getting suspended from school for protesting the Iraq War. Seeing Elena in her Catholic uniform, with her protest signs — it makes my heart just leap because I remember that. A lot of Elena's role in her family reminds my role in our family. Elena is nerdy, and she cares about politics, and she can be an outlier sometimes. But, they love her anyway.
Mamí: You always had that— you passion, your commitment to change, to have an impact. You saw things and you felt things very deeply, and you wanted them to be different. I think you are very much like Elena in other ways, too. You talk about her nerdiness, her passion for her books, for learning. And how different that makes her from everyone in her family. But at the same time her family, particularly her mother, recognizing that's what "makes her special."

With you… it was evident you were different, but we loved you. I knew that the majority of our family would simply accept you as you presented yourself. The way I dealt with it, was to have candid conversations with you about how you were different.

We would have those conversations, even when you were a child — a young teen — navigating very difficult waters. And I knew it wouldn't be easy, but that you would find a way through it that would allow you to be whole. So I think we did a good job, getting through "How do I remain myself, in a space where there's a lot of pressure to conform."
Carmen: And I think that's what why One Day at a Time reminds me of our relationship!
But also, I guess when I was a teenager, I didn't think a lot about how tiring it must be to be a single mom. So, I think the show has been very eye-opening about that for me. And I think that's where I see you and Penelope together. Because you both just… you know, you're making it work. You got out there everyday, and you made it work. And you made sure your kid felt loved. And you made sure your kid felt protected.
Mamí: Yeah, [when you're a single mom] you're responsible… for everything. You know? The challenge of raising a child, and in her case children, as a single mom is daunting. You do have to get up everyday and put on your armor and fight the fight. Because you have no one else to fight the fight for you. You don't get to stay home, or be sick, or sleep in. That's just not an option in your life. You get to used to that. For me, I think that made you a more resilient person. And I may be biased, but I think the children of single mothers can grow up to be more self-reliant and well-rounded, because they are forced to be at a much younger age.
Carmen: I think one of the things we were both were moved by, right at the first episode, was the show's conversation about race. Papito — Alex — he get's told, "Go Back to Mexico." And it turns out he's been called a "Beaner."
Mamí: Mhhhmm, I think they chanted "Build a Wall."
Carmen: But I think, one of the things we were struck by, or at least I was, was that at the same time that they are talking about how white people are viewing them, with Alex being talked to as if he's a threat, with white people seeing their Latinx family as a threat — was the way the show also approached that Elena doesn't have to deal with that day-to-day overt racism. Because of her white privilege. It felt like you were really invested in that.
Mamí: Oh I loved, absolutely loved that they decided not just to look at externalized racism, but to also look at our own internalized cultural racism. Which is constantly punctuated throughout that episode by Rita Moreno's line, "But mostly white…"
Carmen: Yes! So, Penelope says "Cubans can be anything." And then Abuelita says,
Together: "… But mostly white!"
Mamí: And that is a comment that I heard my entire life. Because Latinos from the Caribbean do cut the swath. We can be black or brown or white. We have internalized those same cultural beliefs, the ones that say that the lighter you are the prettier you are, or the more accepted you will be, the better your job opportunities. We still privilege whiteness, even within our own community, at the same time that we are discriminated against by others for not being "white enough."

Elena makes a comment that she hasn't experienced any [racial discrimination]. And her family has to tell her, it's because you look white. And unlike her grandmother, she doesn't have an accent. So, they finally give her a pet name, Blanquita. Those kind of personal loving nicknames, they reminded me of our own family as well.
Carmen: And I kinda love that they didn't explain it. There wasn't a stop to the audience that says, "Blanquita is a diminutive of "Blanco", which is Spanish for "white." They just expect that you are going to catch up.
Mamí: And then Elena owns it! She becomes "Blanquita dot com" or whatever, the gamer!
Carmen: Yes! She makes the nickname her handle in the gaming episode! There is a pride. At first she felt a bit separated from her family because of her privilege, but then she finds a way to connect to her Cuban heritage through that. The ways we understand racism and racial privilege internal to the Latinx community — the writers really found a way to talk about it and translate that so beautifully to television. That was really striking for me.
Mamí: Yeah, that was a really complicated conversation. And I thought they handled it so beautifully and insightfully. They shed light in a way that allowed people to understand things, without necessarily being on the defensive.
Carmen: So, flipping this around a bit. There's a lot about One Day At A Time that we have in common, we have those mother/daughter connections, and our Latinidad, but one of the things that I love about the show is that it is multilayered. So where you and I may connect on certain things, there is also space for learning experiences.
What I'm leading into is the conversation about pronouns. One of the other Autostraddle Staff Members, Valerie, tweeted that One Day At A Time let her have a conversation with her mom about pronouns and that's why representation matters. I laughed and tweeted, "Me too!" You and I actually stopped the episode to talk about pronouns when it happened. I wondered how that felt for you, to be able to watch it and have a learning experience about LGBT culture and explanations of difference.
Mamí: It's interesting. I knew there was a conversation about pronouns going on — you know, out there in the world. But, it had not walked in to my house directly. The TV show did that. It brought it front and center. It made me curious, it allowed me to have an educational conversation with you that I otherwise wouldn't have had. And that doesn't happen very often in the sitcom world, I think.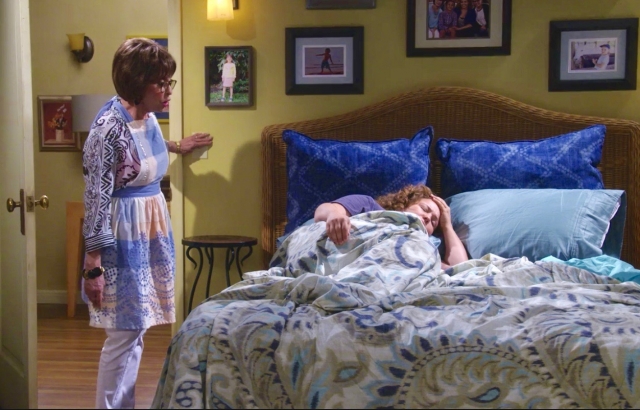 Carmen: I agree! I don't know if I'll ever really get to see a lot of shows that reminds me so much of our culture —  We're Puerto Rican, but their inside jokes are often specific to Latino or Caribbean culture — and still allow us to have a conversation about gender and sexuality that we maybe otherwise wouldn't be able to. I think that's what makes the show so special.
So, then the last question I had… and this is a bit harder for me, but we haven't yet talked about what was the most difficult part of the series for me, which was when Penelope was dealing with her depression. I cried throughout that entire episode. I've talked in little bits about my depression on Autostraddle, but not in a significant way yet, and I guess one of the things that got to me was watching you watch Rita Moreno's character navigate how she can best help her daughter.
I was reading, and one of the things that the One Day at a Time writers discussed was their feeling that in Latinx communities, we still don't talk about depression. I think that's true — I think that's true for a lot of people of color. And I know it's not something that I always feel comfortable talking about. But… I guess I wanted to take their bravery as a moment to be brave myself, and say that's a part of the show that really connected for me — as a Latina, who's in my 30s, who struggles with depression. And as the parent of an adult child with depression, you often have often had to help me deal with that. I wondered how that episode felt for you?
Mamí: That's very hard for me to talk about. It was a really hard episode, for me. Yes, we don't talk about it as a real, life altering, entity in our community… definitely we don't talk about it enough. I think that when people do talk about depression or anxiety, it is perceived as weakness. And sometimes I feel like it's my role to protect you from that.

I connected with the mom… who is just trying to help her child.

That episode gave me a lot to think about. I am still thinking about it. I don't have any answers. But, it was a very, very good catalyst for me to start thinking about what we need to do as a family to help each other through.
Carmen: Ok, we'll stop here. I want to thank you for doing this with me. I love you, Mamí!
Mamí: I love you, too.
Pages: 1 2See entire article on one page