Once upon a time I found myself at a Bushwick loft at 11am on a Sunday morning with the intention of making out on camera with my half-Irish girlfriend for a Scandinavian music video to protest the Russian treatment of gay people. I was there because I was promised fifty American dollars. In short, I was feeling very cosmopolitan, very Carrie Bradshaw.
But I was naive. I knew not what I had done.
---
Odd Jobs
I am very interested in procuring the elusive "odd job," namely something that takes very little effort and pays a lot of money. Clean, in and out type stuff. The fast money that simply does not exist in the real world. Craigslist's [ETC] section is more like "do you want to sell your eggs and/or brandish your smelly feet for perverts at a bar on the LES? "
Incidentally, last May I drunkenly answered an ad to be a "foot model" because they promised thousands of dollars and had a very professional website. The woman I spoke to on the phone, Veronica, made me swear I wasn't a professional sex worker so I felt positive enough to commit to an in-person interview on Saturday. To prepare, I stayed home on Friday night to obsessively Google "foot fetish." When I learned that some feet fetishists prefer small, soft, smelly feet I became overwhelmed with insecurity over my large, relatively benign-smelling hooves. I drank a glass of white wine, then a bottle to improve my confidence. I slept very confidently through my 2pm interview and into Saturday evening. It was one of my better job hunts. Their email is footfetishmodels@yahoo.com if anyone reading is interested in embarking on the exciting world of foot fetish modeling and has smelly, small, and soft feet.
So when I was promised $50 to make out with someone I already make out with, it seemed like a fair compromise to not having to step on anyone's genitalia with my bare feet.
---
"No one is ever on time to these things."
The morning of. Alanna puts her jacket on and then takes it off. She puts it on me. I take it off. She throws it on the ground and changes shirts. I try not to pick my face. In separate parts of the house, we stare at our own faces. I periodically yell the exact time. It is 9:46am. It is 9:48am. Alanna picks up the jacket and puts it back on. She takes it off. We both groan, for different reasons.
It is 9:54am. We have to be there in six minutes. Alanna tells me "no one is ever on time to these things."
I am learning a valuable lesson about fashion time versus human time.
---
Uber
I love Uber more than anything in the entire world, except a Seamless Delivery of a pizza and hamburger buffet. I am no longer allowed to take Uber when I am late because of credit card debt. I called Metroline car service.
It is 10:12am and I watch Alanna slowly lace up her boots, take off her jacket, and put it back on again.
"The car is probably here," I say.
"What do you think of this jacket?" she says.
---
"Kissing, kissing, kissing."
After three hours of waiting (no one is ever on time to these things), the director sits us on the couch amongst three or four other couples. We stare deeply into the camera. I hype myself up. My resting face does NOT look stupid! Look into the camera like it is a lover, NO, a hamburger! Look at the camera like it is a hamburger. Open your mouth because open mouths are sexy! Alanna is giving fire model-type eyes. I am giving tired, hungry monkey. The director decides to shoot our shoes. I vamp my knock-off Doc Marten boots.
I was almost a foot model, you know.
Then the director says, "Kiss." Then in case that wasn't clear, the director narrates it. In a sing-song voice of my nightmares, the director says, "Kissing, kissing, kissing, kissing, kissing" for about five minutes.
"Help." I say.
"What are we doing?" Alanna says. "This is ruining kissing."
The director tells the two straight models in the back to stop hugging and start "Kissing, kissing, kissing, kissing." Everyone in the room chops off their lips and sews thumbtacks on their face instead. No one ever kisses again. I murder my own ears but through echolocation I hear the reverberations of "kissing, kissing" throughout the expansive gallery space so I drink turpentine and lobotomize myself thoroughly with any available object.
---
Brooklyn Fire Proof East
"What's that?" Alanna has spotted a bar through the window as we gaze towards freedom. It is Brooklyn Fire Proof East, which does not open for 12 more minutes. I promise Alanna we can sneak out and get a Bloody Mary when it opens. She moves around impatiently.
"What time is it?"
"It's not open yet." I say.
Alanna remarks on how slowly time is passing. I remark that perhaps she should take off her jacket and try it on again. It is 12:52pm.
---
Dancing
In the infinite stretch of time that lies between not drinking and the Bloody Mary, I notice something horrible. I notice that we are in a music video. Alanna says duh and asks what time it is. I notice now that there is music in the background and that they are taking models to dance in front of the camera. I notice that at the very end of the space there are couches and models are watching other models dance with models on the couches. I am horrified.
"They're going to make us dance." I warn Alanna.
"No, they're not. We're just here to kiss." She stares out the window.
"I won't dance. I will not dance on camera. Do you think they'll make us dance? I can't dance in front of people. I won't do it."
"Good for you. You have to say no to these things. What time is it?"
I explode into a constellation of nervousness and massage my dancing hips. Alanna and I leave to get a Bloody Mary. Alanna befriends the bartender and he gives us free drinks.
---
Love
"I don't want to make out with you on camera any more," Alanna says to me on the way back.
"Me neither," I say.
We kiss.
Alanna and I get our $50 and go back to Brooklyn Fire Proof. On the way out, Roberta's delivers pizza. I eat two slices on the stairwell.
---
Aftermath
Here is our contribution to the video.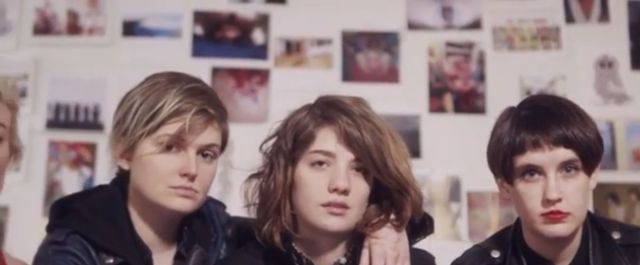 They did not include any footage of us kissing.