NYC LESBIAN NIGHTLIFE: New York Magazine's annual "Reasons to Love New York" issue hits the stands tomorrow and Reason Number #15 is, "for the first time in memory, gay nightlife in New York was dominated by the ladies." That's right, we can stop mourning Meow Mix now. The magazine attributes New York's triumphant rise in Sapphic nightlife, which Team Autostraddle's New York leaders mostly sat out in their rooms, to the "new, Brooklyn-centered sapphic circuit." That's right, ladies,  if you haven't already noticed in The Village Voice's monthly "Choice C*nts" photo gallery, there is a world of wonder awaiting you in Brooklyn (although Choice C*nts itself recently made the move back to Manhattan) and we're not just talking about Cattyshack (which may or may not exist anymore), Metropolitan, Sugarland, and Gingers. Yes leave Henriettas, Cubbyhole, Snapshot, West End, Rodeo Disco, Shescape, Eden, etc behind and go borough, like a groundhog or a lady looking to have a good time.
Despite what Ilene Chaiken may have lead you to believe, there's a great big world out there where no-one uses the word "Glamazon" and everyone has a good time …  some highlights from NY Mag's selections:
Panty Hos: "The original Williamsburg art-dyke dance party. Everyone goes, even if simply out of respect."
Gayface: "An occasional Saturday-night party thrown by D.J. Manhate (yes, Manhate) at the East River Bar."
That's My Jam: "A roving affair that sets down in three bars in Brooklyn. Its original intention, allegedly, was to promote interracial hookups. It seems to be working."
So maybe we'll go out or have a party some time or something! Go New York girls!
WANDA SYKES: Out TV host Wanda Sykes uses her late-night show "The Wanda Sykes Show" on Fox to make fun of the lack of racial diversity on Fox News, which is amazing. (@huffpo)
GAGA: Is Lady Gaga an over-hyped star for the 21st century? This dude seems to think so,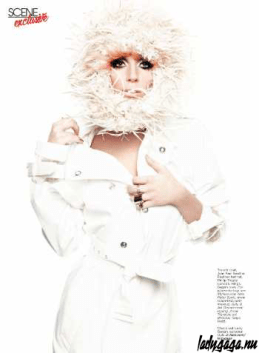 "The wacky dressing screams: "I'm mad, me." But I bet that under all that slap, Stefani Joanne Germanotta – you can see why she changed the name now, can't you? – is actually really boring."
So the backlash has begun from journalisty people too, not just people who don't really dig her style, but from people who claim to be open to digging a style like hers, but discredit hers in particular as being no good.
At least he got one thing right: "But I understand these things now. I think these articles were created in the knowledge that Lady Gaga would one day rule the world, or at least the airwaves." One component of the #TheoryofGaga (coined by Bernard, Casino, Wooley, Choo) is Lady Gaga's mind control — clearly she is taking over the world. Of course it's not really as bad as he thinks, is it? (@telegraph)
And then here's someone who seems to think that Lady Gaga's album The Fame is the most important album of the decade. (@examiner)
WORST MOVIES: The worst movies of the decade somehow includes our editor-in-chief's favorite movie, From Justin to Kelly. (@huffpo)
VIDEO GAMES: Spike's 7th Annual Video Game Awards attract Snoop Dog, Oliva Wilde, and others – read the Technostraddle recap of the event.
LOHAN: Lindsay Lohan is getting sued for false claims, but they don't have a case! She mentioned on twitter that 40 children had been rescued in India, which the Delhi-based NGO says Lindsay was not involved in and therefore they are suing. But that's not what she said in her tweet. I honestly can't believe the world has come to this. (@ohnotheydidn't)
STEPHEN COLBERT: Second City's 'Colbert Report' panel featuring Stephen Colbert – A review. (@nofactzone)
REAL AMERICA: Zack P. is a 21 year-old trying to make ends meet in North Dakota where it's still legal to be fired or evicted for being gay. The Awl put together a benefit calendar full of "preposterous, topical, sexy, poignant, naked, embarrassing and bad photos—sometimes all at the same time" of Zack where all proceeds go to him to be used for protest posters, his new house, or a vacation to somewhere warm. (@theawl)