THEY TOLD US WE WERE GIRLS/HOW WE TALK, DRESS, LOOK, AND CRY
THEY TOLD US WE WERE GIRLS/SO WE CLAIMED OUR FEMALE LIVES
NOW THEY TELL US WE AREN'T GIRLS/OUR FEMININITY DOESN'T FIT
WE'RE FUCKING FUTURE GIRLS LIVING OUTSIDE SOCIETY'S SHIT!
"G.L.O.S.S. (We're From The Future)"
It had been less than two years since G.L.O.S.S. (Girls Living Outside Society's Shit) released their debut EP when they announced that they were breaking up. The EP — simply titled DEMO — featured eight minutes of shredding guitars, blasting D-beats, and nakedly political lyrics about trans oppression and resistance. It was hailed as one of the best hardcore punk releases of 2015. In the short time since that first release, they garnered enough attention to be covered in Pitchfork and Rolling Stone, released a second EP to massive excitement and acclaim, and received an offer from Epitaph Records. In less than two years, the five like-minded punks and queers out of Olympia, Washington were on their way to massive financial success. But their most significant impact was felt not by the larger music community, but by trans women.
It came as a shock to many of us when on September 25th, 2016, G.L.O.S.S. announced that they were breaking up in a post on bassist Julaya's Tumblr. "[W]e need to be honest about the toll this band is taking on the mental and physical health of some of us. We are not all high-functioning people, and operating at this level of visibility often feels like too much," they wrote, typical of the raw vulnerability found in their lyrics. "We want to measure success in terms of how we've been able to move people and be moved by people." By this metric, their success is unquestionable. For those of us who needed a voice for our pain and anger, G.L.O.S.S.'s shouts of rage were a rallying cry, a flag to raise, and a brick to throw.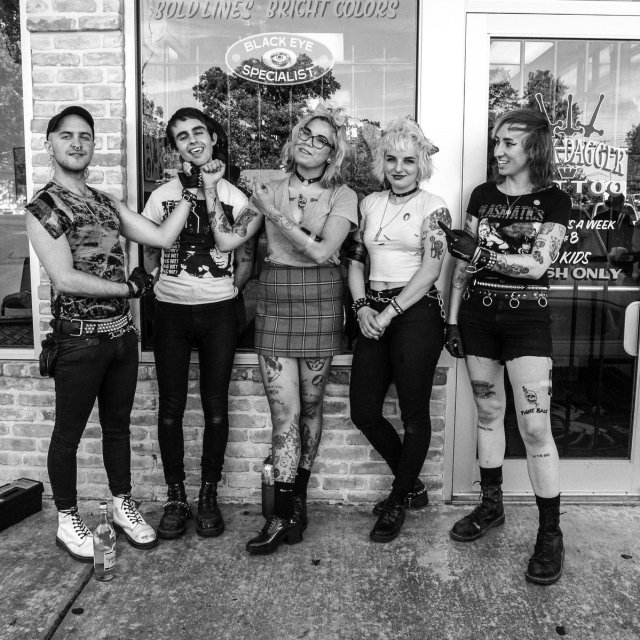 Only recently have trans women been able to find art that speaks to our specific struggle. Before now, we had to make do with art that wasn't quite for us. "I found my voice through Kathleen Hanna [of Bikini Kill]," writer Willow Maclay told me. "But as a whole Hanna never spoke about my concerns with gender, gender dysphoria and depression in a way that I could gravitate towards fully. G.L.O.S.S. are a band that does."
Art made by and for marginalized people is vital. It allows us to connect our experiences with others and empowers us by showing us that we are not alone. G.L.O.S.S. resonated with so many trans women because their songs reflected a lived experience which validated our own.
Vocalist Sadie Switchblade's lyrics were unambiguous about who G.L.O.S.S. made music for:
THIS IS FOR THE OUTCASTS/REJECTS/GIRLS AND THE QUEERS
FOR THE DOWNTRODDEN WOMEN WHO HAVE SHED THEIR LAST TEARS
FOR THE FIGHTERS/PSYCHOS/FREAKS AND THE FEMMES
FOR ALL THE TRANSGENDER LADIES IN CONSTANT TRANSITION
"Outcast Stomp"
"I didn't have to refashion them as being my band," Willow continued. "They simply existed for girls like me. Through their music, they fucking fought for me. Hearing that music at 16 would have been life changing, but even at 23 it shook my foundations."
The fight for the marginalized is at the heart of G.L.O.S.S.'s music. On June 13th, 2016 — the day after the massacre at Pulse in Orlando — they released their second EP, Trans Day Of Revenge. This EP and the timing of its release were a call to action, to fight against the violence and injustice of our oppressors by any means necessary. As Carrie Heckel wrote in their review of the EP for The Le Sigh, "What do you do when your home is violated, broken, set ablaze? G.L.O.S.S. answers: 'We break the cycle with revenge.'"
Throughout their short career, G.L.O.S.S. never stopped encouraging all of us to channel our pain into the fight against the racist, transmisogynist structures which seek to destroy us. Speaking with Bitch Magazine, Sadie summed this up by saying, "Singing in G.L.O.S.S. is […] like weaponizing a lifetime of anguish and alienation." G.L.O.S.S. empowered all of us to weaponize our struggle. They called on us to join together and take up this fight, reminding us that it's also our fight.
FIGHT FOR YOUR LIFE
FIGHT FOR YOUR LIFE
WE'VE GOT TO STAND UP AND MASK UP
AND DRIVE OUT THEIR KIND!
"Fight"
The need for us to join each other in resistance was central to G.L.O.S.S.'s message. Their songs nearly always framed their message in terms of "us" or "we." They emphasized how solidarity is essential to our survival, always reinforcing that this fight belonged to all of us. "G.L.O.S.S. said no and taught us that we can say no too," Willow told me.
I saw G.L.O.S.S. play live in September of 2015 in a sweaty basement with malfunctioning sound. As the band played, I joined the crowd of fellow freaks and queers as we sang or shouted or screamed along to the songs which were so important to us. It felt like we all knew that we weren't alone. I felt as if we were among people who shared our pain, our struggle, our fight.
WE LIVE/FOR NIGHTS LIKE THIS
BASEMENTS PACKED WITH BURNING KIDS
WE SCREAM/JUST TO MAKE SENSE OF THINGS
STUDS AND LEATHER/SURVIVORS' WINGS
"We Live"
G.L.O.S.S. was the band I never realized I needed until I heard them for the first time. They released just over 15 minutes of music in total. In that 15 minutes, they championed queer solidarity, queer resistance, queer power, queer rage. They argued against being passive and called for bringing the fight to racist police, to predatory men, to the entire straight patriarchal world. They proved that we are not alone in our pain, and that vulnerability is not weakness. And they gave a gift to all trans women: a voice with which to scream.