Britain's migrant communities are under attack. Years of austerity measures, Islamophobic fear-mongering and anti-immigrant propaganda in the popular press have put a xenophobic nationalist in Downing Street, brought on Brexit, and resulted in an endless array of abuses and indignities for immigrants, from mass deportations to daily harassment. And the LGBTQ community is undeniably complicit. Racism is endemic on the gay scene and figures from across the political spectrum have long tapped into white LGBTQ prejudices to stoke fears about immigrants, particularly Muslims, as a monolithic, homophobic Other opposed to so-called "Western values." The upshot of this is Milo Yiannopoulos, British blogger and current darling of the alt-right, who uses his identity as a gay man to deflect criticism even as he espouses fascist views.
However, as anti-immigrant sentiment has risen, so has the fight against it. Queers that refuse to allow racism and xenophobia to go unchallenged are standing up for migrants within and without our community. And on Saturday, we filled the streets of Peckham, south-east London, to celebrate queer and immigrant culture and resist the government's immigration raids, detention and mass deportations.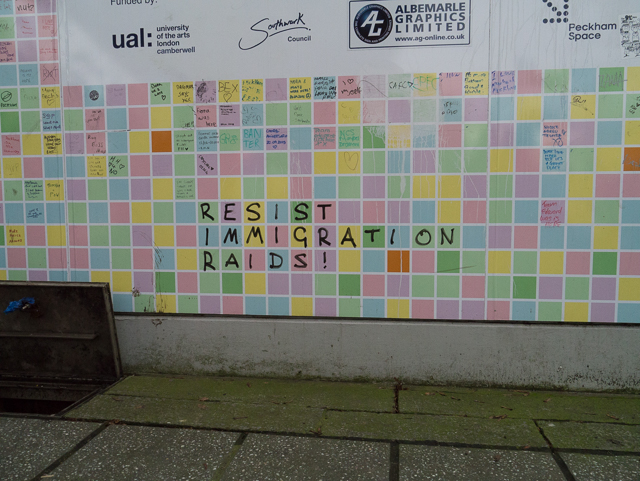 Honouring Pride's tradition of radical protest, Peckham Pride was co-organised by three activist groups: Lesbians and Gays Support the Migrants (LGSM), Movement for Justice by Any Means Necessary and South East London Sisters Uncut. The groups differ in focus, but stand together in fighting for those "persecuted and maligned by the mainstream media."
The day started with a free community breakfast and placard-making session coordinated by the south-east London branch of Sisters Uncut, a feminist collective focused on taking direct action against cuts to domestic violence services. Alongside well-publicised actions like their storming of the Suffragette premiere in 2015 and sit-ins on bridges across the UK, Sisters Uncut have collaborated on a number of protests in support of migrant women.
People soon began to gather at the meeting point outside Peckham Library. Some had personal experience with Britain's immigration system, while others were there to express solidarity and protest wider discrimination against QTIPOC. Members of Movement for Justice, a long-established grassroots organisation fighting for civil and immigrant rights in the UK, posed for photos and spoke to the quickly growing crowd. By the time the march was ready to set off, hundreds had arrived to show their support.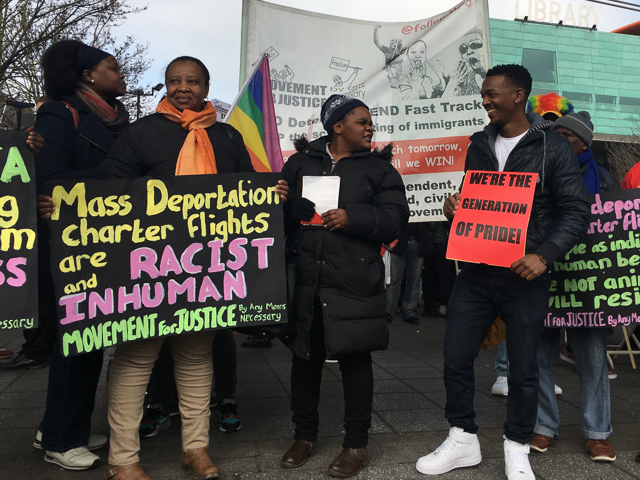 East and south-east London, with their large and diverse immigrant populations, have borne the brunt of the Conservative government's anti-immigration measures; the number of immigration raids in the capital rose by 80% between 2010 and 2015 to almost 11 a day, with Peckham alone seeing 349 raids over the five years. The area is home to one of the largest Black communities in Britain. This makes undocumented residents a prime target for deportation charter flights, secretive late-night flights which have seen thousands of immigrants targeted by nationality, separated from friends and family, shackled, subjected to racist abuse and forcibly removed from the UK.
Many LGBTQ asylum seekers whose claims have been denied – frequently for spurious reasons, such as the recent case of a gay Nigerian asylum seeker who was scheduled to be deported on a charter flight after a letter inviting him to an appointment with immigration officials was sent to the wrong address – are forced onto these flights and deported to countries where their lives are at risk.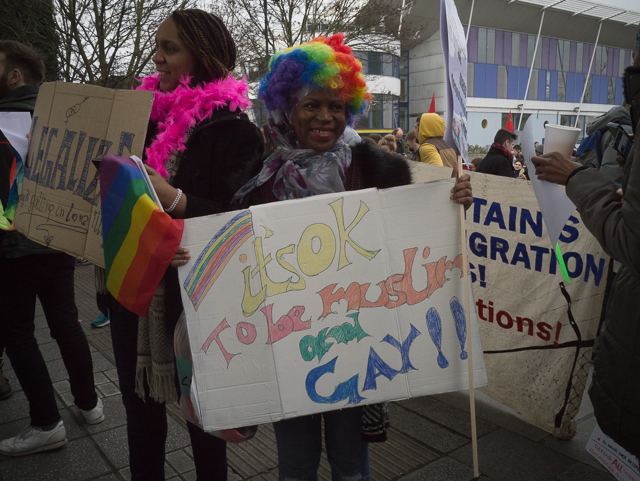 Lesbians and Gays Support the Migrants — the organisation's name is an homage to eighties activist group Lesbians and Gays Support the Miners, and membership is open to all LGBTQAI identifying people, regardless of their sexuality — was formed in 2015 to combat the right-wing narrative that buoys the government's attacks on immigrants and the LGBTQ community alike, as well as provide practical solidarity and support to self-organised migrant groups. "We can't fight for rights in isolation," LGSM member Ida-Sofie Picard told Time Out before the march, "LGBT rights depend very much on migrant rights. We're much stronger united."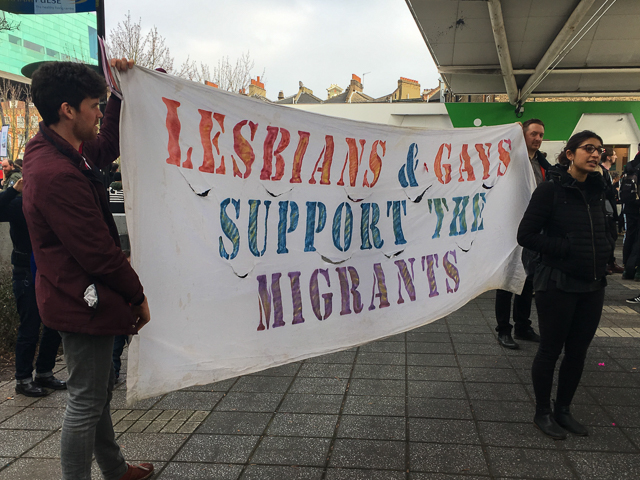 The sound of protest drums joined the typical Saturday afternoon street preachers and market traders as the march made its way down Rye Lane, Peckham's main shopping street. Members of LGSM, Movement for Justice and Sisters Uncut headed the march, leading the crowd in chants of "We are Black, white, Muslim and we're gay" and "Tear down defences and open the borders".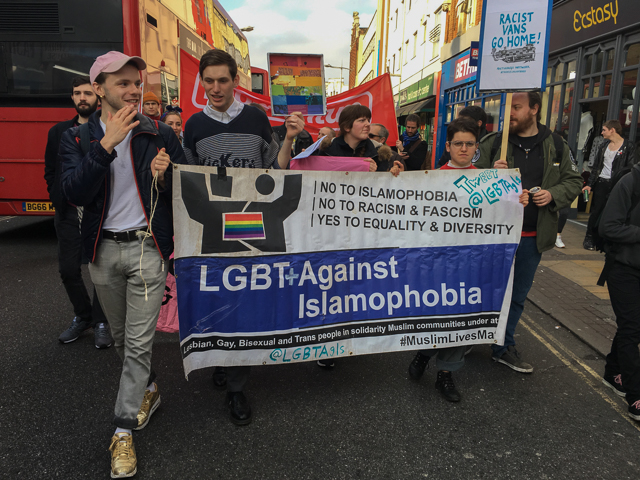 Peckham Pride is part of a rising tide of grassroots resistance to immigration raids across the UK. From Belfast to Bristol, locals have been working for years to protect undocumented members of their community. Peckham itself has seen immigration officials chased away by large crowds when attempting to conduct raids. And the Conservative government's attempts over the past few years to extend border enforcement into everything from healthcare and education to employment and accommodation has provoked widespread outcry, with much of their proposed legislation ending up quietly shelved.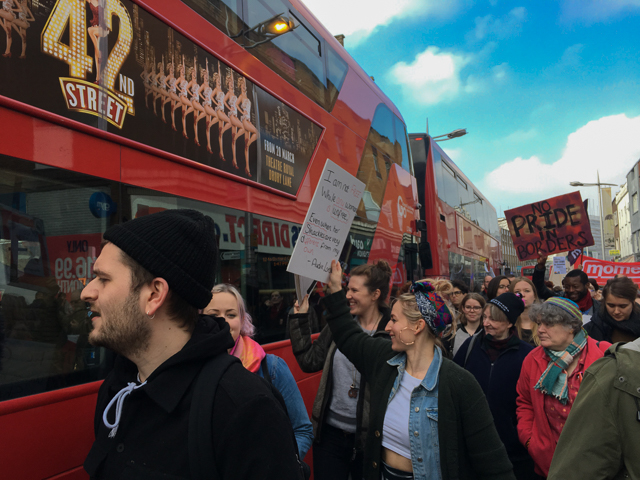 However, Britain remains gripped by racism and xenophobia. Hate crimes soared in the months following last year's EU referendum, violence fuelled by, in the words of a report published last year by the European Commission against Racism and Intolerance, "considerable intolerant political discourse focusing on immigration." Peckham is no exception to this climate of fear and division. Though local shopkeepers and bus drivers stuck in the march left their work to join us as we passed by – two Peckham residents even leaned out their window to shower the crowd with glitter – my girlfriend and I were at one point cornered by an enraged passerby, who took offence at "our lots'" opposition to Brexit. And while most of the march's attendees could be found celebrating at the official after-party, many spent the evening outside Walworth Police Station instead, protesting police racism after a black taxi driver was arrested for reckless driving near the march.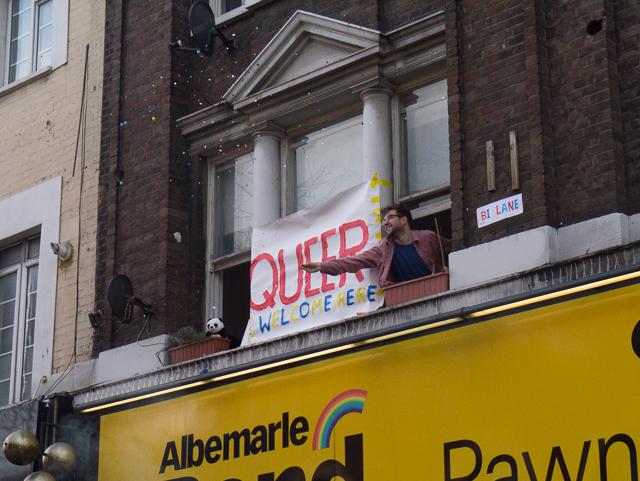 The march finished at a local art gallery, decked out for a free-for-all dance party highlighting QTIPOC and queer migrant performers. The day's message covered the walls, in the form of the giant banner LGSM had dropped from Vauxhall Bridge in January as part of a UK-wide protest against President Trump's inauguration – "QUEER SOLIDARITY SMASHES BORDERS."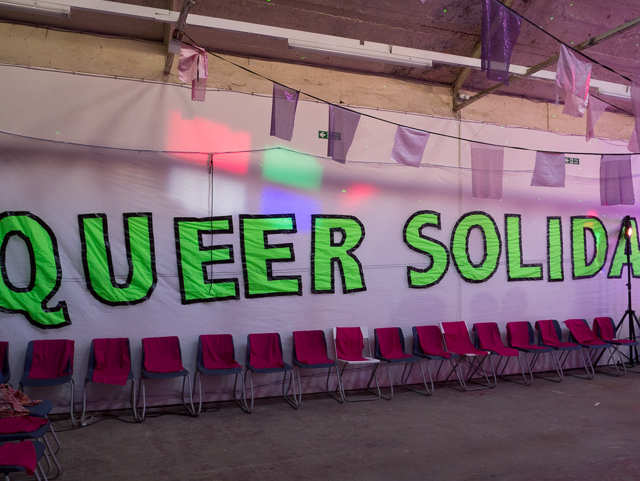 Pride has always been a protest, but that ideal has been lost to many after decades of commercialisation and de-politicisation. Peckham Pride was a vital testament to the power of a radical queer community and a Pride true to the movement's origins. When the far-right attacks, we all suffer, and it's our duty to fight back. Queer solidarity is powerful force – it's time for us to wield it.