By Yvonne and Rachel
On Monday, Baltimore police went to serve warrants at the home of 23-year-old Korryn Gaines — Gaines had a warrant for failure to show up in court regarding a traffic violation, and allegedly a man staying in the home had a warrant for assault. The officer said no one answered his knock, after which he got a key from the landlord but, since the door was also chained shut, kicked the door in. Police report that Gaines was inside with a shotgun, at which point he called for backup. After a six-hour standoff, Korryn Gaines was shot and killed, and her five-year-old son was shot in the arm.
Gaines had recorded police interactions for the sake of safety and documentation previously, and was recording and posting at least some of what she was experiencing to Instagram — until police contacted Instagram and Facebook and had them shut down her accounts. Police say they did so because "followers were encouraging her not to comply with negotiators' requests that she surrender peacefully;" many are concerned that the social media companies' compliance with law enforcement's request indicates a willingness to shut down one of the only avenues private citizens have to leverage their own civil rights in police interactions, as video evidence has proven to be one of the only things that have any chance of influencing legal consequences for violent police officers, and even then only rarely. Lee Rowland of the ACLU said "That law enforcement sought to stop a video feed during this incident is particularly concerning when they themselves were not wearing body cameras… As a result, we only have law enforcement's narrative of what occurred at the end of this standoff." The Baltimore Sun reports that "data provided by Facebook show a steady increase in requests by law enforcement." Instagram has still kept two videos deleted, saying that the violate the terms of service. Two videos are still online.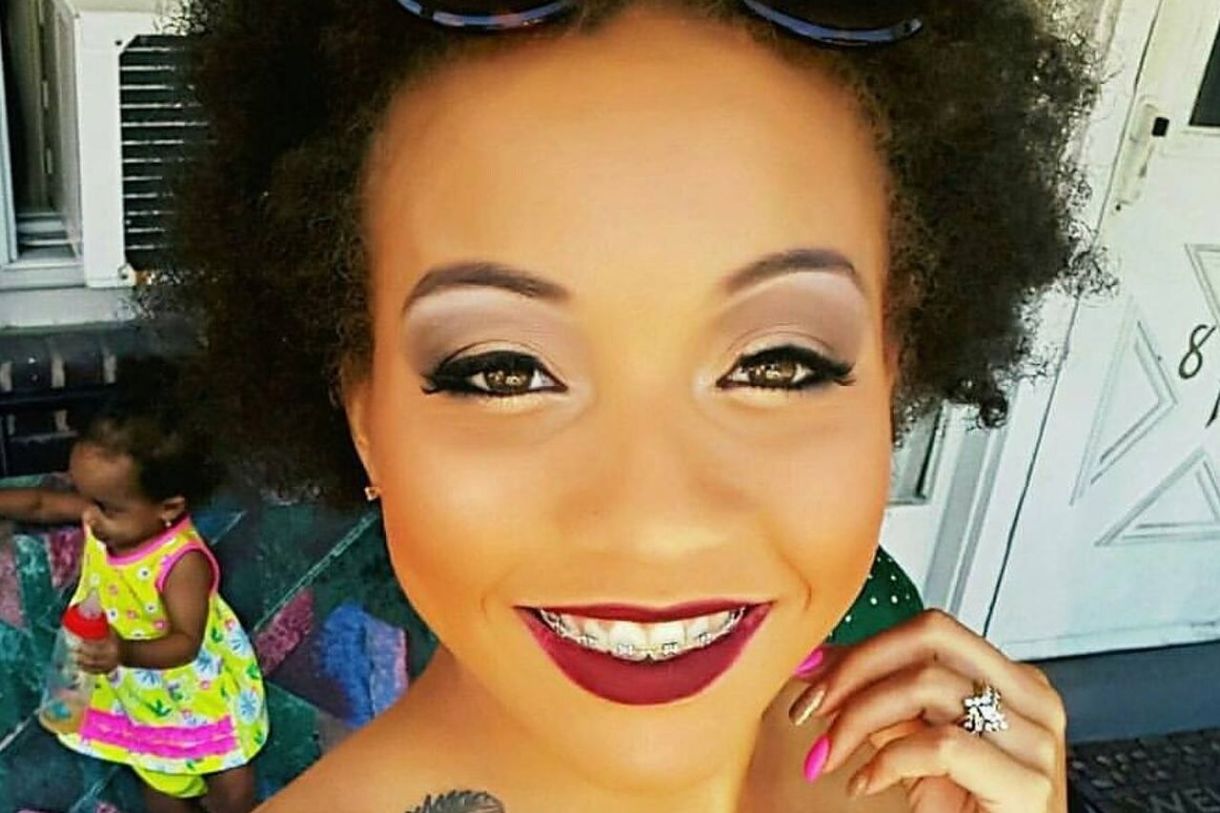 Korryn Gaines' death adds one more name to the long, long list of Black women killed by police, and for many is another frustrating reminder of differences in application of constitutional rights and police tactics — that for some in the US, gun ownership is treated as an inalienable right, and for others it's treated as a justification for deadly force; that armed killers like Dylann Roof and Robert Dear can be taken into police custody without injury, but somehow many Black people who haven't committed a violent crime can't be.
Here's some writing on Gaines' death and violence against Black women to read:
On Korryn Gaines and Black Women Who Dare to be Defiant, by Jacqui Germain
She loved her son enough to teach him not to be afraid, to know the truth of American anti-Black violence and stand decisively against it. She loved her children enough to model resistance as she believed and understood it. She loved her son so much she taught him defiance, just like my parents loved me so much they taught me to comply. The point is—though some of us may have done differently and some of us may have done the same—it does not serve this movement well to demonize a defiant Black woman for defying the very state we seek to dismantle.
Korryn Gaines and the Erasure of Violence Against Black Women, by Muna Mire
Black women have carried movements for racial justice in this country, from the Civil Rights movement, to the gay rights movement and current iterations of Black Lives Matter. It has inspired a weary fatigue in black women who are interested in organizing to resist the violence visited upon us from the state and otherwise. We are literally dying for our communities across this country, and yet we remain unseen. It is tragic that in New York City, where I live, arguably the epicenter of anti-police brutality organizing, I expect that organizers will remain largely silent on Gaines, Quaweay, Stanley-Jones, Whigham, and Mockabee. It has happened before: when a protest was organized for Rekia Boyd, only a handful of people showed up.
Connect the Dots: For Korryn Gaines, Skye Mockabee and Joyce Queweay
Can we talk for a moment about patriarchy? It's not a word that gets used much these days. Somehow, we can see Black cis and trans women being slaughtered with every kind of violence and still not connect the dots. Why don't we know how to talk about this?
These killings which happened basically over the course of a long weeked (Friday to Monday) represent with stunning clarity the structural precarity that shapes all Black women's lives.
---
Law and Order
+ Ohio, South Carolina and Mississippi have implemented "fetal burial" laws, which require patients and healthcare providers to bury or cremate aborted or miscarried fetuses, and Texas wants to pass one. It's another attempt to create a logistical and emotional barrier to abortion access.
+ In case you missed it, former KKK leader and current white supremacist David Duke is running for US Senate, and much like the rest of us, believes he'll be supported by Trump voters.
+ The National Association of Women Lawyers is heading an effort to get the American Bar Association to update its professional codes of conduct so attorneys won't be subject to sexist and racist harassment in court.
Leslie Richards-Yellen, president of the National Association of Women Lawyers, described what she said had happened to a young African-American associate at a firm where she once practiced. "The opposing counsel called her a racially insulting name, trying to throw sand in her face and get her off balance," said Ms. Richards-Yellen, a partner at the law firm Hinshaw & Culbertson. "She called me trying to decide whether she should fight back or stay calm and just complete the job for the client — which is what she decided to do." Typically, women say, they ignore insults or sexist comments for fear of imperiling their careers or being labeled less than a team player.
+ Courts are striking down voter ID laws around the nation, with the most recent big win being in North Carolina, where courts said specifically that the laws "were enacted with the intent of making it harder for minorities to vote." Texas has also agreed to soften its voter ID law in accordance with court rulings.
+ Massachusetts will enact a law that makes it illegal for employers to ask new hires what they were making at their last job, hoping to "prevent women from being stuck in a cycle of low salaries."
+ New York has introduced a new "Blue Lives Matter" bill that would make it a hate crime to use physical force on a police officer. The bill was introduced by Republican Assemblyman Ron Castorina from Staten Island, along with support from Council Member Joseph C. Borelli and NYPD Sergeant Joe Imperatrice, the founder of Blue Lives Matter NYC. Hate crime laws currently apply to attacks based on race, religion, sexual orientation and national origin so if this bill were to be passed, police officers would become a protected class.
---
Police/Prison/Violence
+ Conservative pundits and politicians have claimed there's a "war on cops" in light of the recent shootings in Dallas and Baton Rouge that claimed the lives of several police officers, however data shows that there's really not a "war on cops." In fact, being an officer today is way more safer than it was 30 years ago and compared to other professions, police officers rank 14th in a list of deadliest jobs. In addition, civilians get killed way more often than officers. Police killed 1,500 in 18 months while 305 police officers were killed while on duty in a six year span and a large percentage of those police deaths happened while they were investigating domestic disputes.
+ The situation for Chelsea Manning has become even more dire since late July, when she was hospitalized after a suicide attempt and was cut off from communication with her legal team and had her medical information leaked to the press. She was placed under "mental health observation," which actually prohibited her from talking to counselors, and was charged with "'resisting the force cell move team,' owning 'prohibited property,' and alleged threatening behavior." These charges may result in her facing indefinite solitary confinement, a longer sentence, and losing any chance at parole. She wrote an essay in mid-July that you can read here, you can donate to her legal fund here, and sign a petition for the new charges against her to be dropped here.
+ Paul O'Neal was killed when shot by Chicago police last week; today, bodycam footage of the incident was released to his family, who say that they believe it depicts an execution.
"Watching that video, I feel like that was a tear right down the middle of the relationship between the community and police," [Jedidiah Brown, a community activist] said. "I saw an officer stomp a lifeless body in the back with his foot, while other officers stood over his body and screamed at him to put his hands behind his back. You could tell, watching these videos, that the narrative to cover this up had already begun before anything happened. You could hear officers telling other officers to cut off their body cameras."
+ This is a longform piece about the dynamic between police departments and district attorneys in the form of a profile of one DA, Kari Brandenburg, who decided to charge two police officers in the killing of a Black man, James Boyd, after 14 years of not filing charges in a single police shooting. I'd really recommend reading the whole thing because there's a lot going on in it and there's a lot that it helps illustrate, especially if like me, a lot of your knowledge about DA offices comes from Law & Order.
In the early 1980s, a lawsuit revealed that the Albuquerque Police Department had been keeping files on politicians, judges, attorneys, and other prominent locals. The exact contents of these documents never became public. The department burned the files. In 1987, after a state representative helped defeat a bill proposing an officer's bill of rights, two APD officers left on his desk a black rose and a drawing of a man with a knife in his back. Local officials, led by then-councilor Pete Dinelli, pushed for civilian oversight of the APD in the late '80s. During city council meetings, a row of uniformed officers would stand in the back of the room, Dinelli recalled. The night before a vote for a bill establishing an independent police oversight committee, then-Chief Sam Baca called Councilor Dinelli at home. Baca, Dinelli said, told him to withdraw the legislation. "I do not have control of my police officers after hours," Dinelli remembered Baca saying. "I don't know how they will react to this." (Baca has denied making this threat; the bill passed anyway.)

…

According to Dinelli… [a] rise in police-induced bloodshed was born on August 18, 2005, the day officers Richard Smith and Michael King were fatally shot on the job. In a meeting about the incident, Dinelli said, "I remember Schultz saying, 'This'll never happen on my watch again.' So they trained officers to become more aggressive. It took about five years for all of that to seep into the culture of the department and 2010 is when you saw the seeds that had been planted."
+ Teqnika Moultrie, who lives in the Bay Area, was shot and killed on Austin's entertainment district, Sixth Street early Sunday morning. Moultrie was with her fiancee, Sabrina Rudd, picking up donuts when Moultrie was struck in the head by a stray bullet. Investigators say the 24-year-old suspect Endicott Ishmael McCray was attempting to shoot his brother-in-law on the crowded street lined with bars. Four others were injured during the shooting. McCray was apprehended in Atlanta.
---
On Reproductive Health and Sexual Assault
+ The Boone Family Foundation and the Harold Simmons Foundation each donated $1 million dollars to Planned Parenthood of Greater Texas. The three-year endowment will fund long-term birth control like IUDS and health screenings for disadvantaged women in the Dallas-Fort Worth area. The program will launch in September and expected to serve 1,000 women each year.
+ Six former Baylor University students are accusing the Baptist school of discouraging students from reporting sexual violence, threatening them with code of conduct violations.Baylor's code of conduct does not allow drinking or premarital sex and students can be expelled for the use of drugs or alcohol.
---
Grab Bag
+ In a deeply creepy story, Stockton, CA mayor Anthony Silva has been arrested after authorities found that at a camp for disadvantaged youth, Silva had provided minors alcohol, played strip poker with them, and made both video and audio recordings of it.
+ A piece looking at the people and organizing behind Abolition Square in NYC and Freedom Square in Chicago, occupations of public space in protest of police and state violence. In Abolition Square, organizers demand an end to broken windows policing, reparations for victims of police violence, and defunding the NYPD and re-investing those funds in Black and brown communities. The occupations are in solidarity with related occupations in LA, where Decolonize LA City Hall is encamped, and Puerto Rico, where activists are camping out in protest of the PROMESA bill.
+ A Labor Department investigation has found preliminary evidence that Microsoft discriminated against women employees.