I must start this hard-hitting analysis of the best show on television, MTV's Are You the One?, with a confession: I am a Capricorn.
But with that out of the way… nobody knows how to date! And, no offense, Dr. Frankie does not seem equipped to handle this.
Despite the Black Mirror special effects, the curated matches, and the hope of a million dollars, the AYTO house is more or less like the real world. People talk and drink and dance and flirt. And when they feel a connection they explore that connection and hope for the best.
Also like the real world? Communication is strained at best.
So far we've witnessed the Nour/Amber/Justin drama, the Kai/Jenna/Remy drama, the Nour/Amber/Kylie/Kari drama, and last week Justin/Aasha/Max were doing some of the exact same shit.
The show frames Justin exploring things with Aasha as a sign that he's self-sabotaging with Max. But why?? He and Max just met! Why can't he be emotionally connected to Max and still see if he also has a connection with Aasha? Max gets so upset, he even calls Justin a piece of trash during the emoji challenge! When did they ever make a commitment to each other to justify this call out? But also why didn't Justin just tell Max that he wanted to explore other options instead of blaming it on the game? Acknowledge and communicate your desires!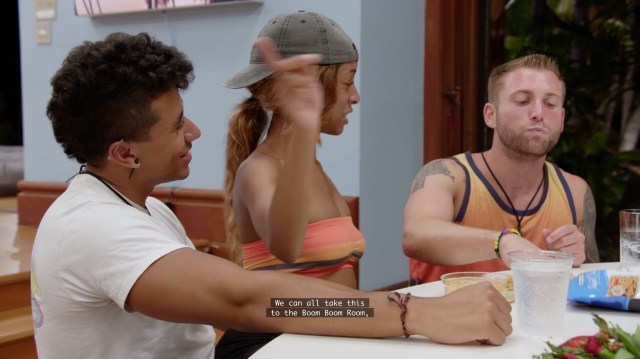 The reason why Nour kissing Kylie was so wrong wasn't because it would be wrong to kiss Kylie (truly who would not want to kiss Kylie). It was wrong because she and Amber communicated to each other that they would be the reality TV version of monogamous. Nour asked Amber to not kiss anyone on her dates and Amber didn't! And then Nour turned around and changed the rules for herself.
But no one else in the house established those kinds of boundaries. So why is Kari mad about the kiss and the fivesome? Jealous, sure. People can't control their feelings. But they can control which of those feelings they interpret as a moral failure on their crush's part and which they process privately or with a close friend. And by close friend I, of course, mean another stranger in the house who might be their soulmate.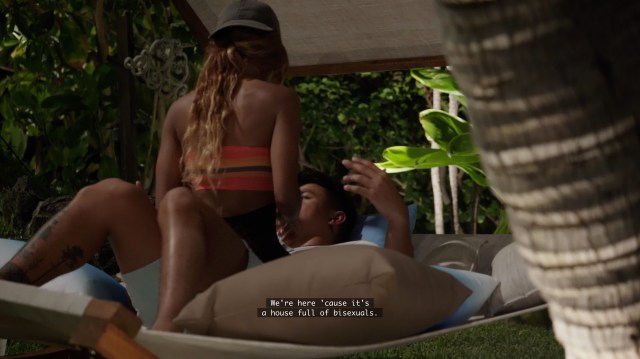 Everyone on AYTO seems to have two settings. Either they're madly in love with someone and want to immediately be exclusive or they claim to be madly in love with someone and then recklessly fuck around.
The only person in the house who knows how to date is Gemini moon heartthrob Remy. He makes no promises, is upfront about who he is, and he's actively trying to get to know everyone in the house. Then again, we're heading into episode six tonight and there are no signs of him forming any real connections.
Maybe part of putting yourself out there is accepting a certain amount of confusion and selfishness. Maybe it's unreasonable to expect everything to be communicated when people are basically strangers.
Maybe it's actually my Capricorn ass that doesn't know how to date.