It's time for Movie Night, where we choose a movie based on any number of variables and feelings, create a themed menu to match, then spend Friday / Saturday night eating these foods and watching these movies!

THE MOVIE
Y Tu Mamá También
[ buy me ]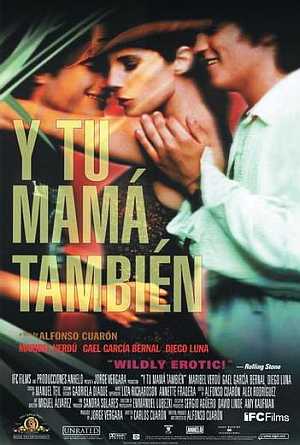 Synopsis, from imdb:
In Mexico, two teenage boys and an attractive older woman embark on a road trip and learn a thing or two about life, friendship, sex, and each other.

"He really fell in love with me."
"Who wouldn't?"

One night when I was in China and possibly under the influence, I decided that if I could learn Chinese then I could teach myself to speak Spanish. I have a leg up, you see, because I already speak French, which means I practically speak Spanish as well. Surprisingly, the next morning I was still convinced this was a good idea. How was I going to teach myself Spanish? Well, obviously, I was just going to listen to a lot of Spanish music and watch Spanish movies and then, you know, I would just acquire the ability to speak it myself.
What is even more surprising, however, is how terribly this plan is going. I've been back from China for a month now and I still don't speak any Spanish! Anyways, so as part of my teaching curriculum, I have to watch some Spanish movies. Which is why tonight's movie is Y Tu Mama Tambien and the meal plan is "Mexican." It's Mexican night!
I almost watched this movie without subtitles, but then I wouldn't have been able to tell you what happened at all. Subtitles are key, even if you speak French.
"At 4 AM Julio vomited in the street. Around 5 AM, Tenoch smashed his headlight on the way home. At dawn, Saba had his first experience with group sex."

I had a vague idea of what Y Tu Mama Tambien was about. I knew it won some awards, was possibly a commentary on present day (2001) Mexico, and Gael Garcia Bernal was in it and I love him. But for a good 20 minutes at the beginning I kept thinking, "ohmygod, I can't write about this for Autostraddle, there are way too many penises hanging around." Literally. There is a lot of nudity (men and women) and sexual content in this movie. There is also quite a fair bit of homophobia, but if you haven't seen it yet, I still think you should give it a chance. The nudity and sex scenes are well done, and the homophobia is justified and in character (surprise! Gael Garcia Bernal and Diego Luna share a special moment).
This is not just a movie about sex. It's about friendship and growing up between two young men in the summer between high school and college. It's also about class differences in Mexico, as the two boys come from very different families. I probably would have grasped this more if I knew Mexican culture better.
"Julio couldn't understand what he was feeling – it wasn't rage. The only time he had felt this pain in his stomach was when he was 8 when he woke up thirsty one night, and on his way to the kitchen, found his mother in his godfather's arms."

It's not so much what these characters do but rather what they say. The dialogue is key to the movie, which is why I'm glad I watched it with subtitles. There's one scene while they're in the car where Julio and Tenoch are teasing Luisa about an old boyfriend – there's laughter and the mood is light, they are bantering, and then Luisa reveals something that's the complete opposite of what you might expect and the mood changes so fast. It was one of my favourite parts of the movie; it felt so real and honest. All of Y Tu Mama Tambien was like that. It was set up like a raunchy male comedy, and probably would have been that if it had been made in Hollywood, but the characters were so layered and interesting and the story so raw that it was anything but your typical Road Trip Movie.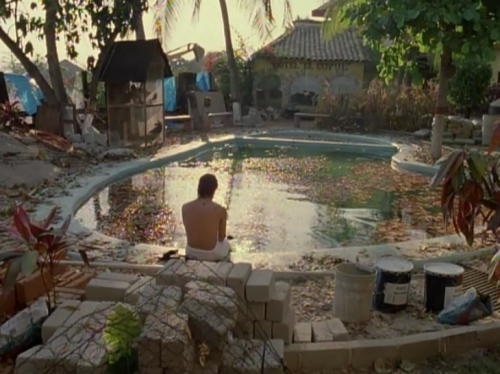 Luisa: You slept with his girlfriend?
Tenoch: This asshole also fucked mine!
Luisa: What about number 3?
Julio: Number 3?
Luisa: Your manifesto, not to screw each other's girlfriends.
Julio and Tenoch: That's number 5!
Definitely you need to see this movie right now. Don't be put off by the penis aspect, it's a bit shocking at first but in my opinion, part of what makes the movie so real.

THE MENU
Enchiladas
Guacamole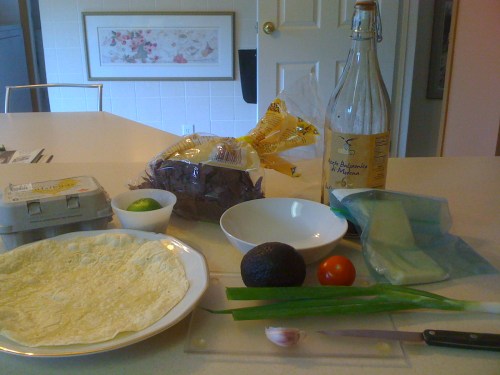 for the enchilada:
+ large tortilla
+ cheese
+ salsa
+ green onion
+ 1 egg
+ chicken/some kind of meat (optional)
+ salt and pepper
Preheat the oven to 350 F.
There are many things you can put in an enchilada. If you're my girlfriend then you hate beans, so you'd probably prefer a zucchini enchilada. If you're me then you hate zucchini and want to replace it with chicken.
In my enchilada I fried up an egg and cut up some leftover steak and threw it in there. Enchiladas are actually really easy to make and don't take much time at all. Put your stuffing in the middle of the tortilla and then roll it. What I do for the rolling part is fold the top and bottom ends (I know it's a circle but just pretend) and then roll it right to left like you're rolling a poster. The loose end should be at the bottom so it doesn't open up.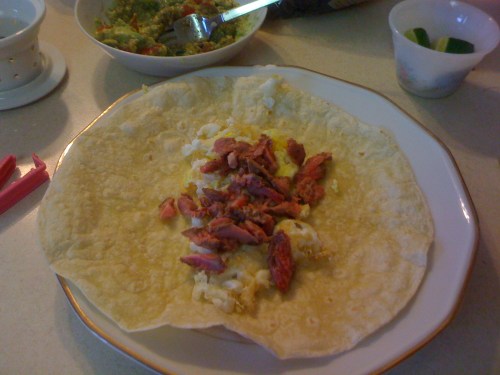 Pour the salsa on top and then add some sliced cheese. I used cheddar, but a grated "mexican" mix is obviously good too (I think I bought a package of that once?).
Stick it in the oven for about 5 to 10 minutes or until the cheese is completely melted or until it catches fire. I use a toaster oven and anything longer than 5 minutes starts to burn.
Put the green onions on top!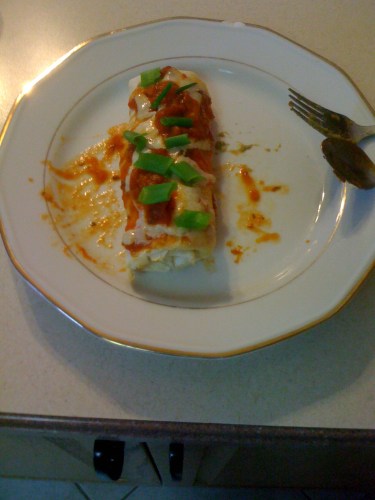 for the guacamole:
+ 1 avocado
+ 1 or 2 baby tomatoes
+ onion
+ garlic
+ lime juice
+ cilantro
+ salt and pepper
+ balsamic vinegar (optional)
+ chili flakes (optional)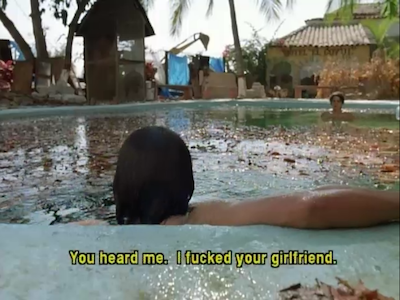 Guacamole is also easy to make. Really good guacamole is probably harder and requires more cooking talent than I have, so we'll have to settle for just decent.
Slice open the avocado and mush it around in a bowl until it's no longer solid. Cut small pieces of tomato and onion and add that in. Throw in the garlic (all chopped up). Add cilantro, lime juice, salt and pepper. I like balsamic vinegar with mine so I always add a bit of that, as well as some chili flakes to spice it up. Mix and eat with tortilla chips!
To complete the meal, drink a Corona or 3.

Have you ever seen Y Tu Mama Tambien? Do you have feelings about it? Share them!