Welcome to Movie Night! Where we choose a movie based on any number of variables and feelings, create a themed menu to match, then spend the night eating these foods and watching these movies! It's an uncomplicated but promising plan.
This movie night is inspired by friendship! Friendship is so in this season. The first time I watched this movie was on an actual movie night with my best friend who I really needed some time with. The last time I watched this movie was on another actual movie night with my best friend who I just moved really close to! We all love early-2000s kitsch. We all love all-girl bands. We all love whiskey. And everybody loves whiskey girls. This movie and this activity are all of these things. Fuck yeah.

THE MOVIE
JOSIE AND THE PUSSYCATS
[ buy me ]


Synopsis, from imdb:
For years, the record industries have inserted subliminal messages into music so that they can turn teenagers into braindead zombies who do nothing but buy, buy, buy. And whenever the musician or band finds out the truth, the record company silences them to keep the truth from coming out. When the hot boy band DuJour discovers this, their manager, Wyatt Frame, under his evil, corrupt boss, Fiona, has the plane they are flying in crashed and him looking for a new band to use for their evil schemes. Enter Josie, the ditzy Melody, and the tough Valerie, from Josie and the Pussycats, a small band who wants to make it to the big top. When they are discovered by Wyatt, they give in and become big rock stars. But will they find out that they are just pawns for the record industry or will fame take them over?
Real talk: this movie came out in 2001, and I hadn't seen it until last year. Like, late last year. I had just moved in with my best friend/bro, but somehow we never had time to see each other. She proposed a movie night featuring Josie and the Pussycats, a catchy, poppy movie about a small town girlband and heartwarming, everlasting friendship. Also! It's about consumer culture and the record industry and beauty standards and being a loser in high school. AND it's funny. Basically, I am trying to date this movie.
I'm not sure if Josie and the Pussycats is officially considered a musical, but regardless of the fact, there's a lot of music in it. And it seemed like that would be a problem, because for me, there's something about watching musicals in the company of others that always makes me slightly nervous. Like, I don't know what to do when the music comes on. Do I pretend like it's just like any other part of the movie? If I know the words, do I sing the words? Do I dance? DO I CLAP? Usually I just smile and shift and maybe move my shoulders a little. Also sometimes I sip my drink and try to let go of what a truly crazy person I feel like for feeling nervous about musicals. Josie makes me feel a little better about this because it's just fun. And it's cute, and it's self-referential to the point where you don't feel alone in knowing that this is a musical based on a comic book.
Alexander: You know what? I still don't understand why you're here.
Alexandra: I'm here because I was in the comic book.
MGM should consider re-releasing Josie and the Pussycats under a new title, perhaps Shit Lesbians Loved About the 90s, most notably: Rachael Leigh Cook with wind in her hair, Rosario Dawson as a badass, Tara Reid as a ditz, Alan Cumming and Parker Posey as misshapen, lisping villains, ice sculptures, frequent use of the word pussy(cat), boy bands, lesbian innuendo, an underdog spirit, Carson Daly, leopard print and of course, everlasting friendship.
The first time I got drunk while watching this movie with my friend, we ended up at a gay leather bar afterward. You can do anything!

THE MENU
CHERRY WHISKEY

Do I look like the kind of girl who's going to stay at home and cook for you? Actually, the truth is, I really would. I just don't know how. So here's dinner:
1. Pick up the phone
2. Order a pizza, ask for some veggies on that shit, maybe some goat cheese.
Do this before you start with the whiskey, lest you desire to find yourself at 1 in the morning pantsless and drunk receiving several extra large pizzas with extra extra toppings that you requested emphatically and repeatedly over the phone, tipping the delivery driver $20 because he had to come all the way out to your apartment.
Now that that's out of the way, let's move on to the main event.
This past month I turned 22, which is a big upgrade from when I turned 21 and started drinking in public. Because I am an extremely mature human, I felt like I wanted to look and act classier than all the other 21-year-olds at bars, which basically led to a lot of silly Maker's Mark experiences. The result of this, I found, was not discreet maturity but rather 'small lesbian trying to look like an old man.' And, more importantly, it was pocket-emptyingly expensive. Somewhere in the midst of this I was reminded by a bartender friend something I had long forgotten: Jim Beam is the shit. It's tasty, it's cheap, it's fun, and you can mix it without being wasteful.
And, it fucking comes in cherry.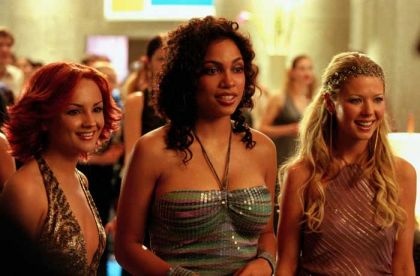 Josie: If I could go back in time and change everything back, I would!
Melody: That's really cool. If I could go back in time, I would want to meet Snoopy.
The idea for tonight is a mixing challenge combined with a drinking game. I am no bartender. In fact, I have done some terrible things to liquor in the name of trying to look like a fancyass. And so instead of drinking one sort of embarrassing drink all night long, we hit the bodega and bought several different mixers in hopes of finding something tasty. The challenge: never drink the same drink twice. It's like science!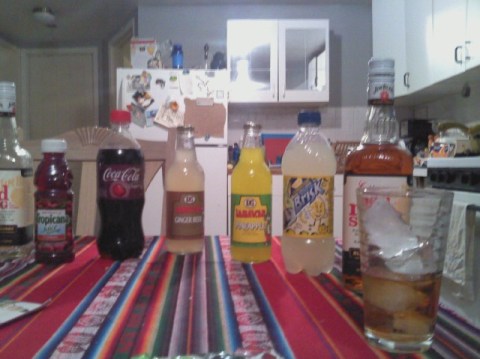 The following were found by majority agreement to have been the most successful of the night:
Ingredients
Jim Beam Red Stag, or the cherry whiskey of your choice
The mixers
ginger beer
lemonade
cranberry juice
pineapple soda
limes
Cherry Coke
soda water
I tried to name these in a way that was cute and maybe movie-referential, but it kind of just ended up being a mixed bag of nuts, which might go well with your drinks.
Spin Around
1 part cherry whiskey
2 parts ginger beer
soda water
Add whiskey and ginger beer over ice because you don't have a shaker. Add soda water to taste. Throw a slice of lime on it, 'cause you're classy.
The Pussycats
1.5 parts cherry whiskey
3 parts lemonade
splash cranberry
soda water
Mix all that shit together in a glass with ice in this order: liquor, lemonade, cranberry. Add soda to taste.
The Ricky (actually, a real basic drink that I think everyone should know about)
2 oz. cherry whiskey
1/2 lime
soda water
Muddle half lime in glass. Add whiskey and seltzer to taste. Shake and serve over ice. Mhm.
The College Freshman
1 oz. cherry whiskey
2 oz. Cherry Coke
Take a shot of Red Stag and chase with Cherry Coke before you can taste anything but artificial cherry flavoring. Bonus points if you're drinking the whiskey out of a water bottle.
The Game
Take a drink every time there is a product placement in the movie. If you've seen the movie, you know what I'm talking about. If you haven't seen it, you'll see what I'm talking about, and I can't wait to hear it tomorrow morning over brunch!