UNITY Michigan, a coalition of six pro-gay groups in Michigan, recently began a campaign to draw attention to one big inequality in their state's employment discrimination laws:
"We want to warn Michiganders that coming out may cost them their jobs," said Jon Hoadley, director of the UNITY Michigan Coalition. "Our state still does not protect gay and transgender people from employment discrimination."
The campaign, called "Don't Change Yourself, Change the Law," is working to raise awareness of Michigan's lack of LGBT-inclusive employment policies. The campaign is not focused on a specific piece of legislation, since no employee protection legislation exists in the state's legislature right now. Instead, the focus of the campaign is finding the best solution for the problem:
"The key point about this campaign is to say 'we know that the problem is that discrimination occurs and we want to find the most appropriate way to make sure that gay and transgender folks are protected in the law."
It is also focused on Michigan House Speaker and the state's Civil Rights Act:
…the Unity Michigan Coalition is calling upon House Speaker Jase Bolger to amend the Elliot-Larsen Civil Rights Act, passed in 1976 to protect Michigan residents from employment and housing discrimination on the basis of race, sex, religion and national origin. As part of the campaign — which was timed specifically to coincide with National Coming Out Day (Oct. 11) — coalition members are urging Bolger to update the law to include protection for LGBT workers.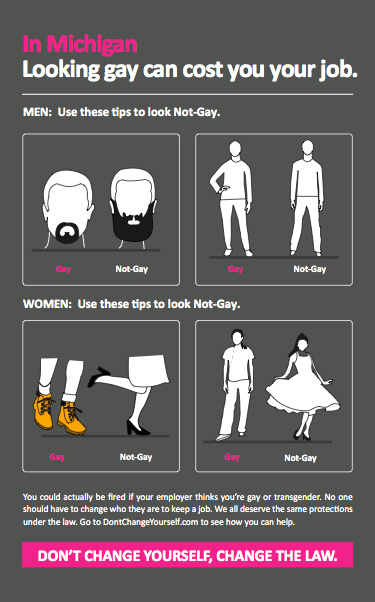 "Don't Change Yourself, Change the Law" uses both humor and real-life examples of employment discrimination to draw attention to this problem, including checklists of how to not look gay at work (which are hilarious) and stories from Michiganders who lost their jobs because of their sexual orientation. It's a little unusual as far as campaigns go,  in that it's somewhere in between the general "awareness" movement and a specific demand for change. The hope is that raising awareness around the issue will help open up a conversation with state legislators and figure out a way to move forward — to "tell Speaker Bolger to change the law." There's no telling how long that might take, but hopefully at least Michiganders will know that they need to be careful until that day finally comes.