What can I say about Shania Twain? She's been a feminist icon since the early 1990s. She's Canadian. In 2002, she released her album Up! in three different versions: red (pop), green (country), and blue (in the style of Bollywood).  She claims to have learned about performing from singing in bars as an 8-year-old to help pay her family's bills. She sang for Hillary and Bill at the 1996 Presidential Gala! And the girl has style.
Shania's experiencing a renaissance right now with me and my gal pals. A #twainaissance one might even say. And why shouldn't she? Even though she's probably cozied up in Canada somewhere unaware of the impact she's having on the hearts and souls of LGBTQ+ folks everywhere, it doesn't mean we shouldn't honor her with our costumes this Halloween. I present some of her best looks for you to replicate this holiday. Honestly, do them all.
---
Shania in Vegas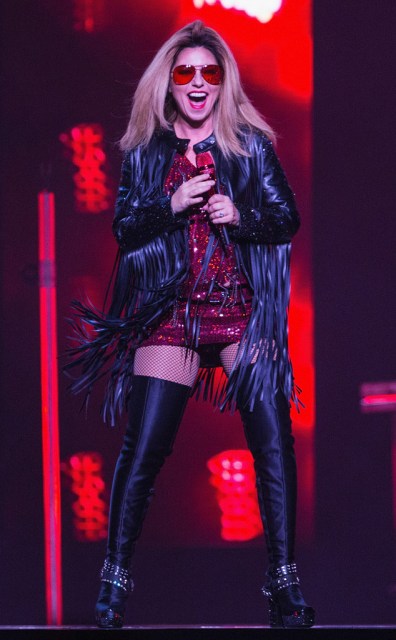 For this look, dip into your club wear and pull out your favorite short red dress and thigh-high boots. For the jacket you've got a couple of options: 1. Own a leather jacket with fringe and wear the hell out of it. OR 2. Cut up an old flogger you don't use anymore and staple the straps to a black jacket. Throw on a pair of aviators, and a black water bottle as your microphone and someone's boots will be under your bed tonight!
Beyoncé who??? Shania is the queen in this outfit that you can easily recreate with a simple leotard and some construction paper (for the angular parts). I mean, you could go out and buy some sort of chest-plate contraption, but you could also do some really awesome work with spray paint, glitter, and rhinestones. Once again, bring out your thigh-high boots. They really are a staple for her Vegas-wear. Add long black latex gloves so that when you want to touch a cutie and get up the courage to ask, you'll be prepared for her to say yes.
---
Monochromatic Shania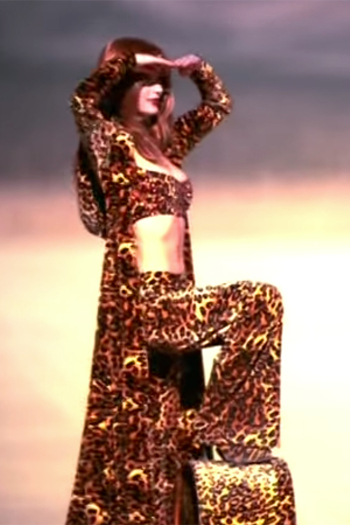 The 1990s were a decade of trying new things, and Shania went all in when she tried something new. Recreate this fashion-forward all-cheetah ensemble by digging into your pajama drawer. Come on, we've all got a bunch of cheetah lingerie lying around, and now it's time for you to gather it all up and make a costume out of it. You'll also need a cheetah bathrobe or long coat situation. I believe in you. Also be sure to tell every single man that you see that no matter what they say or do, they don't impress you much.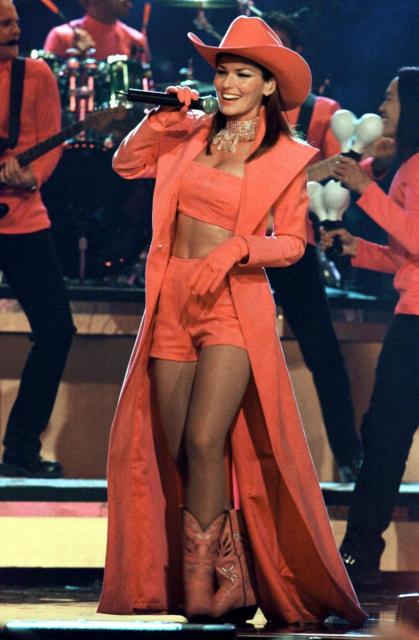 The 1998 Country Music Awards were a wonderful place to be, if only because of this gem of an outfit. Listen, I'm really not sure how to make this work except lots of thrifting, or tie-dying some clothes orange. You can DIY the choker — a little crochet work should do the trick — and borrow your country cousin's cowboy boots. Shania loves these long coats, and in turn, so shall you. Do you have an orange snuggie? Now's the time to pull it out of storage.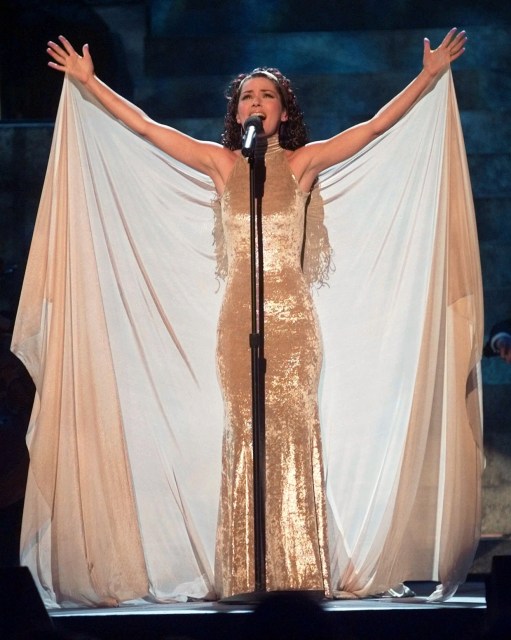 This one is easy. You need a sheet, or maybe a curtain, and either a long gold dress or another sheet/curtain wrapped around your body. Keep them in the same color family, for monochromatic drama of it all. Honestly, a velvet velour jumpsuit could do in a pinch, if you had one. It'd give the same sort of effect and would probably be more comfortable for an all-day costume type situation.
---
The Best Of Shania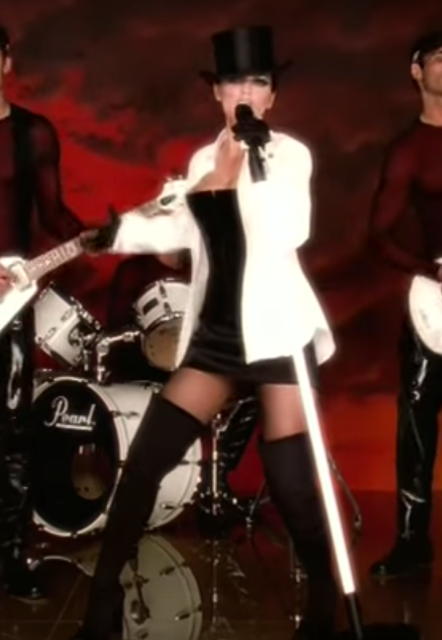 It's right in the lyrics, y'all. All you need for this classic look: a white "man shirt", and a short skirt (or a very long skirt pulled up to look like a tube dress (or just an actual tube dress). Add that top hat that you've got hanging around and some boots. Be sure to keep telling people how much you feel like a woman all night long.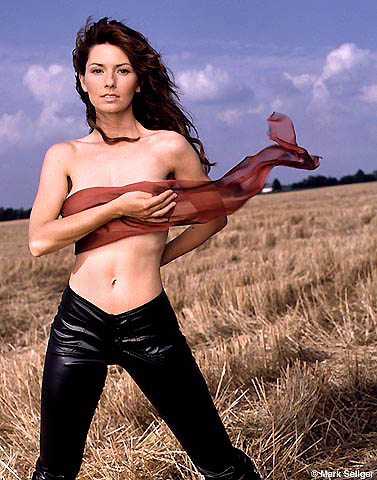 This look is my favorite look. It's the easiest to pull off, and the most difficult to keep on all night long. You don't need much to pull this one off. In fact, all you need is a pair of black jeans or leather pants. Free your tatas for the evening and just gently drape a scrap of flowy cloth along your upper body. Depending on how you feel about showing off your nipples, you'll probably need to keep your hand over your chest all night long, but it's worth it to pull off this iconic look.
---
Throughout the ages, Shania has been teaching us about consent, how to feel like your best self, how to be sexy and sex positive, assertive, and she's been doing it with style. This Canadian beauty has found her way into our collective hearts. Let's light up her Instagram with photos of us dressed as her at all her best moments. Just because we missed her last tour doesn't mean we have to miss out on this opportunity to give her the honor she deserves. Be a winner. Be a star. Be happy to be who you are. But also this Halloween, try to be Shania. Because she's a queen.