Usually, this is a recipe column — one drink a month. But I spent three weeks in August traveling Iceland and Scotland, so to quote Monty Python's Flying Circus: now for something completely different.
No, whiskey kitten, that's not actually where the whiskey comes from. Whiskey can come from a lot of places around the world, each with their own particular practice and flavor and soul (and opinion on whether or not it's spelled with an "e"). Scotland, you may already know, is one of those places. Those places from which the whisky flows. Specifically Scotch whisky—often characterized by a smokey flavor that comes from malting barley over burning peat. What you may not know is that each region in Scotland actually has a different character and that each distillery within each region is different still. The peaty quality? Well. I visited a region in Scotland well-known for being extra special peaty, given that it was the only fuel source for a while there. And that region is an island in the Hebrides called Islay (pronounced EYE-luh).
To get to Islay, you take the rental car that's backward from what you're used to and isn't causing you any anxiety at all, and you park that rental car on a ferry while seafaring Scottish folks laugh at you. Then you take a two-and-a-half-hour ferry ride to an island that looks and feels like heaven. Maybe it was just in my head, but the second I disembarked, I could smell whiskey on the wind; on this small island, there are eight Scotch whisky distilleries. I visited three of them, all within a couple miles of each other: Ardbeg, Lagavulin and Laphroaig (whose 2015 200th Anniversary Cairdeas we tasted at an A-Camp whiskey tasting). Here's what I learned.
---
Stills Look Like Butt Plugs
I've visited a lot of breweries and one cidery, but actually never a whisky distillery of any kind. I sure picked a hell of a way to start. That up there is a still at Ardbeg Distillery. All the stills sort of have this vague butt-plug shape, but of the three distilleries I visited, Laphroaig's had the most butt-plug-esque shape: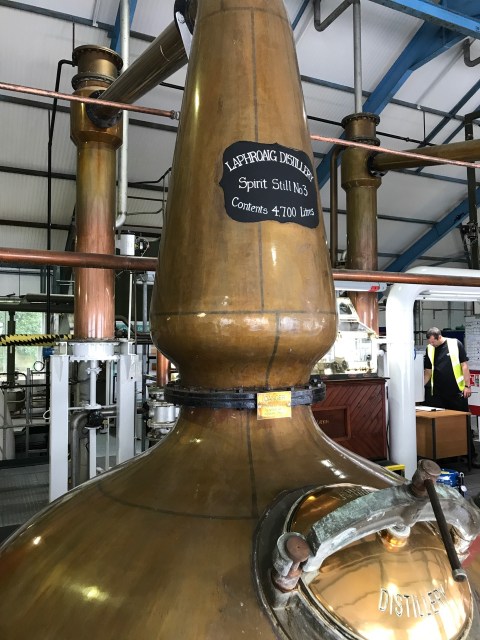 Now that I have that out of the way—
---
Process Is Queen…
It isn't just recipe. Whiskey is really only made of three things: barley, yeast, and water. The steps were identical at every distillery. First, you malt the barley, then you crush the barley, and you put it and yeast together with some water. You let the yeast do its yeasty thang and you get something called wash, which I tasted everywhere. It's basically a beer, but like a warm yeasty beer that very few folks would want to drink much of. Here is what I look like tasting wash at Laphroaig:
Then from there, it's drained and the spent barley is fed to cows. The liquid bits are distilled the first time into something called low wines. You wouldn't want to drink this either; it's not refined yet. When it gets distilled a second time, that's when it starts to be called whiskey. But truly, you wouldn't want to drink that yet either, because it really gets to be whiskey when it's aged in barrels. A popular barrel on the island seemed to be American bourbon barrels from Kentucky, actually, but I saw a lot of sherry casks as well. Those barrels then chill there for at least eight years. And THEN you've got whiskey. That's it. That's literally it.
But it's far more than the sum of its parts. There's an alchemy of each individual distillery's attitude about things, and the workers who've been there 40 years with their hands steering the wheel. As you can see in the last section, the above stills are really only slightly different from each other. But it's these subtle differences that make each of the distilleries so vastly different from each other. Ardbeg uses a purifier on their stills; Lagavulin wants as little contact wth the copper on the still as possible; Laphroaig wants as much contact with the copper on the still as possible. Of the three, Laphroaig is the only distillery that floor malts a portion of their barley (10-20% of it), and the other two use Port Ellen Maltings. Floor malting looks really cool, by the way. Here's a bunch of barley germinating before it's ready to get smoked dry: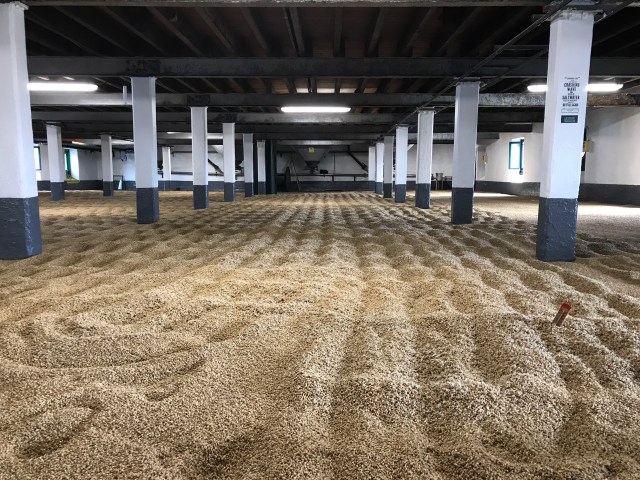 And if you think that borders on strange spell-casting—
---
…And Place, Even Moreso
Ardbeg stores their entire inventory on site at their distillery while it ages. There are barrels everywhere. Laphroaig stores most of theirs as well. In fact, I did a really long, four-and-a-half hour tour at Laphroaig where I got to taste straight from three different casks.
Our guide, James, basically said that if there's one thing he could impress upon us in an afternoon, it's the importance of place in taste. So when I tasted out of the casks, he made sure to describe the warehouses in which they were stored — whether or not they got wind off the sea, things like that. If you think about it, that barley gets turned for days while it germinates and it's exposed to the open air. All sorts of wild yeast, pollen and such — it all must be in it by the time it's smoked. The barrels carry with them the taste of the last thing in it, but also the rainwater from whence it came; there's no way to sterilize wood. Yeasts and pollens will be in the barrel as well. You can't get those sorts of things except by being there. There's a magic to roots, I think.
---
Cutting Peat is Hard
Seriously. Laphroaig uses hand-cut peat in their own maltings because it's more sustainable and it's also smokier (handcut retains moisture better). Two people just go out there and cut it. I watched our guide James cut it. And then I tried to do it and I've never felt more like a donkey doing the Macarena. When I think about the price of whisky having seen how fucking difficult everything is to do, I'm basically like HERE YES TAKE MY MONEY.
---
More Folks Who Aren't Cis Dudes Need to Work in This Industry I Think?
This isn't to erase the plenty of women working in the industry who I've met and spoke to. On this trip specifically, I had a fabulous tour guide at Lagavulin named Karen! But I didn't meet a single person who used pronouns outside the binary and, on the Ardbeg tour, our guide kept using the word "men" to describe all the workers because that was true. I think this industry would be perfect for the queers I know and love. As queer folks, we often get shafted on a lot of tradition. It's either directly oppressive or it's just plain inaccessible to us. The tradition of distilling feels like a blanket on me, friends, it does. It's a process, a meditation, a way to connect with what's been done for hundreds of years in a place. I love whiskey! And if I had another life to live, I'd be running away to Islay right now to turn barley over in the middle of the night.